There's a new supercar on the horizon, but unlike other recent unveilings you'll not find an electric motor and half a tonne of batteries powering this one.
Noble, best known for its breakthrough M12 and then the mighty M600, has pulled the covers of its new M500, a car that promises to reward the driver rather than simply offering silent warp-speed acceleration.
How much is your car to insure? Find out in four easy steps.
Get a quote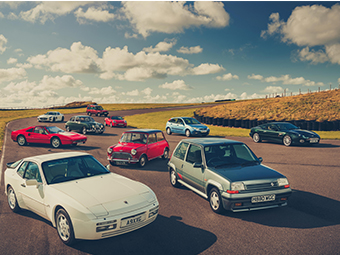 Powered by a 3.5-litre twin-turbocharged Ford V6 (a nice nod back to the M12 after the M600's Volvo/Yamaha V8 power) it certainly won't be short on performance, but Noble says the driving experience will be a little less extreme than the M600, and at a significantly lower price.
Those paying close attention will note that Ford's twin-turbo 3.5 V6 is an engine also used in the F-150 Raptor in the US, as well as the Ford GT supercar in a higher state of tune. In the Raptor it develops around 450bhp and the GT was just shy of 650bhp, so expect the Noble to fall somewhere between those two extremes.
Priced below the M600 it's also likely the M500 will swap carbonfibre bodywork for something a little more cost-effective. According to Autocar that means a glass-reinforced composite, over a tubular chassis similar to that of its bigger brother.
The magazine also confirms the car will use double wishbones at each corner, with hydraulically-assisted power steering, but no ABS or airbags, which when paired with a standard six-speed manual transmission, puts the M500 in more or less a class of one at this point in the market.
Visually we're seeing hints of McLaren and Bugatti to the M500's styling, the latter particularly evident in the sweeping line around the side windows that also forms the air vent, and the stocky rear end – though you won't find Citroën C4 Picasso tail lights on a Chiron…
Noble's website states a release in late 2021, which we're assuming is just a typo rather than evidence the car is also capable of time travel – production and delivery late in 2022 seems more likely. At the right price, the Noble M500 could slot neatly between the Lotus Emira and Gordon Murray's T50 in the British sports car hierarchy.
Read more
20 years ago the Noble M12 slayed the supercar dynasty
10 British sports cars you probably forgot existed
Are these the most alternative supercars of the 21st century?