Opel showed us tantalising glimpses of its Manta GSe ElektroMOD back in March, but now it's here in all its highlighter-yellow glory.
A vibrant chunk of retro cool infused with 21st-century sizzle, it's both a celebration of the Manta's 50-year history and a nod to the future. Think of it as a classic rock anthem digitally remastered for the Spotify generation and you're more or less there, though sadly, this is about all we'll be seeing of it as the company has also confirmed it's very much a one-off.
How much is your car to insure? Find out in four easy steps.
Get a quote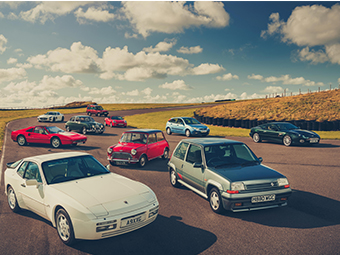 Curiously, given this freedom not to commit to production, Opel hasn't gone full pigs-might-fly with the car, giving it a modest 108 kilowatt motor (that's about 145bhp), and a 31kWh battery pack good for a 124-mile range.
Opel has retained the car's four-speed manual gearbox, maintaining a layer of interaction that many electric cars lack, though it points out you could just bung it in fourth and carry on like any other electric car too. What you lack in the snort of a carburetted four-cylinder, you gain in flexibility.
No weight is quoted, nor any performance figures, but 145bhp should still be enough poke to trouble the 205-section rear tyres in the lower gears too. The fronts are 195s and the wheels are 17 inches in diameter, which is probably the only aspect of the styling we're not so keen on – older cars just look better with a bit more sidewall. On the plus side those futuristic rims are made by Ronal, which more than a few Mantas would have worn in the 1970s and 1980s, and they still tuck under the arches quite nicely.
Other than those wheels and the colour, Opel has left the Manta's two-door shell wisely untouched. The front and rear panels are different however, with the front wearing an interpretation of the firm's current "Vizor" grille, which it calls Pixel-Vizor in this form since the panel can actually display messages. At the back, LED tail lights replicate the circular form of the originals. Opel's "Blitz" logo looks rather appropriate on an electric car too, doesn't it?
Inside too is a mix of old and new. The dashboard architecture is much as Opel originally designed it, and that three-spoke wheel is a fantastic dose of period perfection, but a pair of 12-inch and 10-inch displays replaces the 1970s switchgear, and the in-car entertainment, designed in conjunction with Marshall, and is no doubt a bit better than whatever aftermarket option you might have installed in the 70s. As are those sports seats.
With combustion engine bans – or at least prohibitive charges detailed here – rapidly approaching in cities across the globe, perhaps the Manta ElektroMOD will serve as inspiration for enthusiasts. You could own something just as green, but far, far cooler than any electric car currently in production.
And just like Hyundai's recent Cyberpunk-style Pony restomod, it shows there are still those within car companies who care about their brands' heritage. Which is pretty reassuring, given how quickly the industry is changing around us.
Also read
Electric Triumph Stag and Morgan 4/4 ready for the road
Gunther Werks work magic to remaster the Porsche Speedster
This Porsche 914 restomod has the heart of a Cayman