As car makers accelerate plans to switch to a new generation of electric cars, some are relying on their heritage as a means of reassuring customers during a time of such rapid transition. For companies like Porsche that might not be such a problem: a 911 can still look like a 911 even if it's electric and has autonomous features. But Opel or Vauxhall? There's not a great deal that connects a new Mokka-E with an old Astra GTE, or a Firenza.
Or, indeed, an Opel Manta. Which might be why Opel's latest showcase is the Manta GSe ElektroMOD, an electrically-driven and resto-modded take on one of the brand's most well-known nameplates.
How much is your car to insure? Find out in four easy steps.
Get a quote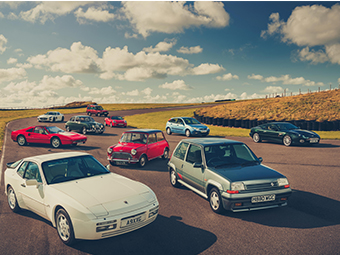 For those that missed out on the heady days of the 1970s – when your 8-track tape player blasted out The Rolling Stones or The Beatles, a driving license was the ultimate teenage status symbol and roller-discos were the place to be – many drivers aspired to own a Ford Capri or Opel's Manta. They looked good, offered rear-wheel drive fun and you could take three friends for the ride. Things got really exciting, however, the following decade with the Manta 400, based on the B2 and built to homologate the car for Group B rallying.
Now Opel appears to be intent on cashing in on the nameplate. It calls its electrified Manta the best of both worlds, mixing "maximum emotions" with zero emissions, and if the string of comments along the lines of "it's about time" below the carmaker's brief YouTube video are anything to go by, it's already hitting the right notes with enthusiasts despite their discomfort around electric vehicles.
There are no solid details yet, nor any particularly useful images of the car – which appears to be a coupé – beyond the overhead and mostly shadowy image at the top of this page. Power, torque, range, a vague idea of cost? Sorry, zilch. The focus at this stage is very much on saying "we still care about our heritage" and perhaps making existing models like the Mokka-E and Corsa-E seem a bit cooler by association.
However, Opel's relationship with Peugeot could see the two work together to bring an electric coupé to showrooms. Peugeot enjoyed critical acclaim for its e-Legend, a concept for a modern-day 504 coupé which was first shown at the 2018 Paris motor show.
Opel already says the "Opel Vizor" grille on the Crossland and Mokka is Manta-inspired, and it seems a little inspiration has gone the other way on the resto-modded ElektroMOD as it appears to share their LED daytime running light signature.
The car's very existence is also a nod to the way the market around it is rapidly changing. Combustion engine bans are already on the horizon in many cities, and further such restrictions are likely – something an electric-converted classic like this would be, in theory, entirely immune to. Opel hasn't yet shown the car's interior, but that too has gone "digital" – presumably including some of the convenience features offered in modern cars, without losing the old cabin's style.
We'd be happy to keep our combustion-powered classics for just a while longer, but it's good to see car manufacturers opening a window of opportunity to help the hobby survive further into the future too.