Driving experiences aimed at children are nothing new, but from May 22, Young Driver and the British Motor Museum in Gaydon will offer an experience different from the usual Minis or Vauxhall Corsas, with Classic Car Driving Experiences.
These will offer 10 to 17-year olds the chance to get behind the wheel of three different classics: a 1963 Vauxhall VX490 HB, a 1959 Morris Minor convertible, and the oldest of the bunch, a 1934 Austin 7 Ulster replica – a car that's 77 years older than the youngest enthusiasts that will be given a chance to drive it.
How much is your car to insure? Find out in four easy steps.
Get a quote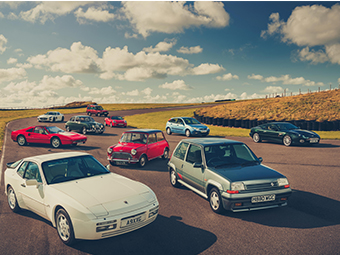 The three vehicles represent a good cross section of classics too, the Vauxhall being typical of a 1960s family car, the Minor much the same for the 1950s (with the bonus of open-topped fun), and the Austin 7 being pretty much the archetypal vintage car, yet one with controls in a layout anyone who has driven a modern car would understand.
As with many experiences the project has been on the back-burner over the past year thanks to the pandemic, but with life returning to something approaching normal – and many children no doubt going a bit loopy with minimal school and little in the way of days out in the last twelve months – the concept couldn't be more exciting. Drivers will be taught the ropes by a fully qualified instructor.
Sue Waterfield, head of marketing at Young Driver – which normally allows 10-17 year olds the chance to drive brand new Vauxhall Corsas – calls it an opportunity to "take a step (or drive) back in time".
"Since 1903 drivers have needed to be 17 to get behind the wheel – so our pupils will be the youngest to take control of these three classics", she says. Quentin Willson, a patron of Young Driver, adds that the need to be delicate with each car's controls will also breed patience and mechanical sympathy – something that will be useful even when moving on to modern cars later down the line.
Perhaps best of all, it's cost-effective too: £25 for a 15-minute session, and discounted entry into the museum, where parents and kids can learn more about classic cars from across the ages. Just be prepared to spend a little more if your child then wants to restore and drive a classic of their own…
Also read
The 13-year old role model leading by example and winning on track
How StarterMotor inspires the next generation of car enthusiasts
Beware: Owning cars, and stuff, from the year you were born is catching