This livestream was shown on Thursday, 4 February
Read the news media and you might be led to believe that the car hobby is doomed, with escalating costs, environmental concerns and plain old lack of skills keeping younger drivers out of the garage and even further from the driving seat.
How much is your car to insure? Find out in four easy steps.
Get a quote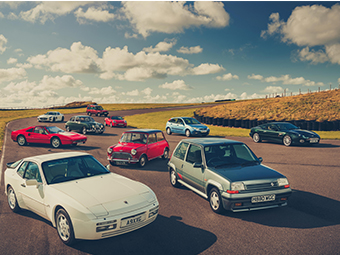 While those are legitimate concerns though, there are still reasons to be positive, and one of those is the StarterMotor charity, based at Bicester Heritage in Oxfordshire, and Hagerty sat down with David Withers from StarterMotor for our most recent livestream.
StarterMotor was founded in 2016 with the mission to put the next generation in the driving seat, extolling the manifold virtues of driving, owning and maintaining classics. In doing so it supports local engineering colleges and benefits young enthusiasts by opening them up to the joy of driving and working on older vehicles. Not insignificantly, it also introduces them into a community that can sometimes seem distant and inaccessible.
Everyone there understands that there's no better way of getting young people interested in classics than letting them have a go, and StarterMotor lowers typical barriers to entry, like cost, by pairing up with educational facilities, colleges and apprenticeship schemes so enthusiasts can spend time around the cars in a way that may not otherwise be possible.
Withers noted some of the difficulties faced by younger enthusiasts in our livestream, not least the question of whether younger people will even jump straight into driving lessons on their 17th birthday like they used to.
He also notes that apprenticeships can be difficult, with pay below minimum wage and some long days, which is another area that StarterMotor really tries to make a difference, ensuring that apprentices get to enjoy all the fun parts too – the driving, the events, and working on some truly interesting projects.
Current StarterMotor vehicles include everything from an Austin 10 that the apprentices particularly enjoy driving and working on, to more modern vehicles like a Mk2 MX-5 the charity has recently acquired and should be running by the summer.
If you'd like to learn more about what StarterMotor does and how you can help, head over to their website, startermotor.co