A one-off Bugatti Chiron has sold for a record-breaking €9,792,500 – £8.7 million, or £10.4m including the VAT to be added according to the sale catalogue. The eye-watering figure makes the Chiron Profilée the most valuable new car ever sold at auction, exceeding the previous record achieved in 2017 when the 210th Ferrari LaFerrari Aperta fetched €8.3m, also at an RM Sotheby's auction.
The £20m Rolls-Royce Boat Tail remains the most expensive new car in the world, but this bespoke commission, rumoured to be built for Beyoncé and Jay Z, was sold privately, rather than at auction.
The Chiron Profilée sailed through its pre-auction estimate of €4.2m to €5.5m, as bidders battled for a chance to secure the last Bugatti with the acclaimed W16 quad-turbo engine. Bugatti will continue to build the Chiron, but with the 500 build slots spoken for, if your name's not down…
It's also the only opportunity to see what the planned production version of the Profilée would have looked like. Bugatti halted plans for a limited run of the Chiron Profilée when the 'standard' car sold out faster than expected.
Speaking about the Profilée at the end of last year, Christophe Piochon, president of Bugatti Automobiles, said: "Taking customer wishes to explore a less radical version of the Pur Sport seriously into consideration, we started with the design and development of the Chiron Profilée in autumn 2020.
"By the time we saw the pre-series vehicle coming out of production, all slots limited to just 500 were assigned for. But we knew that what we had created was too beautiful to be hidden away. It is – in every sense – a unique piece in Bugatti's history and a true collector's item."
The as-yet-unnamed buyer will enjoy a Chiron with a fixed tail at the rear to increase downforce and to suck hot air out of the engine compartment. Further upgrades include wider air inlets and an enlarged grille to improve cooling, a revised front splitter to further increase downforce and manage airflow, a unique colour of Argent Atlantique and bespoke wheels finished in Le Patron.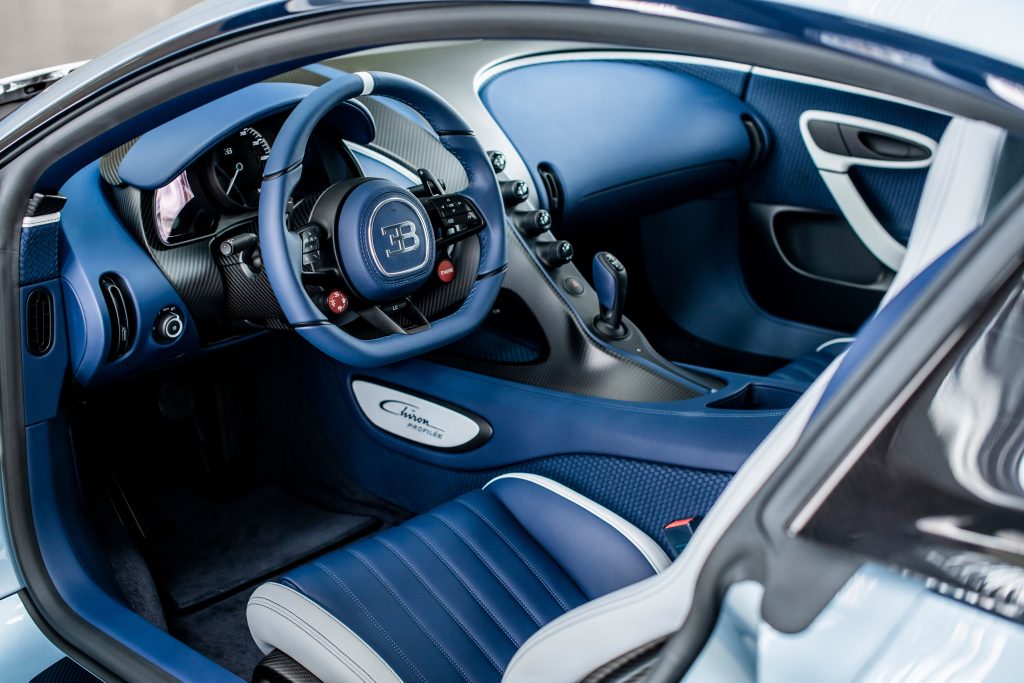 It's also the first Chiron to be fitted with a woven leather finish on the dashboard door panels and centre console. The finishing touch is a Profilée signature in a black anodized frame inlay, just to remind you that you're driving the world's most expensive new car.
John Wiley, Hagerty's manager of valuation analytics in the US, said the final bid was so high because "collectors bid knowing they won't get a second chance".
Read more
Bugatti Chiron driver who hit 257mph on public roads avoids prosecution
Now your 'previously enjoyed' Bugatti will be as good as new
Lucid Air Sapphire vs Bugatti Chiron vs Tesla Plaid — Cammisa's Ultimate Drag Race Replay