If all goes to plan, the roads will become just a little more whimsical in spring 2022 when Citroën unleashes its electric Ami city car on UK shores.
Launched last year on the continent, the Ami was not intended for sale in the UK but strong demand from drivers has seen the French company change its stance, after more than 12,000 motorists registered their interest through Citroën UK.
How much is your car to insure? Find out in four easy steps.
Get a quote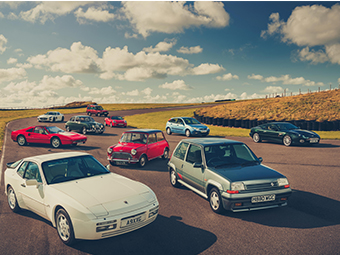 It becomes another option for what politicians, urban planners and others are increasingly calling "urban mobility", and one that in theory is a little easier on the environment, and the citizens around it, than traditional cars. Unlike the similarly diminutive Renault Twizy, the Ami feature doors and windows, making it more practical.
Citroën hinted at the possibility of bringing across the 46-mile range, 28mph Ami last year, taking expressions of interest on the company's website. After 12,000 of those, that decision was made a little easier, and from 27 September the French firm will accept a refundable reservation fee of £250.
UK Amis will be adapted for driving on the left, but to keep costs low for Citroën, given the potentially low uptake, the car's Lego-like cabin will remain left-hand-drive. With that 28mph top speed it's not like you'll be overtaking much anyway, and Citroën does note that it'll allow the driver to step right onto the pavement when parking kerbside.
Charging shouldn't be much of an issue either, as the tiny 5.5kWh battery pack means a normal three-pin plug is sufficient – and those are everywhere – and a full charge, overnight at home, say – takes less than three hours.
You won't be going that far on a battery crammed with electrons anyway, so this is resolutely a vehicle for local driving – think of it like a more comfortable 50cc scooter with weather protection.
The Ami's prime purpose on the continent is as a short-term rental vehicle, in the UK it can be leased or bought outright. There's no firm price right now, but just shy of £6k seems likely.
With some 'proper' used electric cars coming in at less these days it'll be a hard sell, but there may just be enough people whose exact circumstances make a car like the Ami perfect.
We keep using the word car, but the Ami isn't really one of those either. It's an electric heavy quadricycle, and dodges a few legal requirements of regular cars as a result (safety regs among them). Once again this will limit its appeal to a wider audience, but if the Ami's characteristics are enough to get a few inner-city commuters out of larger, more polluting vehicles (and perhaps accompany the odd classic Ami in an enthusiast's garage) then it'll have done its job.
Read more
Review: The Ami city car is Citroën's welcome return to stranger things
Freeze Frame: The Citroën 2CV hydroplane
French of the Unexceptional: Gallic stars in the Concours de l'Ordinaire