Follow the world of classic car electric conversions, and you'll have heard a familiar refrain: "I'm not so sure about [latest classic conversion], but a Citroën DS would be perfect for it."
Well, somebody's only gone and done it. Oxfordshire-based Electrogenic, which you might recognise from its recent conversions of a Triumph Stag and Morgan 4/4, has now turned its attention to Citroën's "goddess", the DS.
How much is your car to insure? Find out in four easy steps.
Get a quote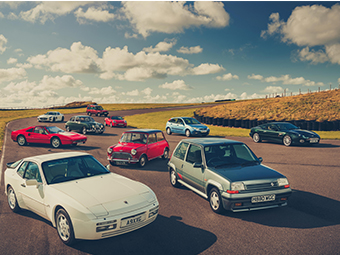 The reason the DS is oft-cited as a potential candidate for electric conversion is because unlike say, a howling V8 or a creamy straight-six being swapped for electric power, losing the original inline-four motor is no great loss. Citroën itself never really intended to put such an archaic unit in their sleek Flaminio Bertoni-penned 1955 saloon – a flat six was originally planned – so ditching it for something altogether smoother makes a lot of sense.
The later Robert Opron-edited redesign in particular has always like it should float silently down the road, and while Citroën's famous hydropneumatic suspension plays its part, Electrogenic's conversion means the drivetrain can now contribute.
Under the bonnet sits a 120bhp brushless electric motor, also good for 173lb ft of torque, and it's backed up by a 48.5kWh battery pack, good for a real-world 140 miles on a full charge. That's less distance than a fully-filled DS will usually allow (though a 200-mile option is available), but while the power output is down on a late 2.3-litre DS 23 (which made just shy of 140bhp), the manner in which it gets along the road will surely now be easier-going.
Electrogenic has made other tweaks too. There's an electric pump to operate the accumulator for the suspension, replacing the original mechanical pump, and the fuel door is now the charging door. Otherwise, you'd not know anything was out of the ordinary, short of a missing exhaust pipe and small "DS EV electronique" decal.
As a customer commission, Electrogenic won't be churning out production versions of the car, but should you ask nicely, their know-how means it should be possible to create more for other customers.
Now that someone has built an electric DS though, classic car enthusiasts are going to have to think of something else next time they're quizzed on appropriate donors for conversions…
Read more
Electric Cobra returns as AC readies Series 1 EV
Is this electric Porsche 911 by Everrati a sinner or saviour?
New Opel Manta ElektroMOD fuses 70s cool with 2020s tech