Welcome to Freeze Frame, our look back at moments from this week in automotive history.
7 September, 1986 – People look on in disbelief as a flying 2CV lifts off
Is it a bird? Is it a plane? No, it's… a Citroën 2CV hydroplane.
These week's Freeze Frame is light on detail but not short on mind-boggling, what-on-earth, is this for real, hyperbole.
The year is 1986, and for reasons that can only be explained by a particularly long lunch of cheese, vin rouge and Pernod, followed perhaps by taking said bottle of Pernod home and carrying on late into the evening, someone thought it would be a good idea to turn a 2CV into a fully operational hydroplane.
How much is your car to insure? Find out in four easy steps.
Get a quote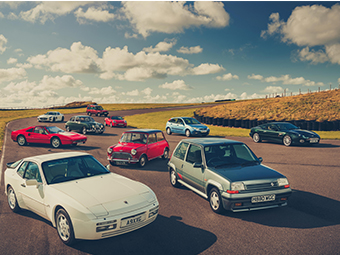 Now, fans of the 2CV will be well aware that the peasant's car has been converted into all manner of curious contraptions during its 42 years of production and ongoing life since. There have been twin-engined Sahara models, roadster adaptations, boats, stretch limos, cars that concertina like an accordion, pickups, 12 wheelers, three-wheelers and all manner of whacky creations.
But a hydroplane takes things to an entirely different level, right?
The flying 2CV made its debut, we think, in 1986, and was fashioned together by a motley mob of microlight enthusiasts from the Maine-et-Loire north west region of France. Their ringleader,  Claude Lecerf, quite rightly describes it as 'totally insane,' suggesting Claude and his pals hadn't entirely taken leave of their senses.
Like so many harebrained schemes, this one began as a bet, and before you knew it – a mere two and a half months later, in fact – the Citroen 2CV hydroplane was ready for its maiden voyage.
Essentially a crudely fashioned microlight with a 2CV engine ahead of the wings, and a 2CV shell attached to the frame, it wasn't about to give Boeing's engineers any sleepless nights.
It is not recorded just how far it flew, but shortly after the team of loopy – sorry, creative – microlight enthusiasts took off, they landed again. The chassis that was fashioned for the Hydroplane was fitted with outriggers and soon they set about conquering a water take off.
The date was set for 7 September, which is when the above photograph was taken by Alain Le Bot.
Did things go according to plan? We'd like to think so, even if the odds seemed stacked against them.
Read more
French revolution: 5 game-changing Citroëns
Turn more heads than a supercar with this rare Citroën 2CV Roadster
Toute Petite Voiture: the mythical car that gave rise to the Citroën 2CV