Plenty of car enthusiasts spend their life – or at least their evenings online – searching high and low for that rarest of things: a car that offers champagne flash for lemonade cash. Now one auction bidder has beaten them to it, after snapping up a Burton Roadster, a car that oozes classy charm (from a distance) but is actually based on the humble Citroën 2CV.
The rare machine was sold during the RM Sotheby's Open Roads online sale. There were some beautiful vehicles at the sale, from classic Americana to E-Types and the aforementioned Italian exotica, but few stood out like the Burton-bodied Citroën 2CV Roadster.
How much is your car to insure? Find out in four easy steps.
Get a quote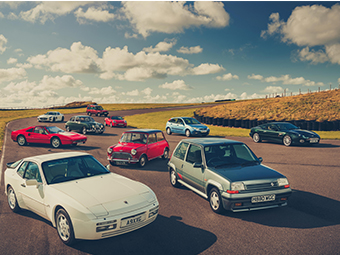 Just $8250 was enough to secure it after 18 bids, equivalent to less than £6000. A quick glance at the values for a similarly aged, 1986 Citroen 2CV – using the Hagerty Price Guide, which you can browse by clicking here – shows that's something of a steal, assuming you don't object to pulling apart an original 2CV and putting it through the transformation into a head-turning roadster. The 2CV would cost £7600 in 'excellent' condition.
The Dutch registration plate hanging off each end shows its country of origin, the conversion carried out by the Burton Car Company in the Netherlands in 2015. Burton modified the engine too, expanding the original 602cc flat twin to a whopping 652cc (every cubic centimetre counts when you're talking 2CV performance), and the result really is something quite striking.
There are plenty of benefits of the kit car path rather than something actually from the era it's aping. For a start, 2CV parts are easy to come by, and the flat twin engine already delivers vintage levels of performance and some classic quirks, like the umbrella-handle gearchange. The throwback bodywork is polyester too so it won't simply rot away, and the most complex part, the hood (that's roof, rather than bonnet), is new enough to be in great shape.
We'd love to know what the new owner plans to do with their quirky Franco-Dutch creation. Perhaps tell friends and family that it's a rare and valuable Bugatti grand tourer and see how long they can get away with it for…?
Also read
Perfect for a Sunny Afternoon? Méhari once owned by The Kinks' Dave Davies is up for auction
Celebrating the Gallic genius of Robert Opron 1932-2021
Citroën built and tested a helicopter with twin-rotor Wankel power