Received from Mr Anthony Ripley a cheque £1,263.76, on June 11 1977 as full payment for a Norton Commando Mk3 to include 12 months road tax and a delivery charge. Yours Sincerely, Gus Kuhn Motors, Clapham, London.
Anthony Ripley had narrowed his choice down to the Norton, a Triumph Trident T160 or a Yamaha XS750. Buying British appealed so the Yamaha was kicked out of the running and so the 22 year-old Ripley had to choose between the two British motorcycles. The Norton won. It is clearly a decision that he's been happy with because 44 years later he still owns the Commando.
How much is your car to insure? Find out in four easy steps.
Get a quote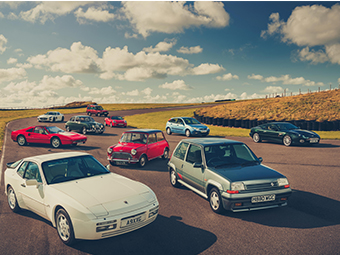 Three years almost to the day that a presumably very excited Tony Ripley collected his spanking new Norton from Clapham, an equally excited 17 year-old was north of the river in Manor Park collecting his Norton Commando MK3 Interstate. It was silver, just like Ripley's, but was five years-old. You could still, if you looked hard, find a new Commando in 1980 even though Ripley's bike was made in the last year of production. You could find one but you couldn't pay for it if you were earning £30 a week.
I'm neither a hoarder of paperwork or blessed with a photographic memory so I can't remember how much I paid for my Norton. I bought it from Wells Motorcycles which as well as the Interstate had for sale a Commando John Player Norton replica. Showing wisdom beyond my youth I decided to buy the more practical Interstate.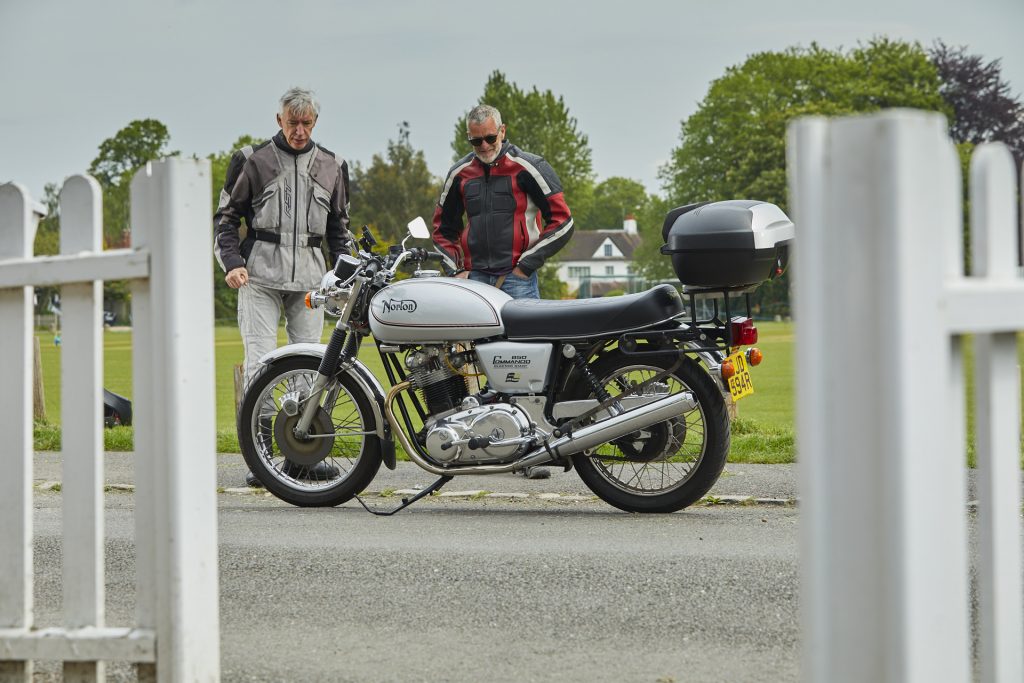 The ride home to Woking was memorable. I'd never driven in London before, there was no GPS in 1980 and I hadn't even got an A-to-Z street atlas. I just pointed the Norton in a southerly direction and hoped that I would see some encouraging road signs.
Being lost was the least of my troubles. I'd passed my motorcycle test literally weeks before on a Honda CD175 but had never ridden anything as formidable as the Commando. The MK3 model was fitted with an electric starter. Even the brochure, with Gerald Ratner-like honesty, stated that the starter provided  'assistance'. In the several years that I owned the bike it never lifted a magnet to help me start the big 828cc parallel twin. It just clicked like a mechanical tut tut.
Over forty years later I am standing next to Ripley's mint Commando. It looks immaculate in its original silver paint. It's an Interstate model, the one with the huge five gallon tank as opposed to the Roadster with its considerably smaller capacity tank.
Children and the business of raising them saw the Norton take a period of retirement but still it has covered 78,000 miles in his hands. "At just after 6,000 one of the connecting rods snapped," explains Ripley. "The bike was literally tens of miles out of warranty but Gus Kuhns said that that was tough luck. Fortunately it only needed a new rod and piston. It ran perfectly from then on and only recently has had an engine rebuild."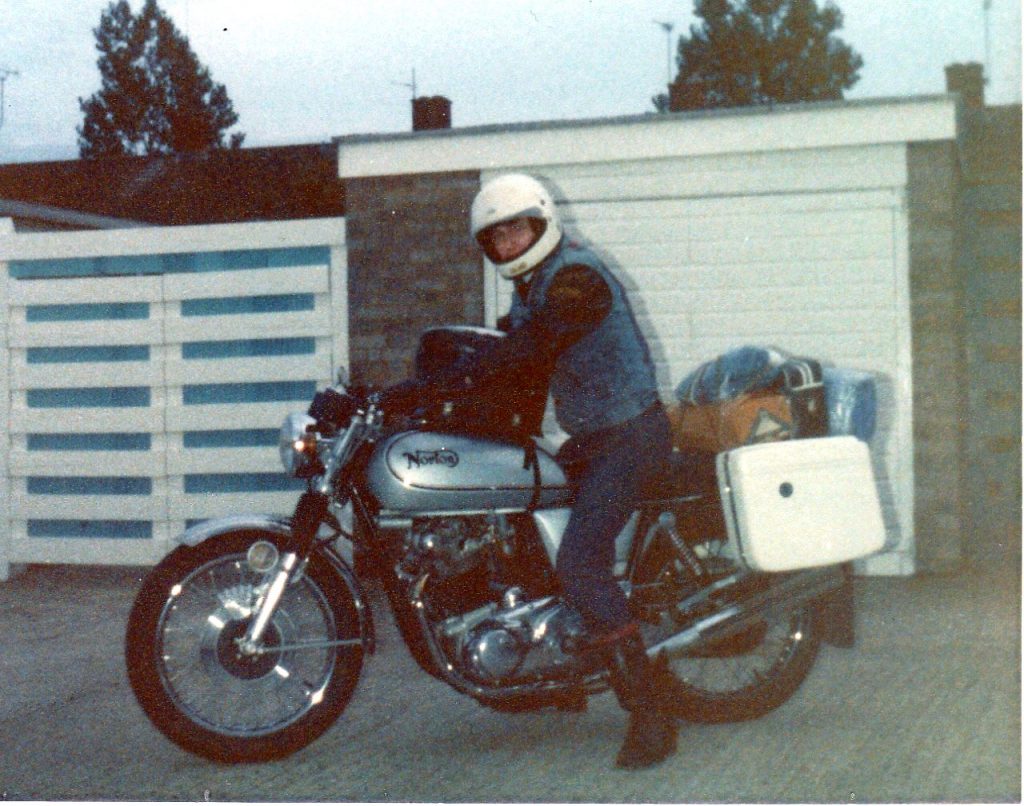 Unlike mine, Ripley's bike's electric start did more than its manufacturer promised and would actually start the engine. Like most classic bikes and cars, experience and experiment has seen many original faults fixed. Overheating in a Triumph Stag, for example. It is the same with the Norton Commando and as both an electrical engineer and as technical administrator in the Norton Owners' Club, it's not surprising that Ripley's bike has received a few common and useful mods.
"The bike would always run well," says Ripley, "but it would often stall coming into a roundabout with a closed throttle. Sometimes it would tick over perfectly and other times it would cough and die or just be uneven. The cure is to remove the twin carburettors and replace them with a single one. My bike now has a 32mm Amal Mk2 and I doubt that it's lost any power.'
Electronic ignition has always been a popular upgrade and I remember fitting a Boyer Bransden kit to my Commando. "I did the same but the Boyer system eventually started playing up so I replaced it with a Pazon Altair system. To help starting I've fitted a gel battery that sits on its side because it's the largest battery that physically fits. Also, the starter motor has an extra brush added and the battery cables are thicker."
The moment has come. Ripley is handing over the keys to his Commando for yours truly to take a ride down memory lane – with insurance in place from Hagerty, naturally. What's it going to be like revisiting this old friend after forty years? Often the result of such exercises results in disappointment. When I had my Norton a good friend had a Suzuki GT750, the big watercooled two-stroke known as the Flying Kettle. Recently I had a go on one and couldn't believe how terrible it was: far worse than I remember it to have been. Back in the early '80s we knew no better.
The MK3 Commando had not only gained an electric starter over its MK2A predecessor but also a rear disc brake. Also, due to American regulations, it had had its gearchange moved from the right-hand side of the bike to the left hand. Today I've owned and ridden so many different bikes including racing a bike with a right-hand change that it makes little difference but when I was 17 a right-hand change would have been a significant extra complication. Especially when lost in London.
Ripley's Commando booms into life with just a caress of the green starter button. So much from all those decades ago comes flooding back. The noise of the big twin and also the way the engine shakes in the frame. Brit bike experts, and particularly Norton buffs, will know that the Commando was fitted with something called Isolastics. Essentially the engine and gearbox (they're separate or pre-unit) and swingarm are mounted in a subframe that is rubber mounted to the actual bike frame. As the name suggests it isolates vibrations. If the Isolastics are worn or badly adjusted the bike's handling turns to custard.
I remember too the heavy clutch. Not as bad as the one on the Laverda Jota that I owned a decade later in the '90s, but harder work than a modern bike's. First thing you must do within the first few feet of riding a classic bike is test the brakes. Just as I remembered the back brake is all but useless. "You used to be able to make the back tyre squeal with it," Ripley offers helpfully, "but I think that was down to the tyres of the day." Certainly there is no risk of rear-wheel lock up today. The front brake is reassuringly better; helped by the fact that Ripley has carried out the popular modification of boring out the master cylinder a few millimetres.
The MK3 is the heaviest Commando and has an official top speed of 108mph. More than fast enough in today's world. I remember having no trouble keeping up with Honda 750 fours and other Japanese bikes on mine, not just because the Norton had a decent amount of torque, but because it handled so well. As does Ripley's perfect example. I'm a considerably more sensible rider at 58 than I was at 18, but even so if you give this Norton the beans it really motors.
The Isolastic arrangement in this bike is clearly spot on because there's hardly any vibration. It's so much smoother than a contemporary Triumph Bonneville. Interestingly the Norton Commando was voted Motor Cycle News 'Bike of the Year' every year from its launch in 1967 to 1972. And that period covers the introduction of the Honda CB750. Not even Norton's management expected the bike to be that well received.
I had to try once, just to see if old age has weakened my right leg. But no, I'm still able to start a Commando first kick. My left wrist still seems up to the job of operating the clutch, too.
I've said for many years that if there was one bike that I would like to return to and keep out of the forty or so I have owned over the same number of years of motorcycling, it would be the Commando. Riding Tony Ripley's glorious example has reinforced that opinion. I'd want to carry out all the same modifications that he's done but also fit a more modern Lockheed front brake calliper (another common modification) to make the brakes just a bit more effective. I regretted buying an Interstate but in those days people only bought petrol at filling stations; not the week's groceries as well, so the ability to go over 200 miles between fills is very attractive.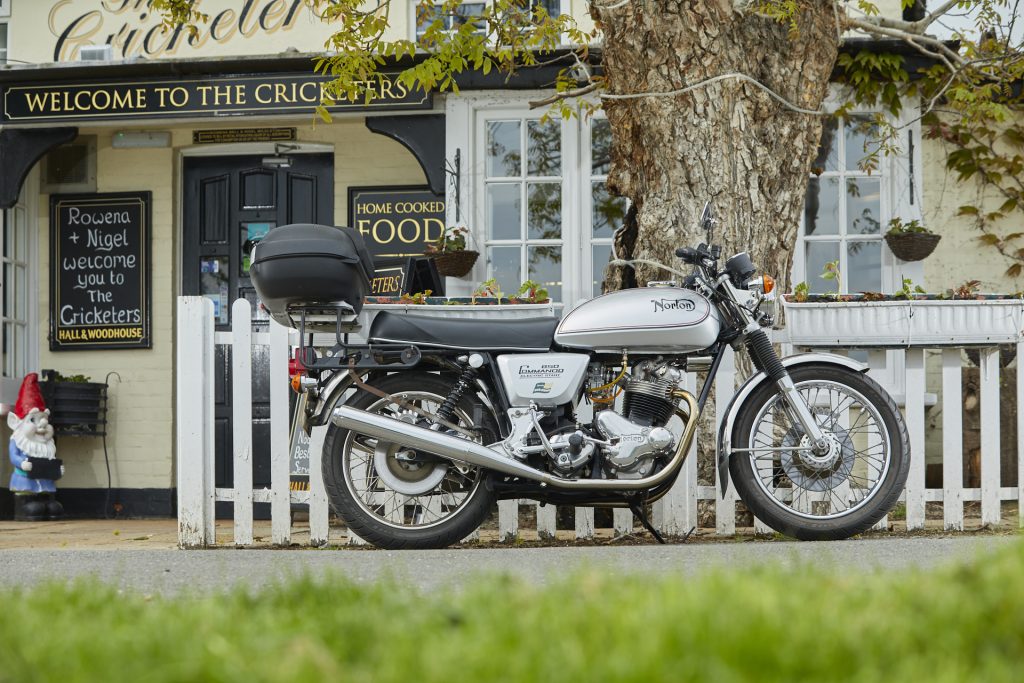 There's no chance of Ripley ever selling his Norton, but he's promised to keep an eye out for any up for sale in the club. I quite fancy a restoration project, not least because virtually every part is available. I knew revisiting this bike would be an interesting experience and that it would bring back memories from my youth but I didn't expect to fall in love with the Commando all over again.
Whatever you ride or drive, if you ever get the chance to be reunited with an old friend, don't pass it up.
Read more
Read all about it: The rise of the £450 bike brochure collectors are going wild for
Ride on time: 13 collectable motorcycles to buy now
Tanked up: Learning to make aluminium fuel tanks with Tab Classics