"Extremely high maximum speed. Abundant stamina. Pleasant manners. Traditional Norton handling. Real comfort."
If a bike review began in such gushing terms these days, you might assume you were reading the predictable prattle of a social media influencer. In fact those words were published in February 1962, to start esteemed magazine Motor Cycling's test of Norton's new Dominator 650SS.
The Dominator made a big impression on its pudding-basined tester 60 years ago, despite mostly being ridden in cold and wet weather. Decades later, riding a well-preserved 650SS in suitably period headgear and thankfully better conditions, I found his enthusiasm easy to understand.
Especially when winding back the throttle on the exit of an anonymous bend somewhere in Sussex, to find the Norton responding with a thrillingly strong surge of acceleration. It was a magical moment as, with its taut chassis keeping everything stable, the 650SS showed off the speed and handling ability that once made it arguably the world's finest sports bike.
At other times the silver Norton was less impressive. It vibrated more than I'd expected even of an old parallel twin, despite the fact that I kept the revs well below the 6800rpm at which peak power was produced. There was a persistent oil leak, too, typical of Brit bikes of the time.
Even so, it was clear why the 650SS was rated so highly. With its 646cc, twin-carburettor engine held in Norton's famous "Featherbed" frame, the SS combined straight-line performance with the excellent handling for which the marque had become known. That Featherbed frame had its roots in a 1950 innovation, when Norton's single-cylinder Manx race bike got a new frame designed by Rex McCandless, with its distinctive twin loops. The frame had gained its name following works racer Harold Daniell's comment that his new bike felt like riding a feather bed.
The sleek silver SS – the initials stood for Sports Special – was Norton's challenger to Triumph's T120 Bonneville, which had been launched in 1959 with a twin-carburettor version of the firm's 650cc engine.
Norton's twin-cylinder line had begun a decade before that, with the 500cc Dominator Model 7, and grown to 597cc in the mid-Fifties with the Dominator 99. By 1961 there was an export-only model, the Manxman 650, with a bigger still 646cc engine, plus a Sports Special version of the Dominator with twin carburettors and higher compression ratio.
Combining the Sports Special specification with the larger capacity gave a suitably hot new engine. The Dominator 650SS also gained a special downdraft cylinder head developed from Norton's Domiracer, which had been raced at the previous year's Isle of Man TT. A new exhaust system helped lift output to a healthy 49bhp.
The other vital part of the equation was the chassis. Previous Dominator roadsters had used versions of the Featherbed, so the 650SS's blend of frame and Norton's Roadholder forks was familiar. So too the bike's silver finish, echoing Norton's traditional racing livery. Options included chromed mudguards and the addition of a rev-counter alongside the Smith's speedometer.
That speedo was put to good use, because the Dominator 650SS was capable of almost 120mph. Its engine was also flexible and impressively economical; good for 50mpg even when used hard. Here, for the first time, was a Norton twin that could live with the Bonneville on straight-line speed, as well as handling.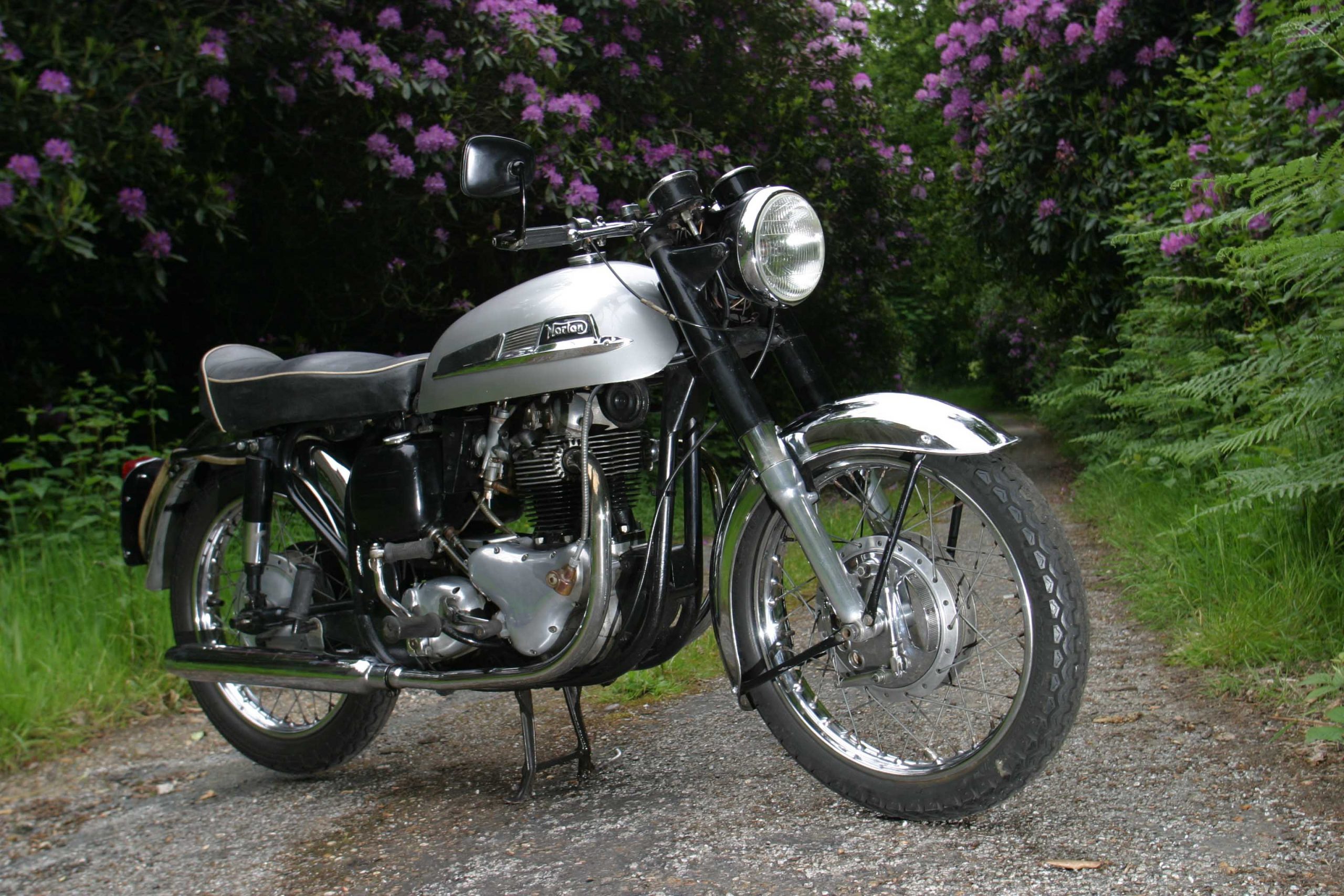 Given Norton's reputation for high-quality chassis, it was no surprise that the 650SS also excelled in the bends. It was a purpose-designed sports model, with a firm ride and thin seat. Its steering and stability were outstanding, as was the efficiency of its drum brakes.
Motor Cycling, which recorded a one-way top speed of 119.5mph from the SS, was not the only publication to be seriously impressed. Rival magazine The Motor Cycle managed 118mph and applauded a "machine with such superb handling and braking as to make nearly two miles a minute as safe as a stroll in the garden".
A well-maintained SS still feels good decades later, as my spin on this unrestored bike confirmed. For such a sporty model the Norton was admirably rider-friendly. It started easily and ran well at low revs, idling happily and feeling pleasantly smooth and responsive as it throbbed lazily through light traffic.
And when I reached the open road and wound back the throttle the old bike justified that Sports Special designation. It leapt forward eagerly from about 50mph, especially in third gear with one left in the four-speed box, its twin Amal carbs breathing hard through the "cheese-grater" style air filter.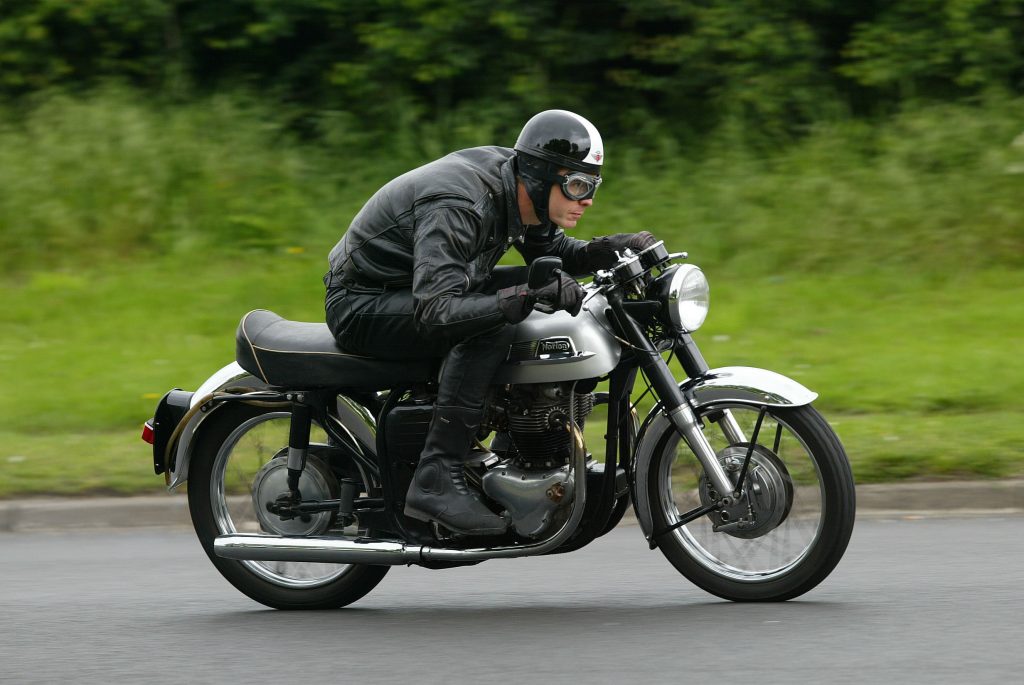 Disappointingly, I didn't feel I could risk trying to get the chrome-rimmed speedo's needle round to the ton mark, let alone to 120mph. Legality aside, the elderly Norton vibrated a fair bit at higher revs and was too mechanically noisy to encourage me to take it above 6000rpm.
It sat at 70mph feeling muscular and ready to go, though, with plenty more performance in hand. And its stability in a straight line and in fast curves was impeccable, thanks to the rigidity of the Featherbed frame, plus the firmness and damping control of the forks and Girling rear shocks.
There was a slightly vague feel when I cornered fairly hard through some tighter and bumpier bends, though nothing more than was to be expected of an unrestored bike of such age. Similarly the single-leading-shoe front drum brake wasn't hugely powerful, but did a reasonable job if helped by the controllable rear.
I could certainly see why the Dominator had been so well received on its launch all those years ago. Its roadholding was good, too, thanks to Dunlop TT100 front and Avon Roadrunner rear tyres – capable rubber, if not the super-grippy Avon Grand Prix racing boots it wore when new.
Back in the early Sixties, Norton highlighted the 650SS's performance with a string of successes in production endurance races. It won the prestigious Thruxton 500-mile event three years in a row, and gained further recognition when it was voted Motor Cycle News machine of the year in 1962 and '63.
The man from Motor Cycling's words of praise had been justified; and 60 years later they still ring true. The Dominator 650SS's blend of style, competitive straight-line speed and Featherbed-framed handling ability made it one of the best bikes that the old Norton firm ever built.
1962 Norton Dominator 650SS
You'll love: Acceleration, stabilitymeless style, four-pot power
You'll curse: High-rev vibes, oil leaks
Buy it because: Silver Sixties star

Condition and price range: Project: £6000 Nice ride: £7500 Showing off: £9000
Engine: Aircooled parallel twin
Capacity: 646cc
Power: 49bhp @ 6800rpm
Weight: 182kg with fluids
Top speed: 115mph
Read more
The Art of the Manx
Ride on time: 13 collectable motorcycles to buy now
The Ducati 900 Super Sport was the superbike of the Seventies