Regular supercars just aren't enough for some. It's why you'll find tuning companies only too happy to extract more than a thousand horsepower from the already spectacularly rapid McLaren 720S, and it's why brands like Ferrari will, for their most special clients, occasionally build a one-off model that nobody else on the planet can buy.
It's also why, back in the 1980s and early 1990s, you could phone up a company like Dauer Sportwagen or Koenig and put your name down for a road-going variant of Porsche's 962 sports prototype. And then drive it yourself. On the road.
How much is your car to insure? Find out in four easy steps.
Get a quote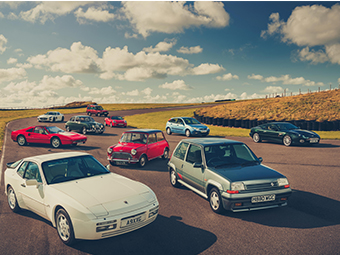 Back in 1991, someone did just that with the car you see here, a Koenig C62. The second car of only three C62s ever made by Koenig – the motor racing team and tuner founded in Munich, Germany, by Willy König, in 1977 – it was exported to a Japanese owner in 1991 and remained in Japan until 2019, when a collector brought it to the United States.
It's now for sale again with ISSIMI, at five grand shy of a million dollars, having covered under 5000km (3100 miles) from new and fresh from a thorough service since arrival in the US. Best of all, the most recent owner has put around 1000km (600 miles) on it themselves, suggesting it's surprisingly usable for a barely-disguised racing car.
That might be doing Koenig a disservice though, as it had to do quite a bit to turn the snarling 962 into something you might feasibly pop to the shops in.
It had experience of the car, for starters, having been among the numerous teams that ran customer 962s in sports car racing. But to try and extract something approaching usability from the platform, Koenig raised the suspension, and the headlights and arches to meet German regulations. It also redesigned the floorpan to account for aerodynamic changes from the arches, and ensured the front compartment and engine lid could be opened (rather than fully removed in true Le Mans style).
Beneath that hinged engine cover the Koenig C62 runs a 911-derived 3.4-litre twin-turbocharged flat six on individual throttle bodies, rather than the original 935-sourced 3-litre twin-turbo six. The combination is still good for 550bhp at the wheels (measured in 2019 when it arrived in the US), while the running gear is slightly more road-optimised, with softer springs and dampers.
The brakes are original racing-spec, but the pads are better suited to road use. We're assuming that means you don't need to approach the entrance to Tesco at 150mph just to get some heat into them. We spy some actual tread on those Dunlop tyres too.
ISSIMI helpfully provides some insight as to the car's driving characteristics, noting characteristics like "the engine noise is substantial", "explosive on boost" and that it's "surprisingly enjoyable and benign to hustle on B-roads", the car's 2-metre width and your tiny bubble-like cockpit view aside. "It makes a Countach feel like a Golf", they go on to quote. Crikey.
The good thing is, even at a million bucks, there's real incentive to continue to drive this Koenig C62. It was, after all, heavily altered for road use, and if you wanted a 962 simply to park up and stare at, then you'd surely find one of the numerous racing versions still in existence. Deeply impractical and intimidating it might be, but if you're concerned about that, then there are plenty of normal supercars to choose from…
Read more
Not-so-Risky Business: Porsche 928 movie car sells for nearly £1.5 million
13 times luck wasn't on these drivers' sides at Le Mans
Jaguar and Lister star in sale of mind-blowing collection of 75 race and road cars