The eyes of the motoring world might have been on the Goodwood Revival at the weekend, but those that weren't would have been out on stalks at the Barrett-Jackson auction in Houston, Texas.
When the hammer fell on a 1979 Porsche 928 driven by Tom Cruise in 1983 movie Risky Business, bidding had risen to $1.98 million – about £1.45 million at current exchange rates.
How much is your car to insure? Find out in four easy steps.
Get a quote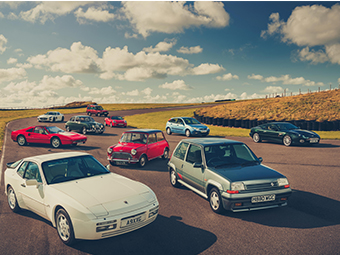 You don't really need telling this, but that's a new world record for any Porsche 928 of any year and in any condition. To put an existing value against that figure, the Hagerty Price Guide puts a condition 1, concours 928 from 1979 – that's a vehicle we describe as "the best in the world… unmodified, in the right colour, driving onto the lawn at the finest concours" – at £30,600. Or one forty-seventh the value of the Risky Business car.
While other movie cars have gone for more – the Bullitt Mustang for $3.71 million in 2020, the Goldfinger DB5 for $4.6 million in 2010 – the 928 sale is still impressive given it's far from one of the most iconic cars to have graced the silver screen.
Multiple 928s were used in Risky Business, a car that was chosen by screenwriter and director, Paul Brickman. Barrett-Jackson confirmed that its auction car received the most screen time – and isn't the car that ended up in Lake Michigan. (That was a 928 stripped of its powertrain.) It did also star in a documentary surrounding filmmaker Lewis Johnsen's quest to find the car, and uniquely, it was the very car in which star Cruise learned to operate a manual gearbox.
Since filming it was part of a private collection, and has later been seen in Porsche Cars North America's collection – ironic, given Porsche reportedly distanced itself from the film at the time of production – and at the Petersen Automotive Museum in Los Angeles.
History aside, it's otherwise a standard 1979 928, complete with 4.5-litre naturally-aspirated V8 and the original telephone-dial wheels. It has changed colours a few times – the car was originally white, painted gold for filming, then being repainted in the original white and then returned to movie spec when Johnsen later rediscovered the car.
If there's one more eyebrow-raising stat from Houston, it's that the 928 was the only non-American car in the top ten sales, sitting right at the top above a pair of 2019 Ford GTs and then an ex-Stirling Moss 1966 Shelby GT350 racing car.
Read more
Iso Grifo stars in Bonhams Goodwood Revival auction
Jenson Button gives Porsche 911 Turbo X88 star power
The Porsche 924 wasn't born a Porsche. It became one. | Revelations with Jason Cammisa