In the last few months, Hagerty has regularly reported on cars that have broken records at auction. This week is no different, but the car in question has set a rather low bar. On 9 June, Barons sold a 1966 Jaguar Mk II 2.4 at auction for a recent auction record low of £550.
Unsurprisingly, the Mk II needs a great deal of work, the 1994 tax disc in the window giving away when the saloon was last on the road. That said, the price paid is less than a tenth of the Hagerty Price Guide lowest value of £8,100 for a 2.4, and even if it was bought for parts, it's a great purchase.
How much is your car to insure? Find out in four easy steps.
Get a quote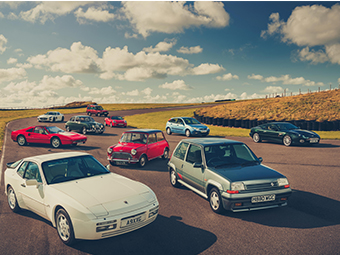 Interestingly, this time last year we saw an example sell at the other end of the record spectrum: at the Silverstone Auctions May 2020 sale, a Mk II Jaguar sold for £93,500, the highest for a standard road version that Hagerty has seen at public auction. Since then, Silverstone has offered a car for even more: this March, another pristine Mk II was estimated at £95,000 to £115,000, although on this occasion it did not sell. It's now easy to see why the Mk II Jaguar holds the UK Hagerty Price Guide record as the car with the biggest percentage difference between condition 4 'fair' price and condition 1 'concours'.
So, what would create such a gulf in values? For the Mk II, probably more so than any other car, specification makes a massive difference. However well the new owner of the £550 car from Barons restores their car, it will never be worth much more than £30,000 because it was originally supplied with a 2.4 litre engine and not the most desirable 3.8 S.
Then there's the colour: although the Barons car had a nice combination of red leather and black paintwork, the collectors of concours cars really want the opalescent silver blue or gunmetal cars that accentuate the model's purposeful stance. And while it did feature the manual/overdrive 'box, it lacked the original power steering option that can also add to a car's attraction.
Then there's the magic of Coombs, the Guildford dealer whose period performance modifications remain legendary. The example that Silverstone valued so highly in March had been first supplied by Coombs and came complete with the trademark louvred bonnet, which explains its estimate.
Mind you, an old friend who completed his apprenticeship at the garage told me that most of the cars they sold were pretty standard, and far from all had the bonnet modification. If it had been a true Coombs car with a full build sheet and racing history, it would undoubtedly have been worth a lot more.
So, what does Hagerty think about current values for the Mark II Jaguar? We believe that unless you're in search of a concours car, there are still some very good examples available for a reasonable price. Over the last 18 months we've tracked 30 sold at auctions in the UK, most of which have been our condition 2 'Excellent'. The vast majority sold for under £30,000. That's not a lot of money for a true-blue British classic.
Also read
Hagerty Analysis: The Leonard Collection
A £90k wrecked Jaguar and a £218k Integrale mark a wild weekend of auctions
This hair stylist works on his devilish Jaguar "Beelzebub" with the patience of a saint