If your car's battery has just about behaved over the summer but is now starting to slow down, you can be guaranteed that it will give up the ghost once the colder weather sets in, especially if you aren't able to keep it nourished with a trickle charger. The extra strain of lights, wipers and heated screens combined with the lower temperatures, not to mention prolonged periods off the road in miserable weather, mean you'll soon be reaching for the jump leads.
If you want to change the battery, the good news is that it's one of the easiest jobs to tackle and usually only takes a spanner and some common sense.
How much is your car to insure? Find out in four easy steps.
Get a quote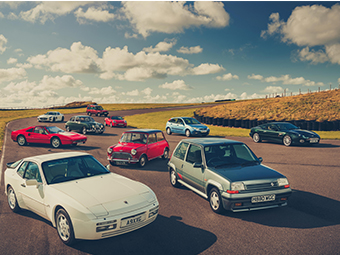 Buying a new car battery online will save you a decent chunk of cash compared to making a distress purchase from a garage or breakdown provider too. But which is the easiest online site to use and which offers the best value?
We tried eight different online sellers to check the prices for batteries to fit a selection of classic cars: a 1993 Peugeot 205 GTi, a 1972 MG Midget, a 1996 Porsche 911, a 1991 Range Rover V8, and finally a 1988 Citroen 2CV.
We noted the cheapest battery on offer but also checked the 'premium' brand option if offered, which was usually a Bosch. [Prices were correct at the time of publication. Ed.] We also factored in any delivery cost and times. Our spreadsheet then worked out an average to give us a price score. We also gave extra points for ease of use and checked the independent customer reviews to see how the service stacked up for other shoppers. Here's how we go on.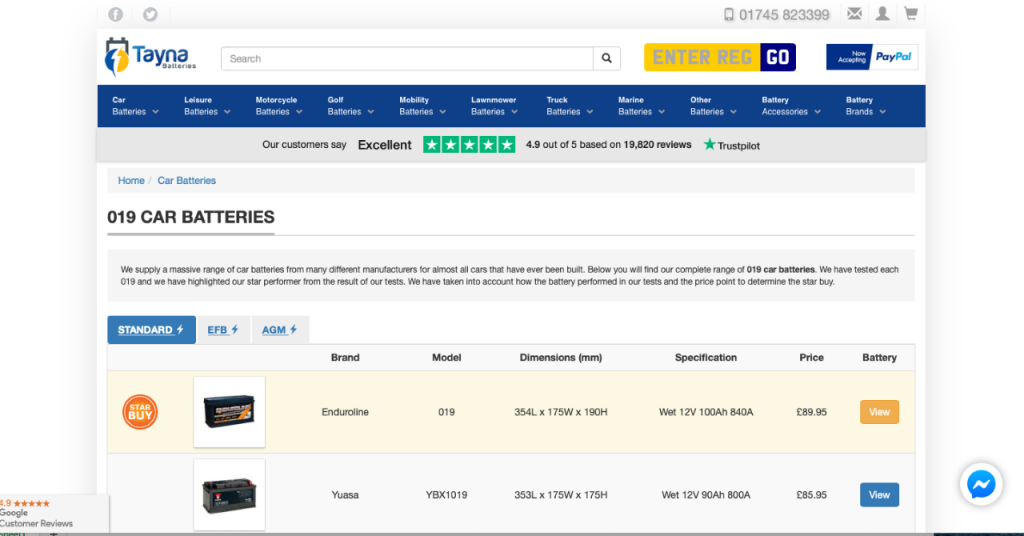 Average Prices: Cheapest £42.91, premium (Bosch) £59.85
Delivery: £8.88, 1-2 days
Score: 9
Tayna's prices appeared to be the cheapest across the board for the budget brands and most of the Bosch batteries, but you'll need to factor in a delivery charge of £8.88 to get it to your door.
Even so, the prices were competitive and there's plenty of choice. The site is not perfect though. Using the registration look up failed to find any suggestions for our MG and 911, so we had to enter the battery part number instead to get a price. It also had an irritating habit of steering you towards a 'best seller' product which was often pricier than the other offerings, even when it was an unheard-of Enduroline versus a Bosch.
If you are prepared to battle through though, it offers a good selection and decent prices across the board.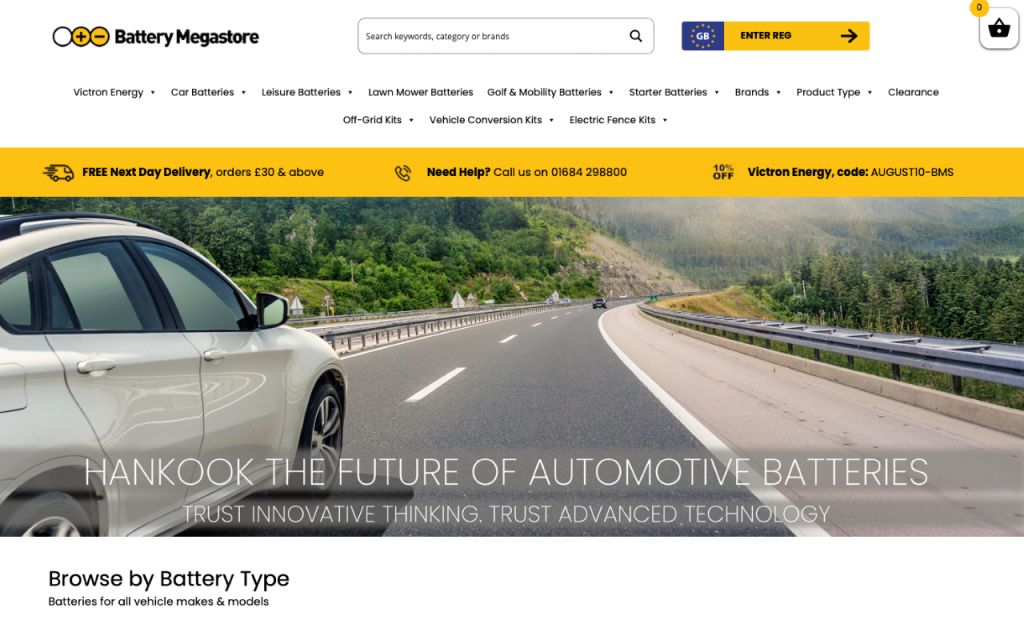 Average Prices: Cheapest £45.82, premium N/A
Delivery: Free for orders above £30
Score: 8
It's rare for us to give a high score to a site which isn't user friendly, but like the Tayna online shop, your patience and perseverance will be rewarded with cheaper prices. This site is irritatingly clunky and crashed a couple of times while we were researching too, perhaps because it didn't like us searching for multiple cars at once.
The cheapest options were a little higher than Tayna's across the board too, but free delivery meant that all except the Range Rover batteries were offered at the lowest cost.
The prices for the Bosch products were also competitive, but there were no premium options offered for the MG or 911 so we haven't listed an average for these. The site could have been a winner if there had have been a wider choice on a slicker website.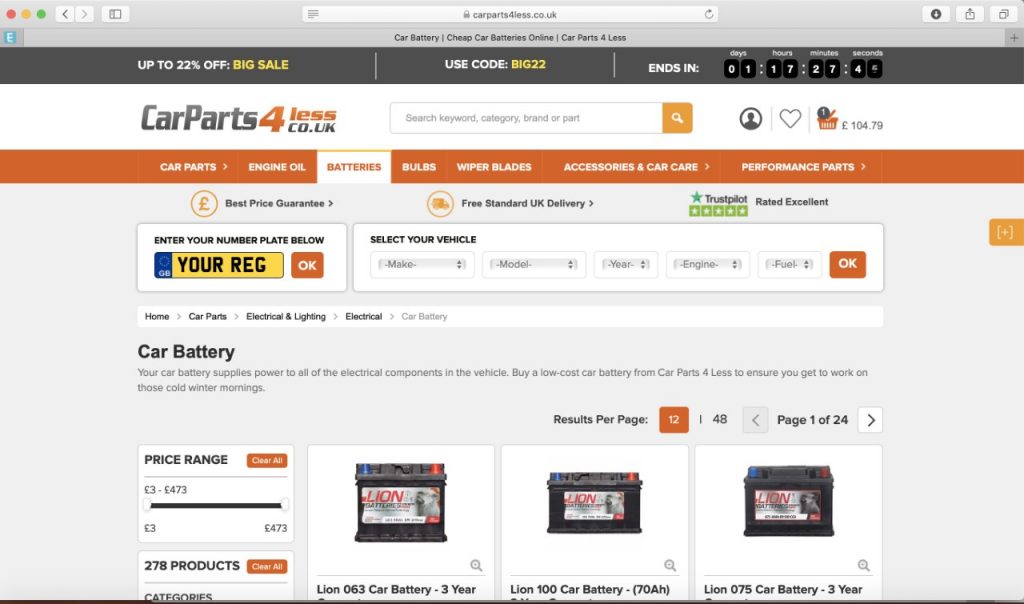 Average Prices: Cheapest £61.95, premium (Bosch) £89.43
Delivery: Free, 3-5 days. £4.95 next day
Score: 7
Carparts4less could easily have won this test if its prices had been sharper. But despite the seemingly never-ending special deals offering huge percentage discounts based on random events (payday, bank holiday, Halloween, sunny days…) and free delivery it didn't have the cheapest prices on any of our batteries.
Besides the confusing offers the site is the best and easiest to use of our selection here. An accurate registration number look up found all our cars and offered a decent range of options. Delivery within five days is free, or you can upgrade to next day for £4.95.
Even if you eventually go elsewhere to buy, it's worth checking out Carparts4less just to check part numbers and options.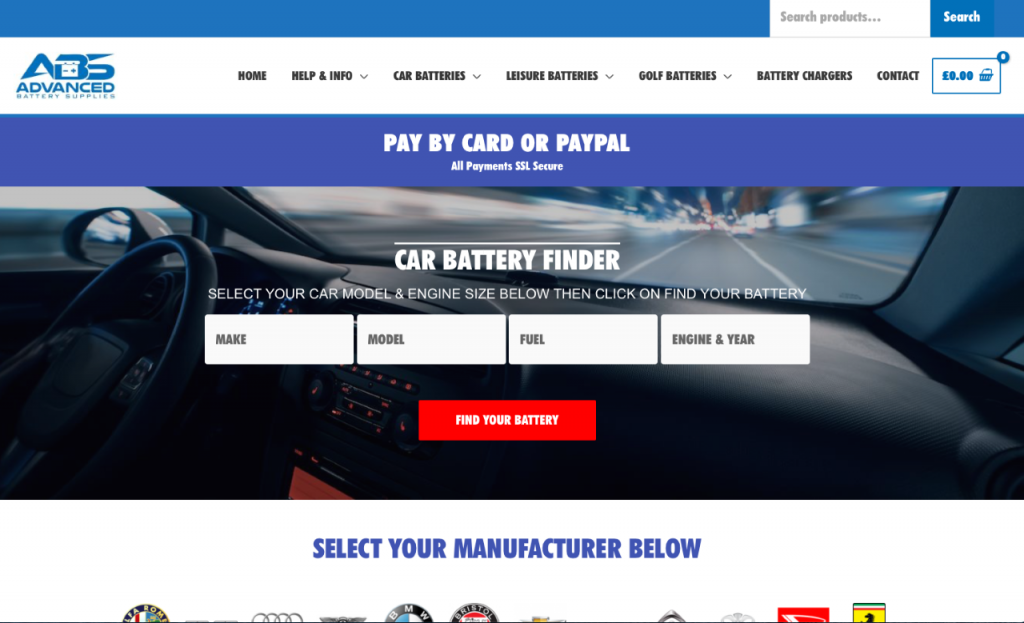 Average Prices: Cheapest £61.40, premium (Bosch) £83.75
Delivery: Free next day
Score: 7
This is another vendor whose lacklustre site is outweighed by low prices and decent service. Unlike all the rivals here, there is no registration look up – so you'll need to either go through a tedious make/model/year/engine menu selection or do your own research to check you're buying the right part for your car. We needed to do this anyway for our MG and 2CV as they didn't exist on listings.
Prices weren't the lowest, but free next-day delivery sweetens the deal and brings the cost to the same level as Tayna and The Battery Megastore.
If you do manage to find the right battery, the site offers a decent selection of products and the customer reviews show that people are generally happy with the service.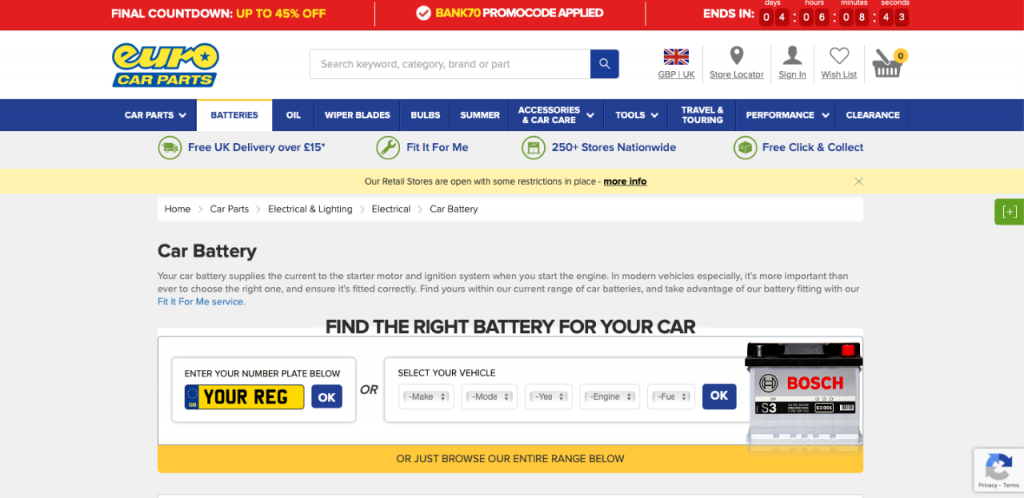 Average Prices: Cheapest £72.71, premium (Bosch) £95.15
Delivery: Free, 3-5 days. £4.95 next day
Score: 6
We can save you a few quid and some time here. ECP and Carparts4less are the same company, and this becomes immediately apparent when you see the similarities between the sites – and that includes the same irritating "40% off because there's a Y in the day" discount deals which confuse comparisons between rival sites.
Glance at the prices though and you'll see ECP is more expensive than Carparts4less across the board. The reason is that ECP has physical shops where you can collect (and return if necessary) if you are in a real hurry for a battery or simply need a bit of advice.
This clearly adds to the overhead cost, but is a cheaper option than Halfords if you want to visit a shop.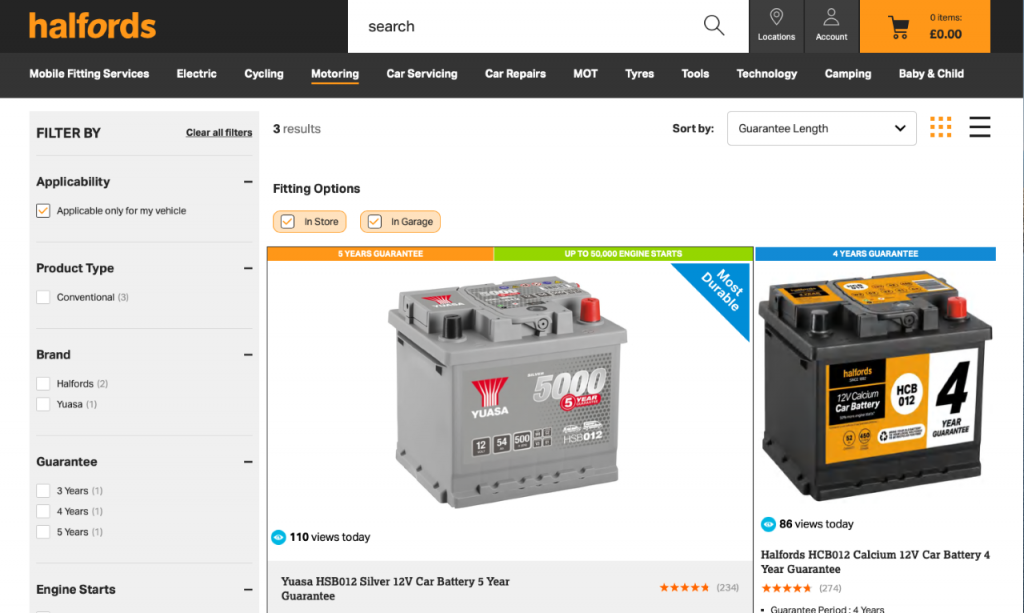 Average Prices: Cheapest £89.80, premium (Yuasa) £114.22
Delivery: Free, 3-4 days. £4.95 next day
Score: 5
Halfords' site and registration search functions are super-slick and user-friendly, as you might expect from the motoring and cycling retailer which is so well known. In fact, most people would head straight for Halfords if they needed a battery, especially as it can be fitted for around £15 in store too. But we were surprised at the high prices and lack of choice on the site. In some cases there were just one or two options and the Halfords-branded and Yuasa batteries were twice the price of the cheapest and Bosch options on our top-rated sites. While the search function is efficient, it failed to identify our Midget or Porsche from their registration numbers.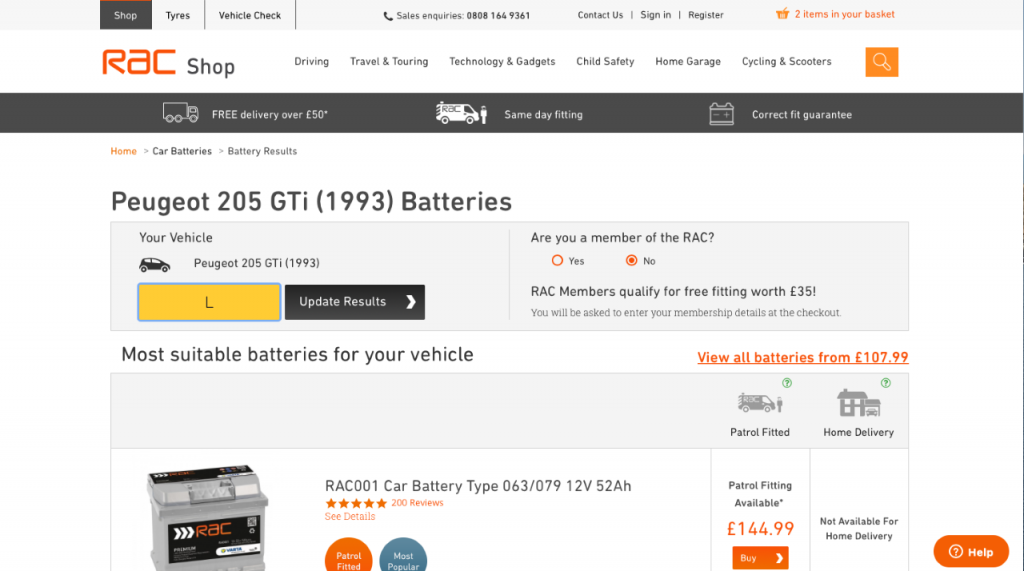 Average Prices: Cheapest: premium (Bosch) £120.39
Delivery: 1-3 days, £7.99
Score: 4
The RAC site is easy to use, quickly and easily found all of our cars and suggested batteries for them. Two options were offered – an RAC branded product which had a price which included fitting by an RAC patrol, and a Bosch alternative for home delivery. The RAC batteries were more expensive, by about £20, than the Bosch. Even the Bosch prices were steep though, costing twice as much for some cars compared to rivals here once the £7.99 delivery charge was added.
The site also couldn't offer a battery for the Range Rover, saying it had to be fitted by a main dealer. While that might be true for a newer model, there is nothing complicated about a 30 year old V8 which was designed in the 1960s.
With its pricing, we can only assume that the RAC hopes to appeal to drivers who need a battery fitted in a hurry. If you can wait a day to get one delivered from elsewhere and get a jump start to get you to a garage, you could save a few quid by buying elsewhere and paying for a few minutes' labour from your local mechanic.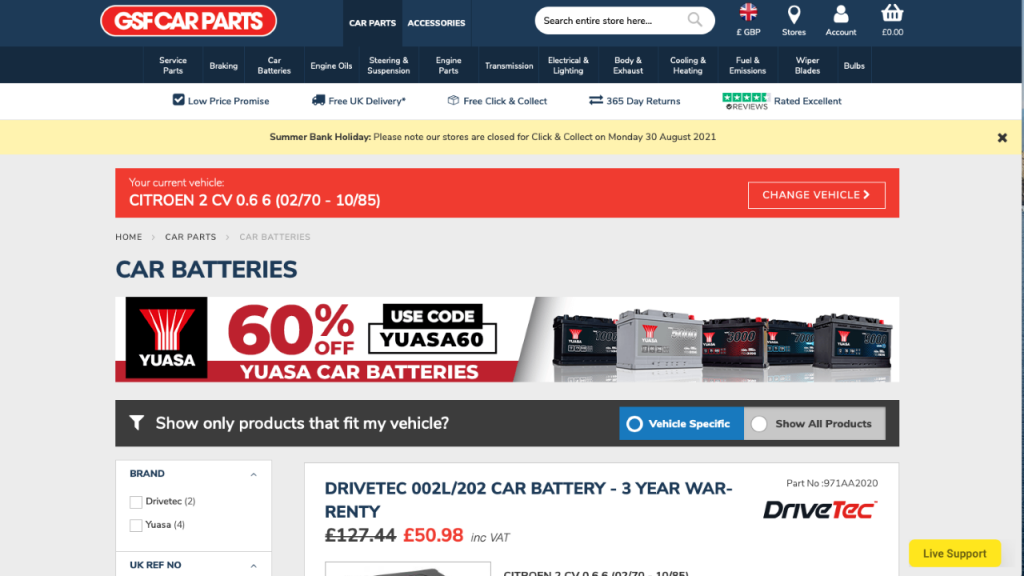 Average Prices: Cheapest £56.48, premium (Yuasa) £69.76
Delivery: Free, 2-3 days
Score: Not ranked
We didn't give the GSF site a ranking because it simply didn't offer enough of our batteries to make it fair to appraise it. There was nothing offered for the MG or Porsche, even using the part numbers rather than registration look-up to search for them.
The site is confusing too, with annoying offers and obscure discounts which aren't apparent until you go to the checkout.
If your car is on the GSF list, you'll be offered two or three choices, including a brand you've never heard of at a price higher than a well-known brand. Again, it's worth putting GSF on your shortlist to see if it works out cheaper, but the lack of choice and confusing offers stopped it from getting a score in this test.
Verdict
1. Tayna
2. Battery Megastore
3. Carparts4less
Our spreadsheet research of average prices gives a good indication of which sites are competitive overall, but you're going to need to do some research yourself to be assured of the best price for your individual car. You'll also need to factor in delivery costs based on your desperation to get a battery in a hurry.
We'd start your own research with Tayna, the Battery Megastore and Carparts4less, and maybe throw in GSF in case you are lucky enough to be on its list.
But none of the sites were perfect and you need to have your wits about you to avoid getting caught in a web of confusing discounts and seemingly special deals. Do your homework and you could find yourself with a quality battery delivered to your door for half the price you'd pay from some well-known shops.
More from Reviewed & Rated
Reviewed & Rated: Solar battery chargers
Reviewed & Rated: DAB adaptors for classic cars
Reviewed & Rated: Rust converters