Chasing rust is a sport which all classic car owners play. Even if you keep your precious motor in a garage and only drive it in the dry, our great British climate has a way of dissolving old, unprotected metal.
Warding off the corrosion with oils, waxes and paint will slow the process but once it has taken hold you'll need to break out the treatments. Luckily, technology has moved on since the days of using grinders, aggressive acids, and old engine oil. There are now substances which promise to neutralise the rust and form a protective barrier and require no more effort than a coat with a paintbrush. Once treated, the metal can then be painted over with the promise that the rust shouldn't reappear.
How much is your car to insure? Find out in four easy steps.
Get a quote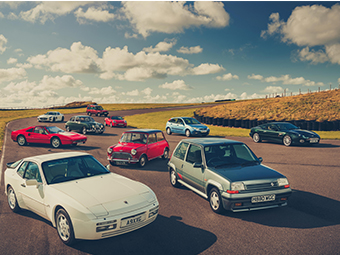 To test these clever corrosion-killing concoctions we left unpainted sections of 1mm mild steel out exposed to the elements until they'd developed a uniform level of deep surface rust. We then treated them with our test products, making sure we followed the instructions carefully, applying the suggested number of coats.
We left one side of the sample unpainted to check the protection offered by the treatment alone. The other side was painted with a single coat of primer and a 'rattle can' acrylic top coat. Once the paint had cured, we placed the samples outside again and sprayed them with salty water every day for a month. Which one of our rust converters was the top rust buster?
Jenolite Rust Convertor Spray – Winner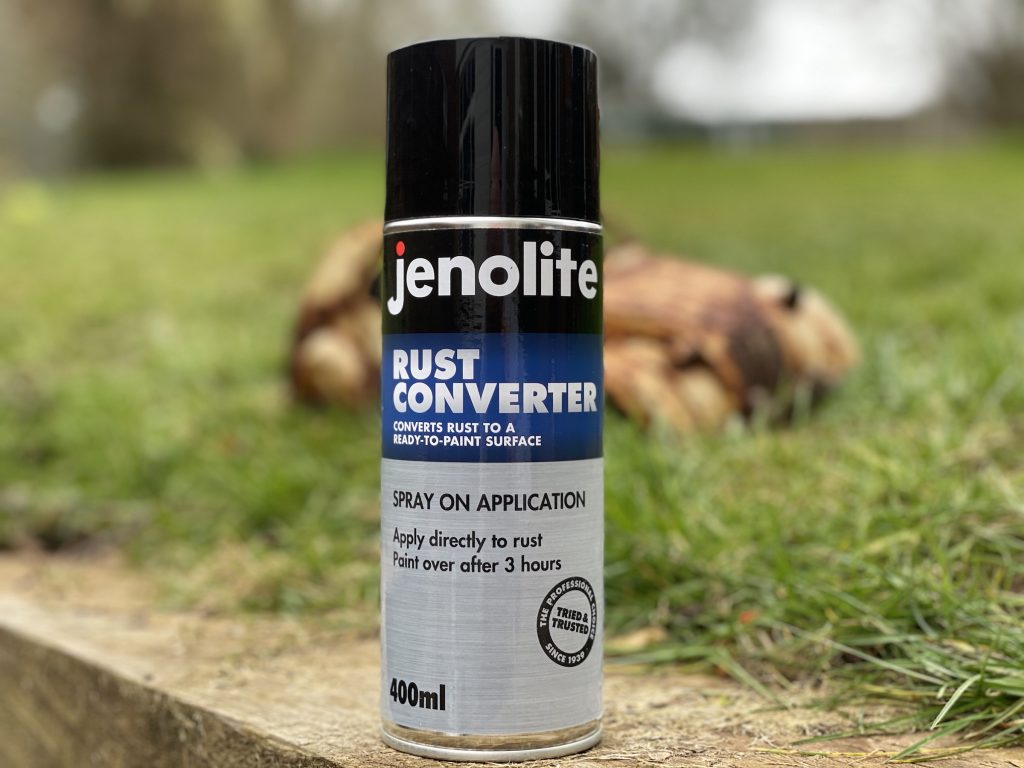 Price: £16.99
Size: 400ml
Score: 10
Contact: jenolite.com
Jenolite might be a familiar name in rust converters, but the way this fluid is applied is unlike the other treatments you'll have tried. Rather than slapping it on with a brush, this is an aerosol spray, making it easier and faster to apply in some situations, such as underneath the car. But be aware that you might need to do some masking to avoid making a mess, and treating small areas such as bubbling stone chips is going to be tricky compared to using a paint brush.
Once applied, the spray Jenolite had a waxy-like finish which meant it clung to our steel far better than the other liquids. Despite this greasy look, it took the paint without a problem. Its rust-busting performance was by far the best on test with minimal rust showing on our sample after its constant salt baths.
Bilt Hamber Hydrate 80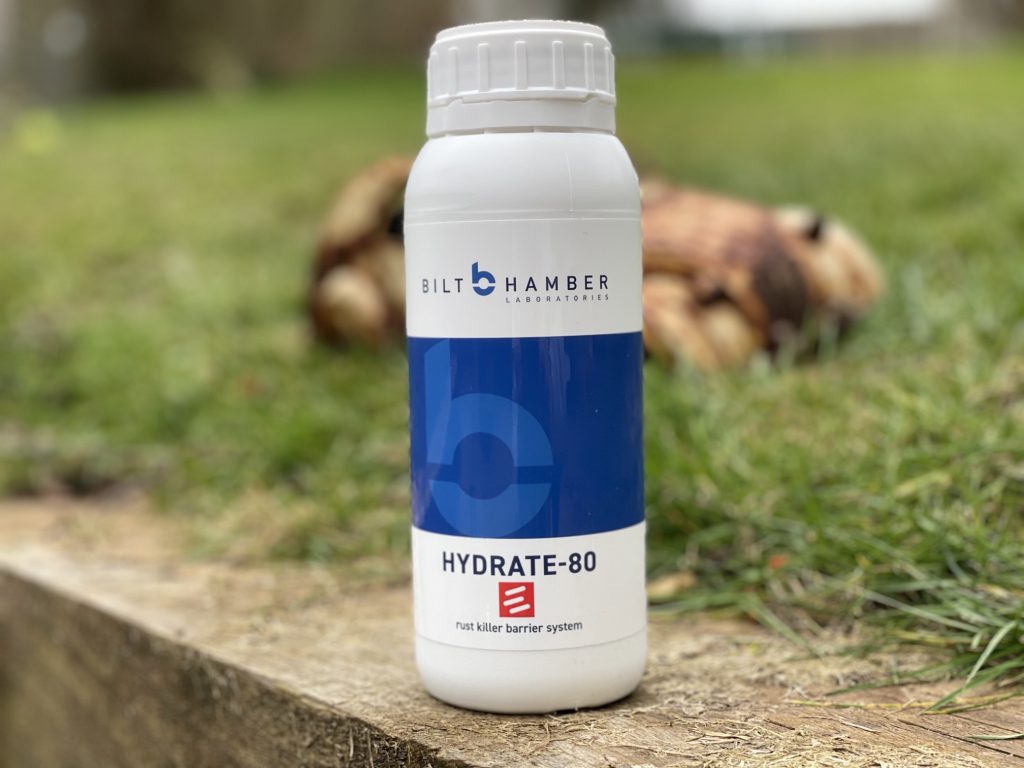 Price: £14.95
Size: 500ml
Score: 8
Contact: bilthamber.com
A score of 8/10 in one of our tests is not to be sniffed at, but we usually expect Bilt Hamber products to be on the winner's podium as it's a company with a great reputation. But the Hydrate 80 didn't win here, despite offering decent protection and being exceptional value. The liquid soaked into our rusty surface quickly and formed a tough barrier, but there were specks of rust appearing on both sides of our sample by the end of our test.
If you need to treat a large amount of rust it might make financial sense to use the BH, and it was still our favourite paint-on fluid, but we'd make sure we applied a decent amount of corrosion protection on top of the treatment too.
Hammerite Kurust – Recommended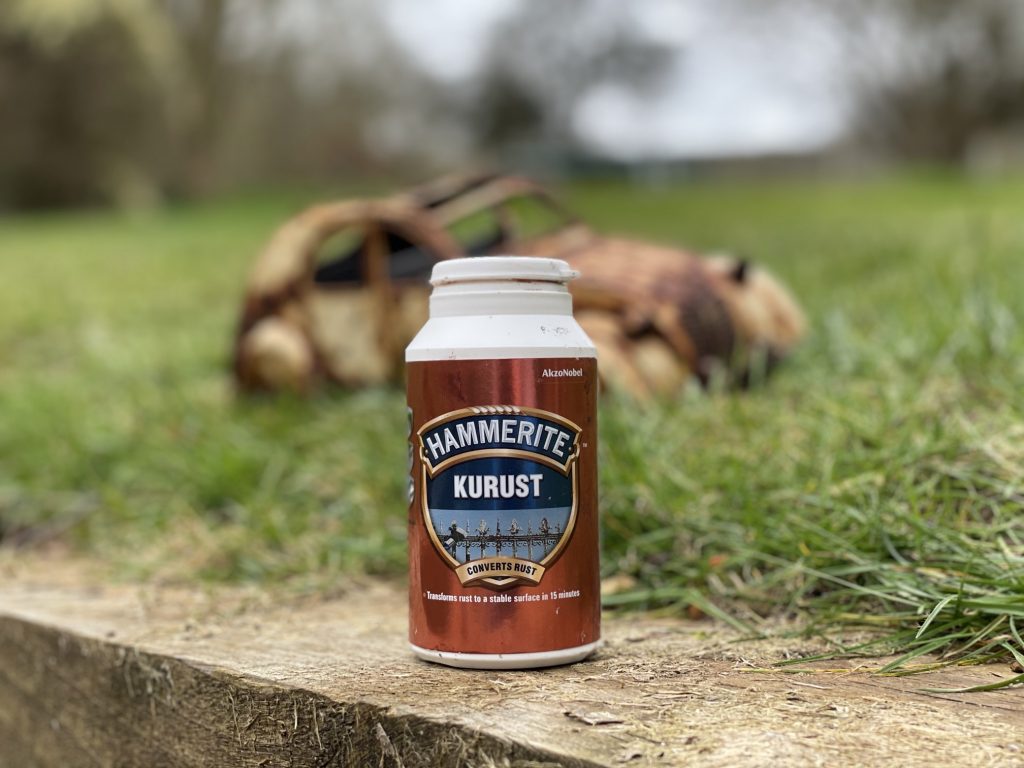 Price: £10.80
Size: 250ml
Score: 8
Contact: www.halfords.com
Hammerite tends to be the 'go-to' brand for rust protection products, as its paints work so well and need very little preparation. Instead of spending hours underneath a car with a wire brush, you can just slap them onto bare, rusty metal. There are places where Hammerite isn't ideal though, such as bodywork where you need to overpaint. For these you can use Kurust.  It works well, giving the same level of protection in out tests as the Bilt Hamber with just a few spots appearing by the end of our month.
It's not quite as easy to apply though, as the watery liquid wasn't keen to soak into the rust and seemed to be repelled, making it tricky to apply to vertical surfaces. But despite our misgivings the rust turned black after 15 minutes as promised and was ready for another coat.
Our only other issue with the Kurust is the price, as the cost per millilitre is high compared to others here.
Neutrarust 661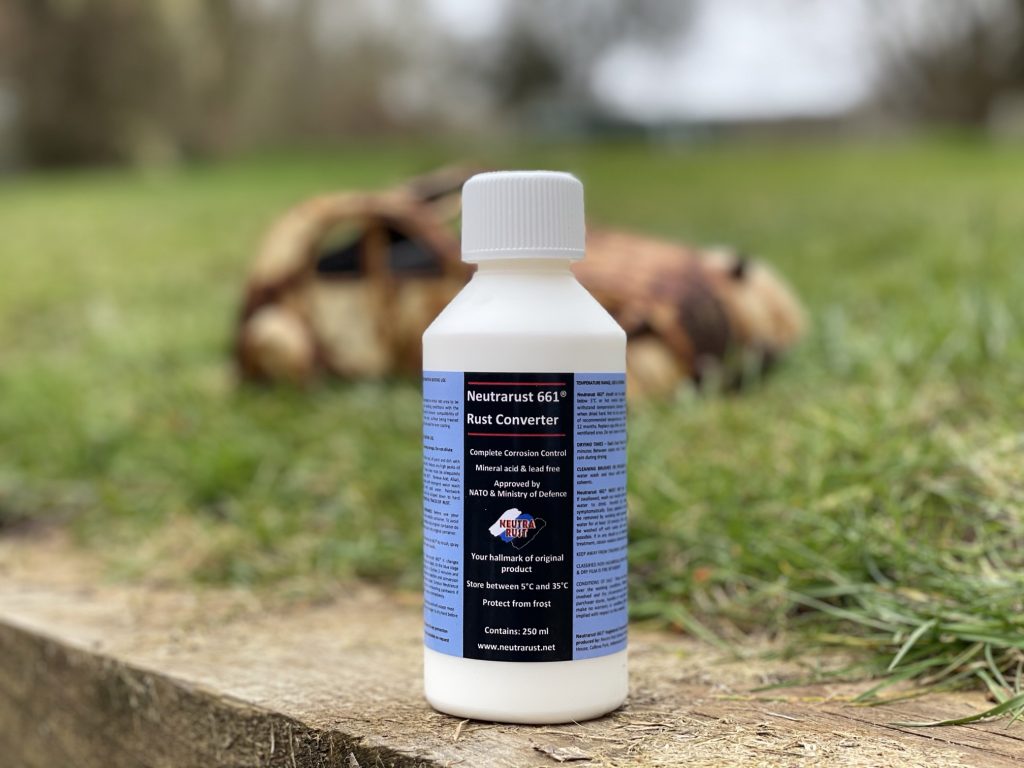 Price: £13.95
Size: 250ml
Score: 7
Contact: neutrarust.co.uk
You know you have a serious product when it has stamps of approval from organisations like NATO and the Ministry of Defence. If it works on tanks and warships then the bottom of your Cortina probably won't be an issue.
And sure enough, it did a decent job. It is very easy to apply with a brush, and it soaked in immediately. Satisfyingly the rust began to react straight away too, turning black after a few seconds and making it easy to see bits that might have been missed.
It did a good job of protecting our sample too. Just a few dots of the dreaded red were visible on the unpainted side. But it didn't score higher as it's expensive if you buy it in this small bottle and doesn't offer significant advantages. Neutrarust is available in larger bottles though, so it could start to make financial sense if you buy in bulk for bigger jobs.
Rustins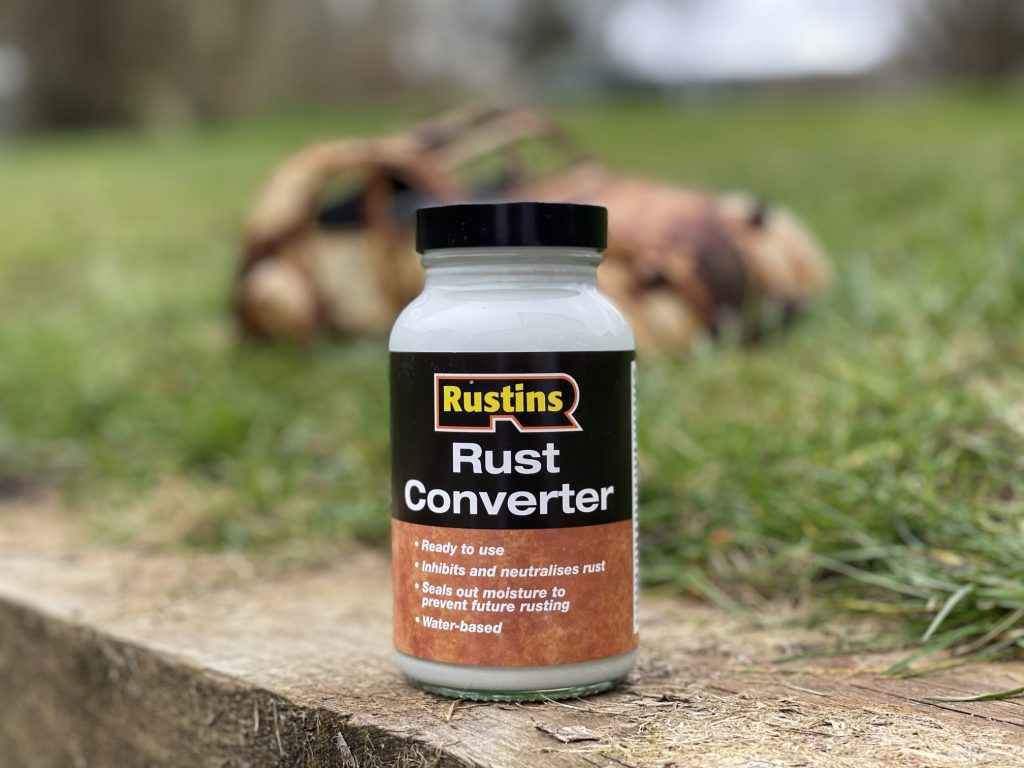 Price: £8.64
Size: 250ml
Score: 5
Contact: www.rustins.ltd
The Rustins is packaged in a glass jar which looks like the sort of thing you'd find in your grandad's shed – which we thought might mean it was a tried-and-trusted formula which has worked for generations. But in reality, it didn't do a very good job for us.
When painted on it seemed to sit on the surface of our rust rather than soaking in and reacting. It also took longer to dry, meaning we had to wait until the next day until we could paint over it with our primer and top coat.
It wasn't worth the time and effort either. Unlike the other fluids, the Rustins didn't seem to bond to the metal at all, meaning it just sat on top of the surface. This meant it struggled to protect against our salty spray and actually started flaking off by the end of our test, revealing the bare metal underneath.
Jenolite Rust Convertor Liquid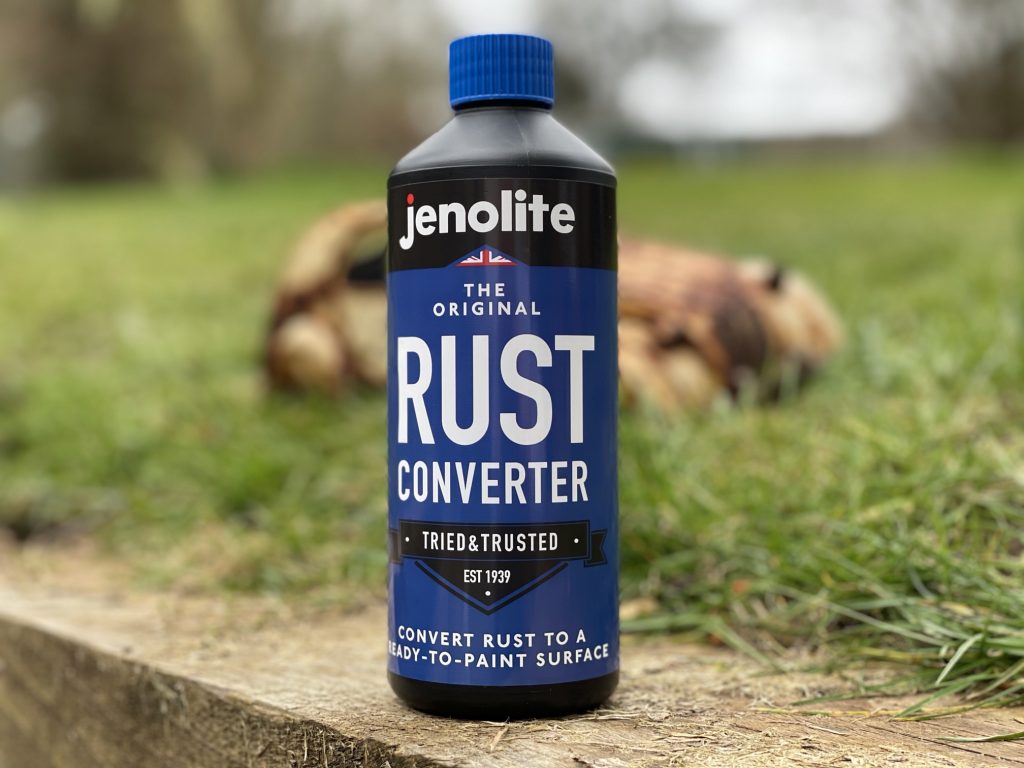 Price: £16.99
Size: 500ml
Score: 4
Contact: jenolite.com
It's very rare that we have two products from the same company occupying the top and bottom of our test rankings – but Jenolite's excellence with the spray-on treatment is countered by a poor performance from the Liquid convertor.
Unlike the aerosol, this is a milky fluid which seemed to be almost identical to most of the others here in appearance, and it was easy to apply with a brush. It clung to the metal and turned bluey-black quickly.
But it offered very little in the way of long-term protection to our sample. The unpainted area was uniformly rusty again and it was starting to develop on the other side too.
Loctite SF7503 Rust Remedy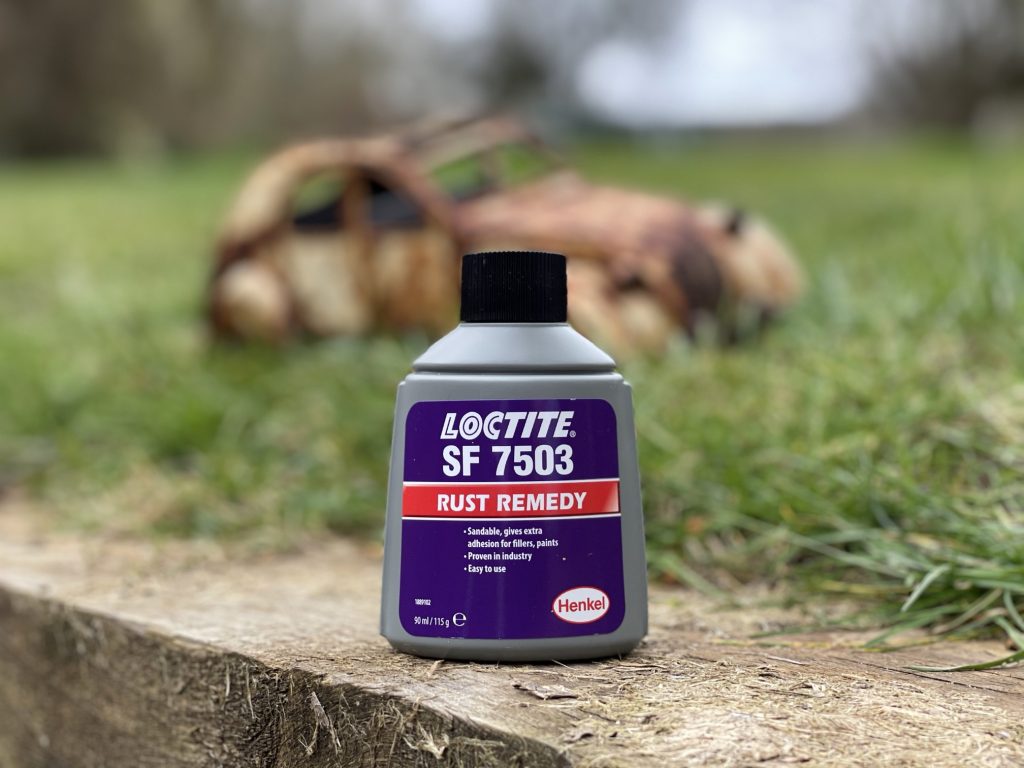 Price: £5.99
Size: 90ml
Score: 4
Contact: amazon.co.uk
On the face of it, the Loctite looks good value and is from a known and trusted brand. It seemed to work well at first too, being very easy to apply thanks to a watery consistency which soaked into the rust instantly and turned black within minutes.
But it didn't last. By the end of our month the coating had almost completely disappeared from our unpainted metal and spots of rust were starting to break through to the other side too. And while it appears to be cheap, the bottle is tiny at just 90ml, making it seem poor value.
Verdict
We were really surprised by the results of this rust converters test, not only because the two Jenolite products were so far apart in performance. The fluids here all have a similar appearance, but some are clearly better than others, and cheaper too.
The Jenolite Spray looks different to the others and offered the best protection in our test. It's good value and was incredibly easy to apply too. A spray might not be suitable for all parts of your car though, so the Bilt Hamber Hydrate 80 is our favourite liquid if you prefer to use a brush.
Read more
Reviewed & Rated: Key fob finders
Elbow Grease: Cleaning your car with minimal kit
Five must-have mods for your classic car