You walk up to your car, unlock the door and slide the key into the ignition. As you twist it to the first click, you know something is wrong as the warning lights are flickering. Predictably, another twist of the key brings nothing more than a weary churn of the starter.
It's a scenario that many of us have experienced more than ever recently. We are using our cars less these days, whether they are classics or our everyday transport. Yet we expect the battery to be able to cope with weeks of neglect and still have enough power to feed devices such as alarms, interior lights and even the clock. It's no wonder you are left with nothing but a dreaded flicker and clicker when you finally attempt to start the engine.
How much is your car to insure? Find out in four easy steps.
Get a quote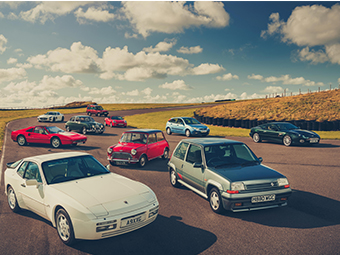 The best way to keep the jump leads on the shelf is to use a mains-powered battery conditioner which will resurrect dead batteries and make sure they are kept in tip-top order and ready to go. But not all of us have access to a garage or a power socket.
The alternative is to go solar. Rather than connect to the mains, these chargers harness the sun's rays to provide vital volts for your battery. They can either be placed inside the car, or could be used at a garage window and connected to the battery.
If you want the panel and wiring enclosed inside the car, you'll need to make sure you have a 12v socket which stays live even after the ignition is switched off or use an ODB port connection – if your car is modern enough to have one. You can check if the 12v socket is suitable by plugging in a powered device, turning the ignition off and locking the doors. If there is no power to the device, you'll need to find another way to the battery.
The alternative is to attach the panel with crocodile clips straight to the battery and run cables through the bonnet and door seals. Just check you aren't going to sever a wire or cause a leak – running cables through the bottom of the door is best, as water won't be able to run up the cable.
To test our selection of chargers, we connected them to a discharged (but not dead) battery and measured the output in direct sunlight. We also gave points for extra features which allowed a variety of different connection options, overcharge protection and switches which ensure the panels don't drain the charge overnight. Then the prices were checked for the best deals online.
Which of our eight chargers will bring a ray of sunshine to your car?
Verdict
1. Photonic Universe 10W Solar Trickle Charging Kit
2. OptiMate Solar 20W
3. AA Car Battery Solar Charger/ Halfords 2.4W Solar Maintainer
Firstly, a word of warning. None of these chargers are quite as good as we hoped they'd be, and you'd probably still be better off taking your battery out of the car and charging it once a month than you would be relying on a solar charger. But if that seems like hassle and you can't access a mains charger even for a few hours, then one of these might be better than nothing.
The most useful is the Photonic Universe, which might look as though it's been made by a schoolboy but it offers a decent performance, features and price. It's more suited to use on the outside of a building or roof of a camper though.
For use inside the car, the Optimate is easy to use, offers different connector options and is powerful enough to make a difference and actually charge a battery rather than just keep it topped up. But it's pricey. If you just want to make sure your battery has enough power in between your infrequent drives then the identical AA and Halfords panels are affordable and do a decent job.
Photonic Universe 10W Solar Trickle Charging Kit – Winner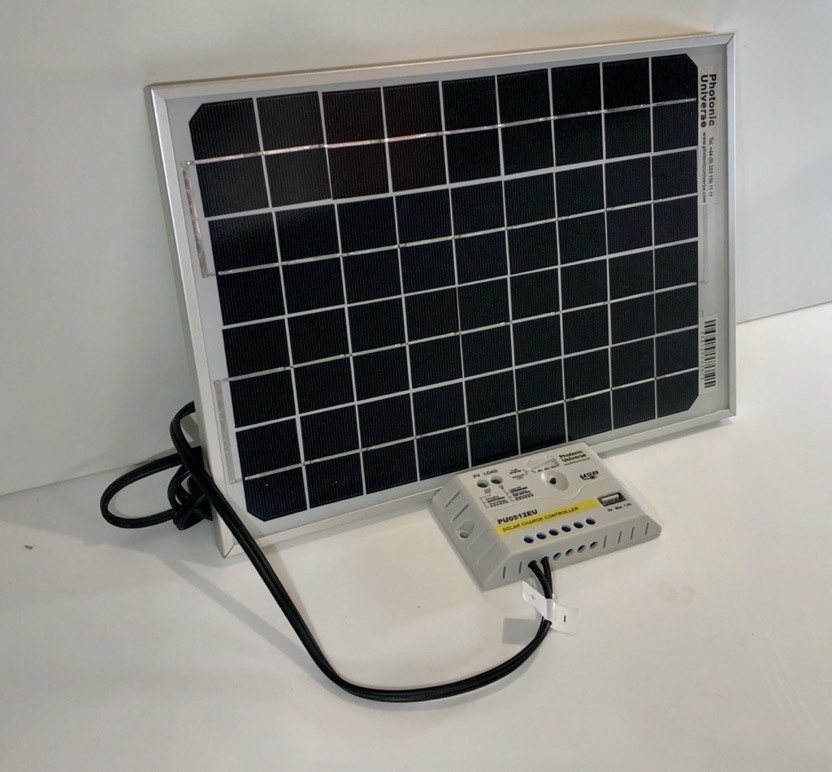 Price: £44.99
Output: 10W
Panel size: 34 x 24cm
Connections: Clips
Score: 10
Contact: Photonic Universe
Here's the proof that looks can be deceptive. Photonic Universe builds its chargers in the UK rather than importing them pre-made from a Far-Eastern factory and as a result the entire kit looks a little bit like it was assembled in someone's shed. As far as we know, it might well have been.
But there is no arguing with the performance at this price. It provided a steady charge even though the panel itself is smaller than most of the rivals here.
It might not be suitable for all users though, as it's designed more for fitting permanently to the outside of a vehicle or building rather than being placed on a dashboard. So it could be used on the roof of a garage with the 5m long cable fed through to a car. It would also be perfect for the roof of a campervan, and the kit has a USB charge mode so you can keep your devices topped up without flattening the main battery.
OptiMate Solar 20W – Runner Up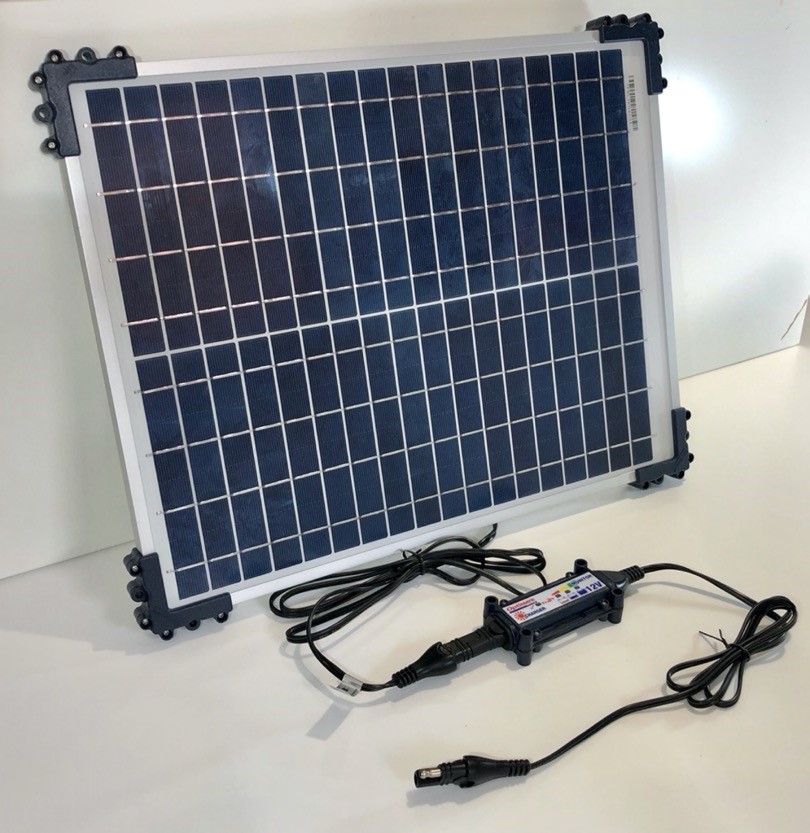 Price: £139.99
Output: 20W
Panel size: 45 x 36cm
Connections: clips, clamps, OBD
Score: 8
Contact: Optimate
If your battery needs a little more TLC and has a big drain when your car is not in use, it could be worth your while making the substantial investment in this Optimate. It's not just the price which is large, as this is a huge panel which has a correspondingly big output. To manage it, this charger features a processor which uses the same tech as a mains battery conditioner, monitoring the state of the battery and applying amperage in a way which preserves the cells. It can even rescue an apparently dead battery, given enough time and sun.
The best part for drivers of cars built in the last 20 years will be the OBD connection plug which makes it far easier to connect if you can't find a permanently-live 12v socket. LED lights on the control unit show what condition your battery is in, which worked well when it was connected directly with the crocodile clips but not so well when using the OBD port. However, it did a decent job of maintaining and adding charge whichever connector was used.
Halfords 2.4W Solar Maintainer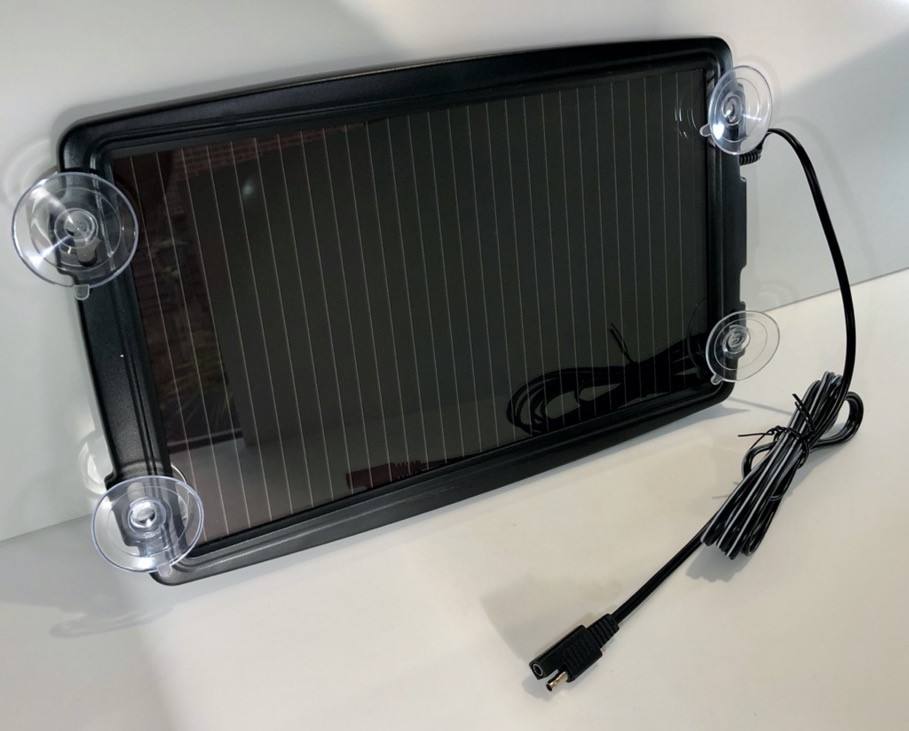 Price: £25.00
Output: 2.4W
Panel size: 35cm x 21mm
Connections: clips, socket
Rating: 7
Contact: Halfords
We have a suspicion that the Halfords and AA panel (below) are made in the same factory as they look almost identical. But there are actually little differences. The Halfords-branded Maintainer has to make do without an LED indicator for example, which we actually preferred as it could attract unwanted attention if your car is parked in a public place. It does mean you have to guess if the charger is actually working though, and work out the sunniest spot for yourself.
A bigger difference is the use of a 12v plug connection (plus the usual clips) instead of the AA's OBD socket. Which you prefer will depend on your car, although it's difficult to ignore the extra cost of the AA panel, especially as the performance and specifications are otherwise identical.
AA Car Battery Solar Charger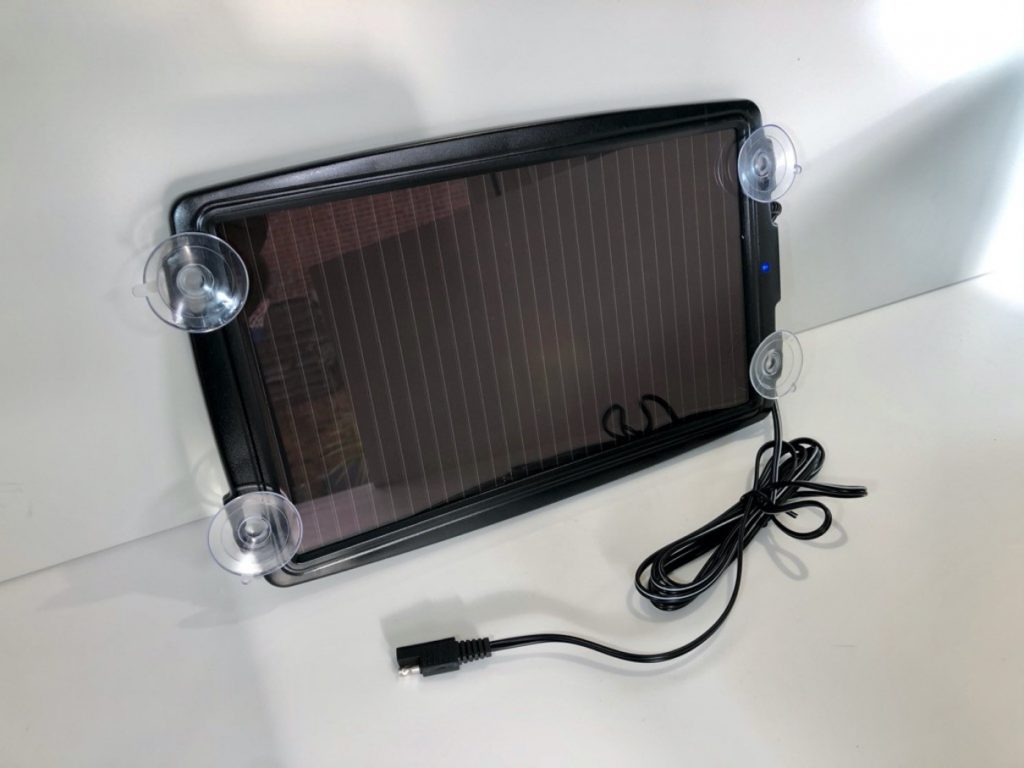 Price: £32.99
Output: 2.4W
Panel size: 35cm x 21mm
Connections: clips, OBD
Rating: 7
Contact: Amazon
The AA charger is the only panel on test here which included an OBD plug attachment as standard, except for the pricey Optimate. This makes it easier to install in a car which doesn't have a permanently-live 12v accessory socket, as it bypasses the ignition and finds a power feed through the car's data port.
It's otherwise identical to the Halfords unit, except for an LED indicator which flashes faster as it sees more sunlight, which is good for reassurance that the panel is actually working and gives an indication of where to place the panel to capture the most rays.
As with the Halfords unit though, the panel will only produce a couple of watts even in bright sunlight so don't expect to be doing any more than keeping the charge topped up.
Halfords 6W Solar Maintainer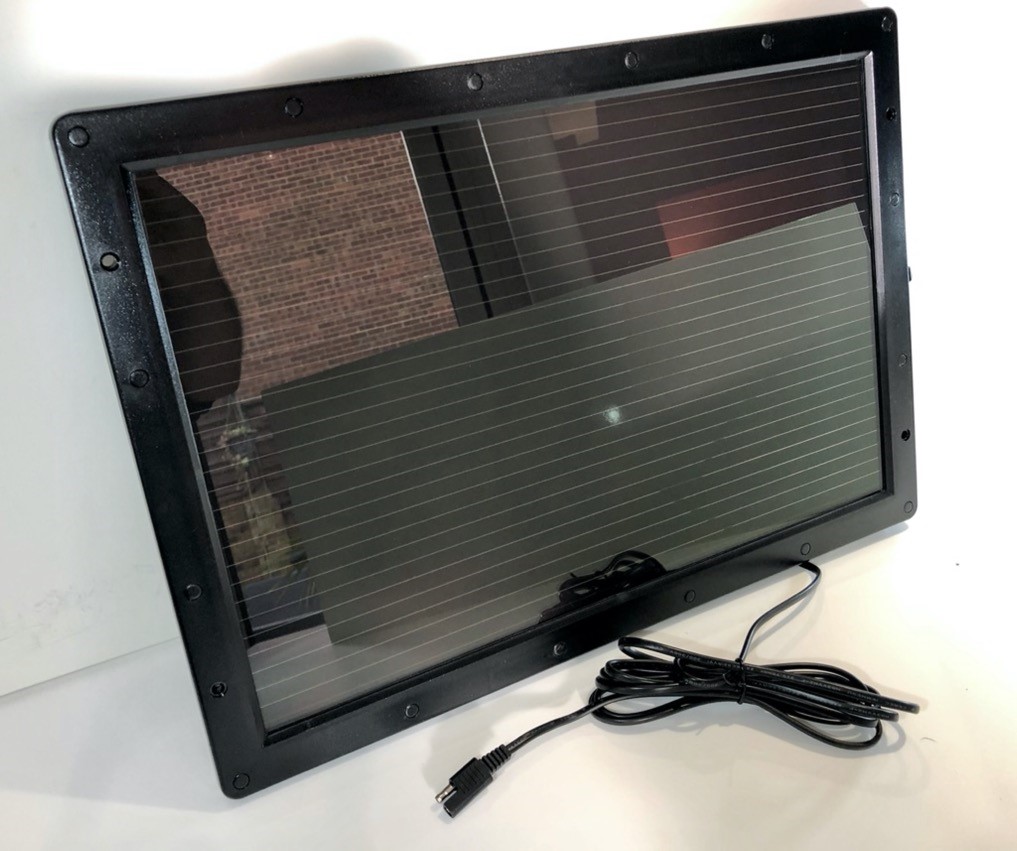 Price: £39.00
Output: 6.0W
Panel size: 50cm x 36cm
Connections: clips, socket
Rating: 6
Contact: Halfords
Here's proof that size isn't everything when it comes to these battery chargers. Halford's 6w panel is massive, being comparable in size to a sheet of A3 paper. That's about twice the size of the winning Photonic Universe unit, and yet it produces 40% less energy.
That size means it's trickier to place in your car, and it doesn't have the option to mount it to the windscreen with sucker pads. If you want to leave it in your car while you go for a drive you will struggle to fit a passenger in too.  
On the plus side it feels tougher than the Photonic, with a soft and sturdy frame which should survive being handled roughly as it's thrown around in the car. The panel is supplied with clips and a 12v socket for simple connections.
Powoxi Solar Car Battery Trickle Charger 3.3w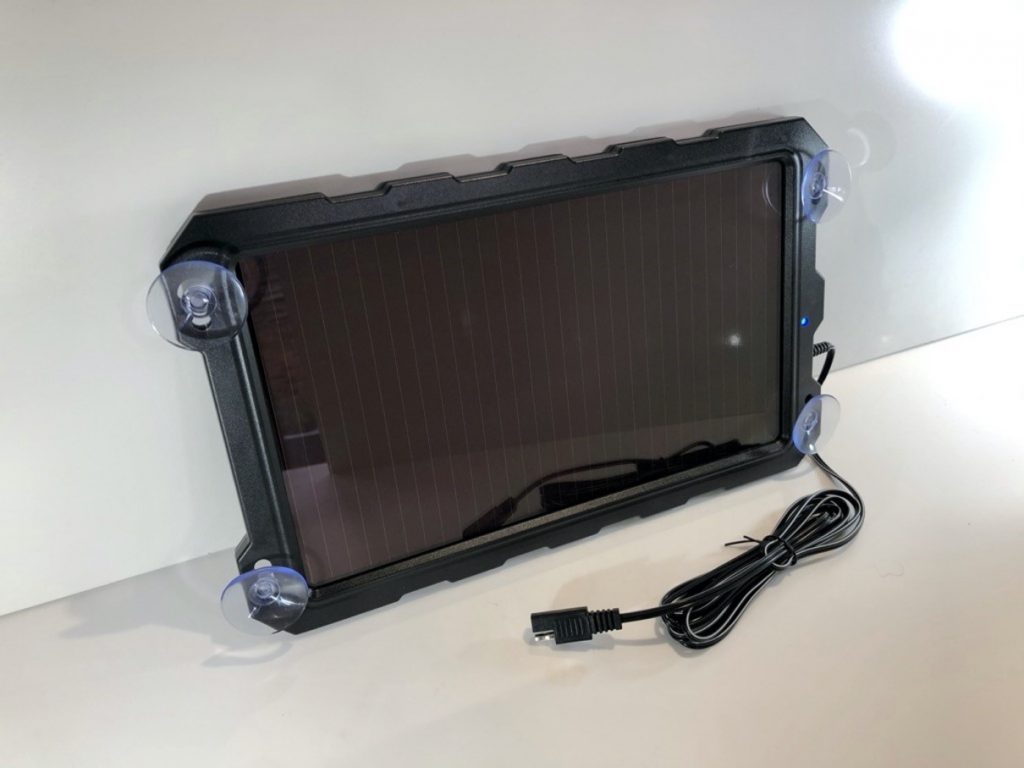 Price: £29.99
Output: 3.3W
Panel size: 36cm x 23cm
Connections: clips, socket
Rating: 6
Contact: Amazon
If your first port of call for car accessories is Amazon, then the Powoxi is likely to be one of the solar chargers you will stumble across in search listings. At less than £30 it appears to be reasonable value and practical too, with a tough frame and big suction pads which allow you to attach it to the inside of a windscreen or other window facing the sun.
Like the AA charger it has a blue LED indicator to show it is receiving sunlight, which is useful but might not suit users who don't want to draw attention to their car.
Of more concern to us was that the panel couldn't get close to the claimed output of 3.3kW and didn't actually beat the supposedly less-powerful AA and Halfords chargers in this test. So while it might just compensate for the drain from a car alarm or interior clock, you're going to struggle to revive a dead battery.
Sealey 1.5W Solar Power Panel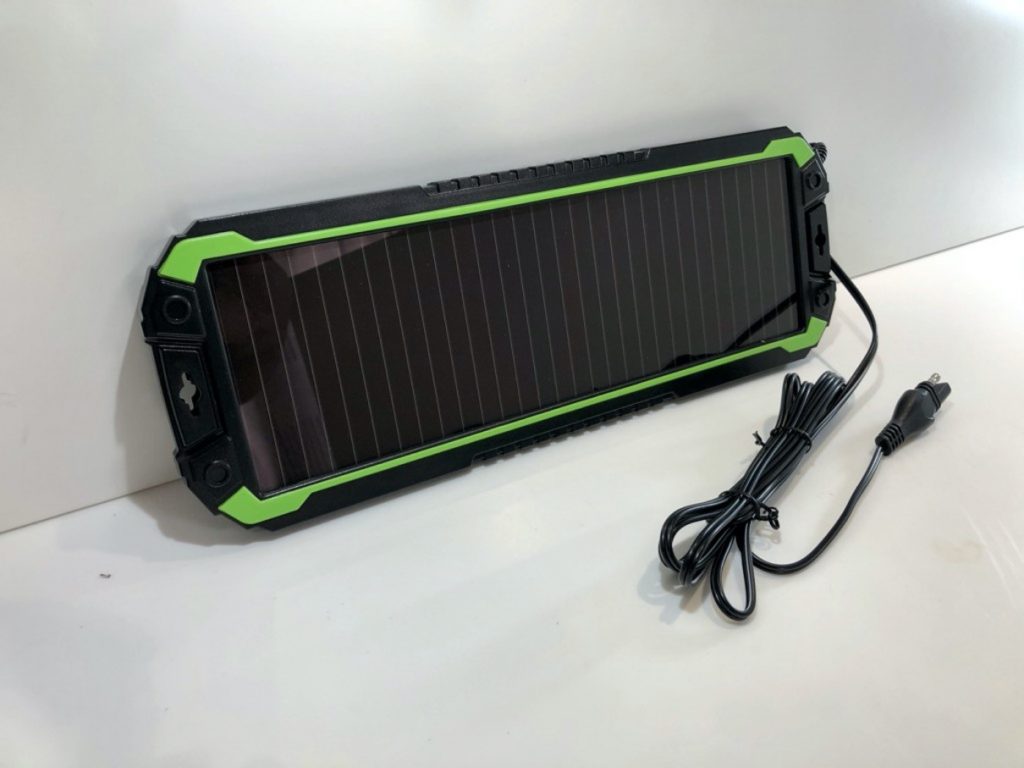 Price: £32.34
Output: 1.5W
Panel size: 35cm x 13cm
Connections: clips, socket plug
Rating: 4
Contact: Sealey
Let's start with the positives for this Sealey charger. Firstly, it is really compact, being only a little bigger than a single sheet of A4 paper which has been folded in half lengthways. There are two suction pads which should hold it in place on your windscreen to catch the rays, and it has a nice soft frame around the panel to protect it – and your car trim – when it inevitably falls off.
We'd also say that the official recommended retail price listed on Sealey's own website is pretty easy to beat – we found it for less than £20 from an eBay seller, making it the cheapest here.
But the Sealey has the lowest output of any charger here at a measly 1.5W and its output barely registered on our meter once a wisp of cloud cover appeared. In bright sunlight it may just be enough to keep a battery topped up over a very long period if there is little or no load.
Ring Solar RSP600 Power Battery Maintainer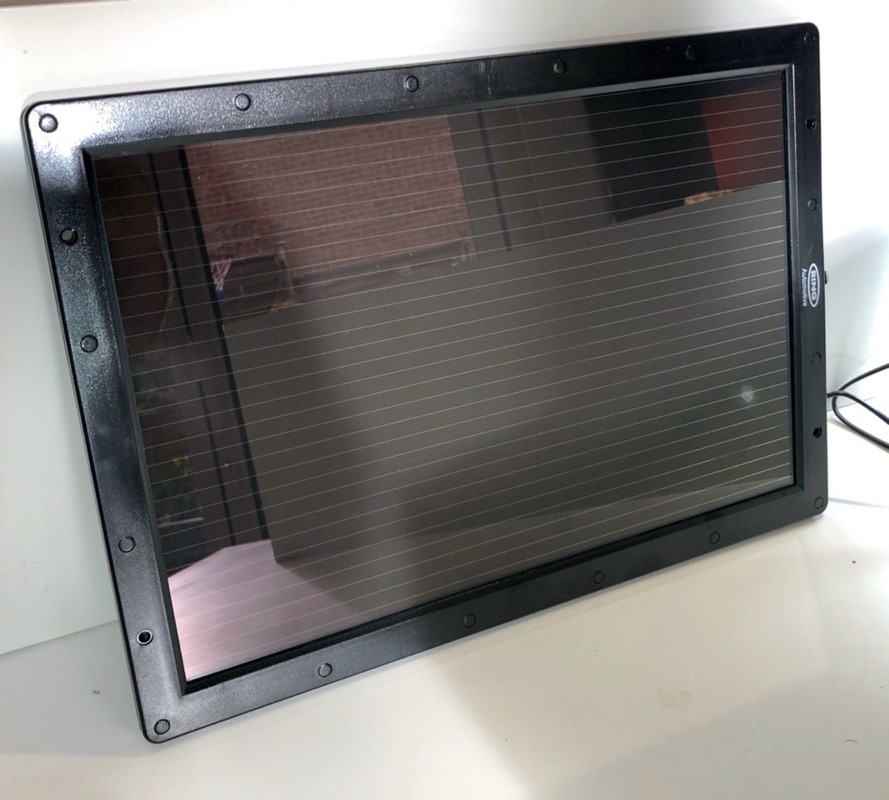 Price: £62.48
Output: 6.0W
Panel size: 50cm x 36cm
Connections: clips, socket
Rating: 4
Contact: Ring
Halfords doesn't just keep its badge-swapping antics confined to a fling with the AA it seems, as this Ring-branded panel was identical to the big panel from the high street accessory shop. The only difference in the look or performance was the Ring branding.
That means it's big and uncomplicated with no flashing LEDs and just basic clip and 12v accessory socket connectors. It has all the other benefits and drawbacks of the Halfords too, but there is one big difference which has relegated it to the bottom of our test – its price. The Ring is at least £20 more expensive than the identical Halfords unit, which makes it impossible to recommend unless you find it somewhere on a special offer – but we couldn't at the time of writing.
Also read
Reviewed & Rated: DAB adaptors for classic cars
Reviewed & Rated: Aerosol paint cans for cars
Reviewed & Rated: Best mechanic's seats