Are you sitting comfortably? While we would all insist on a padded seat to work at a desk, we seem to accept being uncomfortable while tinkering with our cars. Even cleaning wheels involves kneeling in puddles or crouching for long periods, while more involved repairs such as brake and bearing work is enough to cause days of aches.
The answer is a mechanic's seat which will give you a comfortable place to sit while you tackle any work on the lower parts of your car. They're mounted on wheels too, so you can easily move without having to stand up and most will have storage to keep tools and components safe. We tested seven of the best mechanic's seats so you never have to stand being uncomfortable again.
How much is your car to insure? Find out in four easy steps.
Get a quote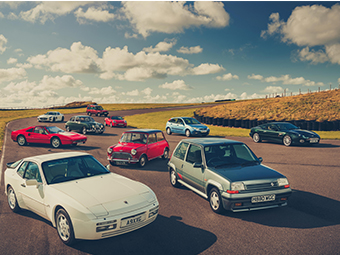 How we tested them
Our selected seats vary in price and features, but all had to have a padded stool, castor-type wheels and a storage tray as a minimum. We checked how easy they were to assemble and then assessed the comfort and how they adjusted to suit different jobs.
As garage floors and drive ways are rarely smooth, we tried rolling the seats across concrete to see if they moved without resistance. As some stools had additional features, we tested to see if these were worth the extra cost. Finally, we scoured the internet for the best prices to assess the value.
Verdict
1 Hilka Pro-Craft Mechanic's Seat
2 Sealey Mechanic's Utility Seat & Toolbox
3 Sealey Mechanic's Utility Seat & Step
The Hilka is well-priced, comfortable, stable, has plenty of adjustment and useful tool shelves. It's a worthy winner here. Sealey's seats take the next two places with the dual-purpose Utility Seat & Toolbox and Utility Seat & Step. Neither are adjustable, seem pricey, and were a pain to assemble but they won us over by making themselves more useful than we expected in real-life situations.
Test winner: Hilka Pro-Craft Mechanic's Seat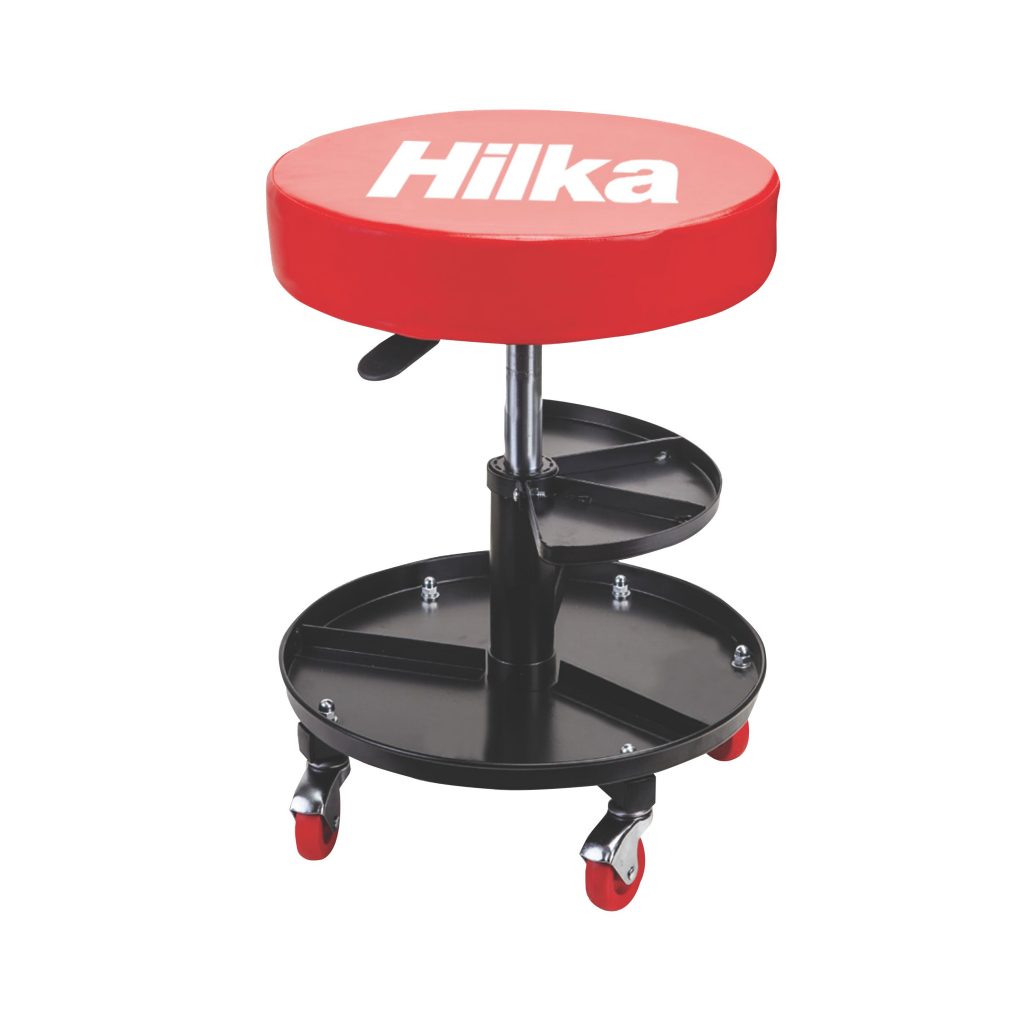 Price: £39.99
Rating: 10
Seat height: 42-54 cm
Contact: Screwfix
It might not be quite the cheapest seat in this test, but the Hilka costs under £40 delivered so you'll not feel the need to hide the receipt from your partner. It's not just the price which will make you feel comfortable. The well-padded top has a 38cm diameter, meaning it wards off the numb bum even after an hour of spannering.
The official weight capacity of 120kg (just under 19 stone) also means it's unlikely to collapse if you are generously proportioned.
The bottom half works in the same way as an office chair with a gas spring which gives a decent level of height adjustment for working on different parts of your car. Five castors and a wide base make it stable too, and it rolled across our concrete with little resistance.
It also features two storage trays, a larger one for holding big tools and a smaller shelf for keeping nuts, washers and that 10mm socket safe.
Recommended: Sealey Mechanic's Utility Seat & Toolbox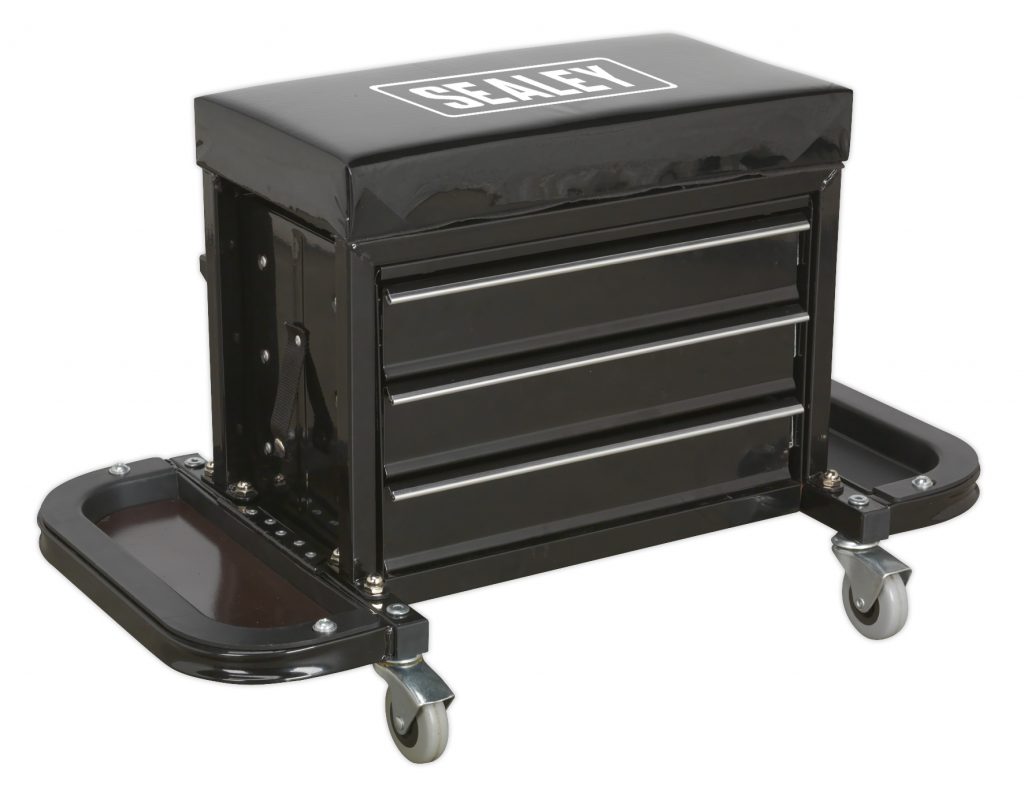 Price: £84.99
Rating: 8
Seat height: 41 cm
Contact: Sealey
This seat didn't get off to a good start as the instructions puzzled us and building some engines is less complicated. Once assembled there is no height adjustment either, so you will inevitably be less comfortable than you'd be on the Hilka. However, the Sealey is more like a wheeled toolbox with padding than a dedicated seat. We filled the drawers and then found ourselves using it for jobs purely because we didn't having to go back and forth to the garage in search of the right spanner or screwdriver – they were right underneath us. There are two 'wings' on either side of the wide seat too where you can keep nut and bolts safe, and a rack on the back where you can hang longer pry bars and drivers.
The whole box is stable, especially once the drawers are loaded with extra weight and the seat is comfortable enough to put up with long stints in the saddle. Rolling across the floor wasn't the smoothest as it relies on just four wheels but it never got stuck or felt like tipping.
If you've already got a toolbox this Sealey might seem like an extravagance but if you need a seat and a somewhere to stash your spanner, this is a great option. Just be sure to shop around – the official list price on the Sealey site is £50 more than the best price we found online.
Sealey Mechanic's Utility Seat & Step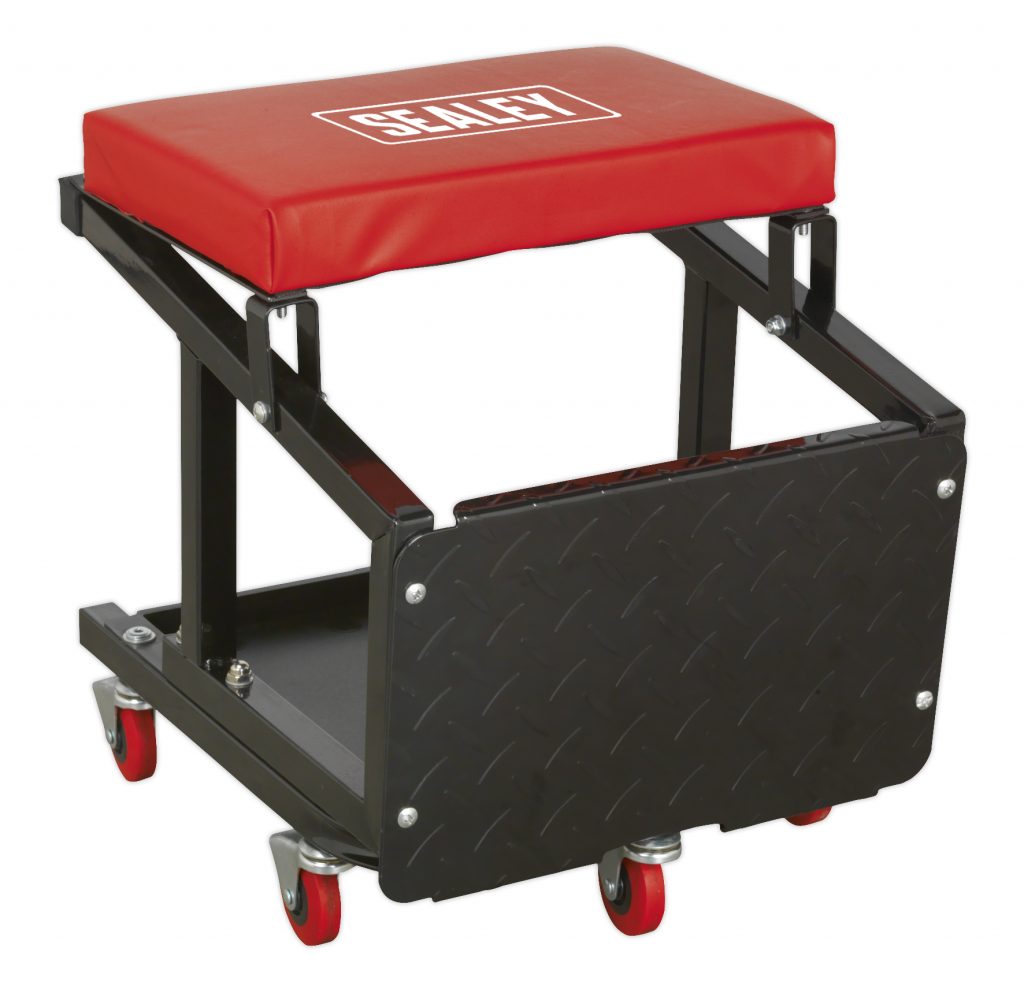 Price: £54.95
Rating: 7
Seat height: 42cm
Contact: Sealey
Our first appraisal of the Sealey was pretty damning, and not just because of the confusing assembly instructions. It seemingly weighs as much as a small car and has no height adjustability. But it won us over because it made itself so useful in different situations.
Place it on one side and it is a solidly built seat, which offers a reasonable amount of comfort but is fixed height and a little low for some jobs. There's a sturdy tool shelf though, and with five big and rubber castors it copes easily with rough surfaces.
Flip it over 90 degrees and it becomes a solid-feeling step, which has rubber feet rather than castors and a treaded platform instead of the padded seat. This seemed like a fairly pointless pairing at first, but soon we found ourselves using the Sealey for cleaning a 4×4. On the stool side it's great for scrubbing wheels and sills before flipping it over to stand on and reach the roof. It's also come in handy for decorating, with the stool used for doing ceilings and the stool for skirting.
It's not cheap and is compromised as both a stool and a step, but it proved handy enough to convince us it has merit.
Clarke CMS2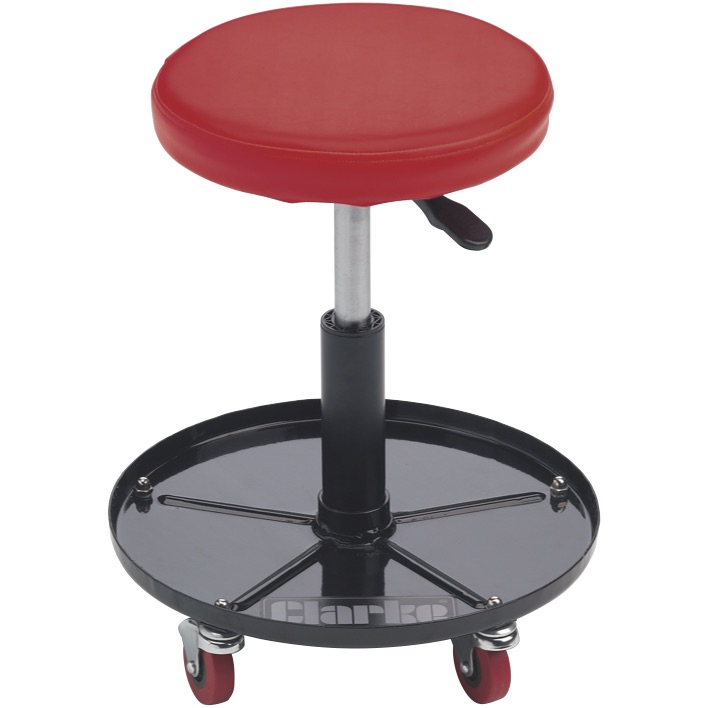 Price: £32.49 (in store) + £4.99 delivery
Rating: 7
Seat height: 38-49cm
Contact: Machine Mart
The CMS2 from Machine Mart's own brand Clarke looks very similar to the winning Hilka but the reality is that it's not quite as good in most areas. The seat itself is smaller and has less foam padding so you're going to find yourself shuffling to get comfortable sooner. The wide base has plenty of room for tools and bits of car too, but it's trumped by the Hilka's pair of shelves.
On the plus side, it was quick to assemble and the five wheels rolled easily across our surfaces. The gas-filled strut gives a good height adjustment range too, and it actually goes lower than the Hilka, which might be crucial if you're tall – or your car isn't.
It's also a smudge cheaper than the Hilka. If you are having it delivered then we'd recommend spending the extra £2.49 to get the better seat, but if you are passing a Machine Mart store and can avoid the £4.99 delivery charge it starts to make a little more sense.
Draper Adjustable Work Seat
Price: £45.89
Rating: 6
Seat height: 40-52cm
Contact: Draper
This is another seat which seems to closely resemble the winning Hilka, but like the Clarke seat it loses out in a few crucial areas and tops off its defeat with a higher price.
Like its rivals it uses an office-chair-like central gas strut mounted on a metal base which also doubles up as a tool shelf. Five castors mean it is stable and rolls easily over concrete. The seat is slightly larger and more generously padded than the Clarke too, which might make it the better choice if you're intending to do longer jobs.
The first long job you'll have to tackle is the actual assembly of the seat though. The box arrives with a bag full of bits which require putting together. Although the other seats here require some assembly too, we were surprised that such a basic stool required such a complicated build.
But the real issue for the Draper is the cost. Even searching the web for keener prices than the official RRP, we could only get it down to £45.89. The superior Hilka is six quid cheaper.
Draper Car Creeper Seat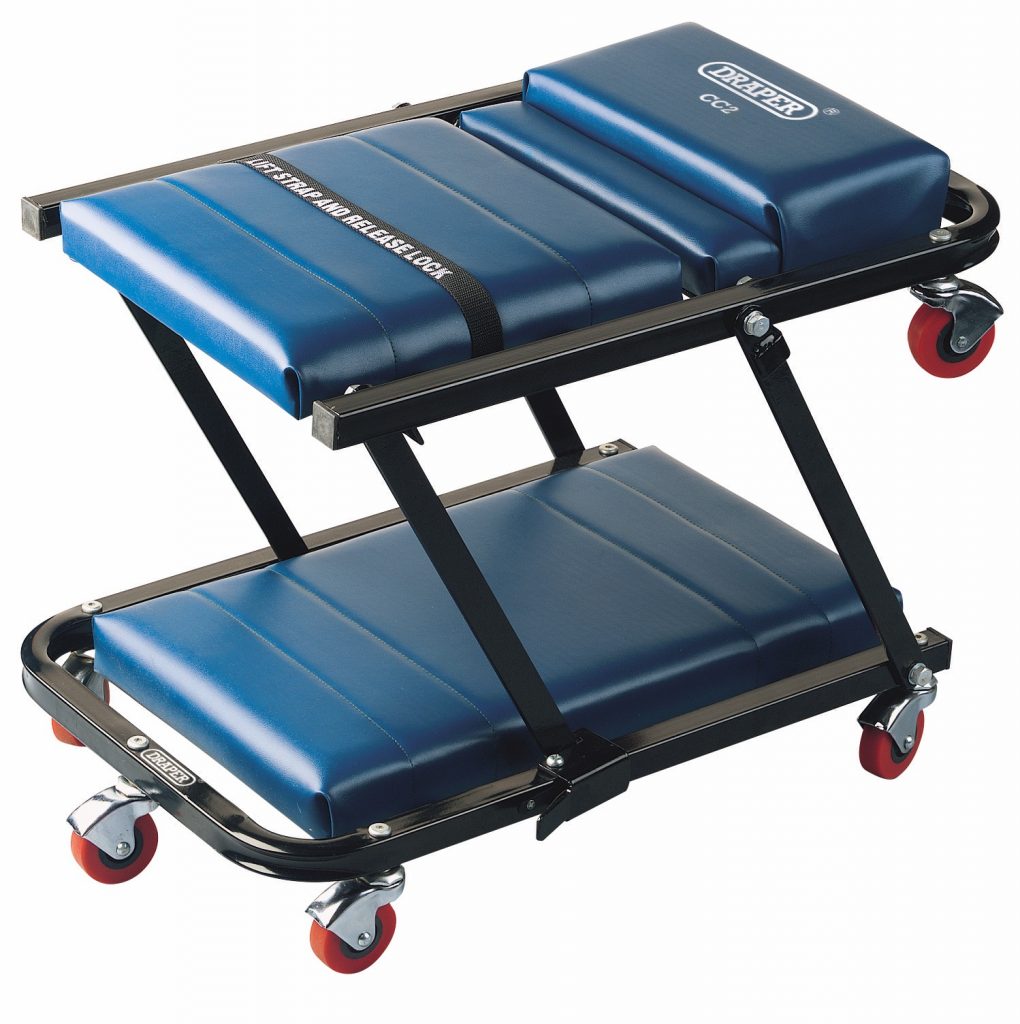 Price: £104.99
Rating: 6
Seat height: 16 & 47cm
Contact: Draper
Draper's second candidate in this test has a nifty trick up its sleeve, as it is both a seat and creeper in one. This means you can use it to crawl under your car (once you've taken suitable safety precautions of course) and then flip it up to become a stool when you want to work on parts higher up.
In crawler mode the Draper is just 16cm high. It glides across the floor on seven castors, with comfy padding and even a decent pillow to keep your head supported. Once you've finished underneath the car and want a seat, you simply pull on a strap and it converts with relative ease. In seat mode it is fixed in a 47cm high position but the head rest becomes a back support. The lower section can be used as a tool shelf, but it's not ideal for the task as it's padded and has no sides, so smaller items are likely to roll off and get lost.
But again, Draper's issue is the price. We are all for clearing clutter in the garage, but even after shopping around the Car Creeper costs more than £100. It'd be cheaper to buy a separate creeper and seat and they'd both be better than this compromised convertor.
Clarke CMS1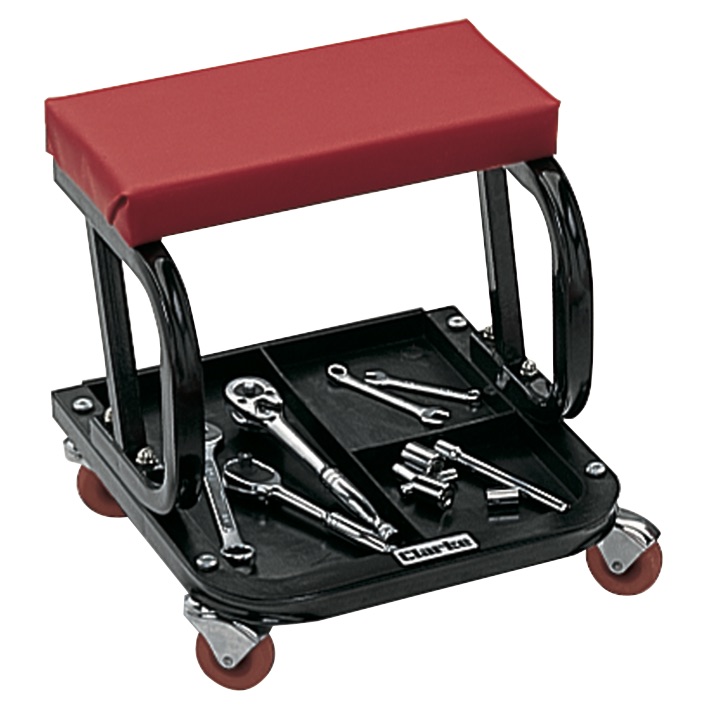 Price: £23.98 (in store) + £4.99 delivery
Rating: 5
Seat height: 38cm
Contact: www.machinemart.co.uk
Clarke's CMS1 is the cheapest seat we could find, especially if you save yourself the delivery fee of a fiver by picking it up in a Machine Mart store. But it feels like it too, as it is physically small and, at 38cm, is low to the ground too. Sitting on it feels like being a parent watching a nativity play at a primary school and having to use the children's chairs.
The tiny padded area isn't nearly as comfortable as the others here, and with only four small wheels it doesn't feel as stable either. It also means it doesn't roll across rough floors as easily. There is a tool shelf, but it is just a simple tray.
If you only want to use a seat occasionally and don't mind being low to the ground then it might make some sense, but otherwise we'd recommend you save up the extra money to get something more comfortable, stable and adjustable.