The old-school charm of an old car is one of the reasons we love it. Free from the cosseting technology of voice-activation, touchscreens and countless nannying safety features it makes you concentrate on driving and feel at one with the machine.
But there are a few gadgets some drivers miss from their modern motor, with one of the most obvious being a digital radio. Digital is the way 60 per cent of us listen to the radio, enjoying a greater choice of stations and (allegedly) clearer sound quality. It has been suggested that the main FM and AM transmitters will be turned off eventually, making many radios in older car obsolete.
How much is your car to insure? Find out in four easy steps.
Get a quote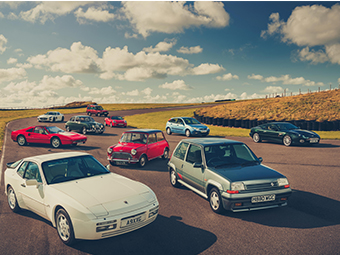 Needless to say, it's possible to change the entire stereo for an aftermarket system with newer features, but it's expensive and also spoils the originality of your classic.
There is a simpler, less costly solution: fit a DAB adaptor which uses your existing hi-fi system and brings full digital radio functionality without having to swap your stereo. Some will even add Bluetooth streaming for music and phone calls.
To test them we tried all of the units in a 2003 Ford Focus ST170 which doesn't have aux-in or USB sockets, so relies entirely on a FM signal – as will most cars which are considered classic age. If your car does have a socket or you can fit one easily (for example, by using a redundant CD multichanger plug in the back of your stereo unit) the sound quality will be better.
All of the units use a separate aerial which is simply stuck to the windscreen and is simple to remove if you want to maintain originality. We then set out on a prescribed route to see how the DAB receivers coped with patchy DAB signal strength in hilly terrain and between buildings. The final scores are based on the ease of use, quality of reception, extra features and price.
Verdict
1. Kenwood KTC500 DAB
2. Pioneer SDA-11
3. Pure Highway 400
In terms of performance, there was very little to separate the Kenwood, Pure and Pioneer digital audio adaptors. All three offer crystal-clear reception even when playing through the FM channel which will be the only option for many owners of classic cars. So the decision on a winner has to come down to price, ease of fitting and features. The Pure and the Kenwood are identical except the latter has the useful addition of handsfree calling for not much more money, so it takes our win.
Kenwood KTC500 DAB – Winner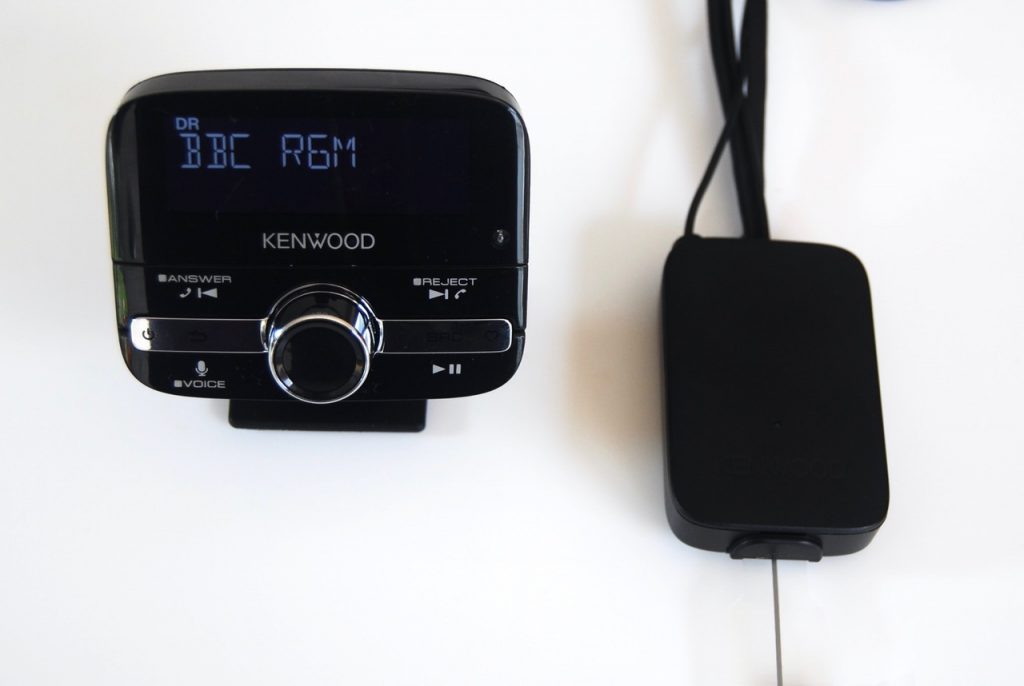 Price: £79.95
Bluetooth: Yes
Rating: 10/10
Info: Kenwood
The real beauty of the Kenwood for classic car owners is that it can be made to look discreet. The main receiver unit is built into the aerial which sticks to the windscreen and roof panel (or header rail in a convertible). You only need to run a cable to this from a 12-volt power supply, which can be hidden in the door rubbers. Then the control panel is a wireless pod which you can stick anywhere on the dashboard. You can even remove it completely if you're worried about theft or maintaining an original appearance. As it is powered by two AAA batteries (which last a few months usually), there are no extra cables to route.
It works brilliantly as a radio too, with no drop outs on our test route and a strong FM signal to the main radio. It will also connect to your phone to play Bluetooth streamed music. The Kenwood is identical looking to the Pure Highway 400 also tested here, but also includes a separate microphone so you can make handsfree calls.
Pure Highway 400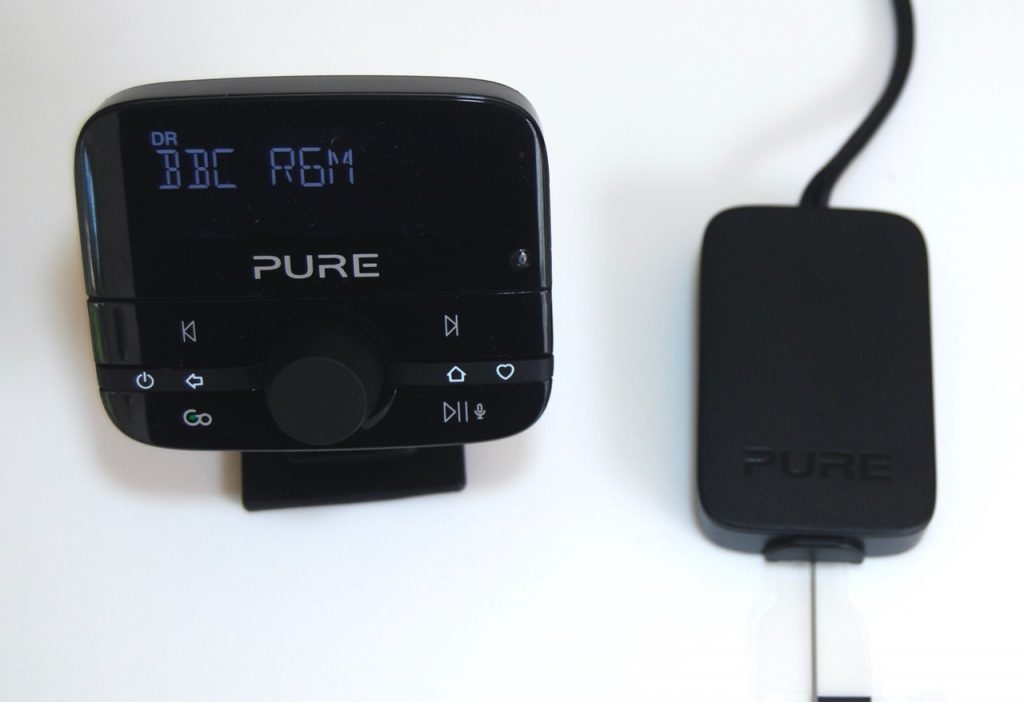 Price: £61.95
Bluetooth: Yes
Rating: 9
Info: Amazon
As with the winning Kenwood, the Pure 400 is delightfully easy to fit, with just a single power cable to route once you've found a home for the stick-on aerial. The neat little display and control unit is smaller than a deck of playing cards and completely wireless, so can be placed anywhere on the dash and removed easily.
And again, as with the Kenwood, digital radio and Bluetooth reception was excellent on our test route with no drop outs. Bluetooth means you can connect your phone to play music and podcasts, but it will not allow you to make handsfree calls as there is no microphone. We'd pay the extra few quid to have that functionality – but if you don't need it, the Pure could be the way to go.
Pioneer SDA-11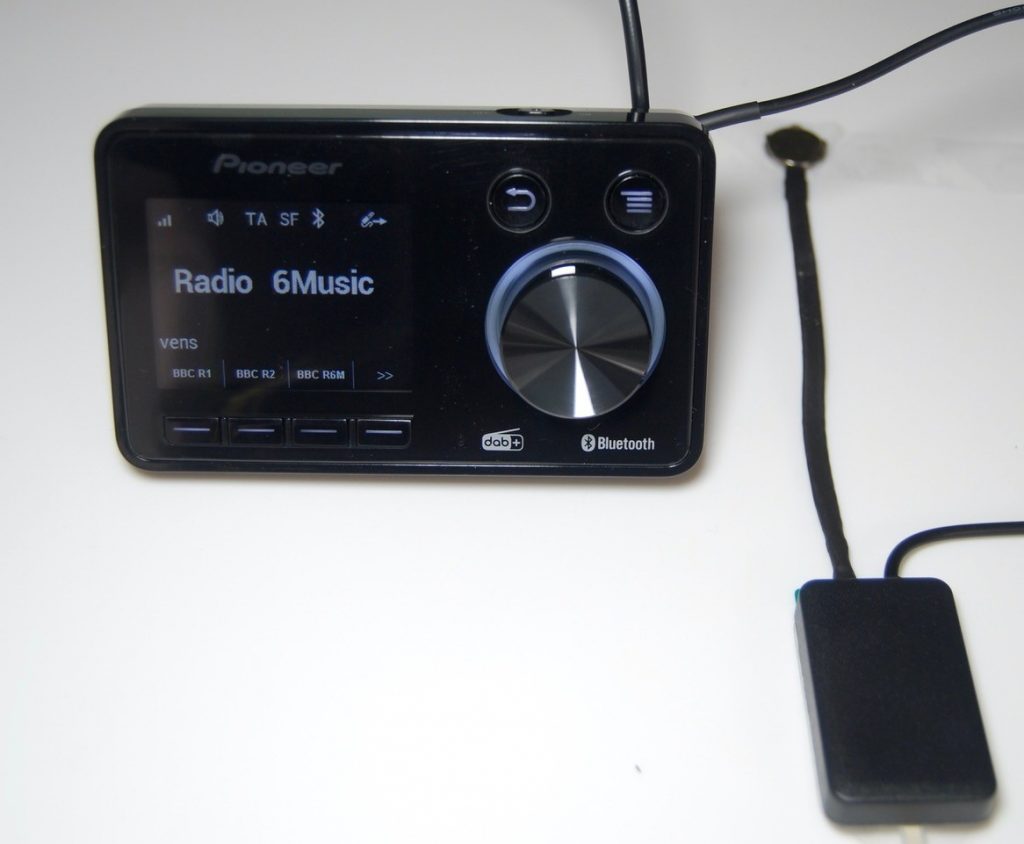 Price: £109.99
Bluetooth: Yes
Rating: 8
Info: Pioneer
If you don't mind having something a little larger and more permanent-looking in your car, the classy black Pioneer has a big, clear display which is permanently on when the car is powered up, showing the track and station info – unlike the battery-operated screens on the Pure and Kenwood which switch off after a few seconds until roused.
The downside of this is the need for an extra cable to route to the display from the aerial in addition to the power lead, making it trickier to install discreetly. As the power wire is only 50cm long, the mounting options are limited too.
However, the quality is excellent with the DAB signal only dropping out briefly on our route. The FM transmitter works fine, but if you have an option to plug in via the aux cable supplied the sound improves massively.
AutoDAB GO+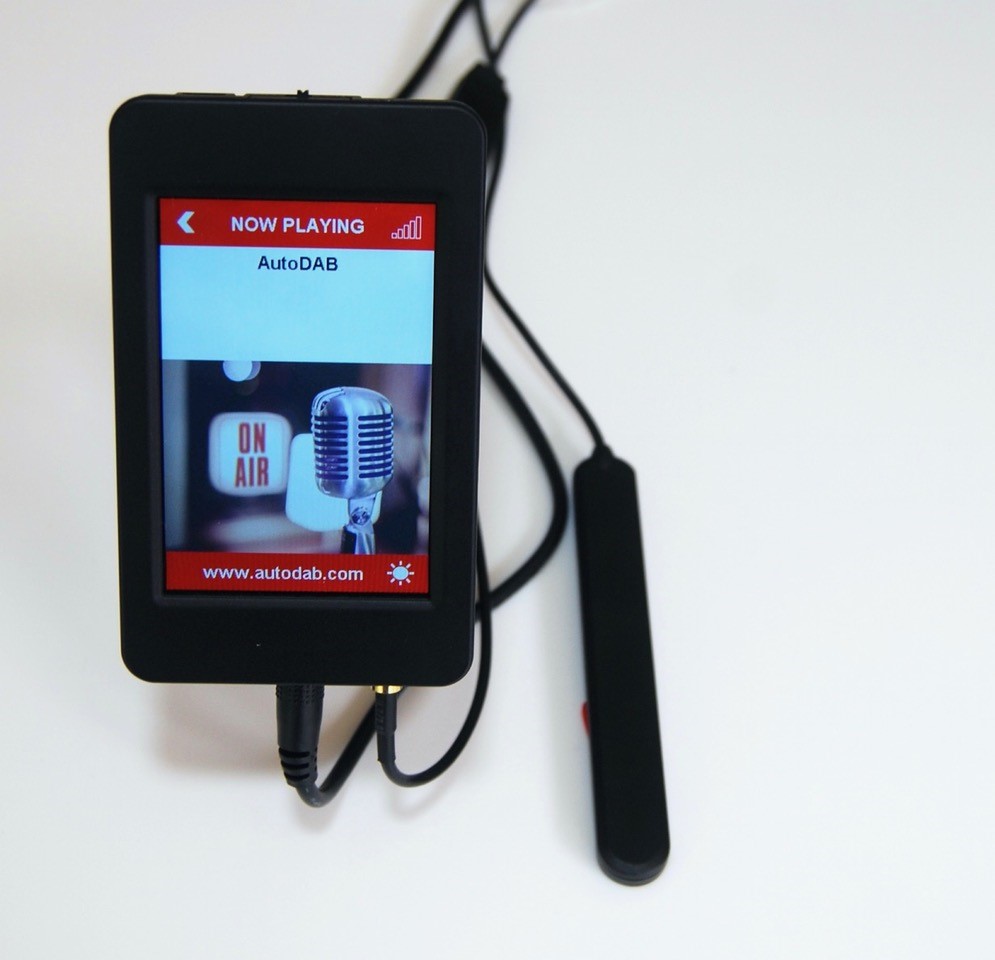 Price: £49
Bluetooth: No
Rating: 6
Info: AutoDAB
If you are really keen to maintain your car's originality and want an easily-reversible DAB adaptor, they don't get much simpler than the AutoDAB GO+. Youstick the aerial to your windscreen, plug in to a 12v socket and mount the colour display to the windscreen using a sucker pad.
You then choose a vacant FM channel on your car's radio to tune into the output from the GO+. The smartphone-like touch screen makes it easy to find and store your favourite DAB stations and the screen looks much more modern than the others here, even if having a device dangling from a suction pad isn't the neatest look.
Once on our test route the DAB radio signal was stable with just a few drop outs on weaker stations and in valleys and built-up areas. The main issue was with the FM transmission quality though, as we struggled to find a reliable frequency and our music was plagued with an irritating and constant crackle. We can only really recommend the AutoDAB if you can use the aux-in cable to connect.
Co-Pilot CPDAB1-Universal DAB Adaptor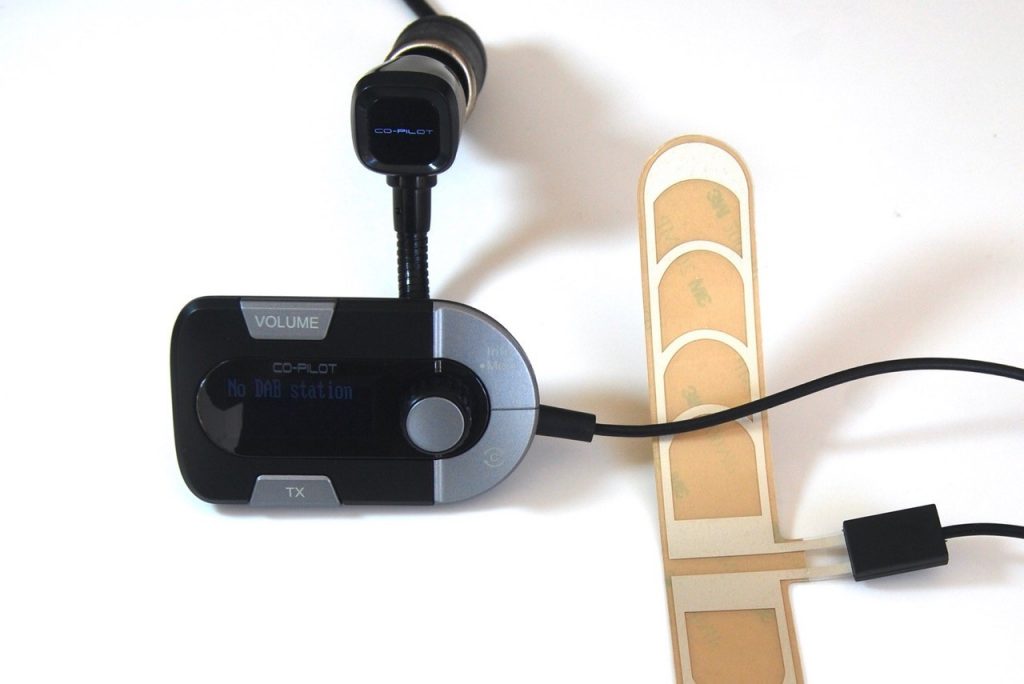 Price: £23.38
Bluetooth: No
Rating: 5
Contact: Co-Pilot
If you want to listen to DAB in your car, there's only one way that's cheaper than the Co-Pilot – and that's to wind down the window and listen to the car next to you in traffic. The cheapest we could find it at the time of writing is £23, but we have seen them at £15.
Like the others here there is a separate aerial which sticks to the windscreen and then the unit plugs straight into your 12v socket. A 'swan neck' can then be bent to position the small screen.
But you get what you pay for, and using the FM tuning method caused interference on both the FM channel in the car and caused stuttering on the DAB too. Even worse, in areas of low reception the Co-Pilot struggled to hold on to the big stations from the BBC and other national broadcasters. If you are on a budget, can use the aux cable and live in a flat part of the world near a radio transmitter, it could possibly work for you. Otherwise, save up for something better.
Read more
Reviewed & Rated: Aerosol paint cans for cars
Reviewed & Rated: Best mechanic's seats
How spark plugs work and what they can tell you about your engine