If you worry about the cost of filling up your car, it's nothing in comparison to the price of topping up your own fluid levels. Even a tea bag and some hot water inside a paper cup will cost you £2.50 or more at a motorway services, National Trust property or classic car show catering van – about seven times as much as a litre of unleaded, assuming you're even within reach of somewhere that sells a cuppa in the first place.
If you want to save your money for petrol rather than PG Tips, you could fill a flask and hope it doesn't taste of the soup you had in it before, or try and boil your own kettle to make a fresh brew. If you don't fancy the palaver of a camping stove, you could try and boil water using the power from your car as you drive, making sure it's piping hot in time for your arrival. But do these in-car kettles really work?
We filled our six water heaters with 300ml of water measured at a room temperature of 18.5oC. We then plugged them into a 12v socket and timed how long it took to reach 93oC, the ideal temperature to make a coffee and just about hot enough to tease the taste out of a teabag. They are also perfect if you need to heat baby food.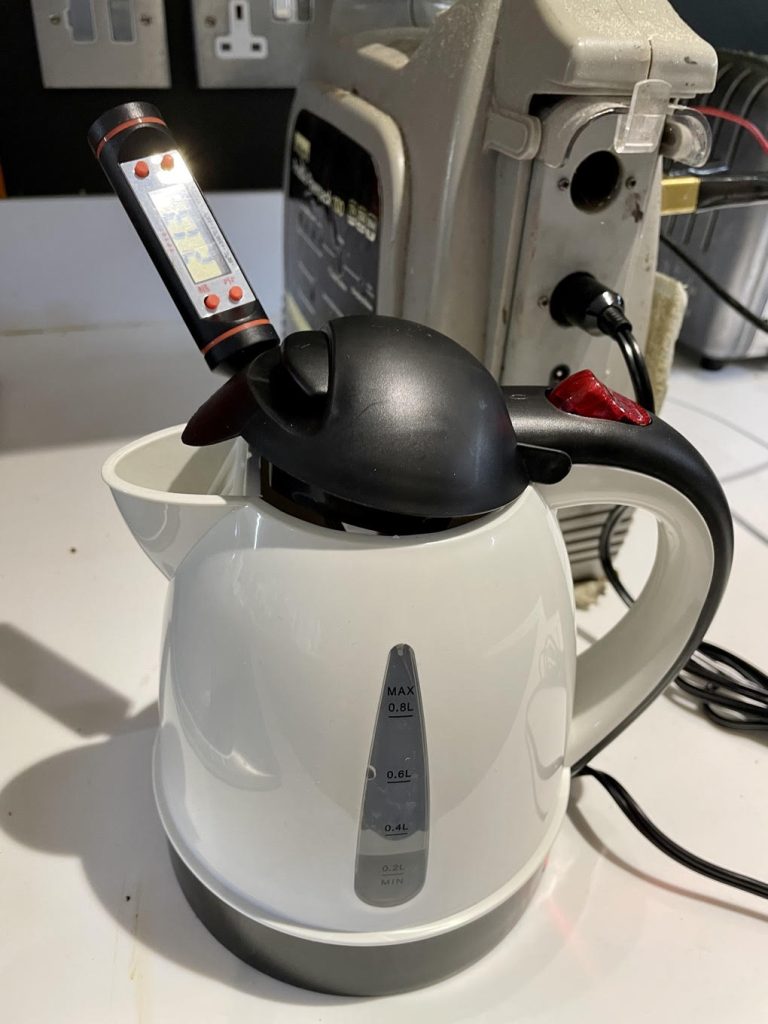 Since all of them will require the engine running to avoid a flat battery, we also looked for a kettle which would fit in a door pocket or cup holder so it would stay secure and upright while driving, with extra points if it has a spill-proof design. Finally, we looked at the cost to see how many Costas you'd have to forego to get the purchase price back.
None of the devices here are going to heat water in the same time as a kettle at home, and a gas bottle stove will always be quicker too. But if you are prepared to be patient or time the heating so it is ready when you arrive, they can work well.
Bopfimer 12v Kettle – Winner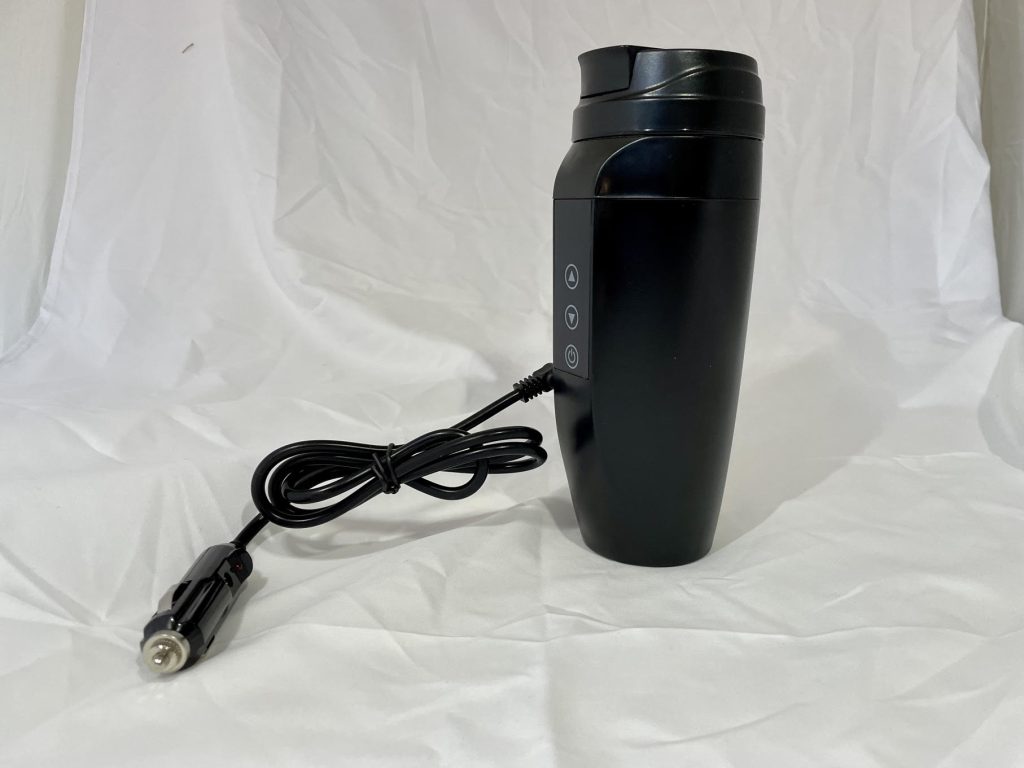 Power: 90W
Capacity: 450ml
Price: £22.99
Time to temp: 22 mins
Score: 10
Contact: amazon.co.uk
Once you have worked out how to use the Bopfimer (the instructions are in Chinese, so it's not obvious at first) it is immediately apparent that it's a cut above the other water heaters in this test.
There is a digital display showing the temperature of the water, so you can decide whether it's warm enough for your soup or baby formula. Alternatively you can take it all the way to boiling for a decent cup of tea.
The 300ml test amount of water almost filled the entire container, so this isn't going to work if you want tea for two. But it heated quickly in comparison to the others in the test, at 22 minutes to 93oC.
Once you have the water hot, the container acts like an insulated mug, keeping the liquid warm and the outside cool enough to hold.
The cup-like shape also means it will fit neatly in a cupholder or door pocket, while the sealing lid make it spill-proof. It's the product we'll be taking to shows this season.
Asab 12v Travel Kettle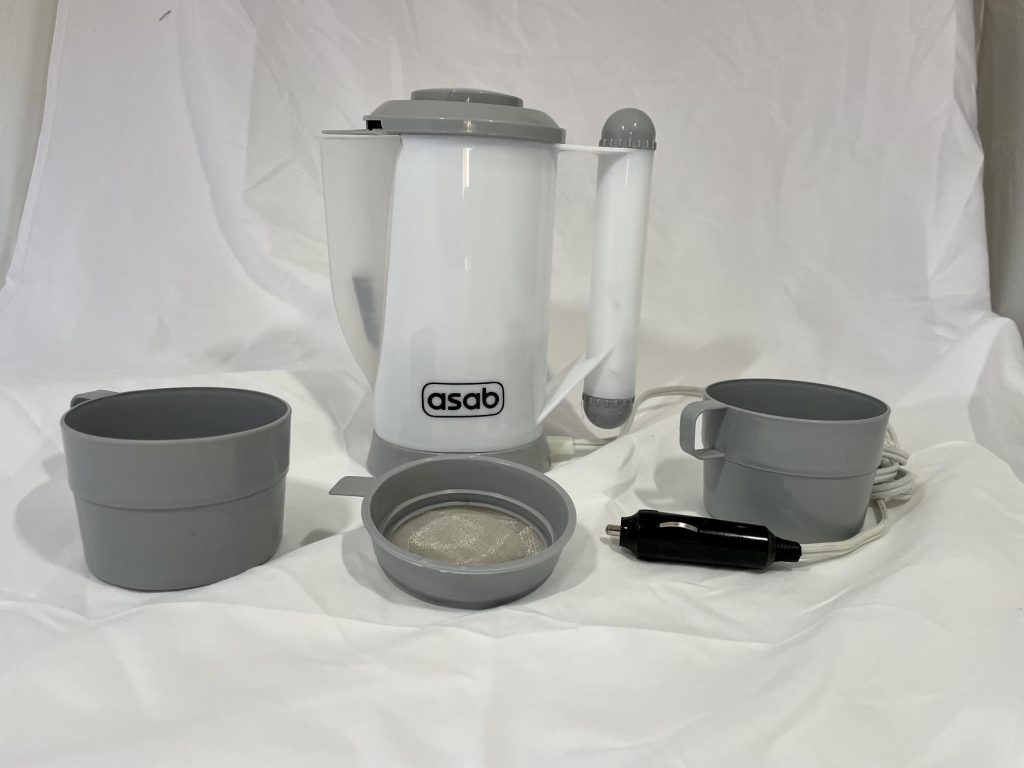 Power: 100W
Capacity: 600ml
Price: £11.99
Time to temp: 26 mins
Score: 7
Contact: ebay.co.uk
The Asab is almost half the price of the winning Bopfimer, and at first it feels as though it is worth even less. It looks like something you'd find in a toy box, with cheap-feeling plastic and the look of a miniature kettle from a kitchen. There are even two small mugs and a strainer to complete the 'teddy's teatime' look.
But it actually did a reasonable job of heating water. It is supplied with a hook to hang it from a handy piece of trim or handle, which keeps the kettle upright and minimises the leakage. We only had a couple of dribbles during normal driving and even if it comes unhooked, the spill won't be disastrous thanks to a tight-fitting lid.
It's not a kettle for everyday use in a car and would be better suited to a camper van, but it did the job for the price of three take-away coffees.
ONEVER Travel Kettle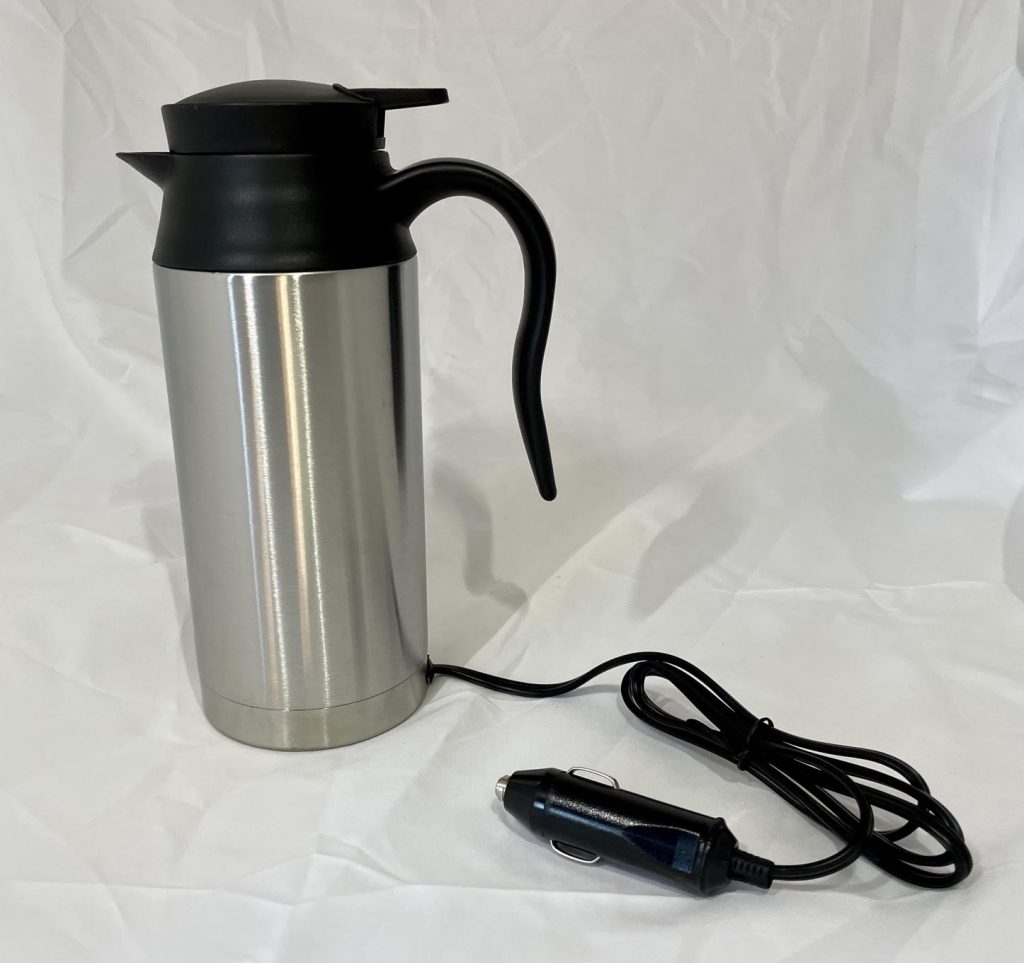 Power: 120W
Capacity: 650ml
Price: £29.99
Time to temp: 27 mins
Score: 6
Contact: amazon.co.uk
It's the most expensive kettle in this test, but on paper (or screen) the ONEVER appears it might be worth the extra. It looks like a shrunken version of the serving flasks you'd find in an office meeting room, with a smart stainless-steel finish and insulated outer layer. The water is dispensed by pushing a thumb lever and pouring from a spout.
It also has the biggest capacity at 650ml, so could heat enough water for three small cuppas – if you are very patient. The ONEVER took a yawn-inducing 27 minutes to heat our 300ml, with the LED indicator changing from red to green when the water got up to temperature. Bigger quantities would need to be measured with a calendar.
But the biggest disappointment was the leaky lid. If not kept bolt upright, the ONEVER seeped hot water over our interior.
Roadster DC 12-Volt Car Kettle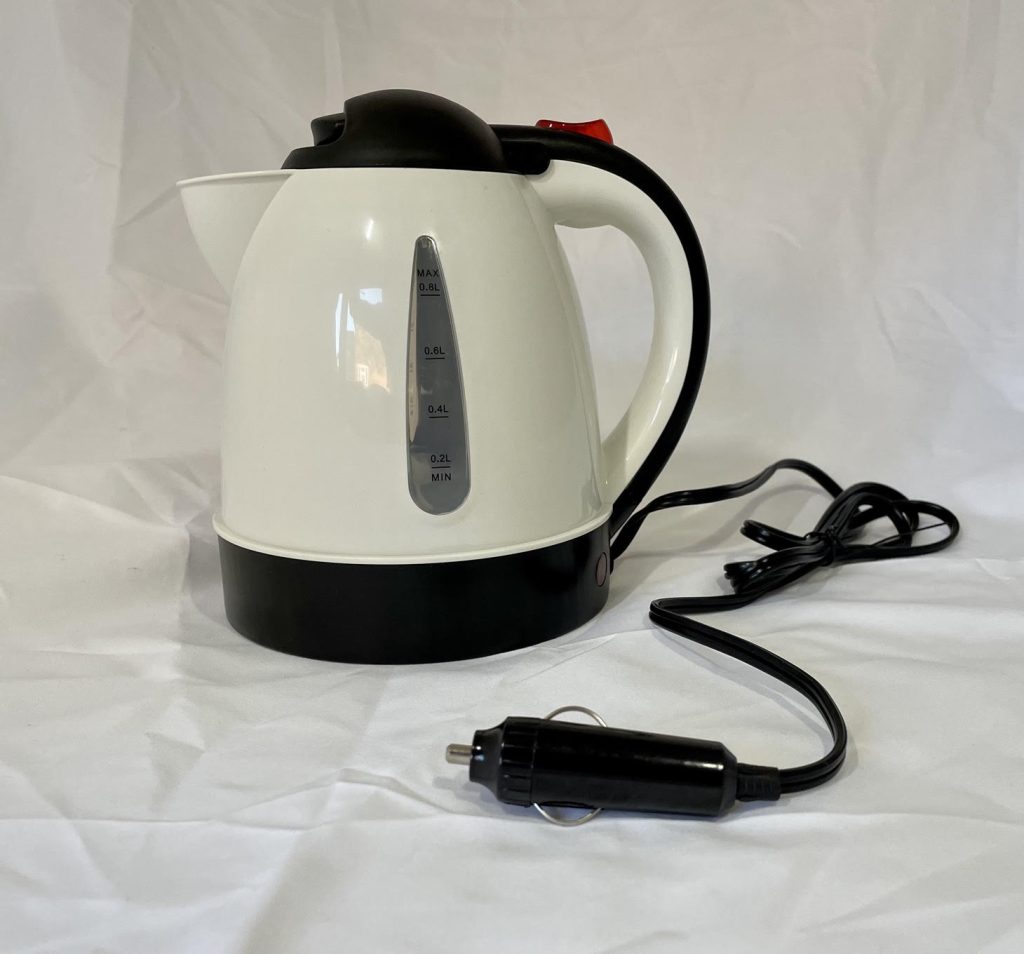 Power: 150W
Capacity: 500ml
Price: £19.75
Time to temp: 26 mins
Score: 5
Contact: ebay.co.uk
This Roadster has little in common with any slinky sportscars. In fact it resembles a smaller version of the sort of kettle you'd have found in a 1980s kitchen.
On the plus side it holds a full half litre, which is enough for at least two cuppas if you are prepared to wait. We also liked the illuminated indicator to show it's powered up and working.
On the downside, it seems completely unsuited to being used in a moving vehicle and the current draw would kill a battery within minutes if used while parked. A 14cm width makes it too big to fit in a door pocket or cup holder, and there is no obvious way to attach it to the dashboard. Even in a motorhome it would need wedging in place. It's not cheap, either.
Autobits 12-Volt immersion heater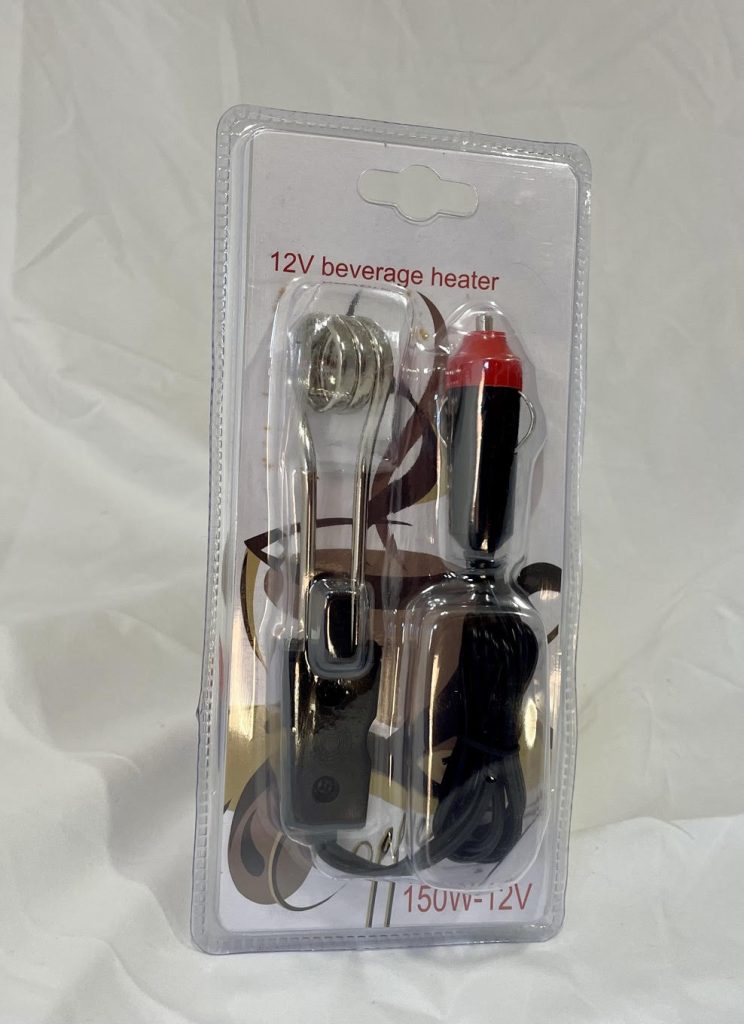 Power: 150W
Capacity: N/A
Price: £4.99
Time to temp: 60 mins +
Score: 1
Contact: ebay.co.uk
There is something pleasingly retro about this dangerous-looking element. There are no frills about it – you even have to bring your own container. Instead of heating your water (or any other liquid) within the device, you hook the Autobits over your mug with the shiny coil in the liquid, plug the cable into your 12v socket and then wait – for an eternity.
Despite the claimed 150W power – which is enough to blow many in-car socket fuses – our 300ml test water had only reached 89oC after an hour.
It can't be completely immersed in a liquid either, so would be impossible to use in a moving vehicle. Which means you would have to be sitting in a car with the engine running for over an hour without moving. We can't think of a situation where that would ever be desirable or sensible, making this heater largely pointless.
The verdict
OK – we'll be frank – these in-car kettles are going to be a disappointment if you are expecting to park up, switch on the kettle and have a piping-hot brew a few minutes later. Using them requires some planning, a decent alternator and a sturdy 12v socket.
As a result, the Bopfimer is the only device we can see ourselves using ever again. It heated the water in a reasonable amount of time, had a temperature gauge to show the temperature and kept the water safely inside the container while driving. It fitted in our cup holders and door pocket too.
The rest of the in-car kettles here will be found in the bargain bin at an autojumble – you'll find us nearby enjoying a cuppa from a catering van.
Read more
Reviewed & Rated: Cheap dehumidifiers to keep your classic dry
5 of the best roadside cafés for drivers and bikers
5 garage projects that look simple… but aren't