A 'rattle can' paint job used to be the sign of a bodger. Rather than invest in a proper repair, the experimental DIYer could mix up some filler, spend a few minutes sanding and then blow over the repair with an aerosol tin of paint which looked approximately like the original colour. The result might have looked reasonable from a few paces but would rarely pass close inspection – or last long.
There is still scope to get it wrong of course, but with a bit of effort it is possible to get decent results with modern aerosol paints. You'll not want to use them on larger panels or for big repairs on a valuable car, but they can certainly make a scuffed rubbing strip or repaired mirror casing look much better.
How much is your car to insure? Find out in four easy steps.
Get a quote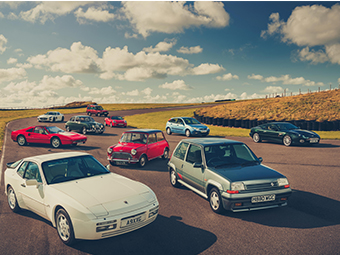 The paints available vary in cost, but are they all the same? To find out we picked one of the most common paint shades used in the past 20 years, but one which is notoriously tricky to match – Ford's Moondust Silver. In our case it was applied to a proper modern classic, but not something which would be sacrilege to paint with an aerosol – a Ford Focus ST170.
We then bought aerosols from websites or motor spares shops and painted identical round steel plates which were about the size of a mirror casing. We used the recommended primer or a Halfords undercoat if none was specified in the instructions. As it was a metallic finish, all of the paints were also given two coats of lacquer if required.
Once the paint had cured, we tested its durability with a jet wash and then scratched the surface with a key to check for hardness and flaking. We were looking for a good finish straight from the can, accurate colour match and value for money.
Verdict
1 Halfords Spray Paint
2 Ford Service Spray Paint
3 Hycote Double Acrylic
If you have a precious car and really care about the finish, it makes sense to invest the extra to get the original-equipment paint. It had the best match and finish and didn't require too much remedial work to get it looking good. But it's pricey, so on larger panels it might even be cheaper to get a professional body shop to do the repair rather than buy three or four cans from Ford.
The Hycote was a fair bit cheaper and also gave a good colour match. It was a little more resistant to damage too, but the small can means it still doesn't look great value here. So the winner is the Halfords paint, which offers an easy-to-use paint and decent finish at a reasonable cost.
Test winner: Halfords Spray Paint 300ml
Price: £7.50
Cost per 100ml: £2.50
Rating: 10
Contact: Halfords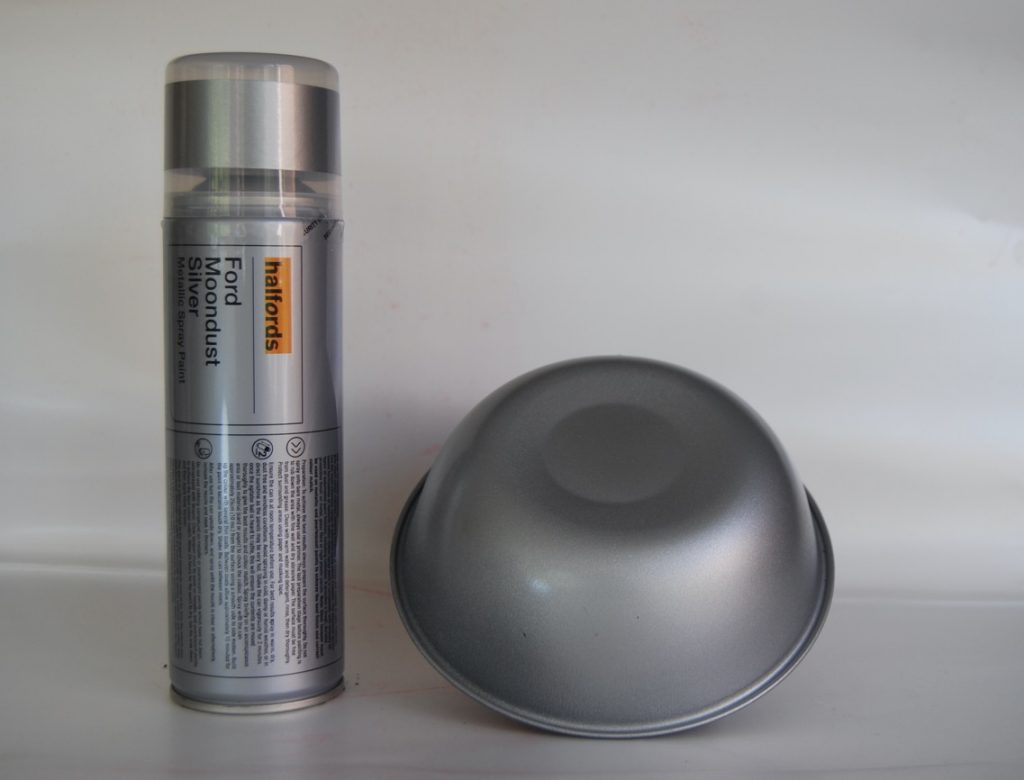 Halfords is the shop most people would gravitate towards in search of some spray paint. It's a bit of a shock to find that its branches only seem to cover cars which are now between 10 and 20 years old, so you'll have to get a special order if you want something outside of that range.
Luckily our Ford fell within the Halfords net, so we were able to spray our test plate and check for a match. It wasn't quite as close to the shades achieved by the Ford official product or Hycote, but it responded well to a bit of a polish. What impressed us most though was the resilience of the finish, as it resisted our attempts to make it flake with a key. There's no arguing with the value from the big cans too.
Recommended: Ford Service Spray Paint 250ml
Price: £25
Cost per 100ml: £10
Rating: 9
Contact: Amazon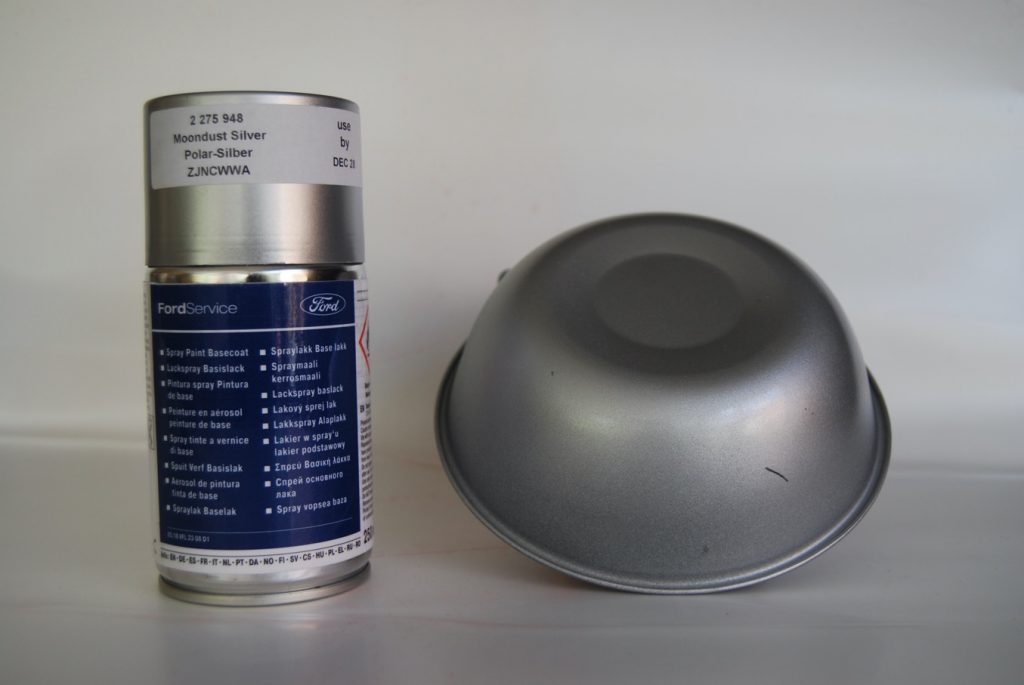 When buying replacement body panels or any other crucial component, you know that genuine parts bought from an approved dealer are going to fit and be decent quality. The problem is that the high cost is usually enough to send you into the arms of the non-original parts makers, especially on an older car that isn't especially valuable.
The same is true for paint it seems. The cheapest genuine Ford paint was £25 for a can from Amazon and at just 250ml it's not going to go far. But if you want the best finish and colour match straight from the can, the Ford paint was unbeatable. Even without polishing between coats we got a decent shine.
To help you squeeze the most of your precious paint out of the can the nozzle features a moveable fan pattern so you can aim the flow onto the bits you want to cover rather than wasting it on masking tape or losing it to a passing breeze.
It's not all positive though, as the paint seemed soft when we tried our key scratch test, even after being left to cure for several days.
Recommended: Hycote Double Acrylic 150ml
Price: £8.40
Cost per 100ml: £5.60
Rating: 8
Contact: eBay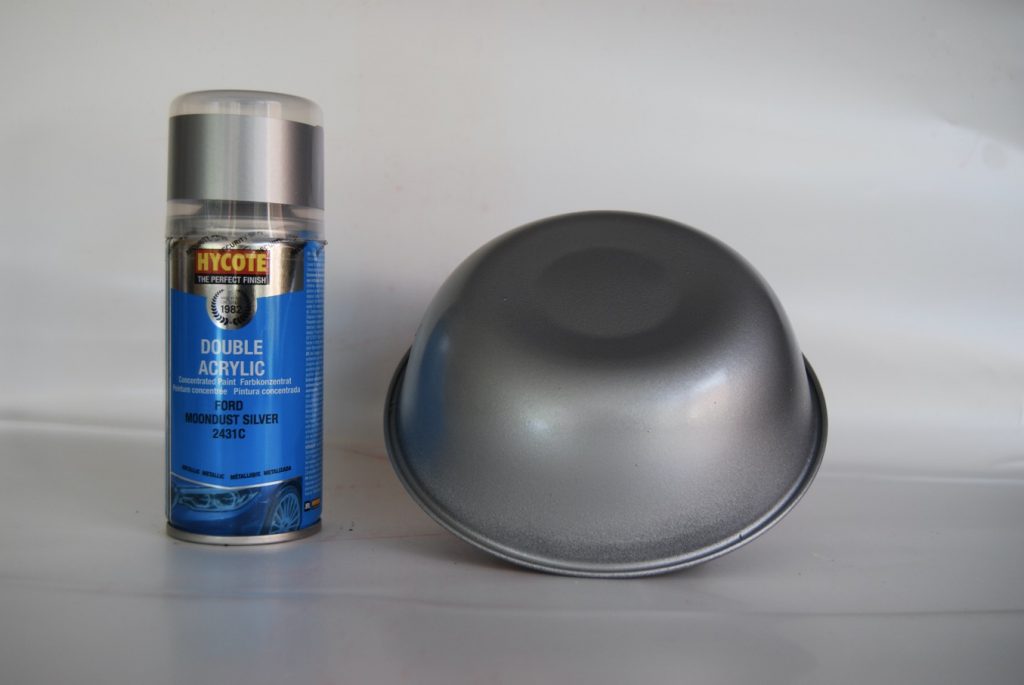 If you are looking for car paint at an independent motor factors or hardware store, the chances are you'll find Hycote on offer. If you need some in a hurry, that availability makes it a convenient choice, but you'll have to pay for the privilege. Even using an online retailer our sample cost more than the Halford's paint – for a can which was half the size.
The tiny 150ml tin would just about cover a small repair such as a rubbing strip scuff, but for whole panels you'll be needing to take out an overdraft and get a bigger recycling bin for the empty cans.
On the plus side, the colour match was respectable. If you looked very closely there was a slight sepia tinge compared to the pricey Ford paint, but it was barely noticeable. Compared to the Ford sample, Holts' 'Double Acrylic' finish was much more durable too, resisting our key even after only a day of drying.
If it was better value, this paint could have been a winner. But at this price it is only something we'd recommend if you have a small repair and there's not a Halfords nearby.
Holts Auto Spray Paint 300ml
Price: £6.99
Cost per 100ml: £2.33
Rating: 7
Contact: Holts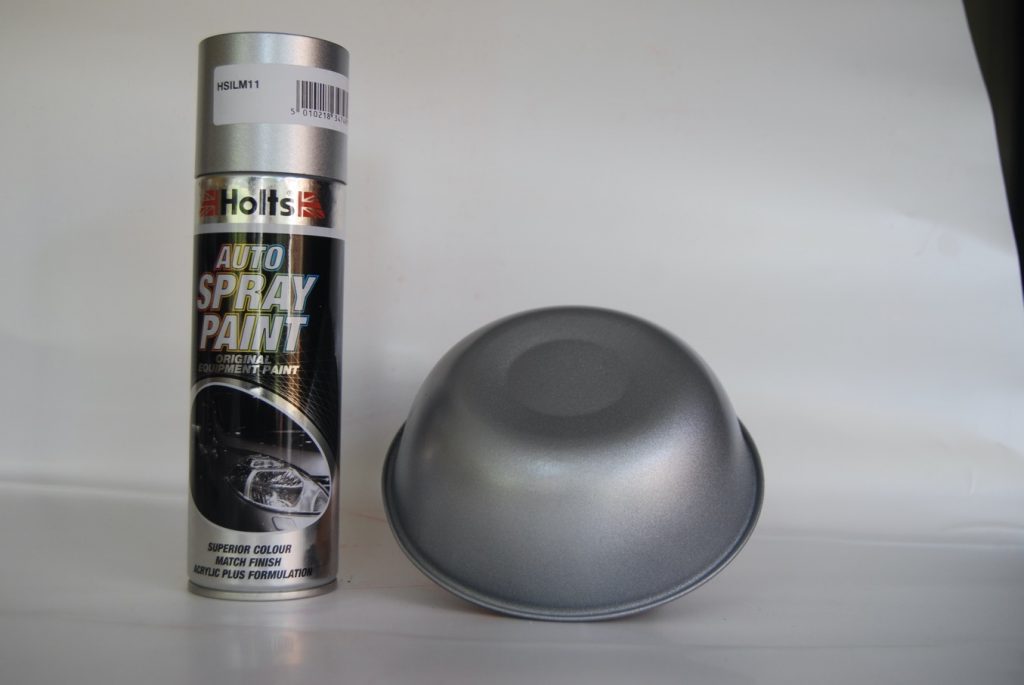 If your local car accessory shop doesn't stock Hycote, its almost certain to have Holts instead. Initially this might seem like good news as it's less than half the price of its rival and only the non-colour matched Hammerite is cheaper per millilitre.
Unfortunately the finish wasn't great and it needed a lot of work and patience to get it looking acceptable. The main issue was that it had a glittery sparkle to the finish due to the larger flakes of metal suspended in the paint. While this looked attractive on our sample dish, it was quite obviously different to the original factory paint.
Using the paint straight from the can without rubbing down between coats also gave quite a rough finish, and it was soft too. It would be possible to get a better result if you took the time to leave each coat to cure and them sanded between coats, but it's easier to just buy a different paint.
U-POL Aerosol Spray Paint 400ml
Price: £13.99
Cost per 100ml: £3.50
Rating: 5
Contact: eBay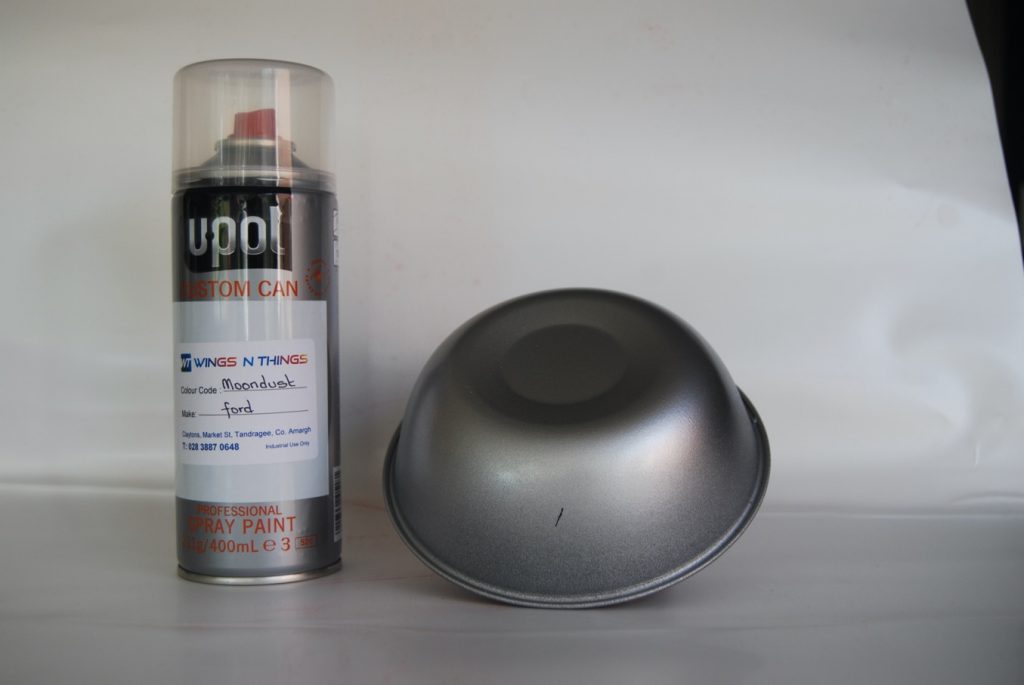 We chose the U-POL paint from one of the many offered on eBay by sellers who will mix you paint to any colour you like based on the factory paint code. This is really handy if your car is a bit of a rarity or is too old or new to be stocked at a high street shop. It didn't make much sense to use the service for our common-as-muck Ford silver as it's pricey and took a couple of weeks to arrive, but we were still curious to see what the match and finish was like.
It wasn't worth the wait. The colour had a blue tinge which would make any repair obvious. It had a flat appearance too, which could only be made to shine with a lot of flatting and polishing between coats.
The finish was hard enough, but there was some flaking when the plate faced our test key scrape. The only real positive was the nozzle. Like the Ford paint, it produces a flatter fan pattern to make accurate spraying easier.
Hammerite Smooth Metal Paint 400ml
Price: £8.99
Cost per 100ml: £2.24
Rating: 5
Contact: B&M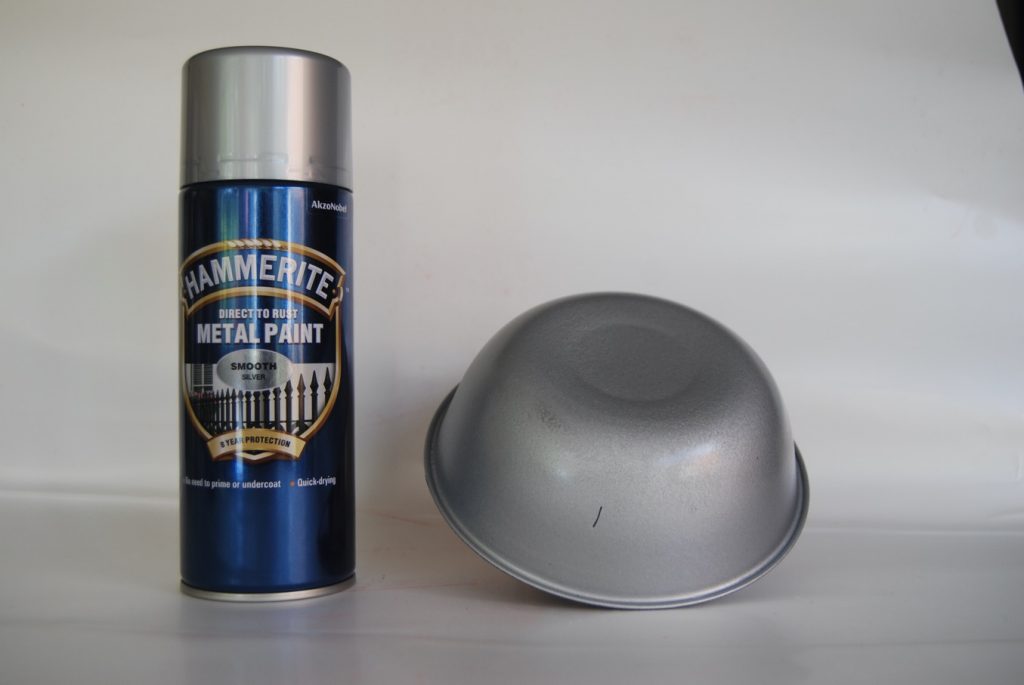 If you are lazy and not too bothered about a perfect colour match, Hammerite is brilliant. You can spray it straight onto metal without needing to undercoat or lacquer and you can even apply it directly to rusty surfaces. It does not claim to be a perfect colour match for the factory shade but the stock silver looked as though it could be near enough for our Ford.
It was close enough to survive an inspection from a few metres away, but it was far from the glossiest finish and wasn't as tough as we expected either, scratching easily after curing for 48 hours, although it got tougher over time.
The low score here reflects the fact that the Hammerite doesn't give the sort of finish you'd be happy to have on body panels, but it would still be our first choice for smartening up less-visible areas such as floorpans and inner wheelarches, although we'd want to slap some extra protection wax on top once the paint had cured.
How to get a decent finish from aerosol paint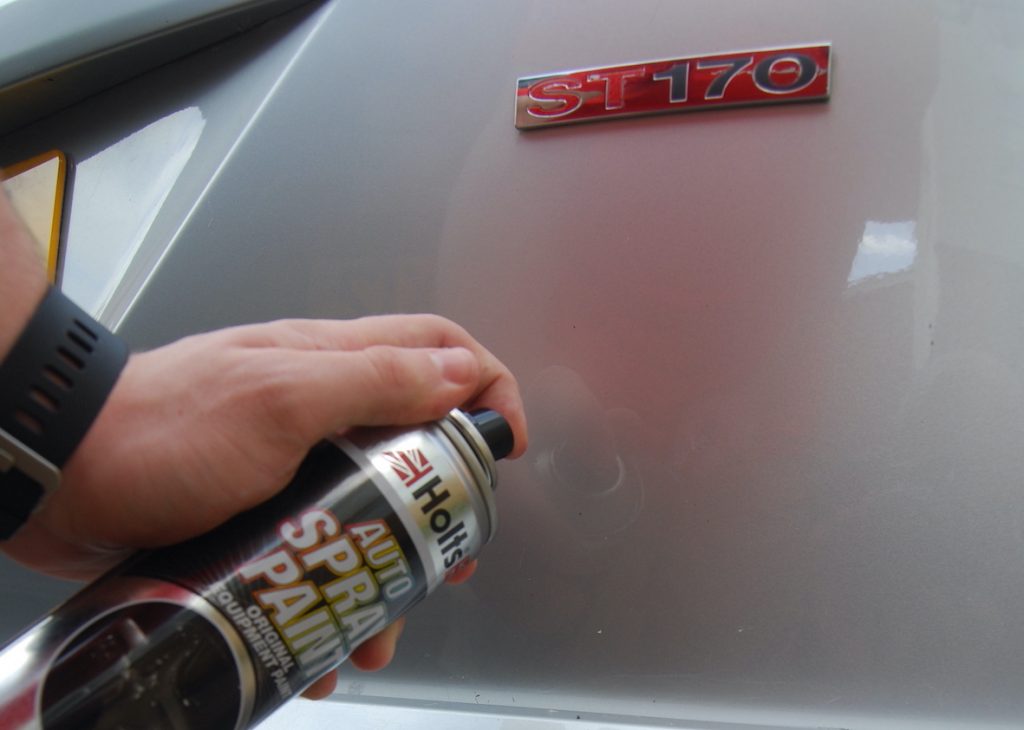 Before you invest any time, energy and money using aerosol paint in a painting project, think about if it is going to be worth your while. If you end up with a poor finish you're going to be faced with stripping it all down and starting again which can be soul destroying. If you are in any doubt, leave it to the pros. This is especially true for larger areas, as the amount you will spend in aerosols won't be much less than getting a friendly bodyshop to paint it for you. As a rule of thumb, they'll charge around £150 per panel.
That said, it is entirely possible to get a decent looking finish from a can, and it still makes sense for painting small areas such as scuffed door mirrors and small rust spots.
First, you'll need to prepare thoroughly. Repair any flaws in the surface and treat any rust. Rub back the existing paint with sandpaper to give the new paint a good key. Then, before you pick up the paint can, mask everything in sight. It's far easier to do this now than remove overspray later. Also try and find some shelter; paint doesn't like cold weather, rain will ruin the fresh paint and wind will blow it away before it even reaches the panel. And it will probably land on your neighbour's car.
Then thoroughly clean and degrease, using proper panel wipes if possible. These are available from Amazon and eBay if your local supplier doesn't have them, and they remove dust and grease.
The first coat will be a primer – the type will depend if you are painting steel, aluminium or plastic. Follow the instructions to see how long is needed between recoats. Once you have a couple of layers on, rub down the paint using increasingly finer grades of wet-and-dry sandpaper on a block. Once rinsed you will be able to see if there are any high or low spots in the paint. You may need to use filler or more coats of primer to 'lose' them.
Once you are happy, it's time to apply the top coats. After each application, check you are happy with the finish; if it shows any flaws, use fine wet-and-dry to rub down. Apply a few coats of clearcoat lacquer if required and then leave to dry for a couple of hours, depending on the weather. Summer heat means less drying time.
Then remove the masking if you are happy – do not leave the tape for longer than you need to or it will become difficult to remove. After a week or so, you might want to use a final polish with cutting paste or very fine wet-and-dry, followed by a coat of wax. Then stand back and admire your handiwork.