It's a peculiar dilemma every owner of a special car faces. You want to go for a drive and enjoy it, but every time you go out on the road you risk damage from every pothole, skip lorry and freshly resurfaced road. If loose stones and grit do attack your precious paint, leaving them unattended won't just look scruffy – within a few weeks the rust could set in to create a dreaded bubble of doom.
There are plenty of smart repair companies or body shops who will be happy to fix them for a fee, but as a quick fix it is often worth trying a touch-up paint kit first. These little bottles allow you to paint just the chip rather than the entire panel, disguising the damage from all but a close inspection and protecting the metal from corrosion.
How much is your car to insure? Find out in four easy steps.
Get a quote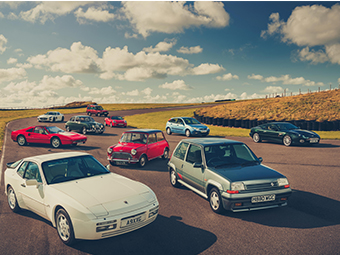 Some classic and prestige cars used to be supplied with a bottle of the factory paint in the glovebox, but those days are long gone and now you'll be expected to pay for your own. They vary in price and complexity, so we tried five different types of touch-up paint kit to see which did the best job of disguising our damage.
We chose silver as it is one of the most popular colours for cars but is notoriously tricky to colour match. Picking a Ford shade (covering a Focus ST170) also meant we had the best chance of picking up 'off the shelf' kits from accessory shops.
We were looking for products which offered an easy way to repair a variety of sizes and shapes of damage on metal panels and plastic parts. Points were given if they were simple to use and gave a good finish. We washed the damaged areas several times over the course of three months to see if the applied paint changed in appearance and flaked away.
Which came out on top when the chips were down?
Winner: Hycote Brush & Scratch repair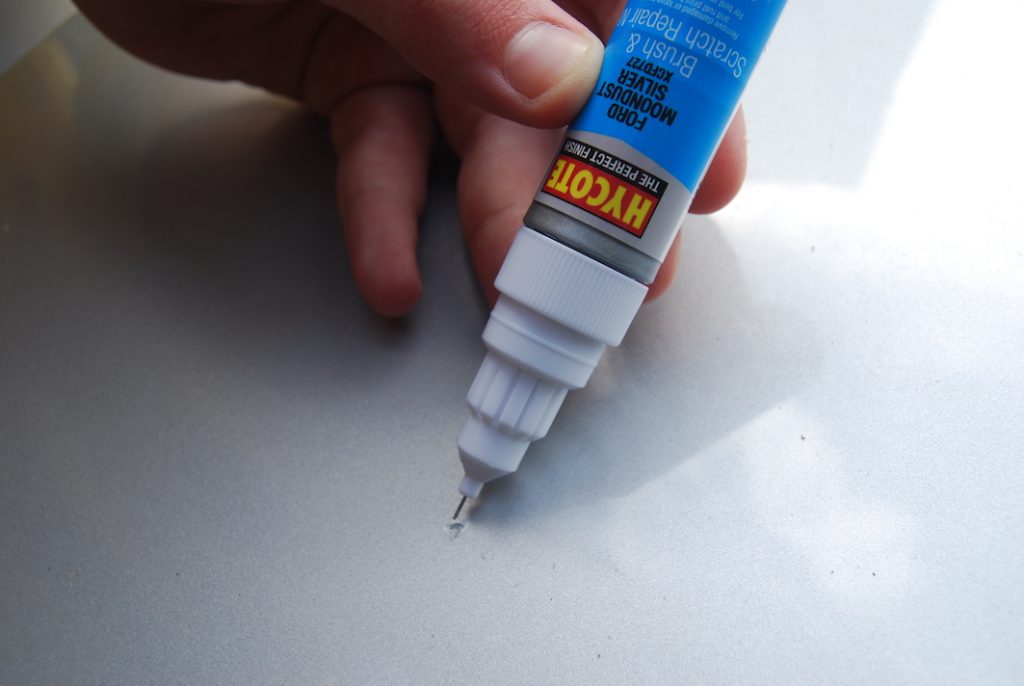 Rating: 10
Price: £4.99
Size: 12.5ml
Available from: eBay.co.uk
We have previously been impressed with Hycote's aerosol can paint, although the spray tins didn't seem great value if you were trying to repair a big area. For stone chips the smaller amount of liquid in the container is unlikely to matter, unless you've been driving behind a gritter lorry.
As with the spray cans, the Hycote's main attraction is the price, and it was easily the cheapest touch-up paint we could find online (from eBay). It is simply a 12.5ml pot of paint with a lid which incorporates a brush for larger damage, but there's also a needle point for filling smaller chips. Removing the top part of the lid and squeezing the container produces a tiny blob which fills gravel rash perfectly.
Don't expect any separate primer, special preparation tools or polishes with the Hycote, so you'll have to raid the shed for any prep work and the final polish, but it was easy to use and had a decent colour match too. For less than a fiver delivered, you can't really go wrong.
Recommended: M.A.D Touch Up Paint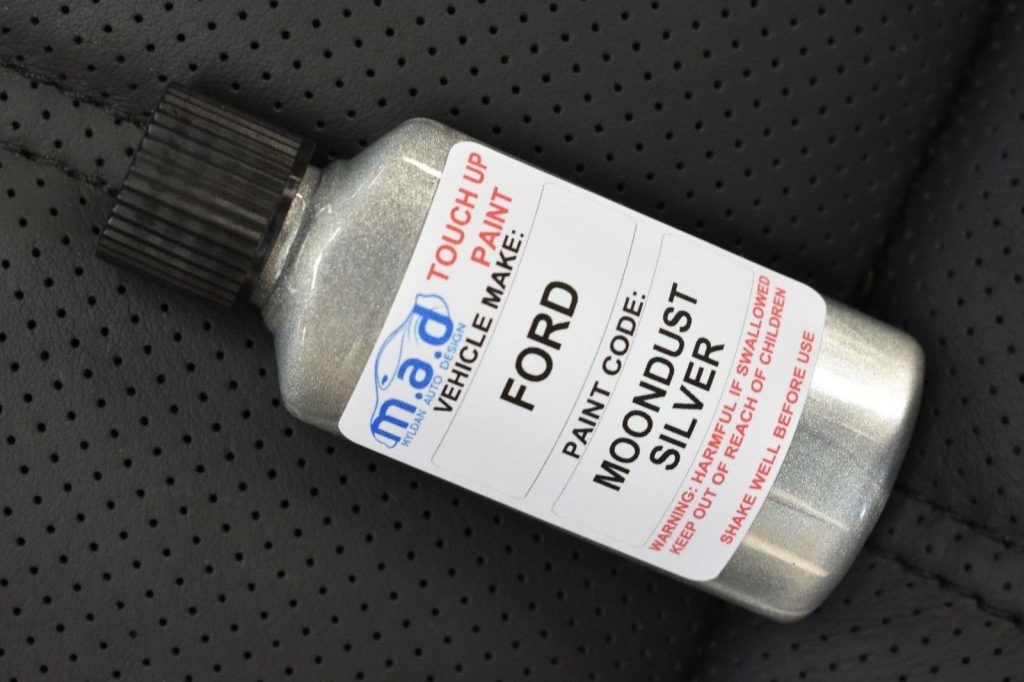 Rating: 8
Price: £6.95
Size: 30ml
Available from: eBay.co.uk
Enter the term 'touch-up paint' into eBay and the M.A.D products are the first to pop up. There seems to be a huge selection of shades and codes on offer too, although you'll obviously have to do your own research to find out what your paint is called.
The bottle that arrives is surprisingly large, with 30ml of liquid inside – that's three times the amount you'll get in the Hycote. The brush is big too – in fact it is excessively large for the delicate filling in of stone chips, leaving a 10mm smear of paint when put on a panel. That might be useful for a long bumper scrape, but you'll want to use something else like a toothpick to apply to smaller chips.
Other than the overly big brush, it couldn't be simpler to use. The paint claims to be 'self lacquering', and although we were sceptical it did return a decent finish which lasted through our wash tests once it had been left to cure. The colour match wasn't quite as good as the Ford or Hycote, but it was close enough to stand up to a three-metre away inspection.
We do have some advice though, having learned the hard way. The first tip is to shake the bottle for at least a minute and keep shaking it before each dip of the brush into the paint. The paint ingredients and metal flakes separate out very quickly and can make the finish streaky and unmatched. Also carefully wipe excess paint off the brush stem or it drips off the lid onto your precious paint. Or shoes. Or driveway.
Chipex Silver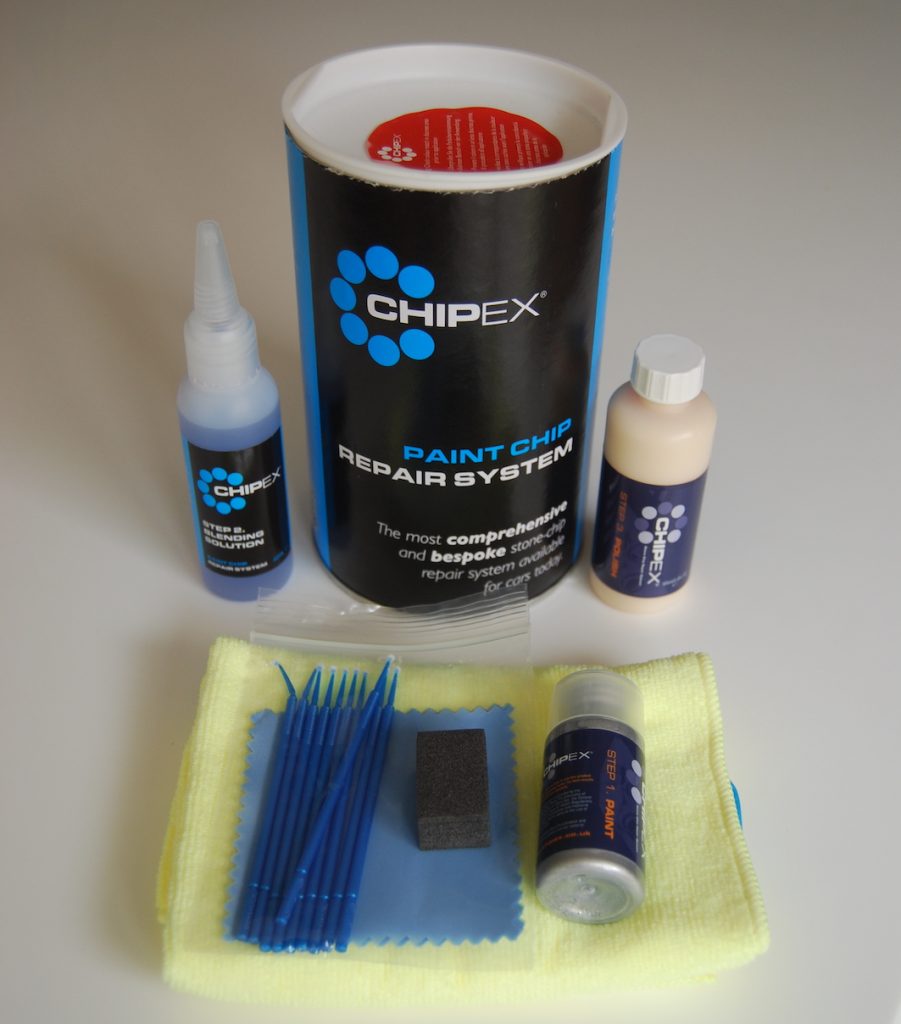 Rating: 6
Price: £34.95 + £2.99 delivery
Size: 10ml
Available from: chipex.co.uk
At seven times the cost of the Hycote for Chipex's cheapest kit you'd want it to be impressive, and in some ways it is. Firstly, there's the buying experience. Instead of having to search for your own paint code on the car and then scan the internet looking for the right shade, the Chipex site merely needs your registration number and then it'll search its own database. If it gets it wrong, you get your money back.
The pack that arrives looks as though it means business too, with a drainpipe-sized pot containing an array of bottles, swabs, cloths, gloves and applicators which look like something you'd see before giving samples at the doctor's.
You dab the touch-up paint onto the chip, wait for it to dry and then wipe off excess to using a special blending liquid and cloth. Once you are happy with the result you can polish it using a supplied fluid and microfibre cloth. Using it is very satisfying, but deeper or larger chips need several coats to build up, with at least five minutes drying time in between applications. After five coats – each with a new swab and fresh pair of gloves – we gave up. The result was no better than the cheaper kits, which makes it impossible to justify the price unless your car is a very rare colour which no one else can match.
Ford Service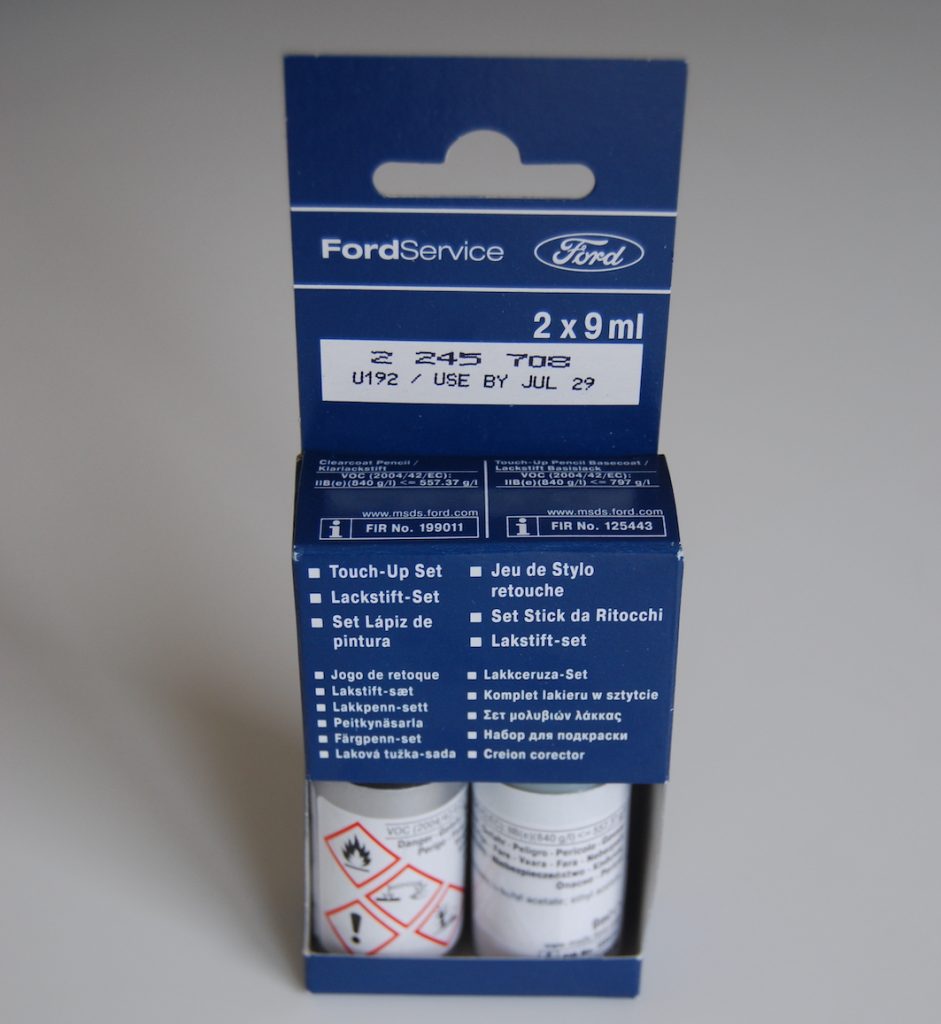 Rating: 6
Price: £15.35
Size: 2 x 9ml
Available from: amazon.co.uk
Some conscientious new car buyers will still buy a touch-up paint kit from the dealer who supplies their new car and keep it in the glove box, ready to repair any chips as soon as they happen. This is perhaps a hangover from the bad old days when a car could fail its first MoT on corrosion, and it was a constant battle to keep it at bay.
Your local dealer will still be pleased to furnish you with a bottle of paint of course, as long as you don't mind paying the high price that comes with genuine parts. The box you will get over the counter contains two small bottles, one containing the colour coat and the other a lacquer which gives shine and protection. Both are applied using a small brush attached to the lid, in much the same way as ladies will apply nail varnish.
It makes application easy, but the 'one size fits all' size of the brush means you'll want to use something sharper for smaller chips – we found a cocktail stick or match snapped into a point was ideal. If you do end up using the brush, be careful to shake off any drips from the stem of the brush, or it ends up in a blob on your panel.
This is all a bit of a hassle, but the up side is that the colour match is perfect and – if you put in a bit of finishing work with polish – it looks great.
Halfords Stone Chip and Scratch Repair System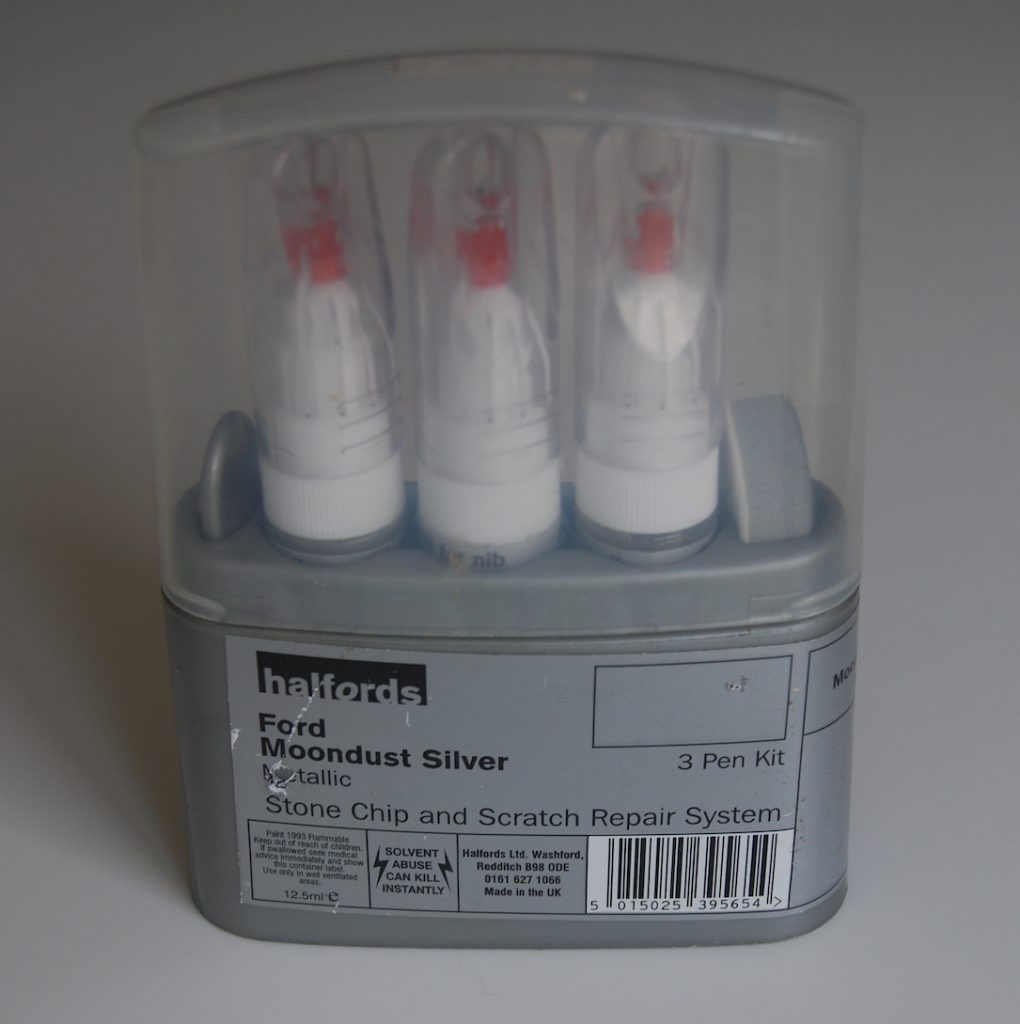 Rating: 6
Price: £11.99
Size: 3 x 12.5ml
Available from: halfords.com
Many drivers have one of these Halfords kits in their garage or shed, either for a long-gone old car or something they still own. But that doesn't necessarily mean you will be able to find the right shade for your car, especially if your model is new, old, or a rare shade. Perhaps understandably, Halfords only caters for a narrow selection of colours on the best-selling cars.
If you are lucky enough to be on the list, this £12 kit offers a lot more than just a bottle of paint. First, there's a pointed fibreglass tool which you can rotate in the chip to remove any surface rust and key the surface ready to receive the undercoat. This is followed by the colour coat paint and lacquer.
The instructions recommend leaving each stage for 24 hours to dry before polishing with a fingernail-sized pad for foam.
It's all quite comprehensive and the bottles have the same two applicators as the Hycote lid, allowing you to choose between a brush or a fine needle point for different size chips. But all the layers are simply too much for smaller areas or damage and we found it built up into an obviously raised appearance. It relies on having three days of fine weather to get the coats on too, and after all that the colour match was far from perfect.
Verdict
If you have a common car in a regular colour, then the touch-up paint world is your oyster and you'll get the choice of kits. For our Focus, the official Ford product gave the best colour match but came at a price and wasn't the easiest to use.
The Ford paint looked cheap next to the Chipex though, which seemed like it offered a sophisticated selection of tools and fluids but actually didn't make it any easier to get a decent finish. If you have a rare colour, it might be one of your only choices though.
Halfords product also offered extra tools and paints, along with two types of applicator for different sizes of damage. But overall we found the sheer value of the Hycote and M.A.D difficult to argue with. We went with the Hycote simply because it was easier to use, but for bigger damage the M.A.D makes more sense.
Read more
Reviewed & Rated: Aerosol paint cans for cars
Socket Set: Rusty nuts? Here's how to free 'em
Reviewed and Rated: 9 multitools put to the test