You might keep your classic in tip-top condition but old cars have a habit of surprising us with a blown hose, loose battery terminal or wayward bit of trim – usually when you are furthest from home. This is when you'll wish you had a decent multitool in the glovebox. Having access to a screwdriver, saw, wire cutters or a pair of pliers could mean you can do a quick repair yourself and save you a long wait for a recovery trick.
They're not just good for emergencies either. Keep one in your pocket when you start a job and it's likely to save you clambering out from under the car to grab an unexpected implement from your tool box.
How much is your car to insure? Find out in four easy steps.
Get a quote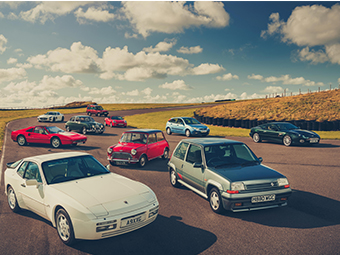 But buying a multitool from one of the better-known brands is a significant investment – often costing more than £100 – while similar looking items can be bought for under a tenner. Is it worth paying the extra? We tested nine multitools on a series of tasks that might be faced by a motorist at the side of the road, such as cutting hoses and cable ties, stripping a wire and tightening various types and sizes of screw.
We gave a higher score to tools with extra useful features and took into account how easy it was to find and use the functions. Although knife and saw blades which lock into position can be slightly more awkward to use, we considered it a desirable safety feature.
Which tool stands tall in our test?

Verdict
1 Nextool Flagship Pro
2 Gerber Center-Drive Multi Tool
3 Leatherman Rebar
There's no doubt that the Gerber is the multitool we would choose if money was no object. Its clever design means it is the most useful and we found ourselves reaching for it several times in jobs while tinkering in the garage.
But it's a really substantial investment which most of us keen DIY motorists would struggle to justify.
The Nextool will do most jobs as well, and some things better. Our only reservation is the poor crosshead screwdriver. But it is exceptional value, making it easy to justify for the average classic car fan – that means it takes our win here.
Leatherman's Rebar is compact, well-engineered and feels as though it will last forever. It's far from perfect but takes our third place.
Nextool KT5020 Flagship Pro – Test Winner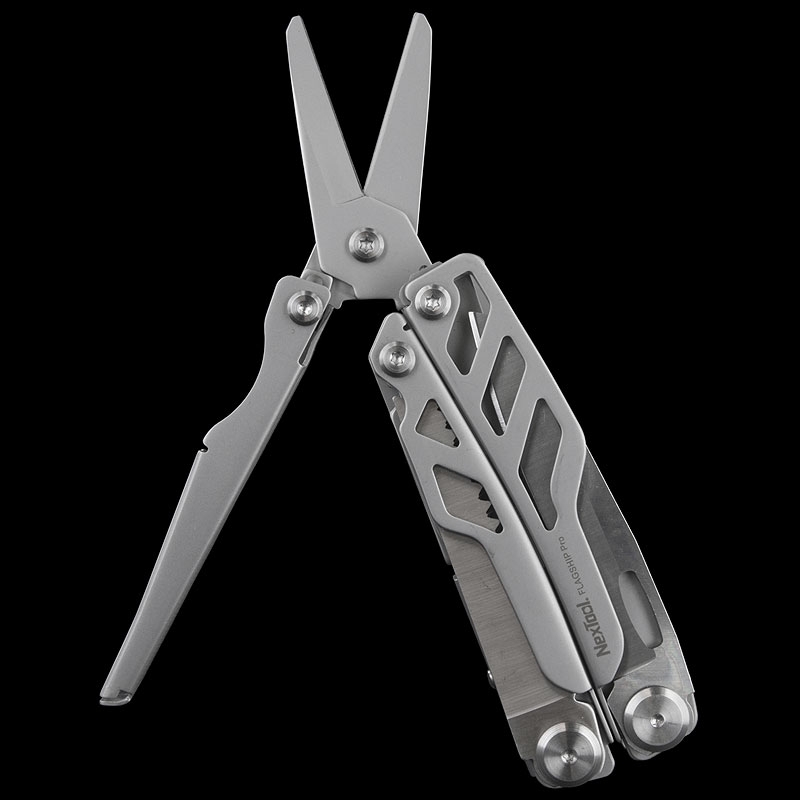 Price: £41.95
Tools: 16
Score: 10
Contact: heinnie.com
We'd never heard of Nextool, but its Flagship Pro handled our tasks better than rivals which cost double or even triple the price. It might not have the biggest tally of tools built into its compact frame and does without frills such as a case, but it has most of the features you'd need and to make common tasks much easier.
The pliers/wire cutters are easy to fold out and are spring loaded, so they can be used one handed. Surprisingly, there's also large pair of scissors which made light work of our cable tie and small hose cutting tests.
The long knife and saw blades are razor sharp and lock safely in place, with a simple release mechanism. Adding to its usefulness is a hardened point on the bottom of the tool which can be used to break car glass in an emergency. Our only criticism is the cross-head screwdriver, which might help you out if you are desperate but isn't designed for constant use.
Gerber Center-Drive Multi Tool – Recommended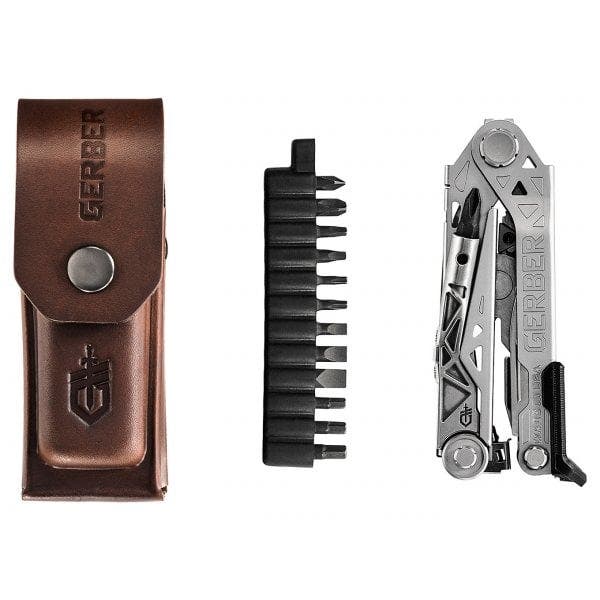 Price: £143.95
Tools: 14
Score: 9
Contact: gerber-store.co.uk
Forget the eye-watering price for a moment if you can, because we reckon the Gerber is a tool you will use every day, and not just in emergencies. That might make its cost-per-use lower than some of the cheaper tools here.
Its most useful feature is the 'Center-Drive' screwdriver which unfolds so it is in middle axis of the tool so it can be used comfortably, like a bigger driver. It comes with 12 interchangeable bits too, so you should find one that will move that stubborn screw, whatever the size.
The knife is a generous 9cm long and can be locked into position with one hand. A serrated edge makes it easy to saw through tough materials too. A hefty file and small pair of scissors are also included, and a tough leather case should keep it all safe.
The Gerber is too expensive for the occasional user but if you are constantly working on cars, the Center-Drive is worth keeping in your pocket to save constant trips to the tool box.
Leatherman Rebar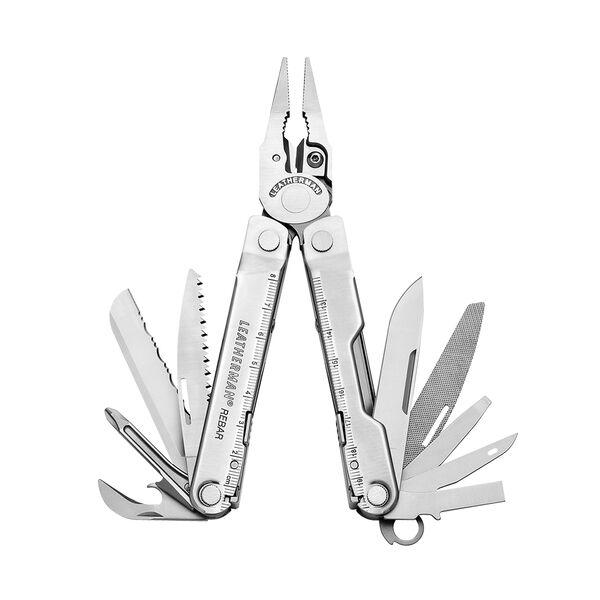 Price: £84.95
Tools: 17
Score: 8
Contact: leatherman.co.uk
The Leatherman brand is the best-known in the multitool market for good reason – its products are well-designed and robust. The quality of the Rebar shines through and it feels as though it will last for decades.
There are no gimmicks or special tools, but everything on offer is useful, with both plain and serrated knives and a razor-sharp saw. These made cutting our hoses and cable ties effortless. We liked the shape of the pliers too, as they were usefully needle-nosed. This made jobs like retrieving a lost screw from an awkward place in the engine bay much easier. The screwdriver bits are substantial too, if not quite as easy to use as the Gerber's.
The Rebar isn't perfect though, as the locking mechanism is awkward to release and the pliers aren't sprung, meaning you'll develop a hand ache if using them for longer jobs.
Victorinox SwissTool Spirit X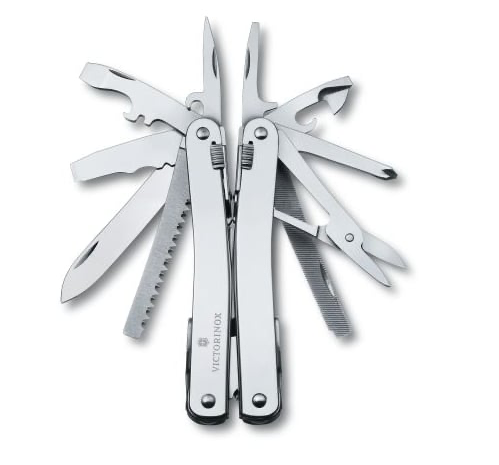 Price: £114.99
Tools: 26
Score: 7
Contact: swiss-store.co.uk
This tool is made by the creators of the Swiss Army Knife, and its various nifty functions will be familiar to anyone who has ever used one of its penknives. It claims to have 26 different features, although some of them – such as a 'lanyard hole' had us baffled.
As you'd expect from a company famous for its knives, the blades are sharp and they sliced easily through our hoses after locking safely in place. Unlocking is slightly trickier, as the sliders are stiff and difficult to operate while wearing gloves or when your fingers are oily. You won't want to get this tool dirty though as it would ruin the beautifully-polished finish.
However, we do have some reservations. The tools are on the small side, making it tricky to tackle bigger jobs. Like the Leatherman, Victorinox seem to have forgotten to spring-load pliers too. At this price it doesn't look like great value either.
Leatherman Super Tool 300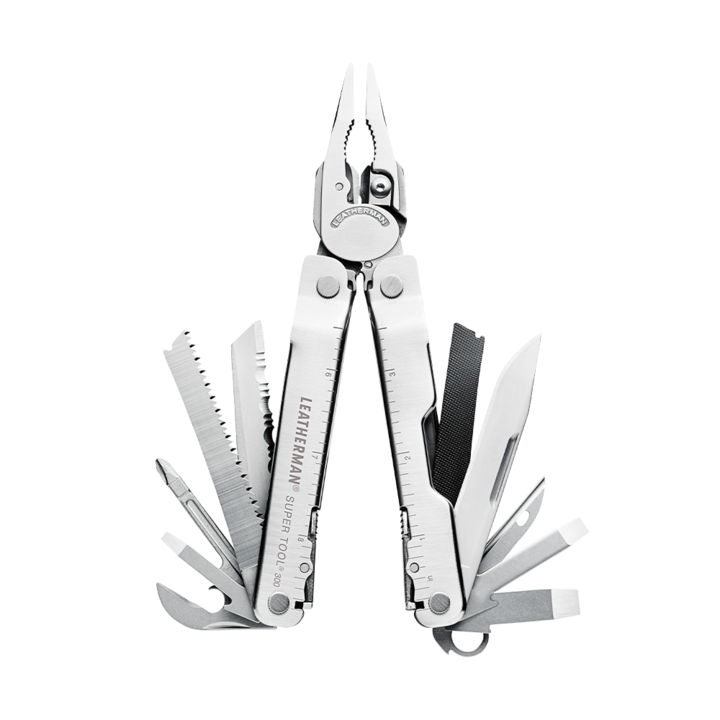 Price: £119.95
Tools: 19
Score: 6
Contact: leatherman.co.uk
The Super Tool 300 takes all the bits we liked from the company's Rebar and makes them bigger. It's only 15mm longer but it's enough to make the knife and saw blades much more useful. The pliers and screwdrivers become more usable too.
We also appreciated the replaceable wire cutter blades and connector crimps built into the hinge.
But the Super Tool also has the drawbacks of the Rebar. There's no spring-assistance for the pliers and all the joints are super stiff, meaning it's a real effort to pull out the tools. If you've not got long and tough fingernails you'll struggle. Then there's the price. That extra 15mm in length costs an extra £35, making it seem expensive.
SOG Powerlock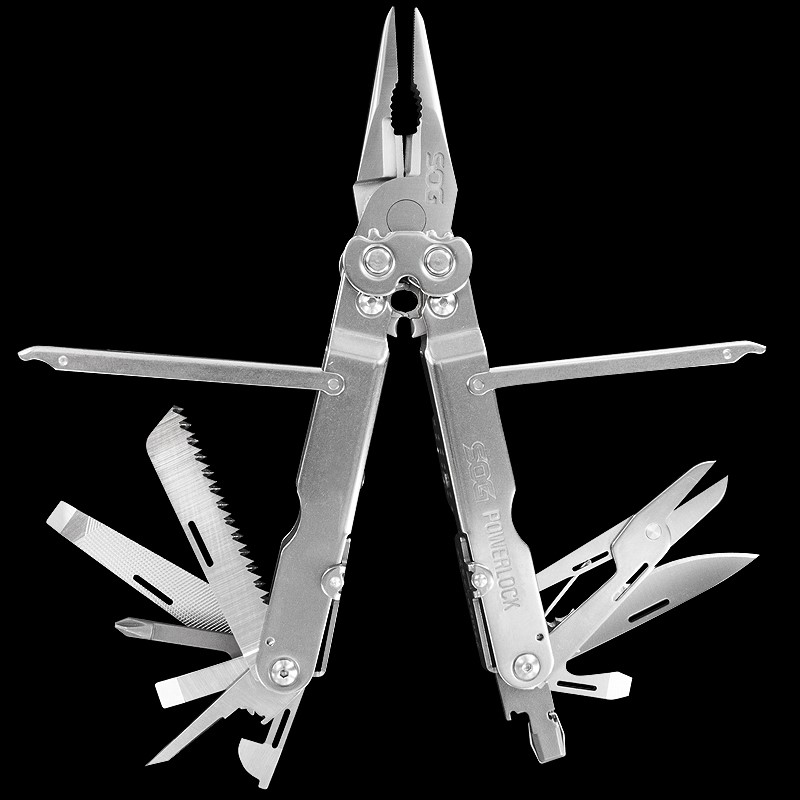 Price: £108.95
Tools: 18
Score: 6
Contact: heinnie.com
We initially had trouble getting hold of a SOG as they get quickly bought up by soldiers, apparently. It's certainly the only tool we tested with includes a function to "crimp explosive blasting caps." This bodes well for the quality and usefulness of the Powerlock, as it's trusted by people whose lives might depend on it.
The SOG does seem to specialise in working with wires, which might be handy if you own a British or Italian car from the 1960s and 70s. It has a neat v-shaped wire cutter and two crimping tools which make wiring work easy. It is also the only tool here to have a ¼" drive for small sockets, although oddly there are none included. If you're storing a SOG in your glovebox, you might want to tape a 10mm to the outside of the case to increase its usefulness.
But we really couldn't get on with the SOG. Closing the tools is irritatingly complicated and the knife is awkward to use. Unless you regularly tackle electrics, there are better tools which cost less.
Clarke CHT904 13 in 1 Multi Tool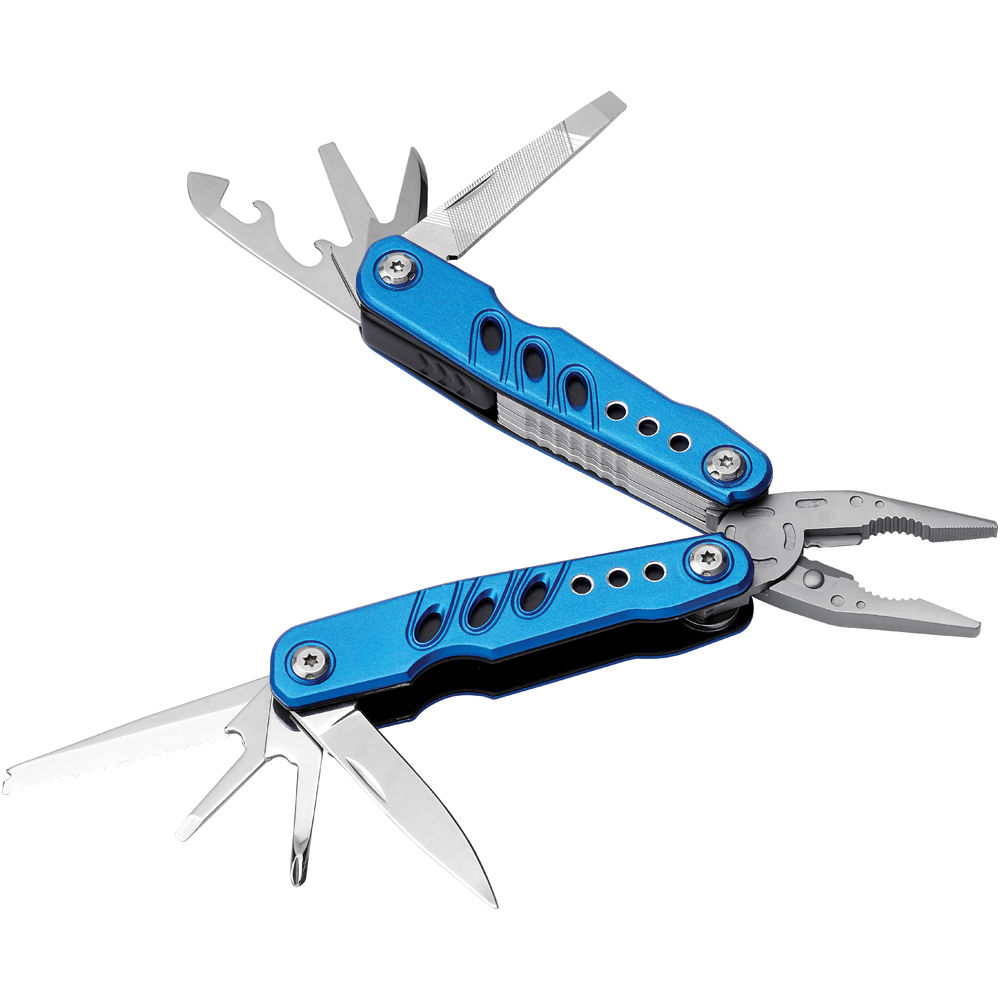 Price: £9.59
Tools: 13
Score: 5
Contact: machinemart.co.uk
At less than a tenner you might expect the Clarke 13 in 1 to have the build quality of a cracker toy. But it actually feels substantial and is one of the heaviest tools on this test. That might actually be a drawback if you want to include it in your cycle tool kit though.
On the plus side, the 904 comes in a nylon pouch and has spring-loaded pliers plus three sizes of flat screwdriver. There's a cross-head too but it's tiny and only really useful for opening the battery doors on toys.
The pliers and wire cutters work well, while the saw and knife are easy to lock and unlock. But both are blunter than a butter knife and were incapable of cutting our hoses or cable tie. As long as you never need to cut anything tougher than soup, the Clarke is good value.
Clarke CHT907 11 in 1 Survival Hammer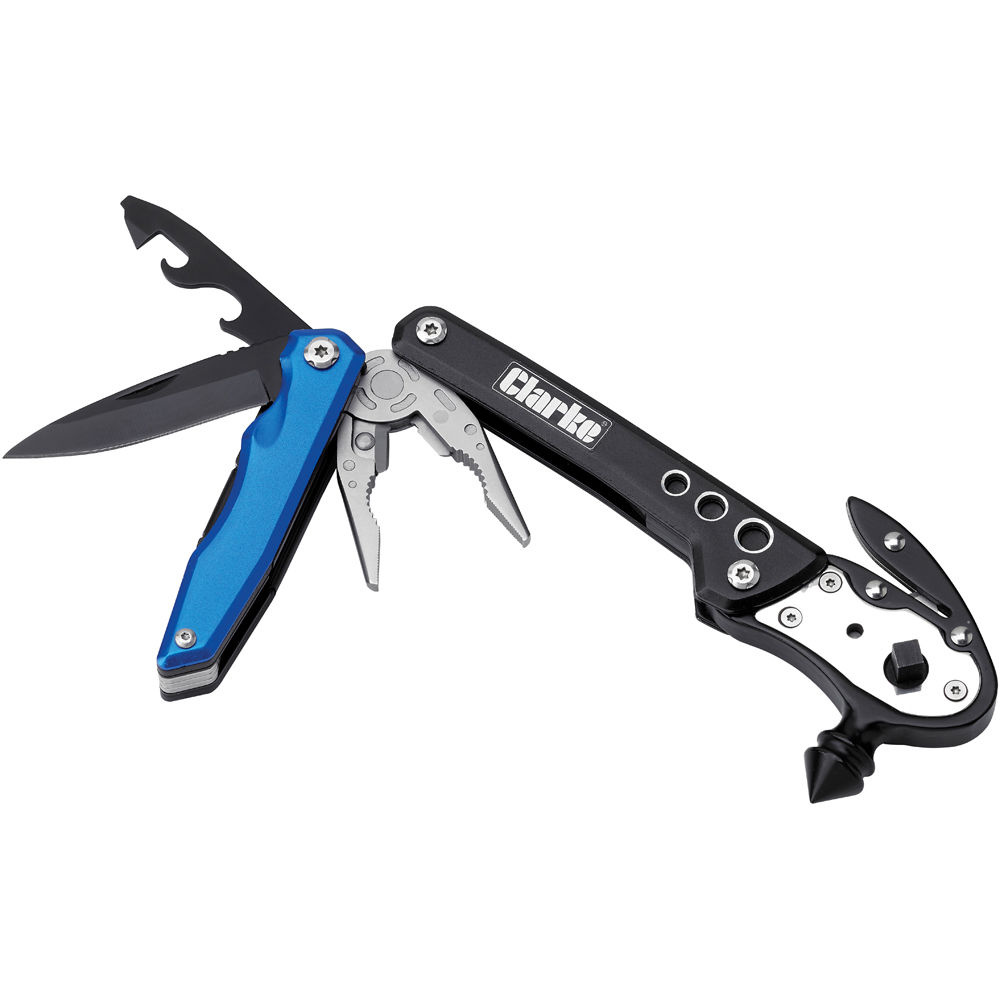 Price: £13.19
Tools: 11
Score: 5
Contact: machinemart.co.uk
The CHT907 is unique in this test as it's designed as a dedicated emergency tool for your car. As well as the usual pliers and (blunt) knife blade, it has hammer for breaking glass and a seatbelt cutter – so you'd want to keep it somewhere within reach but not so close that it could fly around the cabin in an accident. It is both heavy and large, so is certainly not something you'd want to carry around in your pocket or out on a bike ride.
Unusually there's also a ratchet which can be used for small 1/4" sockets, although none are included. Unless you keep a couple of commonly-used sizes in the car this will be of limited use.
It's cheap enough to make it a useful bit of emergency kit, but it's not versatile enough to be a true multitool.
Mountain Warehouse 12 in 1 Multi Tool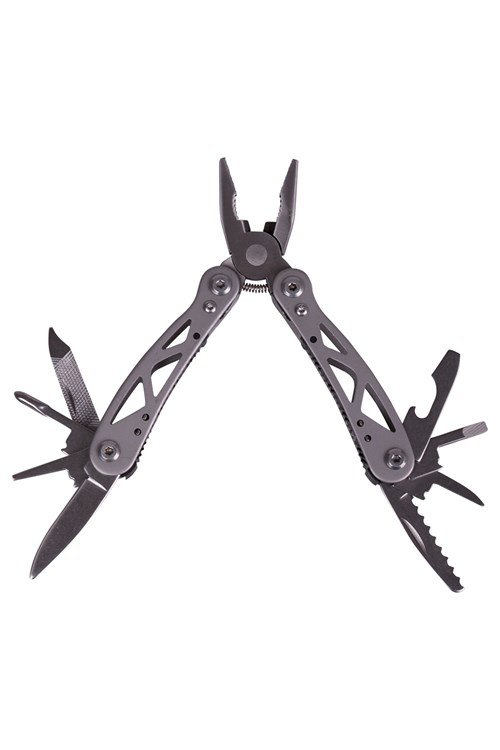 Price: £5.99
Tools: 12
Score: 5
Contact: mountainwarehouse.co.uk
Putting the Mountain Warehouse tool up against rivals that cost more than 20 times as much seems unfair, but we were curious to see what you get for so little. You'll see how the money has been saved as soon as it drops though the letterbox though, as it is tiny. When folded up it is about the same size as a Bourbon biscuit.
It means the tools are miniature too of course, making the screw drivers pretty useless on anything except small electronic items. The saw and knife are blunter than aeroplane cutlery but the pliers are fine, with spring-loading and decent wire cutters.
This isn't really a serious tool, but could be a nice gift for a young, budding DIYer.
Read more
Reviewed & Rated: DAB adaptors for classic cars
Reviewed and Rated: The best OBD readers and scanners in 2021
Reviewed & Rated: Solar battery chargers