For occasionally sprucing up your car's interior or tidying up after a trip to the tip, your domestic vacuum cleaner might be perfectly adequate. But if you regularly need a bit more power or want to tidy up in your garage too, then a dedicated workshop vacuum is a sensible investment.
The best cleaners will be able to cope with tougher tasks, easily sucking up sweet wrappers and stray gravel from your car's carpets without complaint. Then, in the garage, they can attach to power tools to minimise dust while sawing and sanding. Most will also be able to suck up water to help deal with floods and spills.
How much is your car to insure? Find out in four easy steps.
Get a quote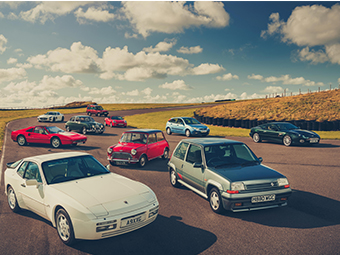 We put seven of the best through a series of tests to see which deserves a place in your workshop. Each was timed to see how long it took to clear our simulated dirt – rice, sugar and flour – from a car's carpet mat. We also timed how long it took to suck up 10 litres of water directly from a bucket, and how easy it was to switch from dry to wet mode.
Points were also awarded for extra accessories, longer power leads and hoses. Finally, we also took into account the value of the cleaners and the cost of consumables such as filters and bags.
Nilfisk Multi II 30T– Winner
Price: £139.98
Hose: 4m
Power: 1400w
Score: 9
Contact: nilfisk.com
If you are serious about your vacuum, then the Nilfisk Multi II is worth every penny of its £139.98 – and still seems decent value compared to some of the 'fashionable' domestic cleaners.
It's big and powerful, with a 5m cable and 4m hose, which mean you can easily reach across a driveaway and through a car without having to move the whole machine around.
The body is made of tough plastic, and metal tubes are used for floor cleaning. Both give a feeling of quality which is missing from some other cleaners here.
For collecting fine dust (such as when sanding) you can use a bag, but for most other tasks you can use the washable filters for both wet and dry cleaning. If you notice the suction tailing off, press a switch on the Nilfisk and it will vibrate the filter to shake off the dust without you needing to open the lid.
A separate power take off socket allows you to plug in power tools such as a sander, and the Multi II will start automatically as you hit the tool's trigger and switch off again a few seconds after you stop. It makes a real difference to the level of dust in the workshop, especially if you are painting.
The Nilfisk isn't quite perfect though. It's surprisingly noisy, and if you are regularly sucking up liquids, a drain plug built into the main body would make it much easier to empty.
Titan TTB775VAC – Runner up
Price: £59.99
Hose: 2.4m
Power: 1400w
Score: 8.5
Contact: screwfix.com
In our experience, the sub-£60 price of the Titan means it is cheaper than the repair cost if you try and use your domestic Dyson to clean up a workshop.
It will be more effective too. With a 1400w motor it is as powerful as rivals here which cost twice as much, and the shorter hose meant that it was fractionally quicker than our winner to slurp up the water.
That shorter hose means you might have to move the Titan around more than the Nilfisk, but it's mounted on sturdy wheels which means it is less likely to tip over as you tug it around the garage.
The Titan is supplied with three different types of filter, including a dust bag, washable cartridge and a foam sleeve for different cleaning situations. Changing between them is far from easy, but the consumables are reasonably-priced.
At this price there are some compromises of course. The tools feel a little toy-like in quality and there is no power take off socket. But at this price it is still highly recommended for the occasional DIYer.
Nilfisk Buddy II 18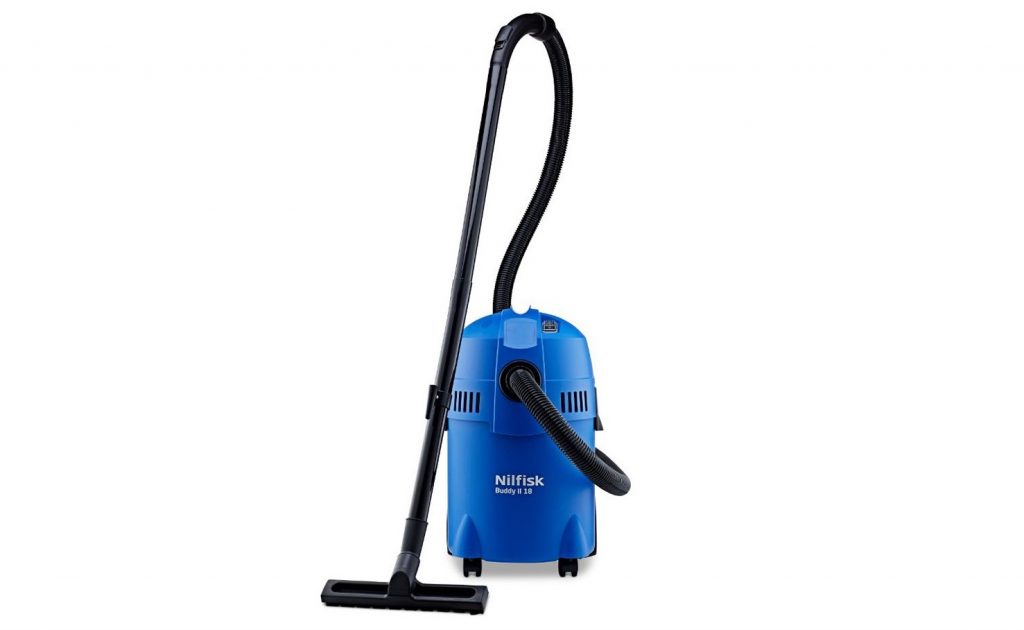 Price: £76.08
Hose: 1.9m
Power: 1200w
Score: 7
Contact: nilfisk.com
There is a bewildering array of Nilfisk Buddy models available, which makes it tricky to compare prices when looking online. To be fair to Nilfisk, we probably tested the version which is least suitable for this test as it had the shorter 1.9m hose and no power take off socket for tools.
The 'T' version with the longer 4m hose and socket would have been in with a chance of winning this test, but none were available for us to try. The test model's short hose meant the Buddy was awkward to use for car cleaning, especially as the Nilfisk's wheels aren't the most manoeuvrable.
But there is still plenty to like, including some of the fastest cleaning times in the test and washable filter which can be used for both wet and dry without needing to swap.
The cost is reasonable too, but the superior 'T' was priced just a few pounds more when we checked online, so it pays to shop around and pay attention to the spec when ordering.
Vac King CVAC30SSR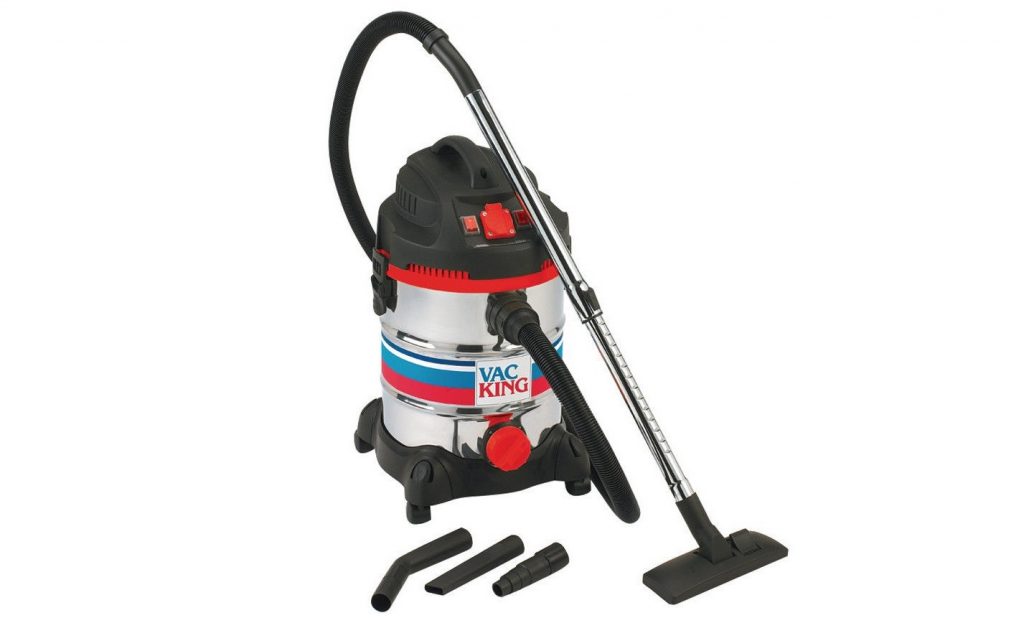 Price: £119.98
Hose: 2.5m
Power: 1400w
Score: 6.5
Contact: machinemart.co.uk
The Vac King looks and feels as though it means business and is clearly designed for bigger and messier jobs. Compared to the other machines here it has an industrial feel to the switches and fittings which gives confidence that it will take some punishment.
The hose and attachments feel more substantial than any of the others here too, which goes some way to justifying the high price.
The stainless-steel body has a genuine 22 litre capacity meaning you need to empty it less often. If you're sucking up water, a screw plug makes it simple to drain the tank without having to remove the top.
The Vac King also has the power take off plug for power sanders and saws, so it will automatically turn on and off when the tool is used.
But there are some irritations. The hose is just 2.5m long, and although the motor is claimed to have 1400w it didn't perform as well as less powerful machines in the cleaning or water suck tests. It was also the noisiest on test and replacement disposable dust bags cost a massive £9.59 each.
Bosch Universal Vac 15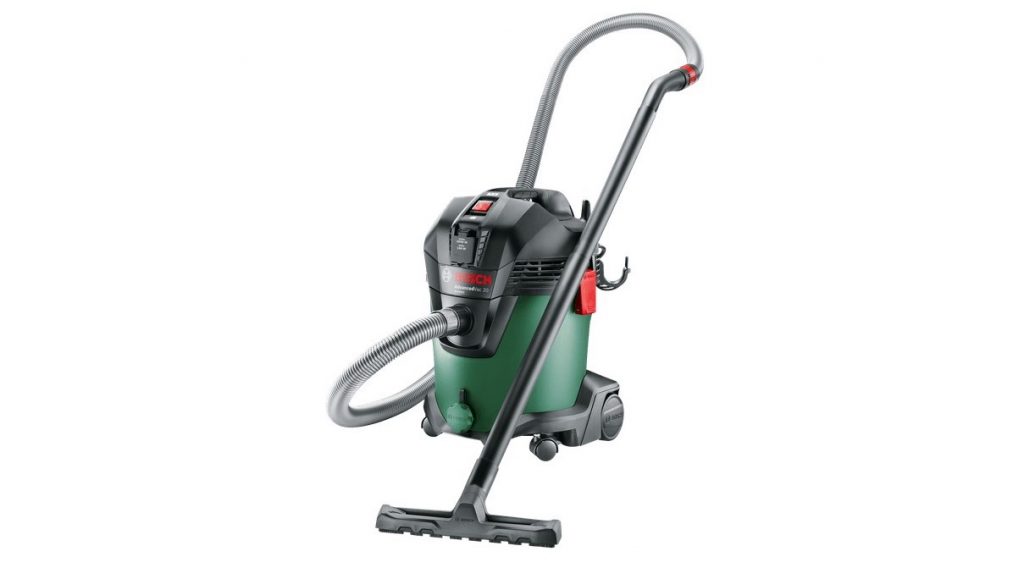 Price: £84.99
Hose: 2.2m
Power: 1000w
Score: 6
Contact: bosch-diy.com
Buy a brand name like Bosch and you expect a certain level of quality and performance, and you'll not be disappointed with the Universal Vac 15. It's compact, so is perfect if storage is an issue and it has neat slots on and around the machine to keep the tools and hose tidy.
It's noticeably quieter than the other machines here too, and the fittings and accessories feel substantial.
You can either use a universal wet/dry filter, or a bag if you want to capture finer dust. Despite the tame-sounding 1000w motor, the cleaning performance on our carpet was up with the best. But the hose is short, making car carpet cleaning a chore, and the tank capacity is the smallest here, so you'll be emptying often.
The Universal also struggled on our water test, and the genuine Bosch consumables were either not available at all or ridiculously expensive. Perhaps the company knows that we will all go for universal or aftermarket bags and filters?
Kärcher WD5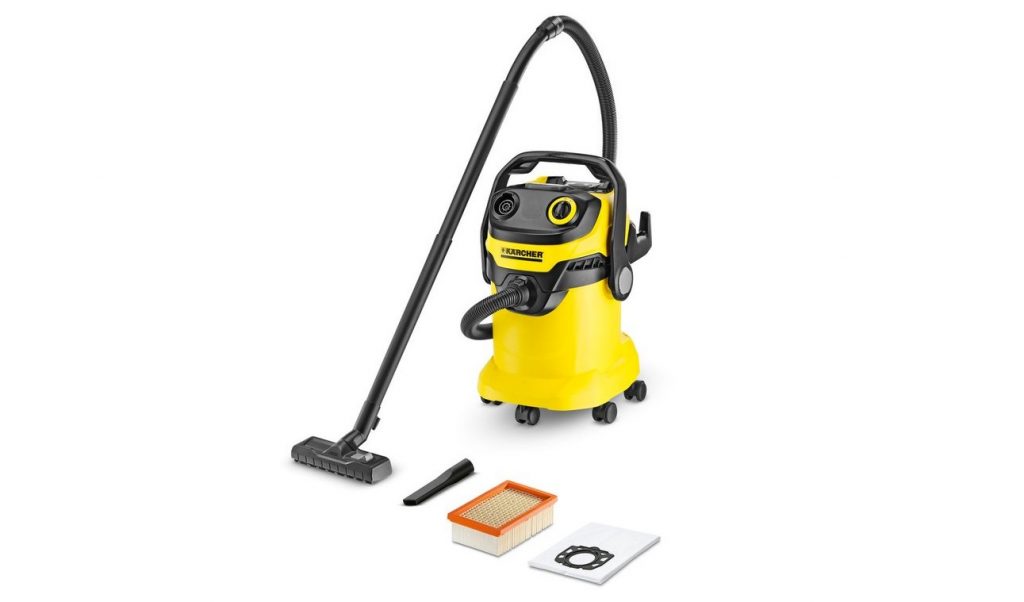 Price: £149.99
Hose: 2.2m
Power: 1100w
Score: 6
Contact: www.kaercher.com
A lot of car fans will already have a Kärcher in the garage or shed, but it will be used for blasting away dirt rather than sucking it in. The company is famous for its pressure washers and makes some of Britain's best selling cleaners.
It also has a decent range of vacuums, and as you might expect from the brand, they are designed to cope with water admirably. As a result the WD5 sucked up our liquid in the fastest time of any cleaner in this test. The floor tool attachment also did a good job of helping clear up spills from a tiled floor.
Its clever air filter looks like the type you'd find in a car, and doesn't need to be swapped to change from wet to dry cleaning. There's also a filter cleaning button which 'pulses' the element without the need to open the entire unit. A fleece bag is included for fine dust work if needed.
But the WD5 is also the most expensive machine in the test and has one of the weediest motors. It meant the cleaning performance on our dry debris was disappointing. Maybe the Kärcher could be best if most of your mess is moist.
Draper 20L Wet & Dry Vacuum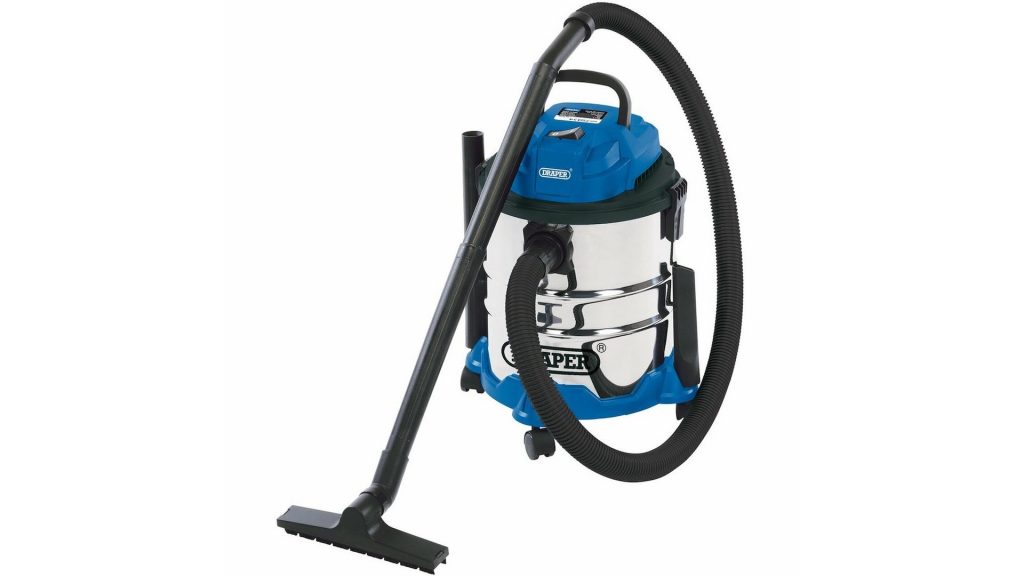 Price: £69.98
Hose: 1.5m
Power: 1250w
Score: 5
Contact: www.toolstation.com
The Draper looks pretty good value and has a substantial-looking stainless steel drum, chunky switches and decent storage on the machine for the accessories. The tank has a reasonable 20 litre capacity too, meaning you'll be making fewer trips to the bin or drain.
The 1250w motor beats some of the pricier rivals here too and gives the Draper a mid ranking in all of the cleaning tests.
But there are no extras such as power take offs and some areas are obviously built to a budget. The tools and tubes feel flimsy and the hose is substantially shorter than the rest here at just 1.5m long. That becomes a real irritation if you are stretching across from one side of a car interior or trying to clean up in a workshop – you'll need to move the entire cleaner around to follow you.
It means the Draper does a respectable job, but there is no reason to recommend it when the more powerful, practical and useful Titan is a tenner cheaper.
Verdict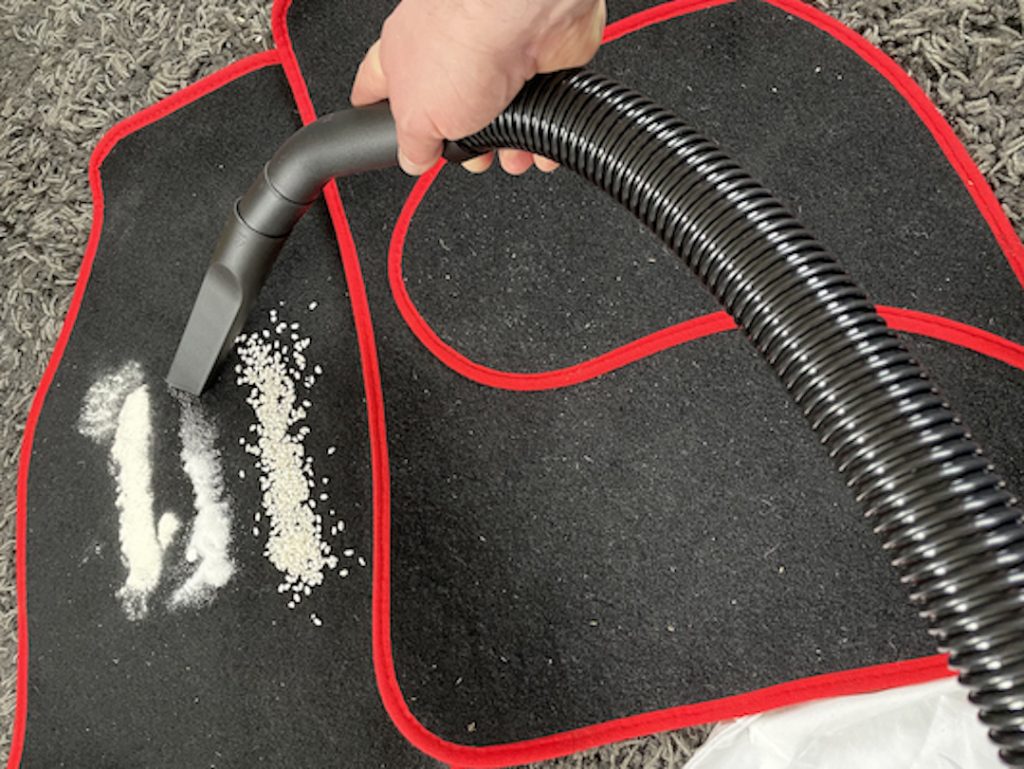 1 Nilfisk Multi II 30T
2 Titan TTB775VAC
3 Nilfisk Buddy II 18
We think the Nilfisk Multi II 30T could become invaluable in your workshop thanks to its clever features, long hose and powerful motor. If you can find the 'T' version of Nilfisk's Buddy II 18 at a keen price it would answer most of the criticisms we had with the lower specced version sent for our test too.
If even that is too expensive, then Titan's TTB775VAC is great value. Despite being the cheapest here, it performed better than machines costing twice as much.
Read more
Reviewed & Rated: Discovering the best navigation apps
Reviewed & Rated: The dirt on the latest pressure washers
Reviewed & Rated: Best mechanic's seats