When most of us buy a pressure washer, we tend to go for a well-known brand in the expectation that it will bring quality and reliability. But in our last big test of pressure washers we found that you might be missing out – or spending too much – if you ignore the less recognisable brands. The top two spots were taken by products from Screwfix's Titan and a Blaupunkt.
The bad news is that our favourite Titan has been discontinued, but there is an all-new model, imaginatively called the TTB669PRW. The price rises by a fiver but it gains a little extra power to make up for it.
How much is your car to insure? Find out in four easy steps.
Get a quote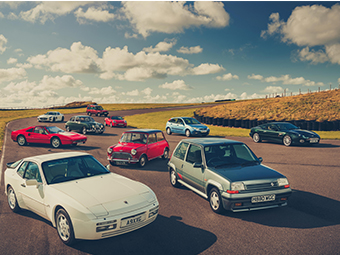 Nilfisk is an established brand which has always offered decent value and it also has a new product on the shelves, called the Core 130. It is aimed right at the Kärcher K2 and K3 ranges, which are the big sellers.
But just to add a twist to the plot, those Kärchers have been given an update too. Rather than being all new, these have been brought up to date with clever new nozzles which are meant to make them easier to use. There's even an app to help you work it all out.
Is the Titan still on top? We got our score sheets out and hitched up the hoses to see which pressure washer cleaned up.
Titan TTB1800PRW – Winner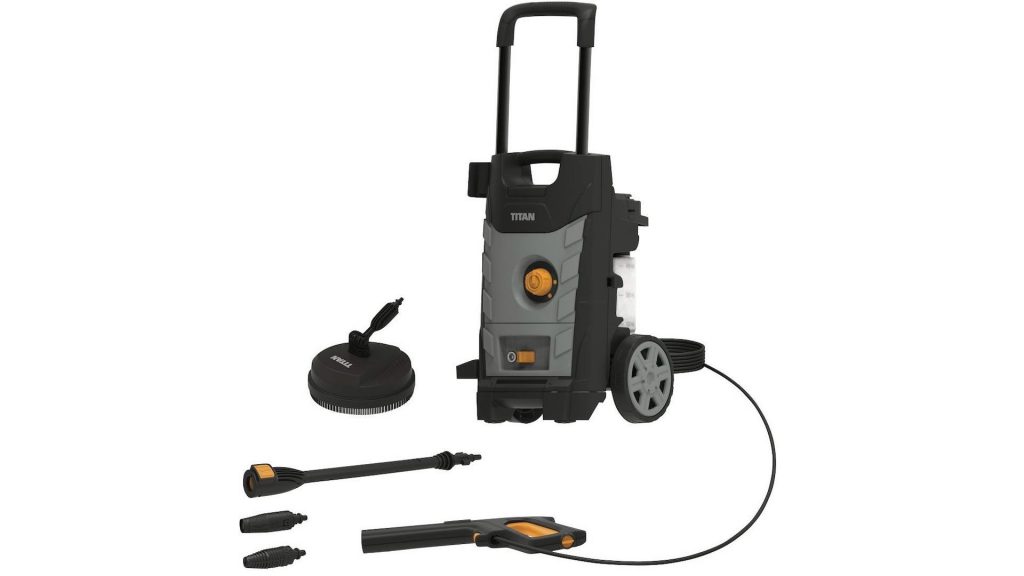 Price: £89.99
Included accessories: 2 x nozzles, detergent bottle, 6m hose, patio cleaner
Score: 10
Contact: screwfix.com
We needn't have worried about our favourite Titan being replaced, as the new model is even better. Despite costing a tenner under £100 it comes with more kit than the other pressure washers here and has a better spec too.
There's not obvious skimping on the components either. Key parts of the Titan and noticeably better quality (and more useful) than the Kärcher and Nilfisk, including a transparent filter for the water supply which makes it easy to spot blockages and a build up of crud which will slow the flow.
The lance feels better made and easier to use too, with solid metal connections which rotate freely to avoid kinking the hose. Once you start cleaning, you'll find the hose is more malleable than the Kärcher's hose too, making it easier to move without getting tangled, especially in cold weather.
There's a choice of two nozzles, with one giving an adjustable fan of water, while the other provides a rotating blast for cleaning tough surfaces like driveways. If you want to avoid damage and muck while getting rid of your classic's oil stains, it even has a patio cleaning attachment included as part of the package.
There are some areas where it feels as though costs have been saved compared to the rivals here, but they aren't in the places where it will affect the performance or usability.
Nilfisk Core 130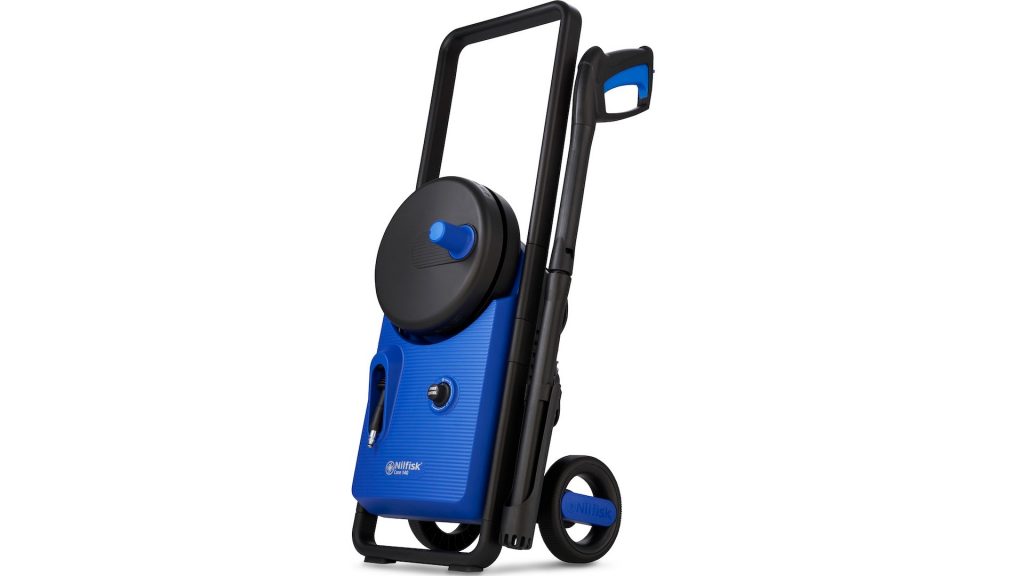 Price: £104.99
Included accessories: Adjustable nozzle, foam bottle, 6m hose.
Score: 8
Contact: nilfisk.com
Nilfisk sees itself as the real alternative to big-selling Kärcher and the specifications and price seem spot-on to take on the K3. With a flow rate of 7.6 litres/min compared to the 6.3 of the Kärcher and 7.3 of the Titan it certainly has the power. It's more compact too and has well designed storage for the hose, cable and accessories to help keep your garage neat and make packing away quicker.
We also liked the rotating metal connections on the lance which prevent hose tangles. Like the Titan, the hose remained pliable even in cold weather.
But the Nilfisk is let down by its nozzle. There is no way to change the spray pattern meaning you are stuck with a compromised medium-sized fan. There is a switch to change the power of the motor for different cleaning needs but it's not as useful or user-friendly as the other pressure washers here.
Kärcher K3 Power Control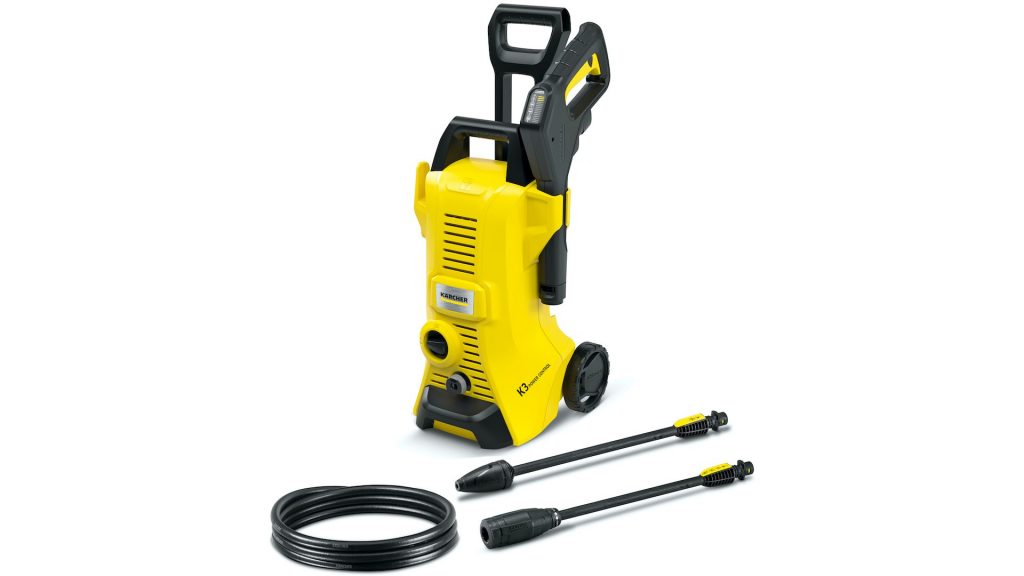 Price: £149.99
Included accessories: 2 x nozzles, app, detergent tank, 7m hose
Score: 7
Contact: kaercher.com
It's easy to be wowed by the snazzy-looking technology on the new range of Kärcher cleaners. The K3 has an LCD display on the lance which indicates the selected pressure level, and if that's not enough gizmos for you there's a smartphone app to help guide you through the best cleaning options for certain jobs.
The novelty of these will soon wear off though, as the LCD screen is little more than a gimmick – a simple indicator switch would be fine. An instruction book would be easier to use than the app in reality too, and we're not sure any of us need another app cluttering up our phone's memory.
Ignoring the tech, Kärcher has got most of the basics right. The chunky nozzle gives an adjustable fan with three clearly labelled settings which click when selected. It has less power than the other washers here but it's perfectly adequate for most car washing jobs.
But we were really irritated by the hose, which is tough to coil away and seems to want to loop and tangle itself at every opportunity. Despite the lofty price tag, some of the K3's components don't feel as substantial as the Titan's either.
Verdict
While it is easy to be wowed by the technology fitted to the new Kärcher K3, it seems a little gimmicky to us and doesn't do much to make life easier or clean your car any better. The best-seller still does most things well, but we'd have either of the other cleaners here and pocket the (not insignificant) change. Choosing between the Titan and the Nilfisk is trickier, as the Core 130 is powerful, compact and has neat ways to keep your cables and hose tidy. But we can't forgive it for not having an adjustable nozzle.
So, the Titan wins. It has decent quality components and features to make life easier and cleaning faster. There's the extra bonus of a patio cleaner to help keep your driveway as clean as your car, and it's the cheapest of our three pressure washers too.
Read more
Elbow Grease: Cleaning wheels, preventing rusty brake discs and removing dog hair from carpets
Socket Set: Diagnosing a faulty alternator
Choosing the right tyre and wheel size for your car