If you care about your car or motorcycle – and let's face it, all of us here do – it's likely that you actually enjoy washing it and are unlikely to be subjecting it to a mechanical wash at the petrol station or entrusting it to strangers with sponges at the supermarket.
That's why a good-quality pressure washer will be an essential tool for you. It makes the job of blasting away grime easier and that in turn is better for your car too, because you won't be rubbing around all the dirt and debris that accumulates on the paint surface and elsewhere. It is also useful for cleaning the underside of a car, and a host of other DIY jobs about the home. 
How much is your car to insure? Find out in four easy steps.
Get a quote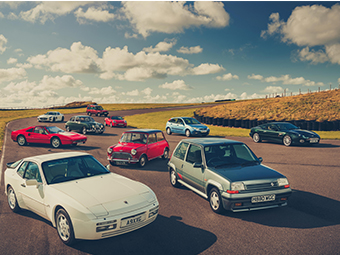 However, choosing a washer can be bewildering and most buyers just take the safe option and plump for a well-known brand. But there are plenty of other washers out there which could offer better value for money.
We enlisted the expertise of Richard Tipper, a professional vehicle detailer and widely considered to be one of the best in the business, and had him provide a second opinion on all nine pressure washers tested in 2021. Together with Tipper, we got down and dirty with the jet wash set to see which offers the best combination of performance, quality and value.
What did we test?
It's easy to think that power is everything, but when cleaning cars and bikes, especially cherished classics, excessively-strong jets could damage paintwork, decals and delicate trim. Motorcycles, in particular, must be carefully cleaned. So we looked for washers which have a range of adjustability, giving a powerful blast to clean driveways and patios, a medium flow for cleaning bodywork or a gentle spray for applying detergents.
We ignored the professional machines which cost thousands and are designed to be used all day, instead concentrating on nine washers which are designed for domestic use. They were rated on the cleaning ability, ease of use, storage of cables and hoses, value for money and quality. Which machine cleaned up in our tests?
Titan TTB669PRW – Winner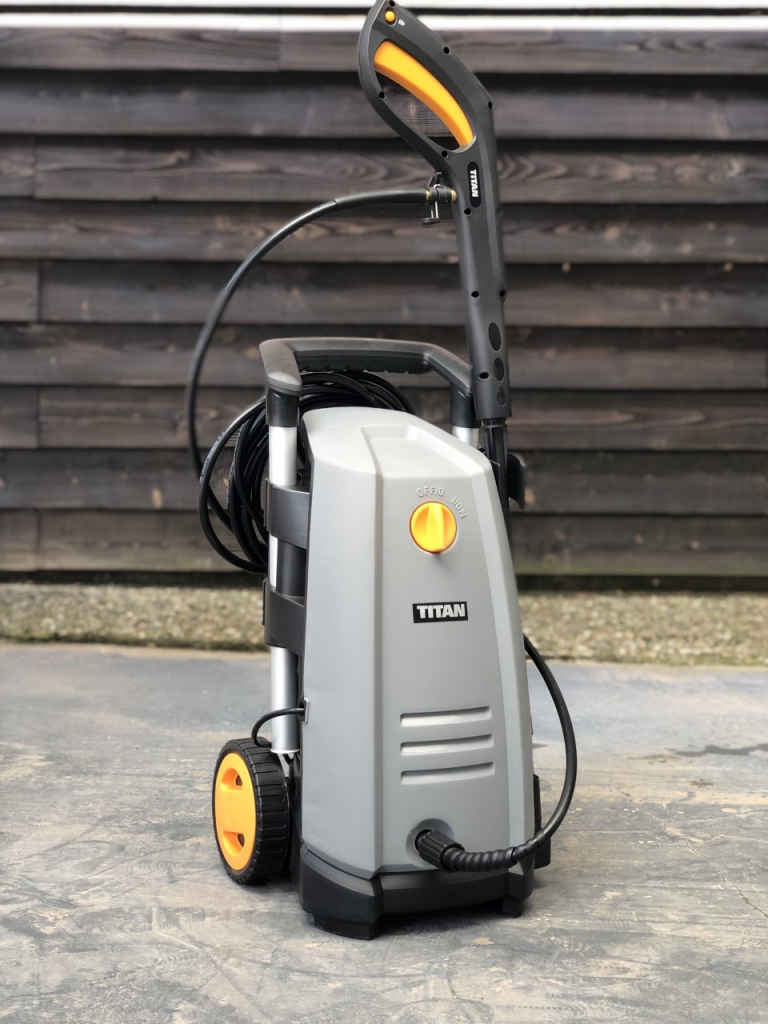 Rating: 10/10
Price: £89.99
Hose length: 6m
Included accessories: 2x adjustable nozzles, built in detergent bottle, patio cleaner
Buy at: Screwfix
Here's proof that you shouldn't judge a washer by its cover. The Titan is online retailer Screwfix's own-brand machine which costs £90 and looks pretty unexciting next to the other washers here. But we were pleasantly surprised by its quality and performance.  
Crucial components such as the lance and connectors were of professional quality, which makes us think they are built to last. It also makes them easier to use, as the connections rotate meaning you aren't left with the usual tangled hose after a wash session.
The hose itself is 6m long, which is a metre longer than most rivals in this price range, so you shouldn't have to move the washer so much as you work around the vehicle.
If your classic has dribbled oil on your driveway the kit also comes with a patio cleaning 'hood' attachment which keeps the spray safely enclosed and makes sure you don't blast dirt onto your car or stones into your windows. If you are on a budget, the Titan is unbeatable.
Blaupunkt PW3100c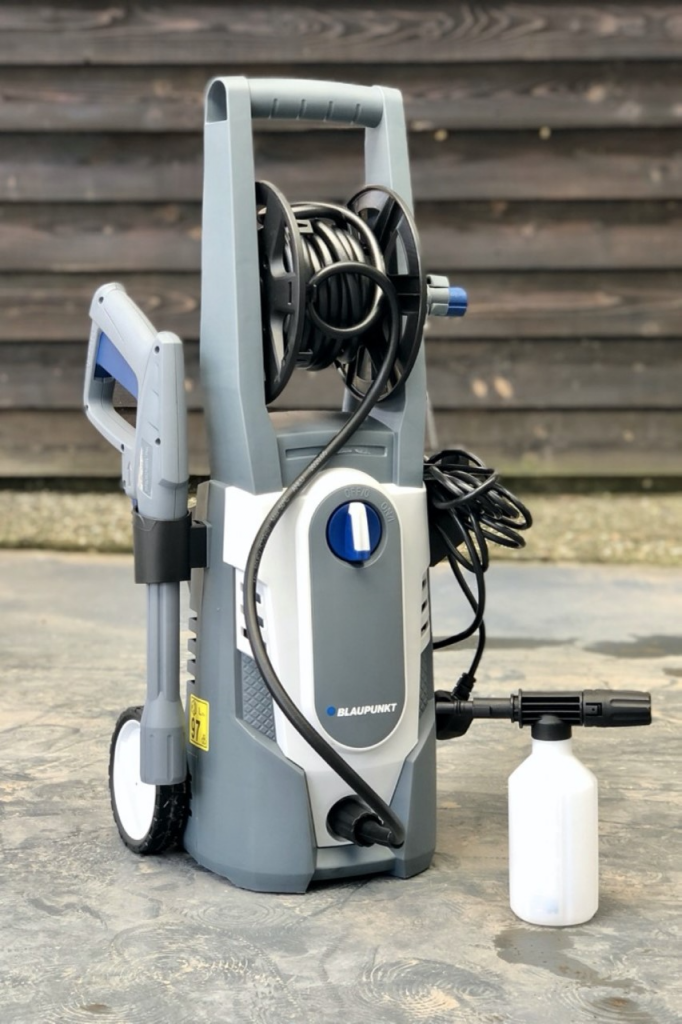 Rating: 9/10
Price: £84.99
Hose length: 5m
Accessories: Adjustable nozzle, detergent tank.
Buy at: BP Tools
If you've got a 1980s classic, Blaupunkt is a name you might be recognise. It's 'Blue Spot' stereos were common fitment in BMWs, Mercedes and Saabs, but the company went bust and the brand name was sold off. The name is now used on various electrical items including a range of pressure washers.
It's easy to be cynical about this branding but the washers are actually good value, offering a high rate of water flow from a powerful pump – one of the key performance measures for a washer. The package also includes a snow-foam bottle, something which is an extra on most other machines here.
The nozzle adjusts easily between a powerful pin jet for real power to a wide fan which was free from dribbles. It could also be rotated horizontally or vertically, which is all crucial if you are trying to clean precisely, such as in a door shut.  The only black marks were a pointless reel hose which we ended up discarding. The hose itself is on the short side too.
Karcher K5 Full Control Plus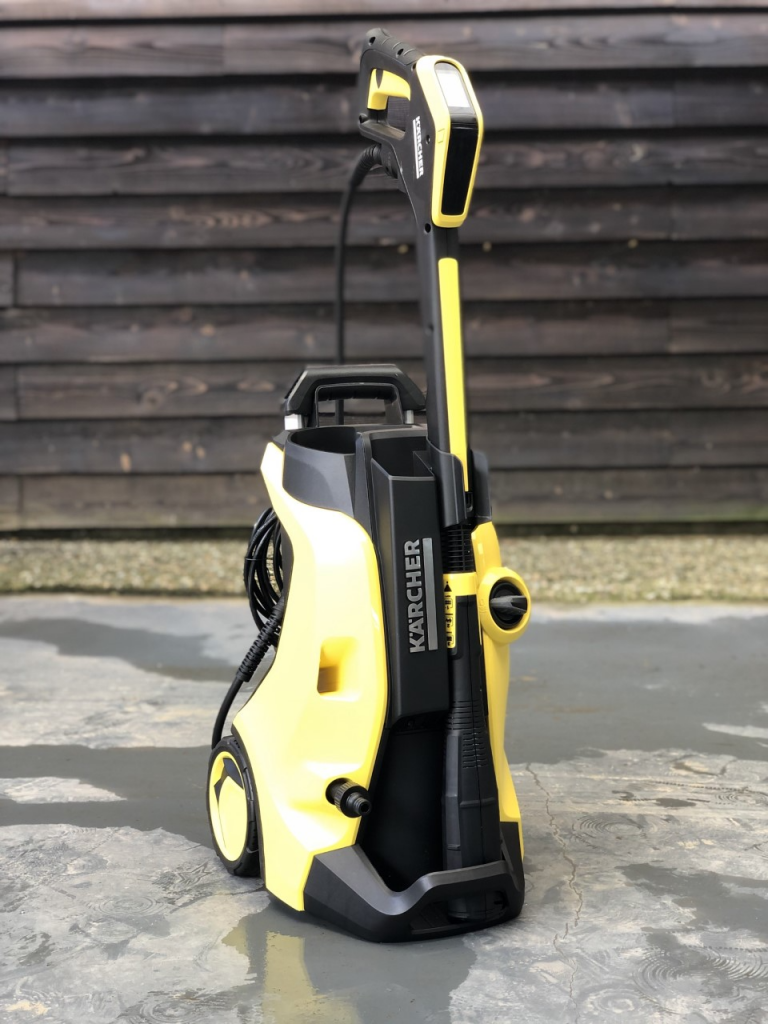 Rating: 8/10
Price: £299
Hose length: 6m
Accessories: Adjustable nozzle, variable flow
Buy at: Karcher
If you want to impress the neighbours when you clean the car, roll out a K5. This pricey machine is on the cusp of being built for professionals, and this shows in the quality of the fittings and also some of the gadgets fitted.
These include proper electronics to control the flow and switch between detergent and rinsing settings. This '3-in-1 Multi Jet' lance has an LCD display which works really well and makes choosing the right setting much easier.
The machine itself is bulky of course, but an 8m hose means you can get all around all but the biggest cars without needing to move the K5 itself. But the long hose also causes its own problems, as there is no proper storage apart from a couple of hooks. It means you end up in an inevitable tangle at the end of your cleaning session. You'll also need to get your wallet out again if you want a snow foamer attachment or detergent bottle – they are extras.
GMC GPW165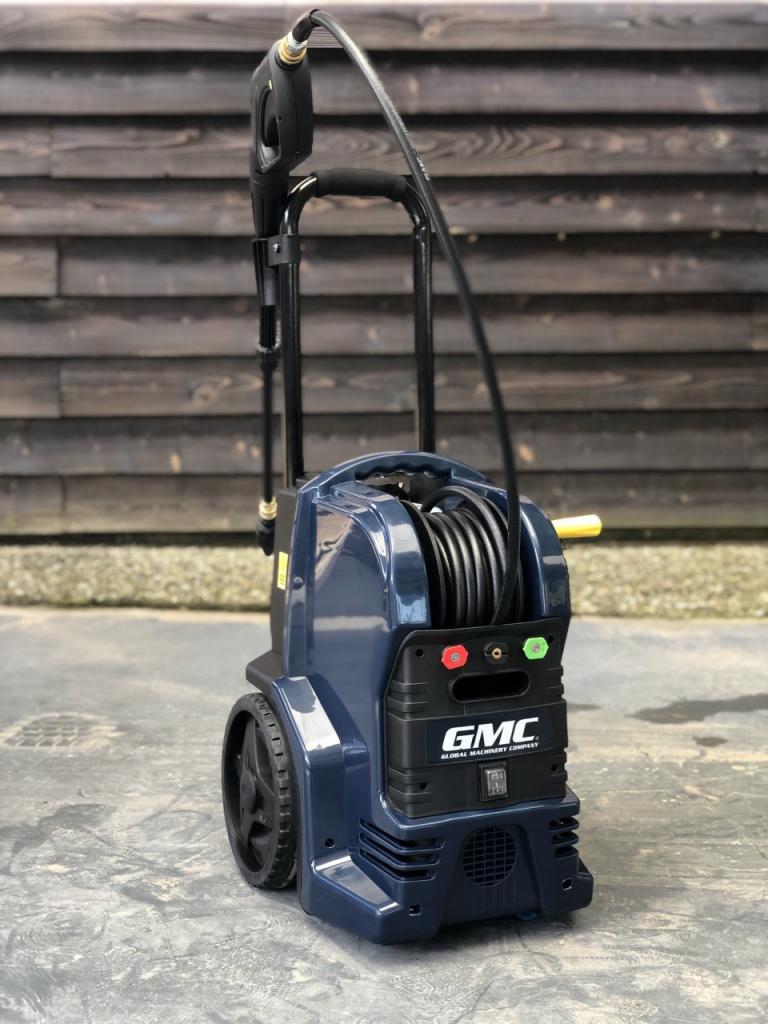 Rating: 7/10
Price: £183.99
Hose length: 8m
Accessories: 2 x brushes, 3 x nozzles, detergent tank.
Buy at: GMC Tools
Like Blaupunkt, GMC is another name which is more normally associated with something other than pressure washers – in this case you'll usually find the badge on huge trucks in America. Like them, the GPW165 is big, heavy and powerful. Other impressive specs include a huge 8m hose and 10m power cable, which means you're unlikely to need to move the washer unless you're cleaning a bus. You could probably do without an extension cable too.
The package also includes two brush attachments, either rotating or static. We'd not recommend using them on car paintwork, but they might be handy for less delicate surfaces.
It's not all good news though. Rather than have an adjustable nozzle, the GMC uses three interchangeable heads to give a choice between a powerful pin jet, general blaster fan or a soft detergent splurge. It was a bit fiddly in use and if you are anything like us they'll soon get lost in a flowerbed or drain.
Halfords PW20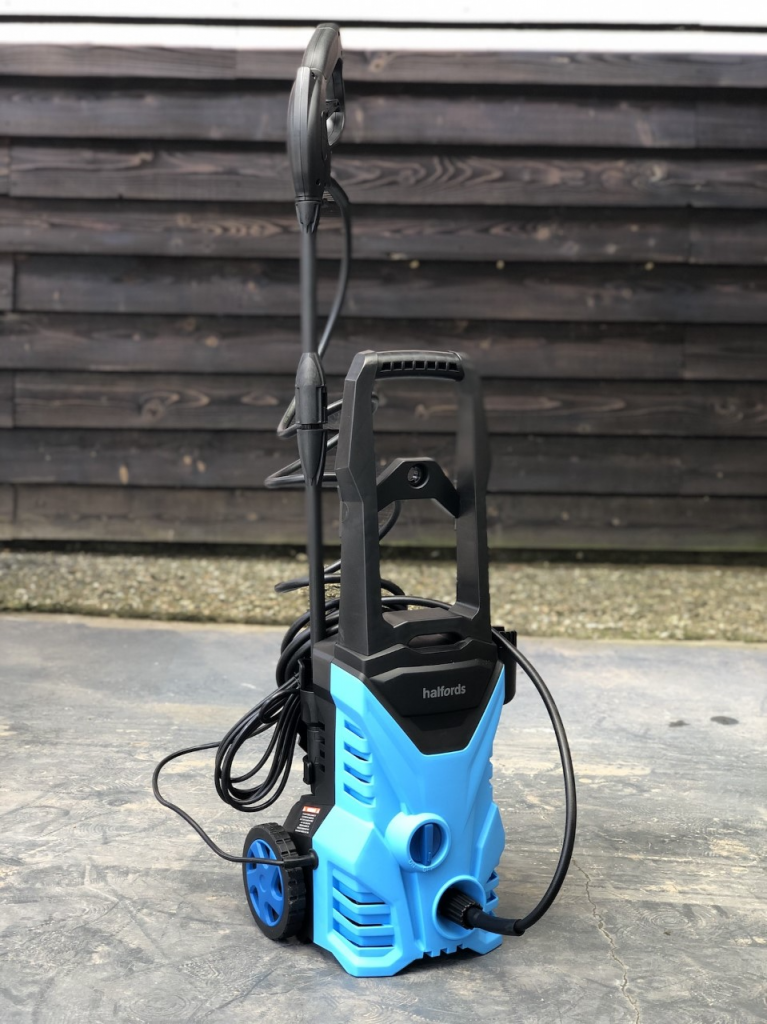 Rating: 7/10
Price: £65
Hose length: 5m
Accessories: Adjustable nozzles, detergent bottle
Buy at: Halfords
This bright blue washer might look like something you'd get in a toy shop and it's by far the cheapest machine in our test, but we liked the PW20. Clearly it's not going to be the first choice for the serious car cleaner but the water pressure was plenty for the average wash and the nozzle adjusts between a pin jet and a wide fan. You can't expect a long hose or sturdy connections at this price, but the unit is light and mounted on wheels making it easy to move around the car as you wash.
It even has a snow-foam bottle included in the package, although like the Bosch it is infuriatingly small and would only do one side of a car before needing a refill. If we were using a washer every week and doing a couple of cars at a time we'd invest a little more to get the Titan or one of the other machines, but if you only use a washer occasionally and don't want to take up valuable shed space, the PW20 is perfectly adequate and good value too.
Karcher K2 Full Control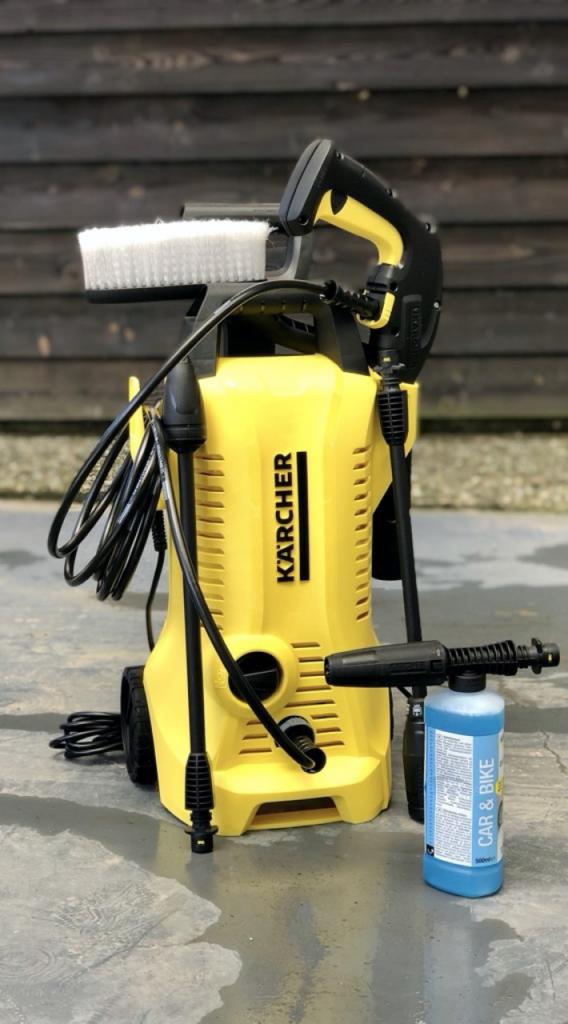 Rating: 6/10
Price: £129.99
Hose length: 4m
Accessories: Adjustable nozzle, detergent bottle, brush, 4m hose
Buy at: Halfords
It's not often you see the words "bargain' and "Karcher" used together, but this Halfords-exclusive package built around the best-selling K2 does seem like reasonable value for a washer from the best-known brand in this business. It's £130 when we checked at the time of writing, but we have seen it cheaper when offers are on, so make sure you shop around. Even so, the brush, three nozzles and a detergent bottle included – these are pricey extras even for the £300 K5.
The good news is that it's pretty foolproof to use, with click-adjust settings on the nozzles and icons to help you choose the right settings for foaming, washing and blasting.
It also weighs just 4.3kg making it easy to carry or move on its wheels. This is just as well though, as the hose is the shortest here at just 4m long, so you constantly need to move the whole unit around as you wash the car. It rips through the detergent too, especially as the nozzle is a bit dribbly in the softer settings, meaning the precious soap ends up on your shoes rather than the car. It could make it expensive to run if you're using the official Karcher fluid.
We don't blame the thousands of people who buy a K2 every year for choosing one, but there are better machines for the money.
Silverline 2100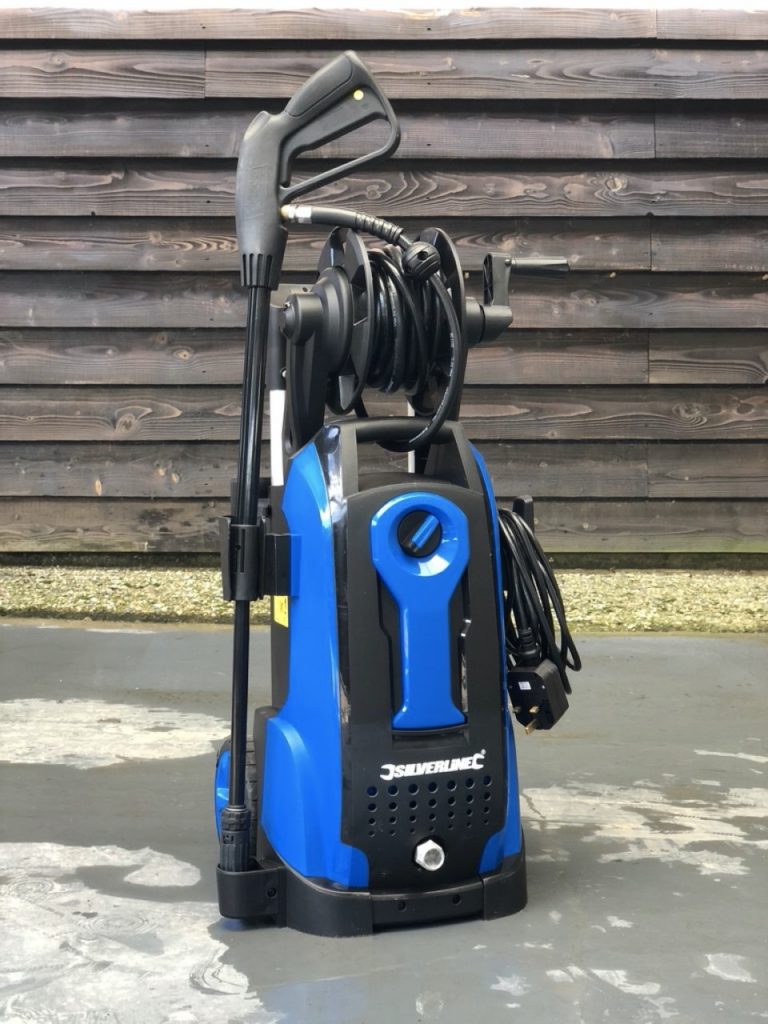 Rating: 5/10
Price: £138
Hose length: 5m
Accessories: Adjustable nozzle, detergent dispenser.
Buy at: Silverline
Silverline has a reputation for offering value-oriented tools for the average DIYer, so the 2100 might look a little pricey compared to premium brands like Bosch and Karcher. But it has an impressive specification, with the largest water flow rate of any of the washers here and a 2100w motor – compared to 1400w on the best-selling Karcher K2, for example.
It also has a quality feel to some parts, such as the metal hose connectors and a built-in hose reel.
But look closer and the signs of cost-cutting soon become clear, in ways that would be enormously frustrating in use. Firstly, the hose is only 5m long and moving the Silverline around to reach different parts of your car is a bit of a mission as it weighs a hefty 20kg – the same as a pair of bicycles.
The nozzle is our real bugbear though, as it's poorly made and needs to be held in position to maintain a setting. If the hose was longer and the lance improved this would be a contender.
Bosch EasyAquatek 120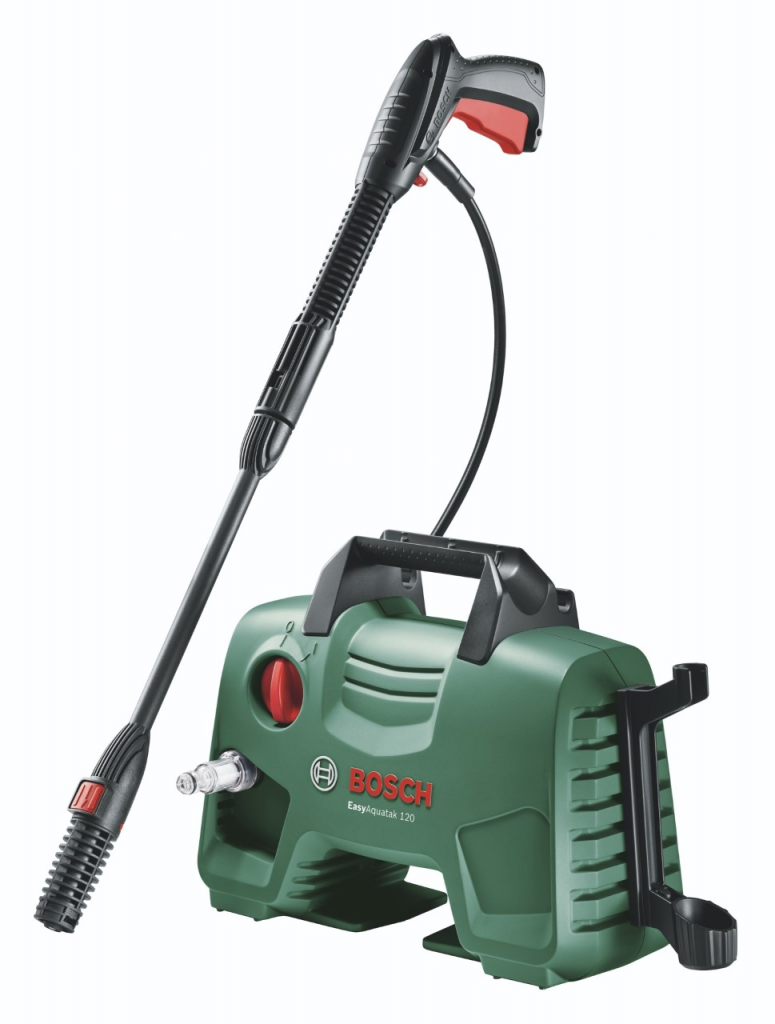 Rating: 5/10
Price: £94.99
Hose length: 5m
Accessories: Adjustable nozzle, snow foam bottle.
Buy at: Bosch
The main advantage of the EasyAquatek is its size. Unlike the other units which are all upright, the Bosch is small enough to fit in the cupboard under the stairs and light enough to lift onto a shelf without doing yourself an injury.
The size doesn't mean it's lacking in power though, and an adjustable nozzle makes it easy to vary the water fan according to the cleaning job. If you really want to blast something there's a clever rotating pin jet too – but it's better aiming at patios rather than paint.
However fitting these nozzles was really tricky on our sample machine as they simply wouldn't lock into place every time. Get it wrong and the end of the lance will be fired towards your car at high speed – we have the dent to prove it. A snow foam detergent bottle is always a welcome addition, but it is so tiny it will need refilling constantly – we had to top it up four times while cleaning a Land Rover.
Hose and cable storage is an issue too. There are a couple of hooks under the body of the machine but it's too tight and trying to wind them up just wound us up in the end.
Clarke JET 9500
Rating: 4/10
Price: £215.98
Hose length: 8m hose
Accessories: Adjustable nozzle, detergent tank.
Buy at: Machine Mart
Machine Mart's own-brand washer is a real powerhouse, with a whopping 2.4kW motor. That extra punch is immediately noticeable when the nozzle is on its needle setting, when the jet feels as though it would be able to slice through concrete. It should be used with caution on car paintwork and delicate decals.
For car cleaning you'll adjust the nozzle to a wider fan to soften the blow, but it's then too wide to accurately clean and you'll end up wasting water and detergent.
An 8m hose and integral reel make it easy to work your way around a car and then tidy it away again later, but the JET 9500 is more suitable for industrial applications rather than car cleaning.
More of a worry was our test unit's habit of blowing fuses. We eventually traced this to a problem with any extension cable. We tried several and the Clarke blew its plug fuse each time, but it was fine if connected straight to a socket. Odd. 
Verdict: the best pressure washer tested in 2021 is…
Okay, you already know the answer if you've read our reviews. And as with most things in life, you get what you pay for. But the Titan and Blaupunkt prove that sometimes you are just paying for a brand rather than features or performance. Both managed to impress us far more than the more expensive units from better-known brands Karcher and Bosch.
Choosing between our two favourites was trickier, but the Titan's longer hose and high-quality components meant it won on points, even if it's a fiver more expensive. We'd be happy with either, but the serious car cleaner with a bigger budget is always going to lust after the high-tech, high-quality Karcher K5. It secured third place. Now what's stopping you from cleaning your car?
Loosen up DIY with WD-40, Bilt-Hamber and GT85. Which is best?