Let's face it, owning and running a classic car isn't the most economical of hobbies [especially if your classic is a Lotus – Ed], but in a show of support for the hobby the UK Government does allow owners of older vehicles to save a few hundred quid each year.
As long as your vehicle is at least 40 years old then it is exempt from both the annual MOT test (a saving of £54.85 for car owners and £29.65 for motorcycles over 200cc) and vehicle excise duty, better known as road tax (£295 for cars over 1,549 cc and £101 for motorcycles over 600 cc). The exemption doesn't happen automatically, however, so here's what you need to know in order to make the savings – which we'd like to think could be put to good use and go toward some great drives, an event or two and maybe even a bottle of polish and tin of wax.
How much is your car to insure? Find out in four easy steps.
Get a quote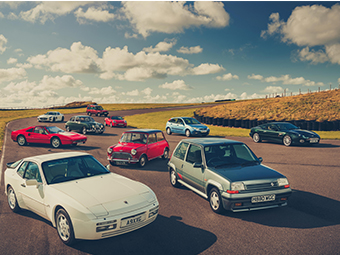 MOT exemption
Exactly 40 years after the day your vehicle was first registered (not built) it will be eligible for MOT exemption. All you need to do is fill out the DVLA's form V112, to declare that it now sits in category R: 'A vehicle other than a public service vehicle registered or manufactured 40 years ago and which has not been substantially changed in the last 30 years.'
That last caveat is crucial, however. If your vehicle has been "substantially changed" (see our story on the do's and don'ts of modifying your classic) then you'll still have to submit your car or motorbike in for its annual check. Those modifications focus on six main areas:
Chassis – including any sub-frames
Suspension – both the front and back
Axles – should be original
Transmission – should be original
Steering – standard system in place
Engine – such as changes to the number of cylinders
With the V112 completed you can then tax your car at a post office. Whether you actually pay anything for that depends on exactly when your car was registered (see below).
One further word of caution. Just because your car is exempt from the MOT it doesn't mean you can skimp on servicing and maintenance. Whether you have an exemption or a current MOT for your car you are still responsible for keeping it roadworthy and can be fined up to £2500 if it isn't up to scratch. And that would very quickly wipe out any savings you might have made.
Road Tax exemption
Unlike the MOT exemption, getting an exemption from paying road tax doesn't happen straight after your vehicle turns 40. Instead, you have to wait for the first day of April, and then as long as your car was registered 40 years before the first of January you can apply for road tax exemption from April.
This requires a change to the V5 registration document, so you will need to take the V5 and proof of MOT or exemption (the V112 form) along to a Post Office and request the vehicle class to be changed from PLG (Private Light Goods) to Historic. In Northern Ireland you will also need to present proof of insurance to make the change.
Once the DVLA has approved the change you can apply for a refund of any outstanding road tax and your future tax reminders will show the delightful rate of £0. Don't ignore these reminders, you still have to visit the DVLA website or visit a Post Office to tax the car, even if there's no longer any fee. Failure to do so could result in a fine of £30 to £80.
Extra savings for old vehicles
As more British cities adopt Ultra Low Emissions or Clean Air Zones, with daily charges for driving older cars there is some good news for owners of classic vehicles. Once your vehicle is registered as Historic and exempt from road tax you will also be allowed to drive without paying in London's ULEZ zone and the Clean Air Zones in Bath, Birmingham, Bradford, Bristol, Portsmouth, Sheffield (from 27 February, 2023) and Newcastle and Gateshead (from January 2023). In London, this could save as much as £3250 a year, based on the daily toll of £12.50 per day, although the capital's £15 Congestion Charge for driving into the city centre can't be escaped unless you've converted your classic to electric power.
To see whether or not a vehicle is liable for charges when driving in the UK's cities adopting a clean air zone, you can check its status on the government's website. For driving in London, however, you should use Transport for London's tool.
Weren't changes planned for MOT exemption?
Facing calls for an annual or biennial safety test of historic vehicles, the Department for Transport (DfT) argued that cars more than 40 years old are usually well maintained and not used regularly enough to warrant an MOT, while the test itself is no longer relevant to many older vehicles. The DfT also pointed out that vehicle owners could choose to put their car or motorcycle through an MOT, as many already do.
Read more
Prime Minister urges Mayor of London to "properly reconsider" ULEZ expansion
London's ULEZ zone will expand to M25 from August 2023
9 modern classic cars to beat the ULEZ charge