The UK and USA don't get all the auction fun, as the upcoming Classic Cars Autumn Sale by Aguttes, in Paris, demonstrates.
While there is a distinct (and not unexpected) French flavour to many of the lots, there is also fabulous variety in both the metal itself, and the affordability of what's on offer, covering everything from a Renault 5 Baccara to a Ferrari 512 BBi once owned by actor Jean-Paul Belmondo, one of France's pin-up performers, plus hot hatches, coachbuilt specials and more.
How much is your car to insure? Find out in four easy steps.
Get a quote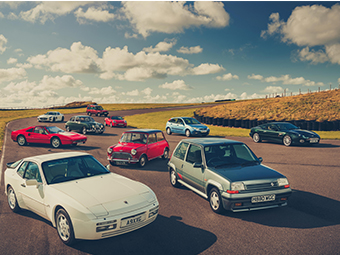 We've selected ten vehicles from the Autumn Sale, to be held on Sunday, December 12, that particularly caught our eye – and you can peruse the others in the official auction catalogue here.
1967 Citroën Ami 6
Whether interest in the classic Citroën Ami has been renewed by the name's revival on a tiny electric city car is up for debate, but a 3000-7000 Euro estimate seems right on track for the auction's well-kept 1967 Ami 6 Break; the Hagerty UK price guide lists a "Good" example at £6000.
Break means estate, and this Ami doesn't get the unusual reverse-rake screen of the saloon as a result (the Ami 8, if you remember, had a more conventional fastback rear), but would've been the practical option in Citroën's modest range at the time alongside the larger DS Break. The listing suggests some rust spots will need attention, but there's charm to spare.
1988 Renault 5 Baccara
We included the Renault 5 Monaco – known in France as the Baccara, as you'll see here – in our list of luxurious small cars. The term seems contradictory, but the Baccara did go a long way to justifying it, from the pliant, big-car ride of Renault's smallest offering to leather trim that wouldn't look out of place on something a great deal more expensive than the 3000-5000 Euro estimate.
They say space is the ultimate luxury, and while the 5's interior is modest, the real benefit was the space it afforded its city-bound clientele on the outside. That might be why this car looks remarkably free of Parisian-inflicted bodywork dings. The previous owner – who sold after tiring of people asking her to buy it! – clearly looked after the car well, and it's offered with plenty of paperwork to prove it.
1960 Jaguar Mk II
Photos can really sell a car, so snapping this 1960 Jaguar Mk II outside the evocative pit buildings at the Circuit Reims-Gueux was smart. The Grand Prix circus was still visiting Reims when this car was built – the last F1 race there took place in 1966 – and it's easy to imagine more than a few drivers arriving at the track in something like this Mk II.
Not this one though, which was actually a US-market car that has since made it over to Europe. The car was originally white, but the seller, owner for the past 17 years, had the car restored and painted in the current hue. The resto also replaced the original automatic 'box for a 5-speed Getrag that should be easier to use than anything offered in period, plus other driveability tweaks under the skin. A 25k-35k Euro estimate looks modest; cars in "Excellent" condition can be worth £42,500.
1950 Alfa Romeo 6C 2500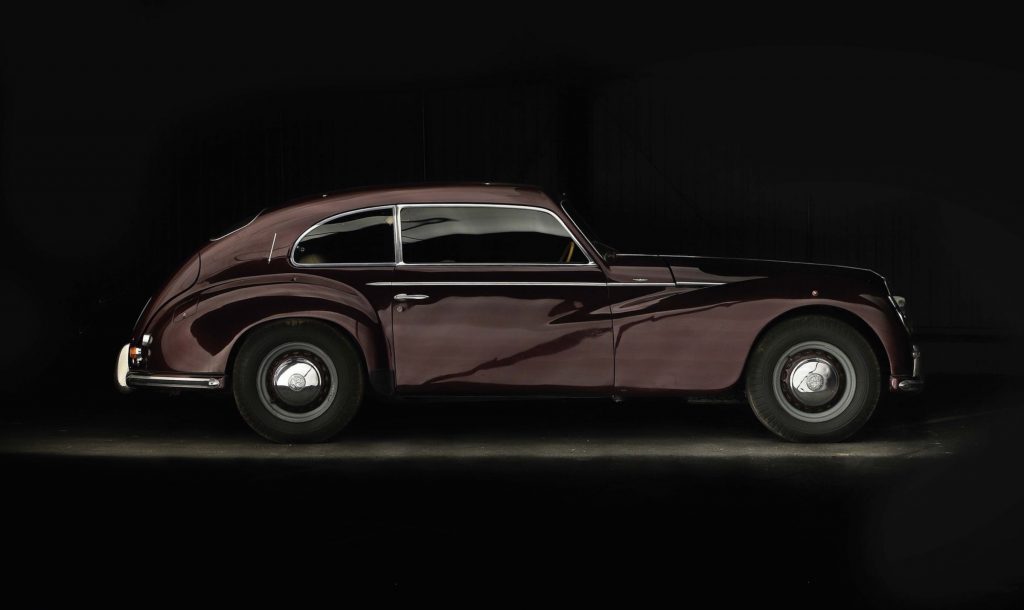 Alfa Romeo's post-war output is best represented by bright and breezy Berlinas and sports cars like the Giulietta, Giulia and Duetto, but the Italian marque still had a few blue-blooded and sinister sedans up its sleeve in the '40s and '50s. The 6C was one of those, first conceived before the war but revived when production restarted in 1946.
It was no less magnificent as 1950 dawned. Power came from a 2443cc six-cylinder and double-overhead camshaft engine, and an independent rear axle was another surprisingly sophisticated feature. Right-hand drive, common to pre-war Alfas, it's reckoned there are only 56 6C 2500s left in the world. This one needs some work, but could still sell for between 150k-250k Euros.
1951 Fiat 1100 ES coupé
Lot 48 is undoubtedly one of the prettiest cars in the Aguttes autumn aution. With a body by Carrozzeria Pinin Farina, this Fiat 1100 is believed to be one of fewer than ten worldwide. After bouncing between Turin, Pininfarina and a dealer in Bolzano, it finally found a buyer in Casablanca, of all places. It was later discovered in the mid-'80s, protected from the elements in an underground garage.
The owner undertook a 15-year restoration in the mid-1990s – the result good enough to win an award from Paolo Pininfarina at the Gentleman Driver Awards in Marrakesh in 2017. Power is provided by a 1.1-litre four-cylinder, but don't let the small output kid you into assuming a low value: Aguttes gives the little coupé an estimate between 120,000 and 180,000 Euros.
1966 Sunbeam Venezia Touring
Another specially-rebodied car, this Venezia Touring is probably unlike any other Sunbeam you've seen. Based on a Sunbeam Alpine, the pretty coachwork comes courtesy of Italy's Carrozzeria Touring, which also turned its hand to Hillman Super Minxes in the era.
Just 150 were ever built – not surprising, given an as-new list price on a par with a Jaguar Mk II, despite a modest 1.6-litre Rootes four-cylinder – and this car's first owned hailed from Spain. Since the early 1990s it's changed colour (from navy blue to this grey), and gained a larger, 1725cc engine. The blue cabin trim is a particularly lovely touch, and 35k-45k Euros could buy it.
1929 Amilcar CGSS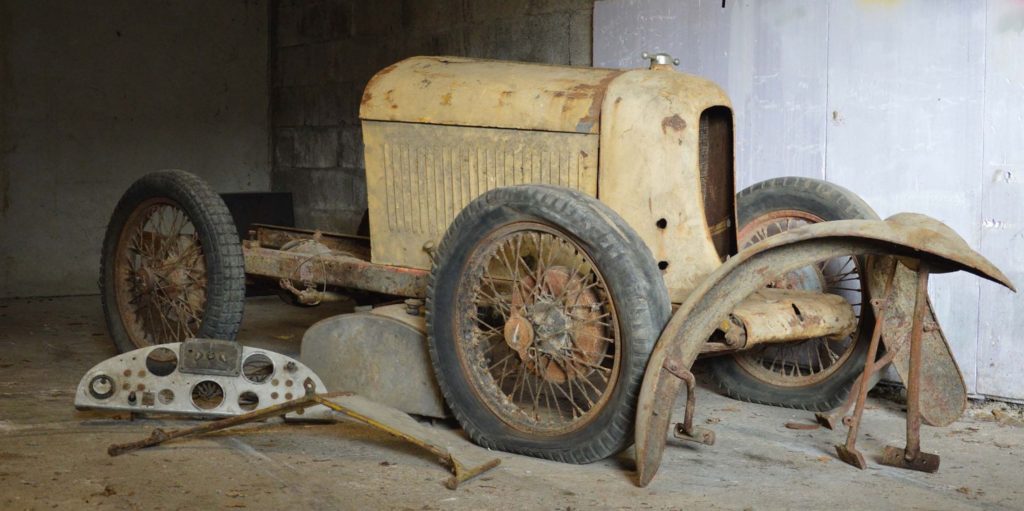 Rather less… well, complete than the other cars on our list, just 7000-13,000 Euros could be enough to put this collection of Amilcar parts in your garage. Whether that sounds like good value or not probably depends how handy you are with a spanner (and probably a welder and a few pots of paint too), but a similar Amilcar CGSS, albeit in rather better condition, sold through Bonhams in 2018 for £68,700.
Still, it would be a fabulous thing to bring back to life. This small-capacity racer – it uses just a 1075cc four-cylinder, though that was good for 70mph – was popular among gentleman drivers of the era, and a favourite in local racing events. In that respect, think of it as a 1920s Mazda MX-5 – accessible, but competitive.
1982 BMW 323i E21
This 1982 BMW 323i is being sold along a handful of other BMWs in December – a 1998 Z3M coupé, and a pair of E32-generation 7-series, one a 1989 750iL and the other a 1991 530i. While the "clown shoe" is compelling and the 7s grabbed our attention with their French-spec yellow headlights, the E21 3-series is sweetest of the bunch.
Somewhat overshadowed in profile by the 02-series BMWs before it and the popular E30 afterwards, you could say the E21 combines the best of both models. That's certainly the case with this straight-six variant, which produced a useful 141bhp in period. The 2.3-litre six looks snug behind the sharky grille, and recent mechanical attention should ensure it runs as well as it looks. Aguttes gives it a 25k-35k estimate.
1982 Ferrari 512 BBi
An estimate of 350k-450k Euros puts this 1982 Ferrari 512 BBi well above the Concours value of £219,700 in the Hagerty Price Guide. It will be interesting to see whether it sells, and what it fetches, but there's plenty of provenance here to give it a push in the right direction.
That's quite aside from the 512 BB's shape looking better with every passing year, but this car has the benefit of a well-known previous owner: the late actor Jean-Paul Belmondo, who owned and drove the car between 1986 and 2002. It has also been restored (to the tune of quarter of a million Euros) since 2015, comes with stacks of history, and carries Ferrari Classiche certification as of October 2021.
1982 Citroën Visa Trophée GpB
Back down to earth with a bump, or perhaps several bumps, with Lot 85. An estimate of 30k-40k Euros looks like (and is) strong money for a Citroën Visa. But then this is a Visa Trophée, homologated for Group B, and given the recent meteoric rise of Group B machines, this Visa is now one of the more affordable options.
Not that the Visa ever mixed it with 205 T16s and Metro 6R4s, but even by the usual standards of tiny, tinny French hatches, the Trophée is a 750kg screamer. Spiritual predecessor to the likes of Peugeot's Rallye models, the Trophée used a 1.3-litre four sucking through twin Weber 45 DCOE carbs, good for an even 100PS (99bhp) in its day. The auction car has recently undergone a full restoration; it'd be a shame to get it muddy, really.
Read more
7 lesser-spotted British classics you can buy for under £10k
8 affordable classic cars you can use all winter
Cabin fever? 12 wild interiors from a dozen decades of the car