"Most people would be overjoyed at owning a DB5 but it wasn't quite like that for Mark and I. There was so much going on with the band in the early '80s that was keeping us busy, we were recording constantly and touring all over the world, so anything else, like owning the wonderful and beautiful DB5, didn't seem that much of a big deal. 
To put it in perspective, we bought the DB5 on the spur-of-the-moment in 1980 just before we went off to America for three months to record the Making Movies album with Jimmy Iovine. I was 31, and for the first time we had a bit of spare cash that didn't have to be spent on guitars. We knew someone who had a classic car garage in South West London, wandered in and saw this dark blue 1963 DB5 with black leather interior and said 'well that's a beautiful thing shall we buy it together?' Which is what we did. Crazy, but life was crazy 42 years ago.
How much is your car to insure? Find out in four easy steps.
Get a quote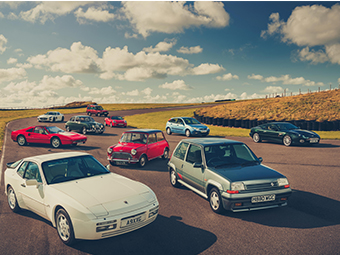 I think the kind of car someone drives tells you a lot about their character and this was a James Bond car. It was, and still is, remarkably good looking. We kept the DB5 in an old stable in Lewes where I had an old rectory. I loved driving it fast around the country lanes in Sussex; that's when I realised how good it actually was. It handled the curves brilliantly, plus, it sounded mighty fine.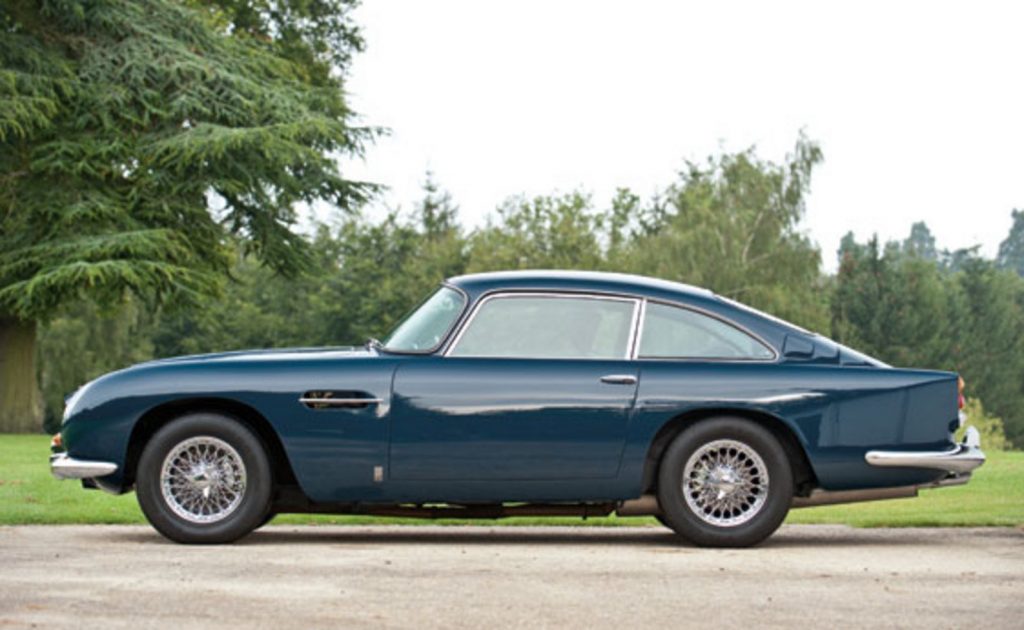 When Mark wanted to use it I would drive it up to London and occasionally he would come and drive it in the country, with me as the passenger. It was a real handful in the city because it had no power steering and would intermittently overheat. Some say an Aston Martin should remain authentic to its original design but I'm sure the one James Bond drove had power steering.
During the three years we had the DB5 we were always working and I think it was only used about 11 times between the two of us. It was a spontaneous purchase we thought we'd enjoy but found we hadn't really got any time to drive it. The car would sit in the stable for months at a time and I'd have to get someone round to get it going, so we decided to move it on. We bought it for £11,500 and sold it back to the same guy for the same amount. One pinches oneself a little bit because of the value of these cars now, but at the time it didn't feel that important to collect the cars that have now become classics.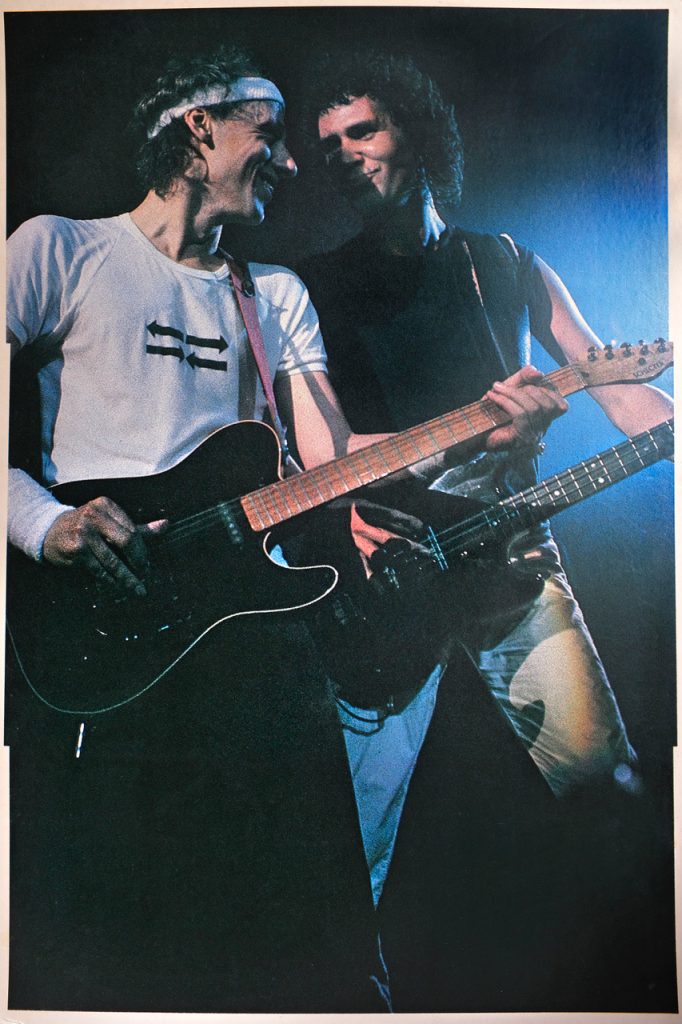 I bought another Aston Martin in the mid-eighties, which was a bit of a beast. It was a jet black 1978 V8 Vantage which was sadly pretty unreliable, I had to have it tuned every 500 miles or so, but when it was running right, it was very quick – nearly as quick as my Tesla. I took it round Goodwood circuit with my son James when he was 11-years-old. I was coming into the final corner before the chicane at about 120mph, put my foot on the brake, and there was nothing there. I said 'hang on James, we're going to have to put the car into a spin'. I went down through the gears and spun round on the grass about ten times. I crept back to the pits and was banned from driving anymore on my own; embarrassing!
I believe cars represent a very personal space, which can be an issue when doing big tours. In the eighties I was touring with the band for long periods of time, sometimes for up to a year. When you're on the road with the same people, day in, day out, life can feel very peculiar, you become part of a big family that's always on the move, so it's important that you all get on, but naturally on occasion you would miss your privacy.
There was something very special about the early days of being in those touring parties, especially when we were travelling in the American tour buses. They had beds, TVs, toilets and a bar – everything you'd need. We'd cruise through the night at 75/80 mph on the highway, even though it was a 55 mph limit, the drivers knew exactly where all the smokeys were – they'd be warning each other over the CB radios 'be careful at intersection 17 there's a smokey on the corner there'.
Mark and I used to take it in turns to sit upfront with a beer, and chat with our driver, Richie; he had some great stories about musicians he'd driven around the U.S. Looking back, there really were some wonderful moments, like driving through the night after a gig and waking up in the old part of New Orleans, stumbling out of the bus and getting one of those huge American breakfasts that kept you going most of the day. 
In 1987 I bought a 1964 S3 Bentley and put in a really good sound system. We'd just finished the Brothers in Arms album and I was working on my second solo album Glass, and I used to take the tapes from the studio and play them in the car to test out how the music sounded. I loved listening to music in that car, the best sound system I've ever had in a motor.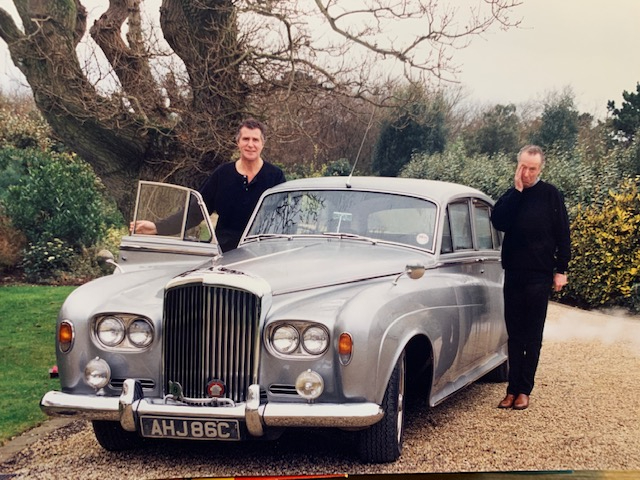 I did a lot of motoring in that S3, it was pretty much my daily drive. It was a very graceful mode of transport, but it filled up most of the street when I parked it outside our mews house in Holland Park – so we didn't have very happy neighbours!
There weren't any seat belts in those days, front or back, but my wife and I drove the S3 all the way down to the south of France with our two kids James and Jessie. I'm afraid they were subjected to my musical taste; Chuck Berry, Bob Dylan and Neil Young amongst many others. Wherever we stopped for petrol people would crowd round the car to have a look and open the doors to check out the inside; it caused a bit of a stir. The car got more attention than I did.
On the way back, the engine started to make the most enormous amount of noise, a lot of serious banging. We crawled to this little garage off the autoroute with one petrol pump, pulled in and when I put the dipstick in to see how much oil was in the car there wasn't any. I poured every single drop of oil the owner of the garage had into the Bentley's engine and thankfully it quietened down. I drove us home, had it checked out and remarkably it was completely fine.
I sold it because I discovered it was going to cost me about £3,500 to fix the heater as you had to remove the entire wing on the drivers side. It was a shame to move it on, I know I should have taken the speaker system out of it.
I've been driving cars since I passed my test in 1967 so there's quite a number that I regret selling, and quite a few went through my hands as a young bloke. My first car was a black 1949 Ford Popular which could do about 60mph downhill. I drove it to college in Kettering most days, where I discovered girls and snooker, so that was the end of any educational progress. I bought the car for £15 quid and sold it for £12.50, I thought £2.50 for four years of motoring was quite a good deal.
My brother and I bought a fibreglass bodied Ashley Ford special, which was a terrible looking thing. It was incredibly light, so went well in a straight line, but whenever we went round corners it was a disaster. Its life came to an end when the engine went up in flames. The fibreglass body melted quite quickly and that was the end of that.
The next thing I had of any consequence was a trusty Rover P5, which I bought in 1974 for £400. I can't remember exactly where the money came from, I think a family aunt died and left me a little cash. We used it to cart the band's equipment around in 1977 and '78. We were all living together in a council flat in Deptford just before Sultans of Swing became a hit. We were playing a lot of pubs and clubs in London for about £25 a night, so a few quid each, petrol money and a pint. These were heady times and we loved what we were doing, gradually getting bigger audiences. We could get most of the kit in the boot and the back seat of the Rover, so two of us would have to get the train or use Pick's car.
I'm not a petrolhead, but I do like good looking cars, mostly older ones, but some new. From an artistic point of view, I like classics because they haven't been put in a wind tunnel to determine their shape. What I like more than anything else is that someone has put their spirit and expertise into that piece of machinery and produced a thing of beauty. Like a good painting or a piece of music, the ones that got it right are like works of art and they'll always look good.
I get a thrill out of seeing a lovely classic on the road, especially if it's an old Aston, but some of the more valuable cars have become like vintage guitars which occasionally get bought by people who can't play them. Just like cars that get stuck in a warehouse, these guitars get stuck in a glass case and hung on the wall with a little plaque that says once played by Jimi Hendrix or Eric Clapton.
I'd like to think that most, if not all of the cars I've mentioned will still be driven today but if I were to get any of them back it would have to be the DB5 that Mark and I bought. It's definitely the one that got away, but I'm not in the mood to spend three quarters of a million pounds on a car. I do enjoy a good road trip with my wife Steph, so I think if we had a DB5 we'd take it to France. These cars were built to be driven, and driven fast, so we'd have to risk a few speeding tickets on the autoroutes."
Read more
The One That Got Away: Steve Harley's Bentley S2 had "quite a life"
Will this Lexus LFA – Jeremy Clarkson's favourite car – smash sales records?
Like Sean Connery once did, Jay Leno likes his British cars off-brand