With a wide-angle 3-litre V6 engine and electric assistance, the new Ferrari 296 GTB should make hypercar levels of performance more accessible than ever before. And with styling offering more than a hint of the Ferrari 250 LM of the 1960s, it could also be one of the more beautiful cars to have emerged from Maranello in some time.
Both prospects are intriguing, though it's the 296 GTB's drivetrain that is arguably of greater note. Ferrari calls it the first six-cylinder engine installed in a road car wearing the Prancing Horse badge – a nod to the fact that the 246 Dino never carried Ferrari badging – but the company does note a handful of Ferrari racing cars that were V6-powered, including the Dino 156 of 1957 and the Targa Florio-winning 246 SP of 1961, among others.
How much is your car to insure? Find out in four easy steps.
Get a quote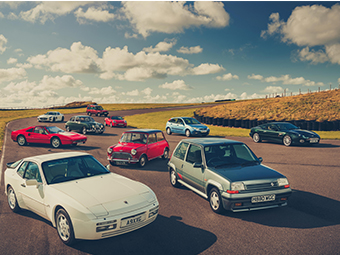 What separates the 296 GTB from these, aside from more than 60 years, is the new road car's incredibly wide 120-degree vee angle. Ferrari has chosen such a layout for a couple of reasons, including a lower centre of gravity, and the packaging benefits of being able to install the unit's twin turbochargers between the cylinder banks in a "hot vee" layout.
The choice of a V6 meanwhile was partly dictated by weight reduction, and the shorter block no doubt helped free up space for the car's electrical components. A 165bhp electric motor sits between the 654bhp V6 and eight-speed dual-clutch transmission, and Ferrari quotes a combined output of 819bhp at 8000rpm.
Torque? 546lb ft, though the 6250rpm peak suggests this is still very much a proper Ferrari powerplant, delivering the greatest hit with a few revs on the dial rather than lugging away like most modern turbocharged engines. The 8500rpm limiter doesn't quite match that of some of the brand's naturally-aspirated units, but you'll not see it in many other sports cars either.
With a 7.45kWh battery pack there's enough juice to occasionally cruise around on electric power, but the goal here is clearly to create a car that goes like the clappers. Incidentally, the 296 GTB is rear-wheel drive, unlike the SF90 Stradale reviewed here, but there's an electronic differential at the back governed by Ferrari's devilishly clever Side Slip Control system and various other things that can be reduced to three-letter initials.
Failing that, there's always a set of 305-section steamrollers at the back, while front grip is managed by 245s. Wheels are 20 inches in diameter at each corner, while brakes are a massive 398mm up front and 360mm at the rear – plus the additional drag of regenerative braking.
Ferrari quotes a dry weight of 1470kg, to which you can add the best part of 100kg for the car's kerbweight with a full 65-litre tank of fuel and various other fluids. An Assetto Fiorano package can shed 15kg from that, thanks to a Lexan rear screen, while the Fiorano pack also gets a set of Michelin Cup 2R tyres aimed at circuit use, and a set of Multimatic dampers for the same purpose, and extra carbonfibre aero parts for a 10kg downforce boost to the car's 100kg high-downforce mode at an unspecified speed.
You can form your own judgement on the styling inside and out. There's definitely a hint of the smooth and unadorned look pioneered by the front-engined Roma, along with hints of the aforementioned 250 LM – those rolled rear haunches topped by intakes, the flick at the tail and the buttressed rear are all reminiscent of the old racer.
The cabin too is smoother than recent mid-engined Ferrari cockpits, and the capacitive starter button is still the sort of thing that'd be laughed out of the F1 paddock and sits uneasily alongside the tactility and racing kudos of the Manettino driving mode dial.
The passenger, meanwhile, gets their own digital display, so can witness whatever terrifying mumbers you amass. On that note, those numbers include a 0-62mph time of 2.9 seconds, 0-124 in 7.3sec, and a top speed of more than 205mph.
The first 296 GTBs will be delivered In Europe in the first quarter of 2022, with prices starting from approximately £231,000 – against the £203,000 of a basic F8 Tributo.
Also read
Can't wait for a Ferrari SUV? You can buy this "Jerrari" right now
Future Classic: Ferrari 458 Italia
Ferrari quiz: Are you the ultimate tifosi?