Ooh la la! From George Harrison's McLaren F1 and Fangio's Le Mans Gordini, to a colourful celebration of 50 years of the Renault 5 in all its forms, France's premiere indoor classic car show had plenty to offer on its return to Paris.
Its postponement from earlier this year meant that many European dealers – including those from the UK – chose to stay away, which meant the show's footprint was smaller than in previous years, with half of one floor given over to the mammoth Artcurial auction. Quality trumps quantity, however, and there were plenty of rare-groove wonders to take in.
The glitz, the glamour and the… what's that?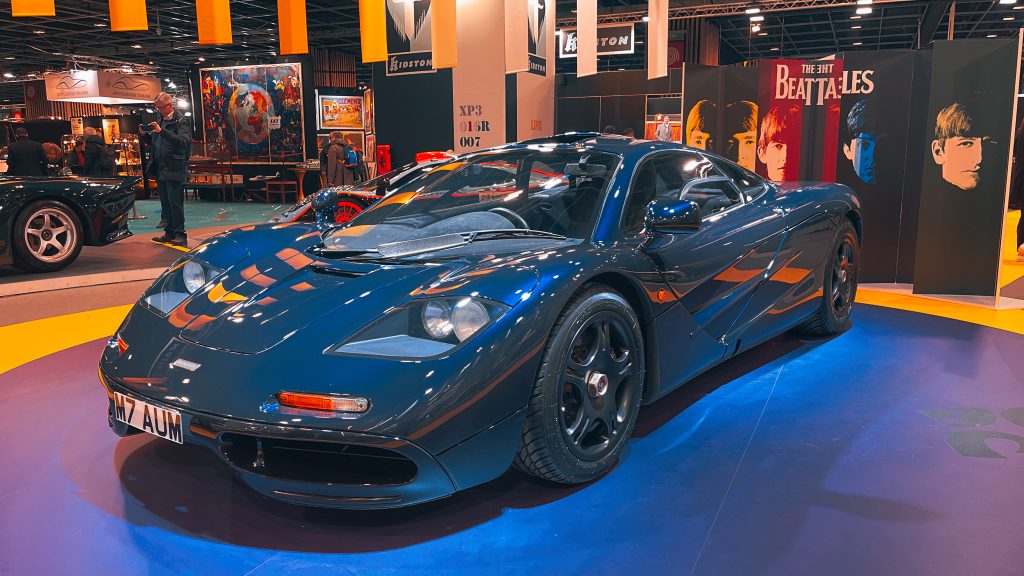 Credit to Simon Kidston – he knows how to make an impact. He corralled no less than seven McLaren F1s for a stunning display. Some cars, such as the XP3 prototype and the Laffite/Soper/Duez Le Mans '96 car, plus the Gulf Longtail, are no strangers to the show scene. He even managed to pull one of three roadgoing Longtail models out of the bag, but the best was the ex-George Harrison example, which features Beatles lyrics on the actual car, applied by none other than the F1's designer, Gordon Murray.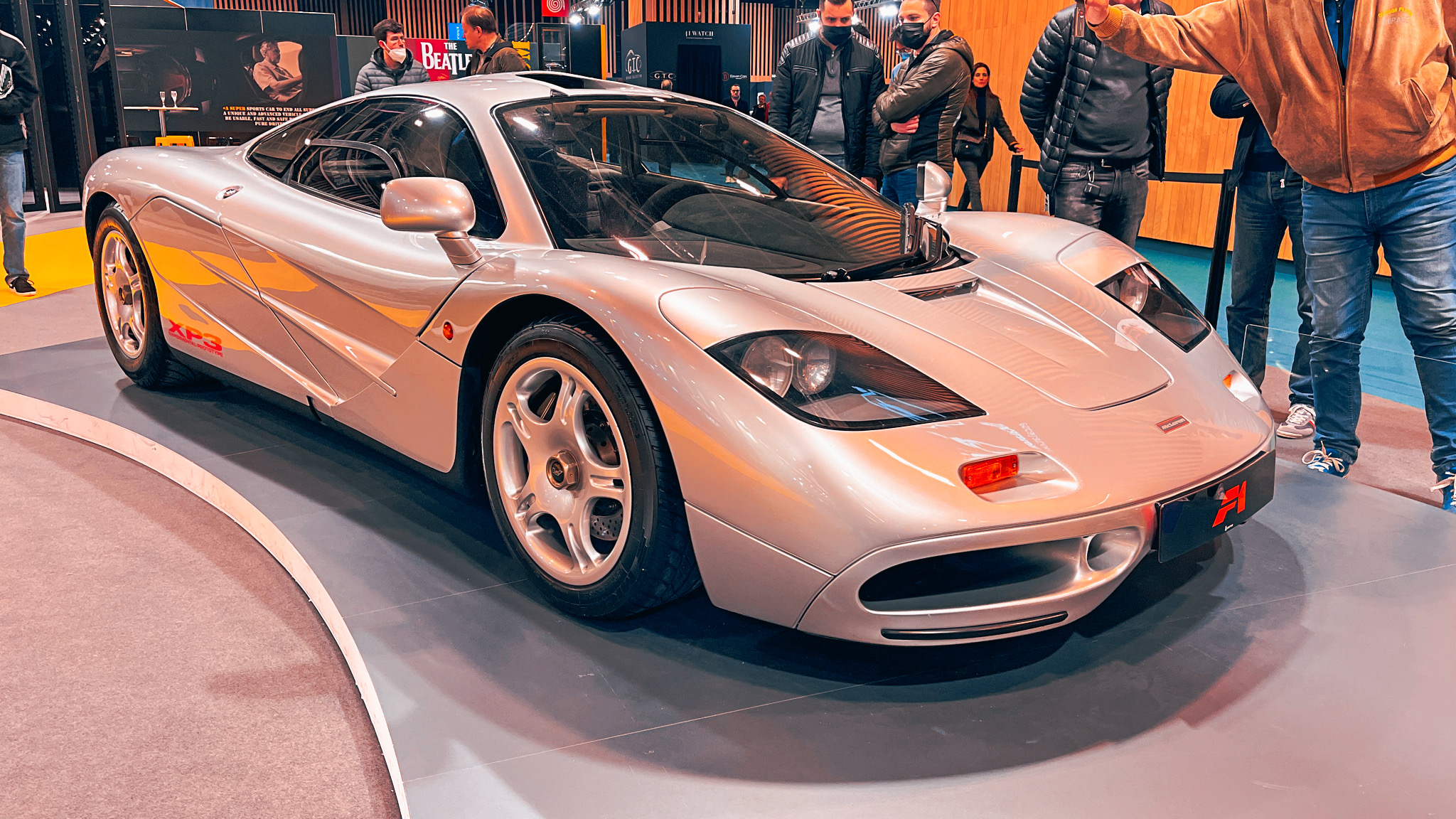 Harrison was also a fan of AMGs, something a fellow tunesmith echoed – one dealer was selling French singer Johnny Hallyday's Mercedes-Benz 560 SEC AMG. Elsewhere, the Schlumpf Collection brought along a collection of Gordini F1 and sports cars, though our favourite was the R8 Gordini, which scored several overall and class victories between 1966 and 1970, and had such motorsport luminaries as Guy Fréquelin and Jean-Claude Andruet behind the wheel.
A similar blue, but with a very different intention, could be found nearby, with a display of historic police cars. However, the sight of a police Alpine A310 almost had us signing up to gendarmerie. This particular example, a series two, was based in Auxerre and patrolled the autoroutes until it was replaced by a Citroen CX 2400 GTI.
French flair could be seen on Citroen's stand – it brought along the SM Opera, a long-wheelbase, four-door built by Henri Chapron. Some 30cm longer than a normal SM, it failed to stretch its legs when it came to sales – just eight were sold over two years, with four going to Spain, one to Haiti and the other three remaining in France. Elsewhere on the stand, Citroen celebrated 40 years of the Marcello Gandini-designed BX; a lone 19 GT flew the flag for this under-appreciated angular gem. It was surprising to see so few other Citroens in general – while there were a few DSs dotted about (including a lovely DS23 on Citroen's own stand) and 2CVs and Meharis here and there, they were severely outnumbered by Fiat 500s and Mini Coopers. Still we rather liked the pale blue Mehari Azur; if only we had a sunny enough beach to warrant it.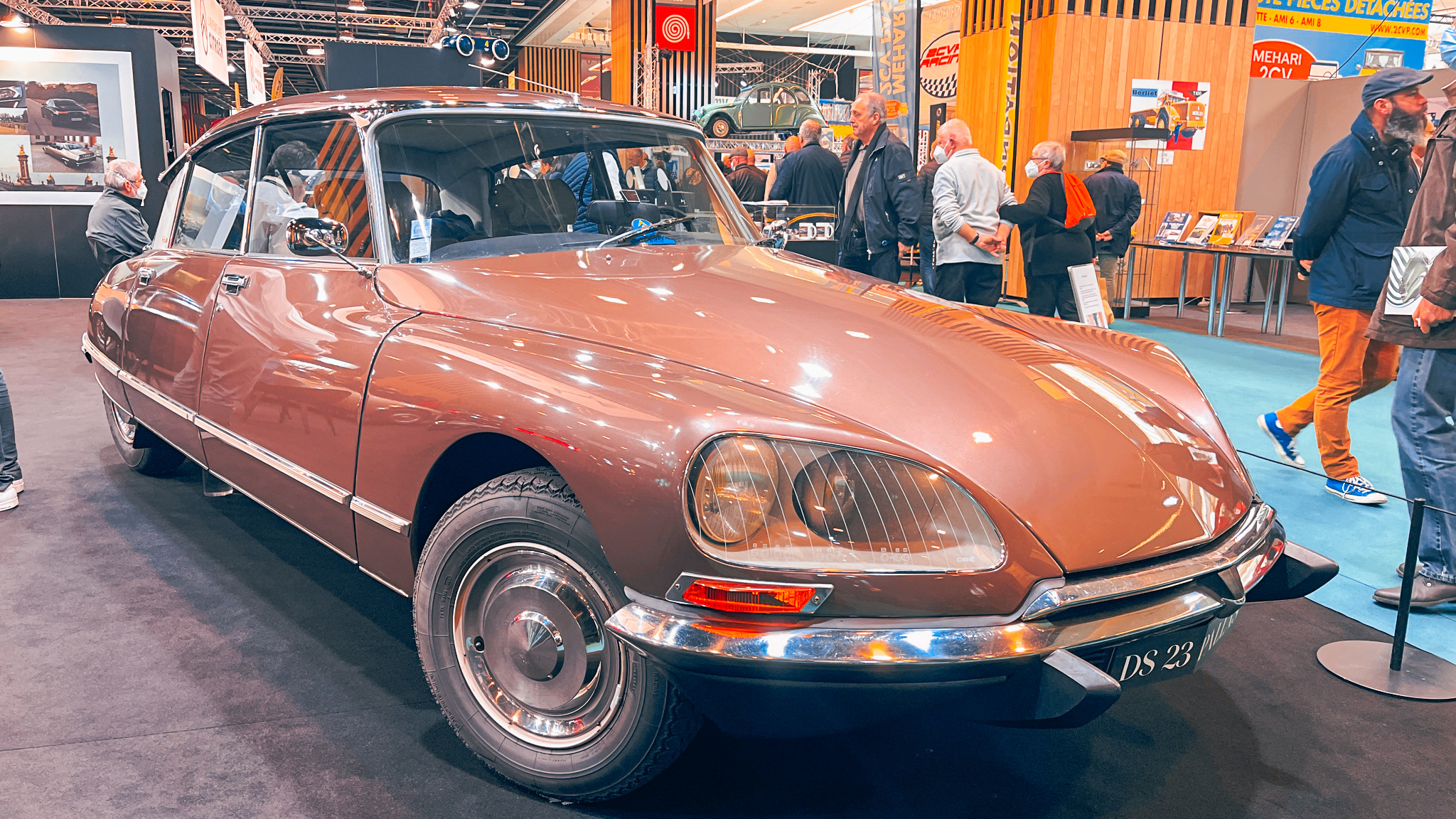 For those who fancied something a little bit more modern, Youngtimers magazine assembled a collection of roadgoing homologation cars, which included a Mitsubishi Evo 6 Tommi Makinen Edition, Toyota Celica GT4, Lancia Delta HF Integrale, Ford Escort RS Cosworth, BMW M3 E30, Subaru Impreza and Renault Clio Williams. Elsewhere, there was also a chance to buy one of 14 Porsche 968 Turbo S prototypes. Sold directly from Weissach to its current owner, it packs more than 300bhp from its 3.0-litre four-cylinder engine.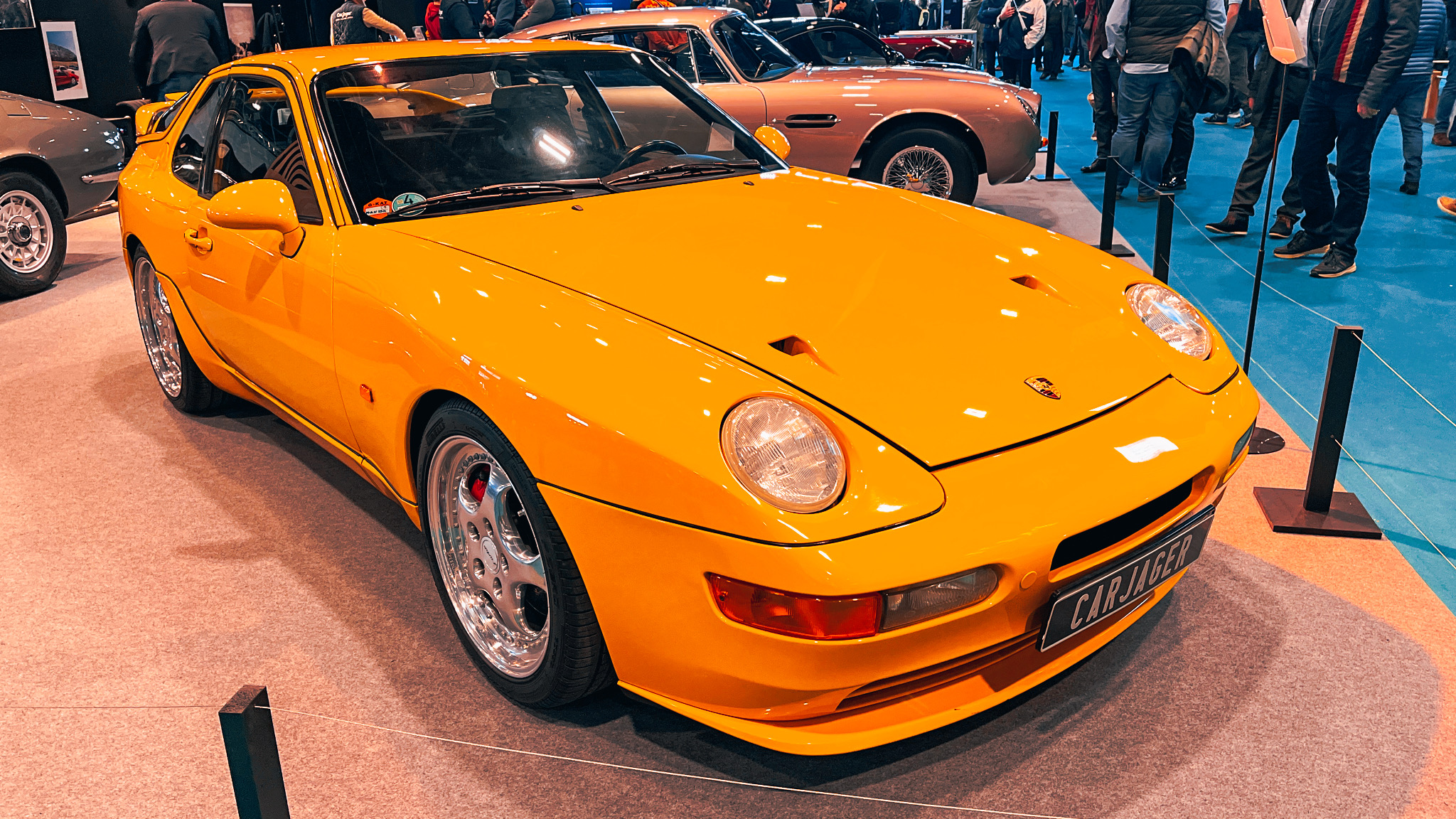 However, the biggest joy about Retromobile is the peculiar oddities it always brings out. Take, for example, the 1919 Helica, which straps a two-cylinder 1000cc engine to a giant fan, which sits in front of your face, and which you pilot in a manner similar to fighter jet. Still, at least you could see where you were going – if driving the Bedelia, you sit astride your passenger. Let's just hope they aren't tall.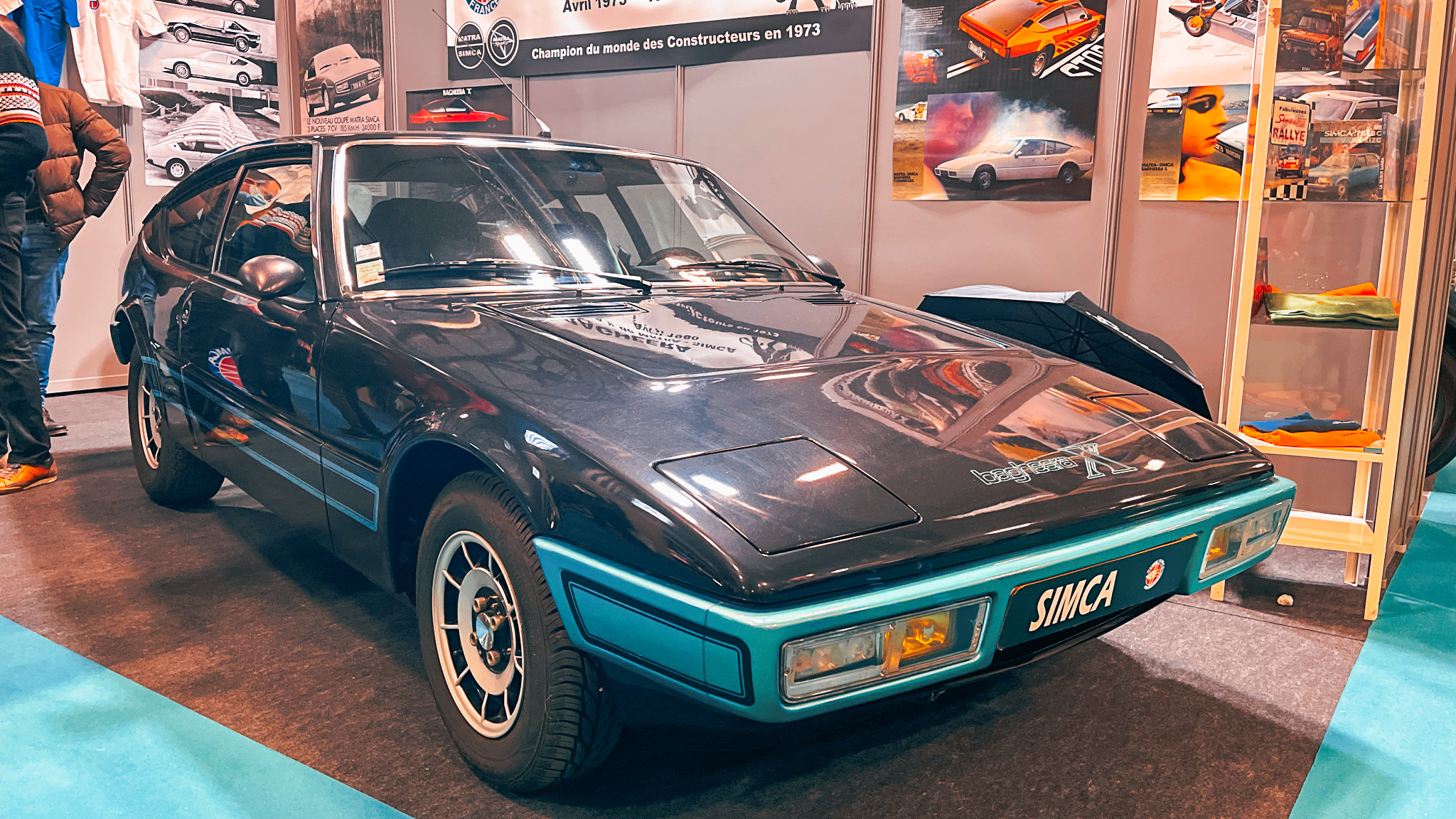 Other oddness could be seen with a Matra Bagheera, its attractive wedge shape clothing bench seating for three, but our favourite has to be the 1923 Salmson Val3. It was a normal road car, before the onset of World War Two saw the owner convert it to an amphibious vehicle. Even if the River Seine's bridges were destroyed, he'd be able to retrieve his fiancee from the other side; and if the fuel ran out, he had a plan for that too – he fitted an electric motor.
Five star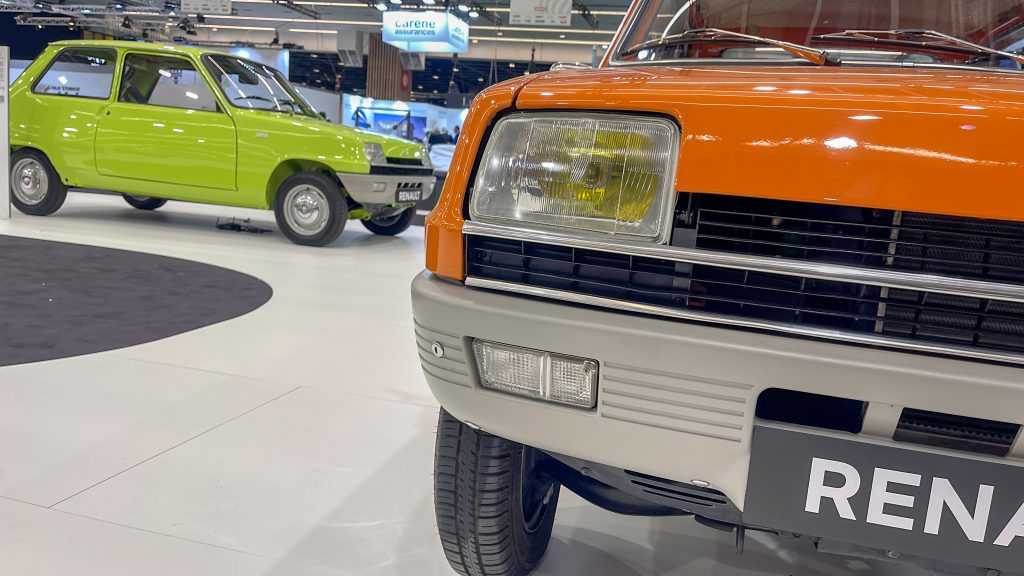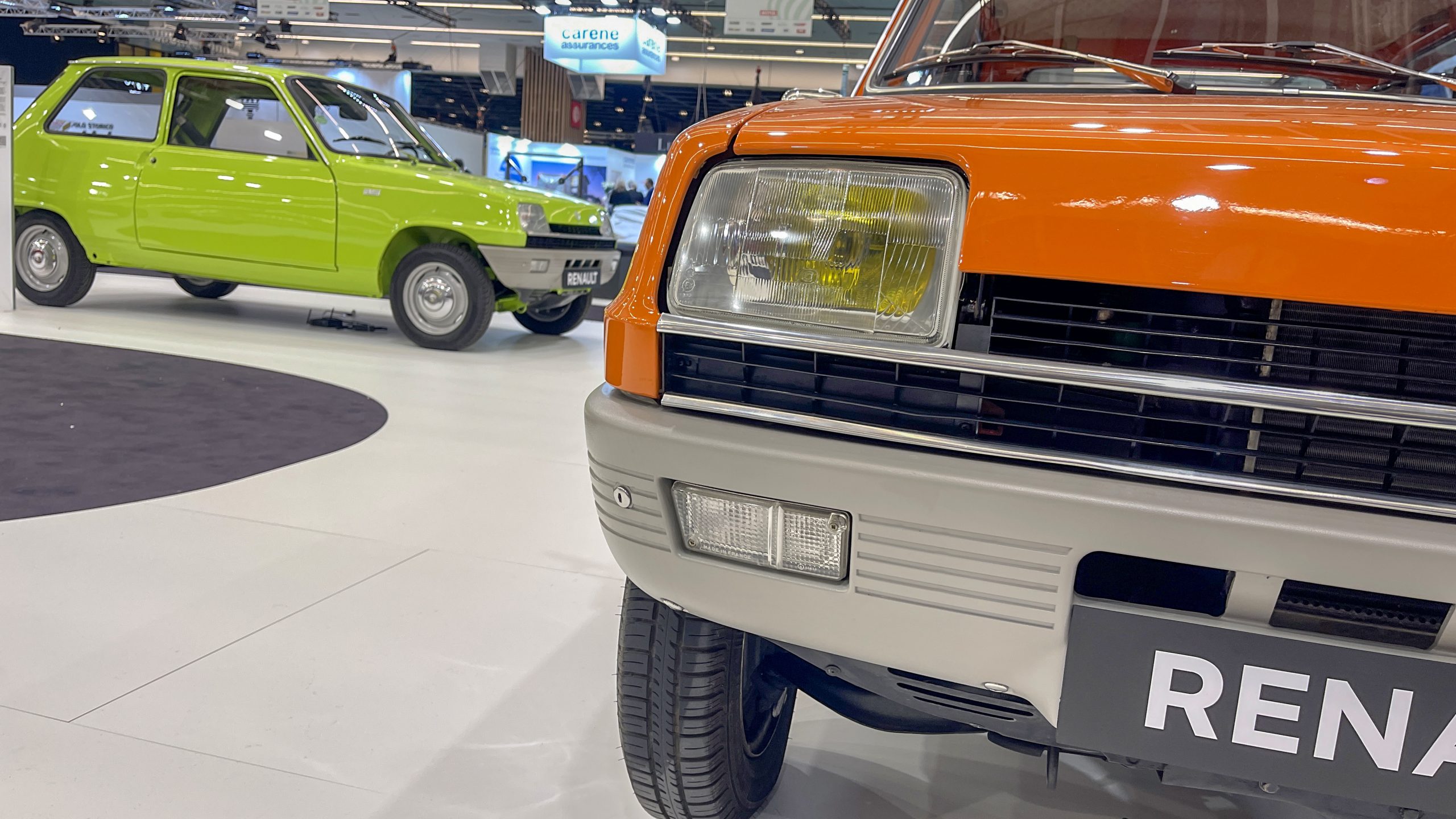 Renault celebrated 50 years of the Renault 5 with a colourful display of models both familiar and the freaky. It moved the game on considerably over the Renault 4, offering a modern look with familiar Renault DNA. We'll be bringing you a longer, in-depth look at this innovative and much-loved car soon.
The green car was the smallest engined model in the range on launch in 1972; it has a 782cc four-cylinder engine that's good for 36bhp. The yellow car is a TL, which packed a 956cc engine. The orange car is also a TL, but fitted with a matching orange interior.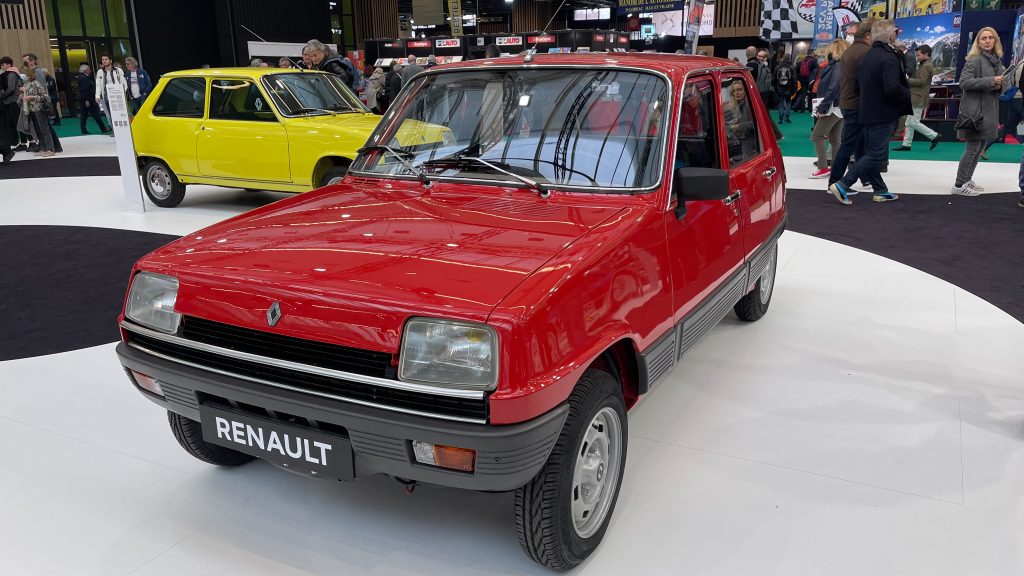 Bigger changes came in 1980 with the adoption of five doors. The red car also provides an example of how the design changed over time; note the plastic wheelarch covers. This is one of the first GTLs built, which would go on to become the most popular model. Also note the chrome door handles, marking this out as an early car.
The first-series 5 also spawned the Alpine, or Gordini as it was known over here. It was among the first hot hatches. Designed and built by Alpine in Dieppe, it used a reworked 1.4-litre version of the TS engine to provide 93bhp; a Cup version was built for beginner racing drivers.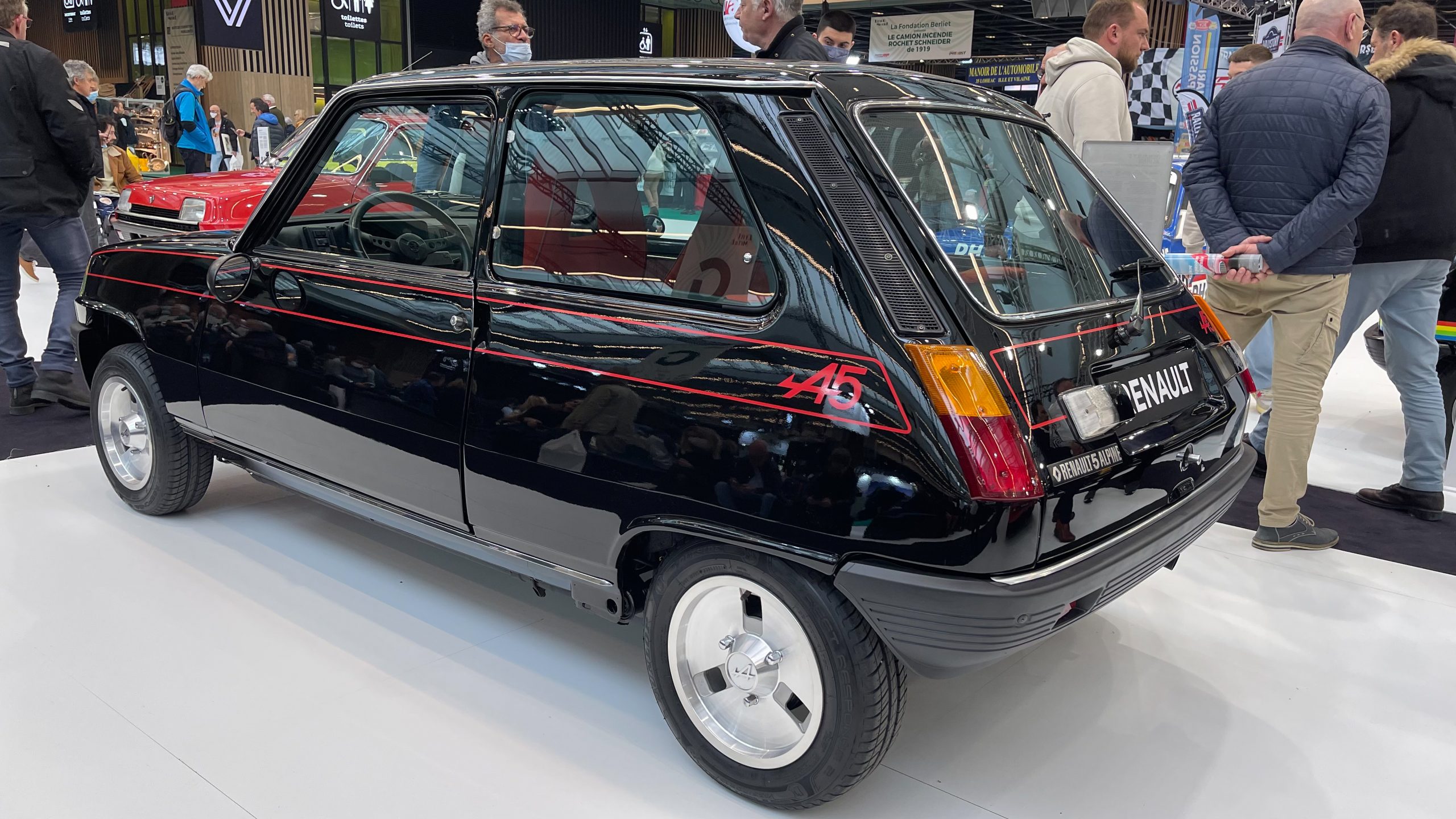 The most famous Renault 5s have to be the Turbo 1s and Turbo 2s. Just 400 Turbo 1s like the example here were built to homologate the car for Group 4 competition. Its mid-mounted four cylinder engine produced 160bhp in a 970kg body. The later Turbo 2 did away with the bespoke sci-fi interior for series production. While the onslaught of four-wheel drive and Group B left the little 5 wanting, it still proved very capable on Tarmac rallies.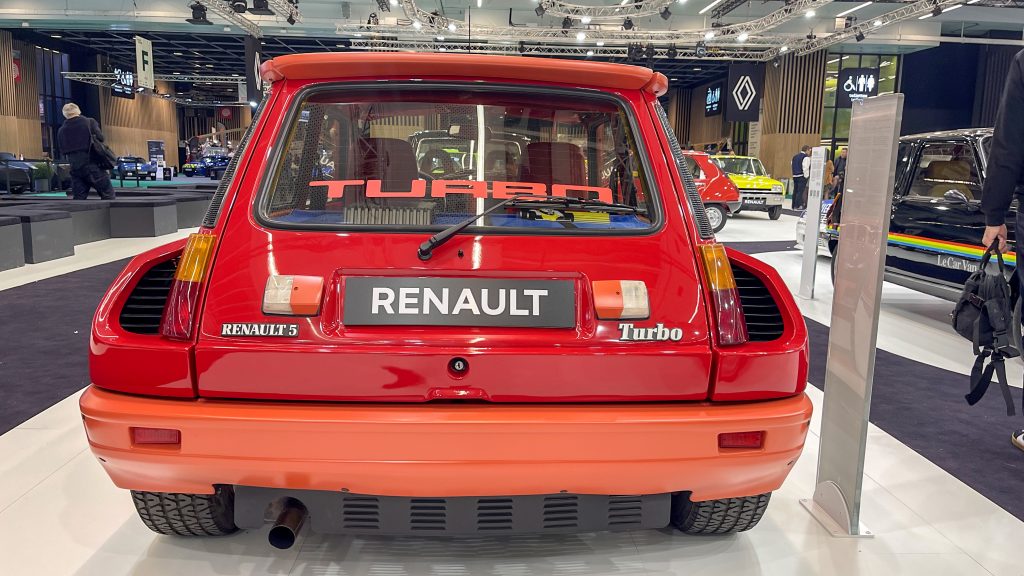 The car would also provides the basis of the outrageous-looking SuperProduction, which produced 370bhp. The likes of Jean-Pierre Jarier, Jean-Pierre Beltoise, Jean Ragnotti, Eric Comas and Jean-Pierre Jabouille would all get behind the wheel.
A big name of another sort was enlisted for the Renault 5's major facelift – Lamborghini Countach stylist Marcello Gandini. You can see his work on the luxury focused Baccara (black), with items such as electric windows and leather seats. The 1.4-litre engine produced around 65bhp, but that powerplant, when matched with a Garrett T2 turbo, created a hot hatch hero – the GT Turbo. Its 115bhp punch (when the turbo eventually came on boost) endeared it to many fans. One can imagine many interactions with R5-driving police officers. Renault brought its police car along, of course.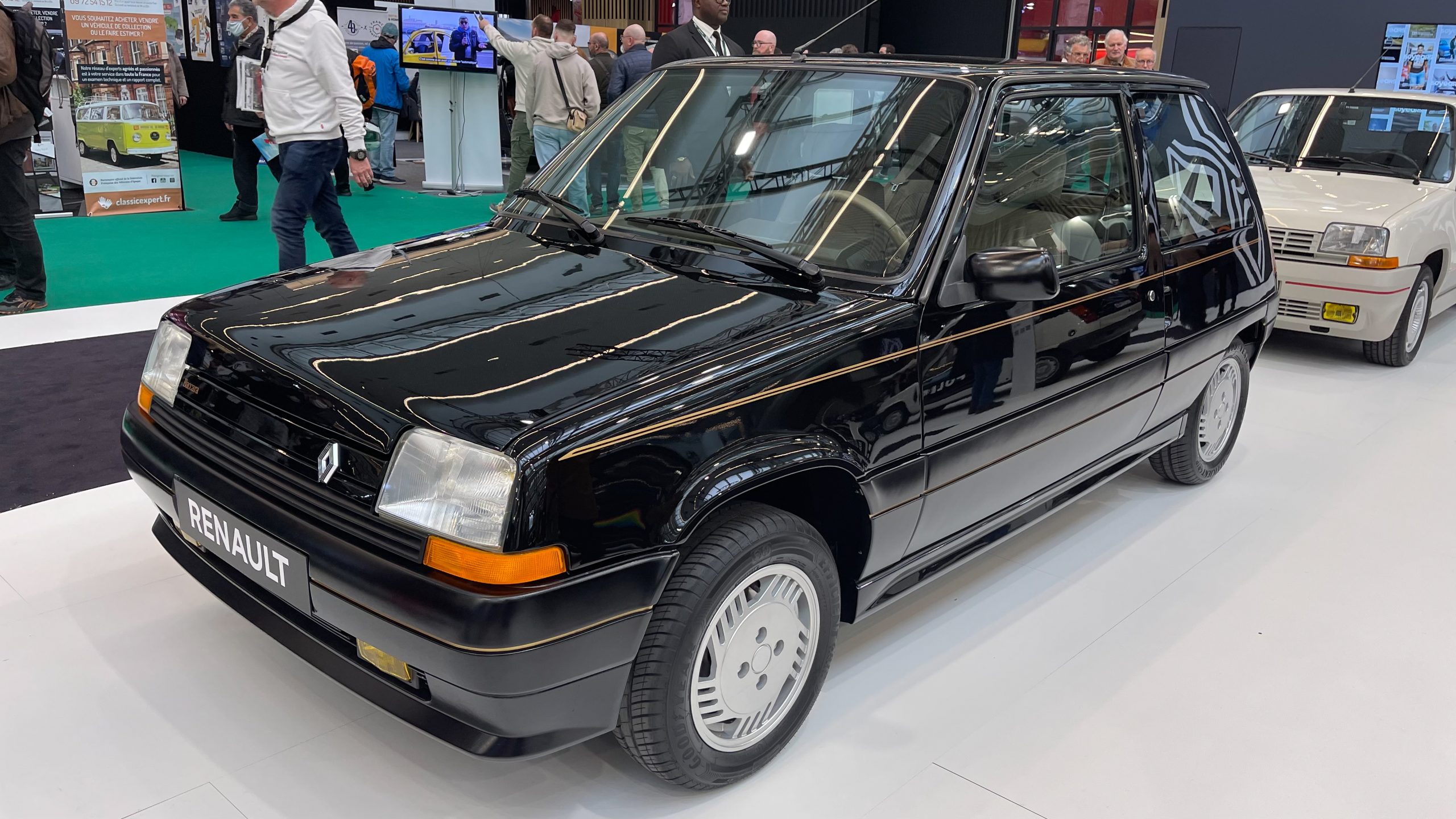 French Coachbuilder Heuliez liked the cut of the Renault 5's jib, and produced the "Le Car Van". A strict two-seater, the rear quarter windows were removed and replaced with an injected plastic panel with a tinted circular window and an aluminium frame, while the spare wheel was mounted on the back to optimise interior space. Heuliez built 450 between 1979 and 1983.
Perhaps the most timely car here was the Renault 5 Electrique. Built in partnership with EDF, 100 series 1 cars were built in 1972, while just 13 series 2 cars – like this one, the sixth built – were made in 1974. The 7.5kW motor sits behind the front seats. It has eight traction batteries with six volts per unit. The new Renault 5 EV concept also drew a crowd…
Down to earth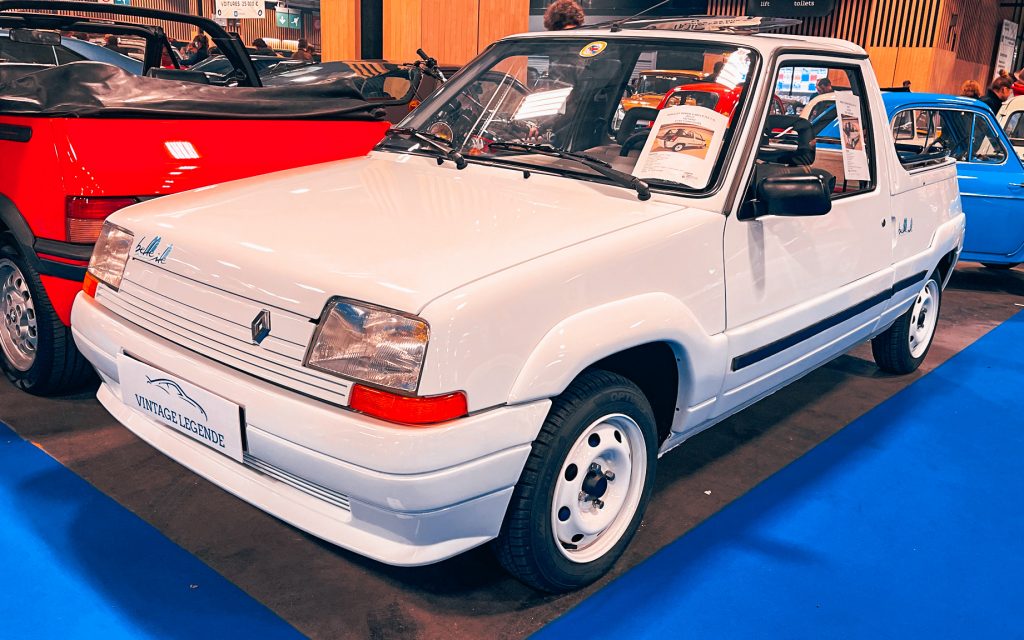 While it's easy to get carried away with Ferraris, Porsche and seemingly more Mercedes-Benz Pagodas than there are actual pagodas in the Western world, the joy of Retromobile is the sub 25,000 Euro section.
If we haven't put you off Renault 5s already, then the Super 5 Belle beach car will surely delight. Originally the idea of Car Systeme, known for building a Renault 4-based buggy, delays in getting the project signed off by Renault meant the company went bust; the project was picked up by Gruau. Out of a proposed production run of 700, 500 were built, all with a boot opening that sees the rear panel pull down over the rear bumper.
French flair of a different kind could be found with a Simca Plein Ciel – or full sky, in English. Its 57bhp 1300cc four pot was good for 80mph. Sitting next to it was a delightful Peugeot 404 coupé.
Swedish car fans had a good selection to choose from. We were taken with a particularly arresting Volvo P1800 ES and PV544 that used to be used by a doctor for his rounds.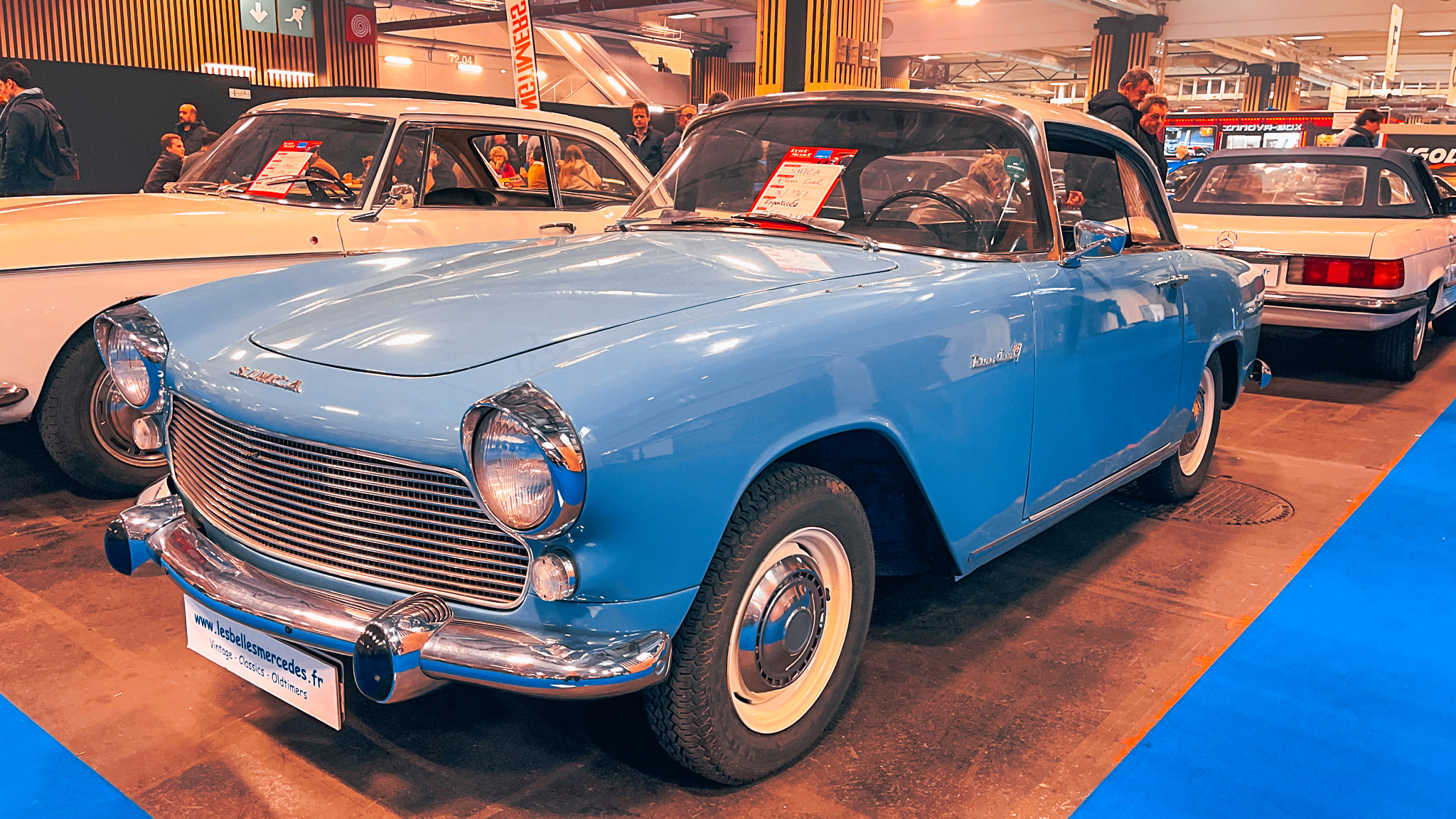 If in the market for a retro coupé, a gold Ford Capri MkIII 1.6 Laser was hard to ignore, though we'd have gone for the Toyota 300ZX Z31. If you wanted to take things a bit further, meaty American iron was on offer in the form of a 7.0-litre Buick Riviera and a Ford Galaxie Convertible.
However, one of the most evocative things about French motoring is, of course, yellow headlamps. So, who wore it better, the brace of BMW E21 3-Series, or the Alfetta GTV2000?
Auction action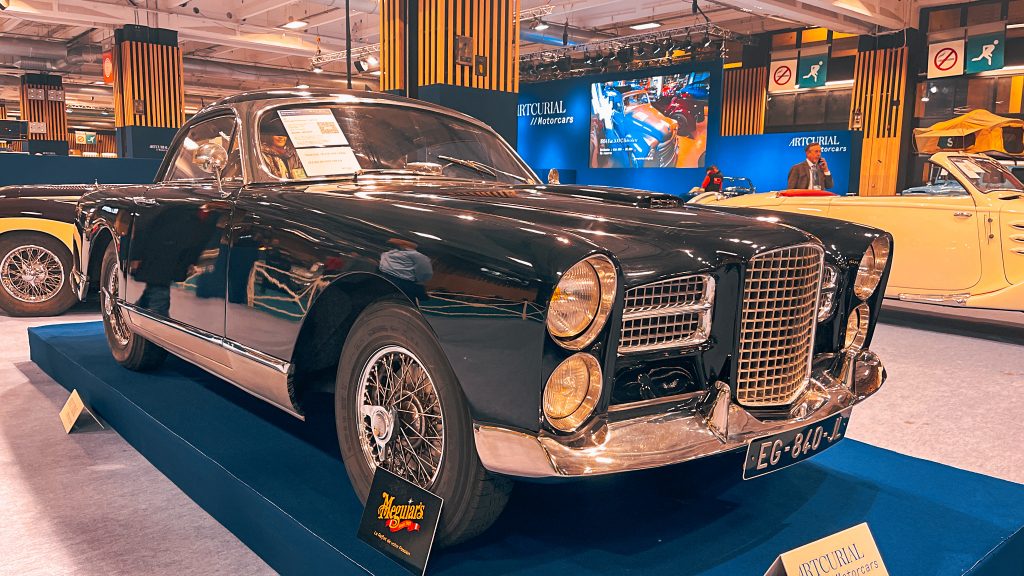 Artcurial always serves up something special for its Retromobile event and this was no different – among the 350 lots there really was something for everyone, but nestled among them were true pieces of automotive history.
Picking a star lot is impossible, so let's go for the most intriguing, the first Facel Vega prototype. This car was used as a development mule for all Facel Vega models, undergoing road testing in the middle of the night, and was even sent to America for development tests by Chrysler, which supplied its V8 engine. It was also owned by company founder Jean Daninos for many years. It was expected to sell for between 500,000 and 800,000 Euros.
Another key lot was the Gordini Type 18s. One of just two built using F1 technology, Juan Manuel Fangio and José Froilán González would contest the 1954 Le Mans 24 Hours using the car. It wasn't a success, with the team fighting several mechanical maladies before succumbing to retirement at around 5am in the morning, but Fangio loved it so much he later had the car take pride of place in his personal museum, in Argentina. If you fancied adding it to your own collection, you'd have needed to set aside 800,000 – 1.6m Euros.
If your tastes were more modern, then there were plenty of temptations on offer, such as the one-of-502 Mercedes-Benz 190E Evo 2s built to homologate racing cars for the DTM touring car championship in the early 1990s. BMW's Wolfgang Reitzle, upon seeing the car, quipped that if the car's outrageous bodywork worked, then BMW would have to buy a new wind tunnel. Cue one rather large bill at Munich… While the estimate for the 190E was somewhat cheaper than BMW's wind tunnel, you still wouldn't have expected to get much change out of 100,000 – 150,000 Euros.
Talking of homologation specials, the Ford RS200 was very special. Well, all RS200s are special, but this one was somewhat elevated over its normal brethren, as it is an S model. Prepared to a more luxurious standard (well, it had a heater) for a Canadian order than never came, Ford sold a batch of RS200s to this spec directly. Around 20 are believed to have been delivered this way, with around 300bhp on tap. This car was originally dark red but its original Swedish enthusiast owner asked for white instead. It spent much of the 1990s in an Antwerp Ford showroom, but subsequent owners have seen more use out of it. It was estimated at 180,000 – 260,000 Euros.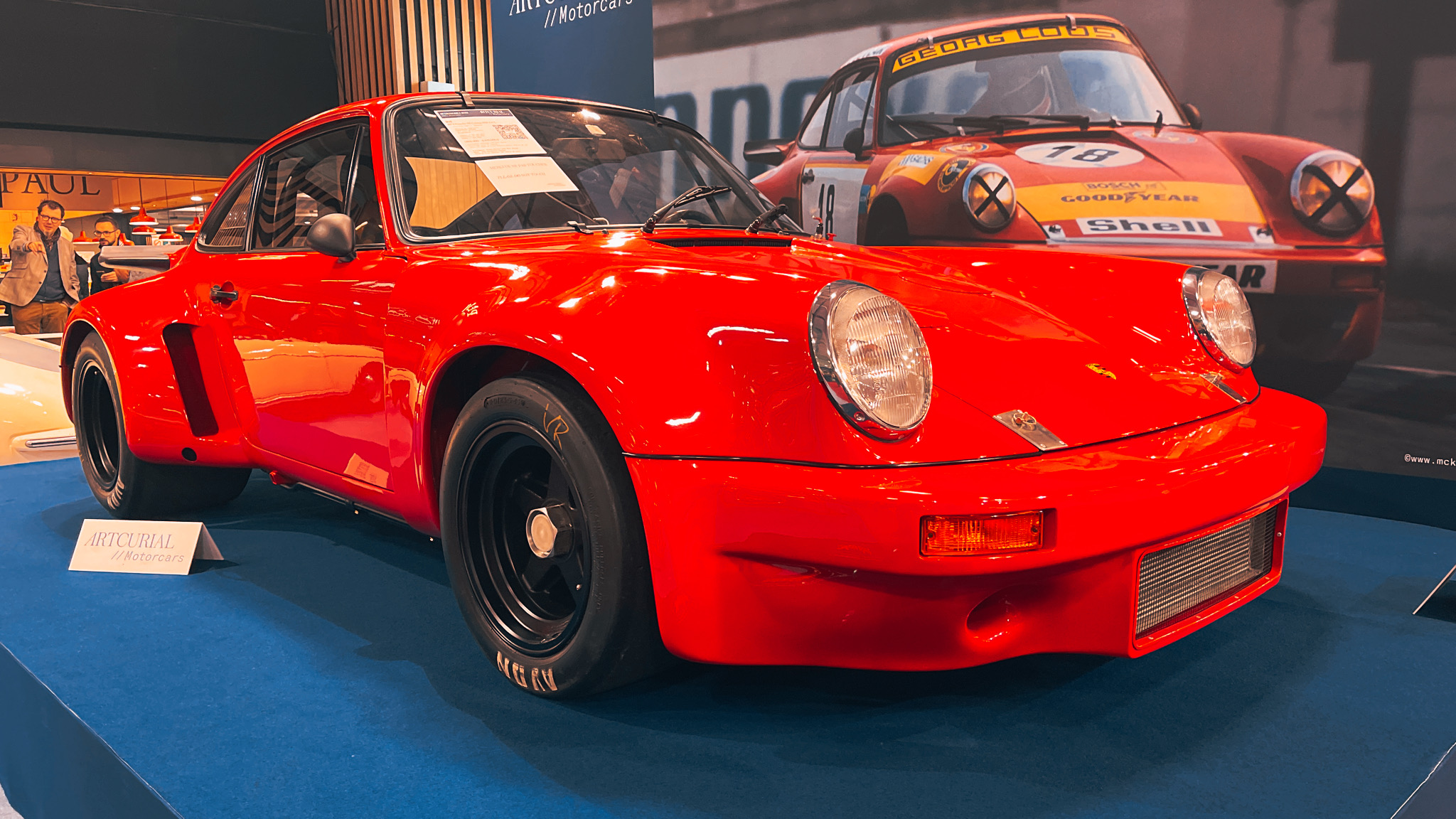 Talking of use, how about sharing seat space with such racing luminaries as Georg Loos, Rolf Stommelen, Tim Schenken, Jurgen Barth, Toine Hezemans and John Fitzpatrick? The Porsche 911 RSR had quite a racing life with Gelo Racing with such big names behind the wheel, such as the Le Mans 24 Hours, Nurburgring 24 Hours, 1000km of Spa Francochamps and more, taking several class victories during four years of period competition. It was estimated at 1.8m – 2.4m Euros.
While the RSR's wide-arched look was certainly eye-catching, there was plenty of traditional French glamour to savour, such as the Peugeot 402 Eclipse Coupe-Cabriolet Transformable, which featured a hand-operated mechanism to turn a hard top into an open top cabriolet; this was one of just 27 built. You'd be looking at a bill of 110,000 to 150,000 Euros.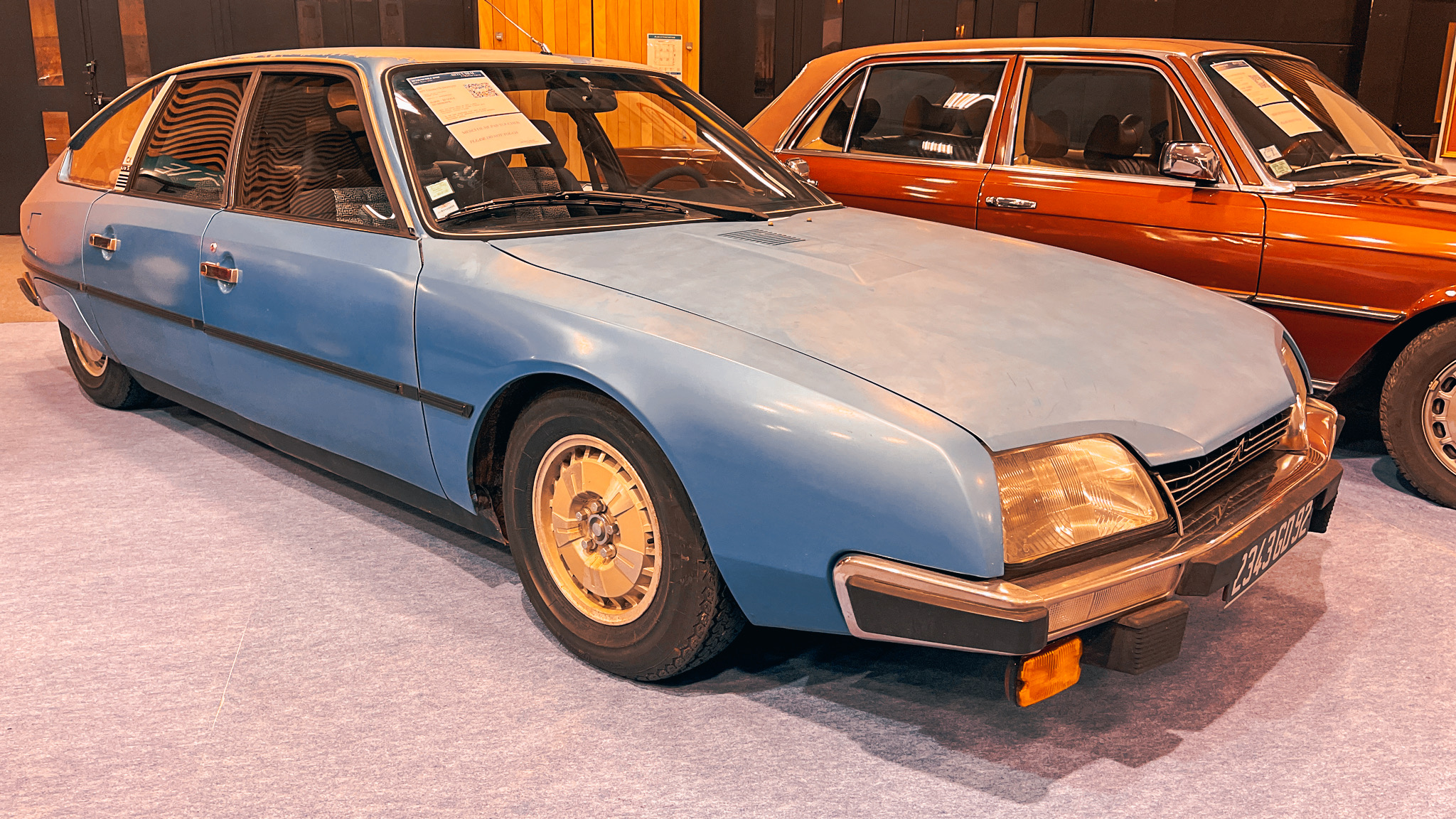 Keeping to the exquisitely tailored theme, the Delahaye 135 MS bodied by Chapron won the heart. Discovered in a barn in 1967 by a student, it's since been lovingly bought back to life; you'd need 100,000 to 150,000 Euros. If you were looking for something just a little a bit more practical, you could pick up Alain Delon's early Range Rover for an estimated 80,000 to 100,000 Euros.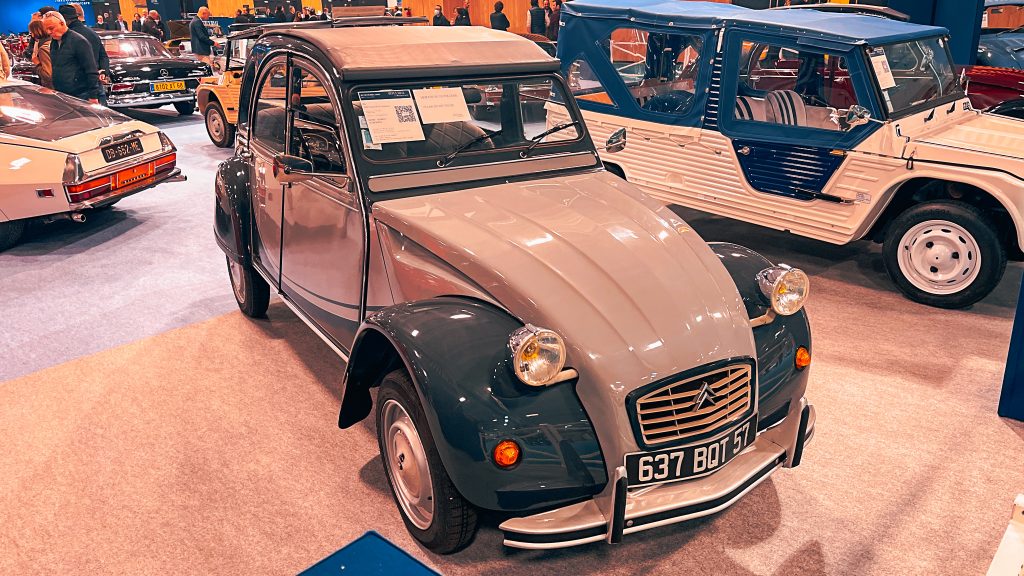 If this is all a bit high end and lofty, then how about a brace of Citroens? This 1989 2CV6 was among the last made, and had covered 20,845km; you'd have needed between 25k and 35k Euros to make it yours. The CX 2400 GTI was in need of rather more love, but it featured the very rare "Greek" upholstery pattern that was only in use for one year. This no reserve sale was estimated to wind up at somewhere between 15,000 and 25,000 Euros.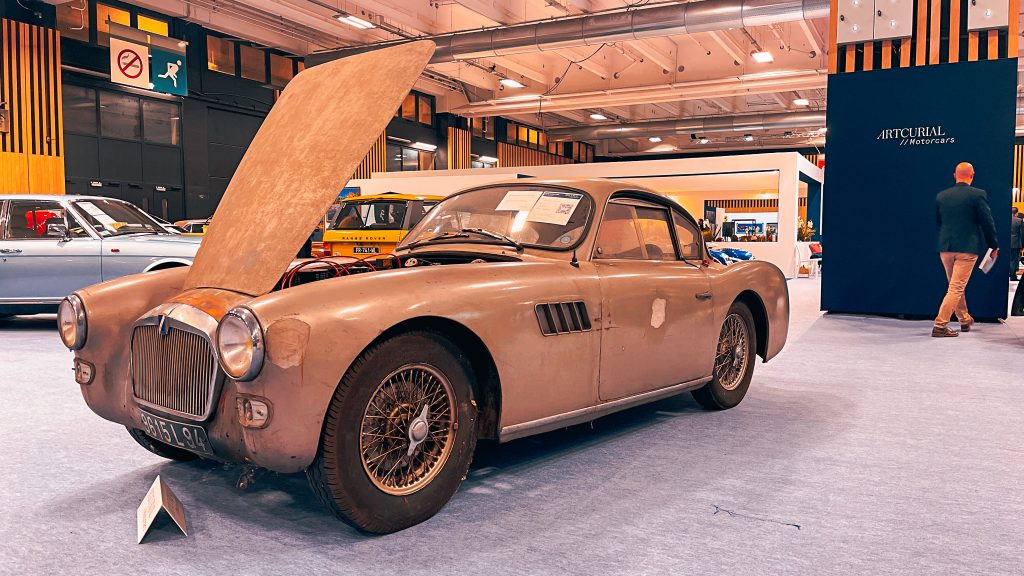 If you fancied an even greater restoration challenge, the Talbot Lago Sport was surely it. One of just 45 built and thought to be one of the last two crafted, it was put into storage in the 1970s and last run ten years ago. Fancy it? You'll need to cough up between 140,000 and 180,000 Euros. Well, to begin with…
Read more
Vita Activa: Memories of a performance oddity
Diesel Bizzarrini previewed a sports car future that never was
It took more than the luck of the Irish to build the one-off DAWB 6