In a Gatso-ridden, traffic congested world, driving a car that ticks all the fun boxes within the legal speed limit is the way to go, reckons serial slowcoach collector, Cowland.
I would imagine that I'm in a safe space, with like-minded souls, when I profess my love for the card game, Top Trumps. As a callow youth in the late 70s, I would while away many a school bus journey or break time, using my then-encyclopaedic knowledge of the deck, challenging all comers to pit their skills against my nerdery. In those days, all you needed was something like the sensuous Ferrari 308 to appear in your hand and you knew you had the round. 252bhp? 8 Cylinders? Beat that! And more often than not, they couldn't…
How much is your car to insure? Find out in four easy steps.
Get a quote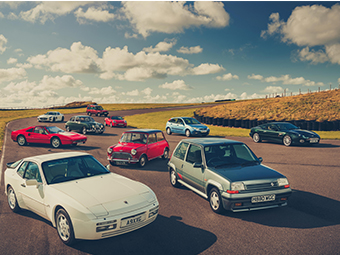 These days however, you can find family hatchbacks with way more motive force than the fancy Fezza ever had to best my classmates with. In fact, 252 horses might even be considered feeble. A modern GTI has pretty much the same. More weight, naturally, but the kind of power that would leave my mate Steven floundering with his lesser cards in 1979, yet with room for the kids and dog, too.
Because of this endless arms race of power and weight, kids playing Top Trumps today need to reach for rather more stratospheric figures if they are also looking to win a packet of Salt and Vinegar Discos. (Oh yes, we always played for big stakes.) I'd imagine that today's 'go-to' throwdown cards would be the 1914 horsepower Rimac Nevera for the young volthead – and the Bugatti Chiron SS with its rampant 1600 French chevaux for their petrol-preferring competitor. This is where we are now, folks, we're able to buy road cars that pack way more power than pretty much any race car you'd like to shake a stick at.
Now, this is great news for all those schoolkids on buses today, should they decide to put down their phones for a second, but is it really that useful in the real world? The fastest car I have ever driven was a beautifully converted 1200bhp Litchfield GT-R. Thanks to the quality of the conversion, at low speeds, it drove just like the standard car, being happy in traffic and as docile as the Micra it shares a badge with.
However, should you choose to slightly curl the toenail of your right foot, the car entered some kind of space-time-wormhole which seemed to be entirely at odds with physics. 70mph disappeared in a sneeze. 100 in a blink. And 150 before I'd even caught my breath. Now, this was all fabulous fun on a near-empty Silverstone, but how on earth does one get near to using that on the road?
The honest answer is, you can't. Modern traffic and speed camera coverage mean that there aren't really any stretches of road where you could enjoy even 20 per cent of what that amazing car has to offer, and that's before we enter into the moral questions of whether one should even drive at say, 75, on an empty motorway. So really, other than impressing your mates, looking great on a forum, or winning at cards, what's the point?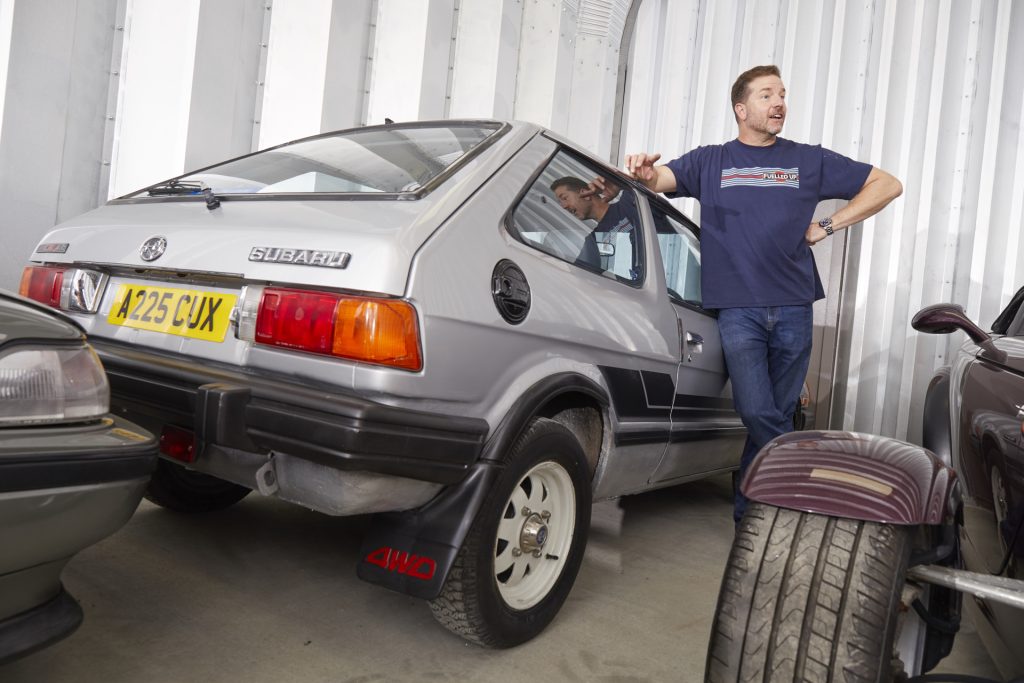 Increasingly, I'm finding that there's much more fun in driving a slow car quickly, rather than a fast car slowly. As someone that's lucky enough to have a few cars to choose from, I'm more often erring on the side of something that's small, relatively underpowered and not even necessarily that great in the handling department.
A country-lane blast this morning in my recently refreshed Subaru GLF hatchback was a joyful mix of rapid gear changes, sweeping connected curves and even the odd squeal of protest form the minuscule 13-inch Toyos – yet I never managed to stir the notchy four-speed manual to get the thing above 60mph.
Could I have done it more quickly in just about any other car? Almost undoubtedly. If you were being unkind, you could say that I might have got out and run to a better time, but that just wasn't the point. It felt fast. The car kept me busy, the grip was the right side of minimal and the engine made it feel like we were setting a stage time on the '83 Lombard RAC Rally. We were. You just needed an hourglass to measure it, that's all.
There will only be more speed cameras, going forward. Less chance for us all to do anything other than drive obediently within the limit, wherever we are. But don't look upon it as a curse. Think of it as an opportunity. You don't need the Rimac's 1900-odd horses. You don't even need 190! The humble Ford Ka made do with just 60 when it was launched, and both I and my learned colleagues can attest, they're more fun than you can possibly imagine when you drive them on the ragged edge.
Slow is the new fast. Gutless is the new power trip and 15-inch tyres cost much, much less than low-profiles. A world of low-speed holiday-hire-car-style thrills awaits you with whichever inexpensive saloon or hatch you choose to enjoy, and if you do decide to join the 'Bottom Trumps' set (working title), you'll be in great company. F1 legend James Hunt once famously stated that amongst his notable race machinery and incredible road cars, the one he enjoyed driving most was his Austin A35 van. He said: "I can put everything I learnt in motor racing into driving it round the Wandsworth one-way system on a wet Saturday night, blow off all the Ferraris and nobody takes a blind bit of notice."
You see, even when you are one of the world's greatest drivers, with the most sublime cars at your disposal, sometimes the purest driving thrills come from being able to drive at the absolute limit in a car that has just enough grip and just enough power.
Read more
Average is the new epic. Treat yourself to something utterly unexceptional
Do I pass the iQ test?
The Peugeot VLV was the Twizy of the 1940s