In a market where speculators commoditise classics and hide them away alongside paintings and whiskies, the most admirable thing we can all do as enthusiasts, is give our cars the use they deserve, says Paul Cowland.
Even as the auctioneer's hammer fell on Lady Diana's substantially priced Escort last weekend, many of us in the trade gave each other knowing looks. Looks that with unspoken words unanimously agreed on two things. The first is that it's clearly going to be 'open season' on minty RS prices for a little while, and secondly, the question on everyone's mind is, will we ever see that car in public again?
The problem with recent and fairly consistent sterling performance of most classic cars as appreciating assets is that they've appeared on the radar of the sort of people who could be considered venture capitalists. And that means where once they were something to drive and enjoy, now they're a line on a balance sheet. A portfolio addition that can be measured for its return on investment against fine works of art and debentures. Merely another way of turning five figures into six. Or six into seven.
While this is great for the economy, and I'm sure that these talented and tasteful investors will be paying tax on every penny these cars create, it's not great for the scene in general. Why? Because cars bought simply to make money rarely get used. And even more rarely get seen. These are cars that are to live out their days in air-conditioned, dehumidified bubbles as the zenith of their type. The lower the mileage, the more perfect the paint, the more unblemished the leather, the higher the resulting price. So where's the benefit to the owners to ever take them out for a spin?
How much is your car to insure? Find out in four easy steps.
Get a quote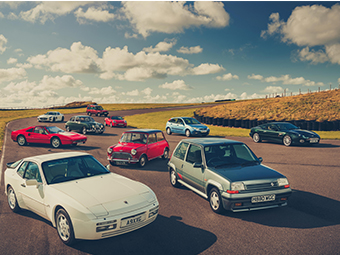 While I've always contested that it's the divine right of every V5C holder to treat their car however they wish, I can't help thinking that it's a sad way for these often incredible cars to live out their years. Stuck away in a concrete bunker, next to a Chippendale sofa and several first edition Steve McQueen movie posters, or worse, at a faceless storage facility, they'll get their batteries charged via trickle, rather than alternator. Their engines will be started, their brakes pumped and their wheels rotated to stop their Asimmetricos getting bedsores, and then they'll be sent into perpetual hibernation for another month or so. Usually, until their value has reached a sufficiently large number to see them re-consigned to another auction to rinse and repeat.
But there is another way. I was recently lucky enough to acquire, via my good friend Iain Litchfield, a rather lovely Porsche 911 GTS, of the 997 era. Originally ordered in special 'paint-to-sample' Riviera Blue, with the desirable diff, manual gearbox and plethora of factory carbon, its scant 6,000 miles in 11 years meant it was a true 'investment' car. One to tuck away and watch as values entered the stratosphere in decades to come.
I had another idea however. What if I drove it? What if I enjoyed what will be probably the finest car I will ever own in the exactly the way its designer intended? Racking up the miles, and potential blemishes, as a trade-off for future pension income. Sure, my now 8,000-odd mile 911 isn't quite the gilt-edged opportunity that it was when I got it, and even less so as I cruise towards 10k, but you know what? I'll take that reduction in income as reward for the every heel-and-toe downshift, every perfectly flat corner and the sheer joy of hearing that flat six bounce off every tunnel wall in a car I've always longed to own. Collectible sports cars should be sports cars first – and collectibles second.
I'm in great company, too. My drumming hero Nick Mason, of Pink Floyd, is famed for the regular and enthusiastic use of his spectacular fleet, and Roger Dudding, the great man behind Studio 434, the largest private car collection in Europe even hires his cars out for film, TV and show work as well as making sure they all get driven and enjoyed. (Well, as much as a collection of that size can.) Plus, by throwing open his doors to car clubs and owners groups, he also makes sure that even the cars that don't get driven all that regularly at least get to be seen, enjoyed and admired by those that may never ever be fortunate enough to own them.
We'll never stop investors and speculators in our hobby. The potential returns are too great, and the kudos of owning the right car just too attractive. All I'd ask is, if you're lucky enough to add something a little special to your fleet, wheel it out every now and then to stretch its legs. Take it to shows, share it at your local Cars and Coffee – and let it have a life and audience that's off the balance sheet and inspiring the hearts and minds of car enthusiasts, especially the younger generation who will help keep our hobby healthy in years to come.
It's genuinely one of the greatest ways to enjoy your investment. For every pound you'll lose, for each stonechip you'll gain and for every valeting re-clean charge you'll pay – you'll truly be realising the benefit of what that machine was created for.
And that, my friends, is the very definition of riches.
Read more
Icon vs Underdog: Escort RS2000 vs Dolomite Sprint
11 classic cars that deserve a modern comeback
Opinion: It's time to bring back 'poverty-spec' cars