Exotic sports cars make a lot of noise and garner a lot of attention, but more often than not a unique expression of an accessible car offers wider appeal. Take this 1962 Austin Mini pickup, owned by Ricky Ngo, a Los Angeles based car enthusiast who has wanted a Mini since first setting eyes on one aged 16, at a car show where his older brother worked.
Minis in America are nothing new, given more than five million were sold around the world, but Mini pickups are rare. Less than 60,000 examples were made, equivalent to little more than one per cent of all Minis built an, like so many classic pickup trucks, most were worked to death.
How much is your car to insure? Find out in four easy steps.
Get a quote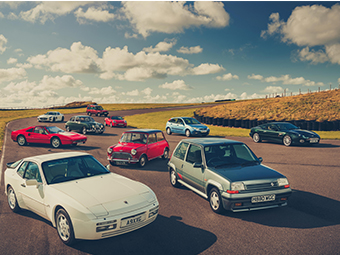 Ngo grew up with an appreciation for Japanese car culture and has owned a few sporty imports that he's customised with Japanese domestic market parts. However, his ultimate automotive vision came into view when he discovered Japanese enthusiasts who had applied their own style to classic British design. After he and his wife bought a house and established their business together, Ngo found an opportunity to track down the perfect ride that's been his dream since he was a kid: a Mini pickup.
When he put the word out that he was in the market, a friend of his mentioned that he knew of a prime example for sale in Texas. Ngo flew there, fell in love with the 1962 Austin Mini 'trucklet', and had it transported to his home outside of Los Angeles. That was three years ago. Since then the Austin has been his daily driver, go-to ride for canyon runs, and head-turning ice-breaker at every car show he visits.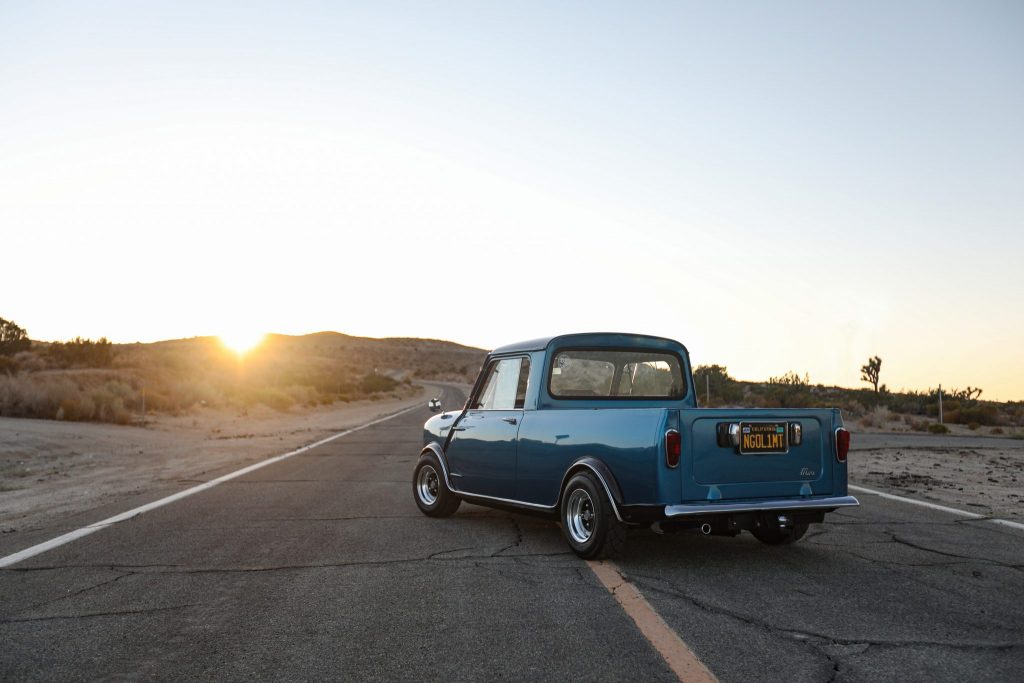 A right-hand-drive Mini tooling through the streets of LA is a rare sight, but it's even rarer to see one with a bed out back. Many of these pickups lived hard lives at the hands of tradespeople and independent businesses, getting dented and used day in, day out in all conditions. Rust has claimed many. Only a small fraction of those still survive today. Consequently, the pickup variant is a seldom-seen treat these days – especially in America.
Luckily, this pickup has been loved and well cared for throughout its life. What was the state of the pickup when he purchased it? "It was in pretty good condition, but it had been in storage for a couple of years," Ngo said. He tracked it back to one of the previous owners, Jeremy Thorpe, who runs Jet Motors in Portland, Oregon, a shop that specialises in classic Minis. When we called Thorpe and told him we'd recently photographed a Mini pickup, he instantly knew which one we were talking about. "I sold that truck seven times!" Thorpe recalled. His history with that car goes back more than 30 years, when his best friend owned it. It traded hands several times through his circle of Mini connoisseur friends before heading to Texas and ending up in storage.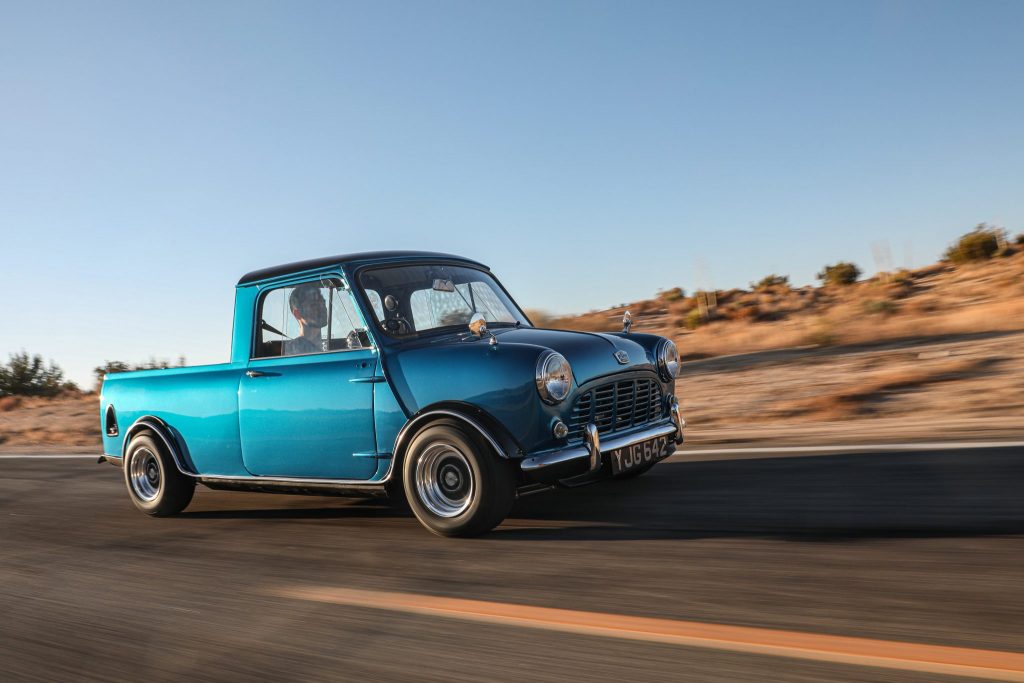 The pickup still wears an 18-year-old paint job from a previous restoration. It nonetheless looks fantastic, save for a few blemishes that come with daily driver duty. That didn't mean there wasn't an opportunity for Ngo to put his own personal touches into the car. In the three years that he's owned it, there have been several projects, both big and small, that make the Mini stand out along with the maintenance that comes from getting a slumbering vehicle back into regular service. Ngo has replaced wiring, a clutch, and the ignition system, which is electronic rather than mechanical points.
Even where he has retained original parts, Ngo has given them special attention to make details stand out. Take a look at the engine bay, for example. The engine block is fully painted in its original A-Series green but it wears a polished valve cover. Ngo handled that polishing on his own (ditto for the carburettors) which also feature throttle shafts that have been whittled down to allow for more airflow. Those carbs are an upgrade, as the A-Series 998cc four-cylinder engine used a single carb when he purchased it. So far the carbs are the only performance modification on the engine, but not for long. A nagging issue with worn synchros means that Ngo will be tackling a transaxle rebuild, and with the engine free from the transmission, he has got some plans for a bit of hot-rodding.
The current engine produced 38 horsepower when new, but the Mini Cooper, with its free-flowing cylinder head and larger valves, produced 55 horsepower – a significant upgrade. Ngo already has the cylinder head and has plans for some mild porting before it goes into the engine along with a hotter camshaft to add more performance. Boosting the power by more than 50 per cent is going to totally change the character of this pint-sized hauler. No, this Mini isn't going to be frying tires and dominating at the drag strip, but in a 635kg package an extra 30 horsepower won't go unnoticed.
Aside from the powertrain and some anti-roll bar upgrades, Ngo aims to fix things as they come up, at least for now. There are still, he says, plans for more upgrades. "Oh definitely, there are still a lot of things on the list. It will be maintenance after that. Shocks are next. Bushings, rubber here and there." He also has long-term plans for the car. Eventually, Ngo wants to do a complete rotisserie restoration of the Austin and replace the floorboards, a repair that a former owner has already tackled once. Then it will go back to an original colour.
It's tough to see, but there is a little window in the engine bay that reveals the coil-over conversion. Early Minis typically ran rubber cones as their suspension, although some used a hydrolastic setup. Many Mini aficionados swear by the cones, but it does have its downsides; the rubber will inevitably get stiff and deteriorate with age. Ngo says his suspension eats up the worst that LA's highways can throw at it, although there is a bit of body roll. A sway bar is already in place to help with handling, and a rear one is on his list.
There is actually quite a bit of storage space in the car, given that the lack of roll-down windows allows for a sizeable pocket in each door. There's also a generous storage area under the seats where Ngo keeps his scissor jack and some tools. Behind the seat and below the bed floor there is even enough room for a spare wheel and tyre. In Ngo's case, the spare wheel is from his full set of Volk wheels that he's planning on swapping on soon. "It took me two years to find them," Ngo said. These rare wheels were one of the few pieces of the car that he farmed out, as he had them professionally dismounted, polished, and powder-coated.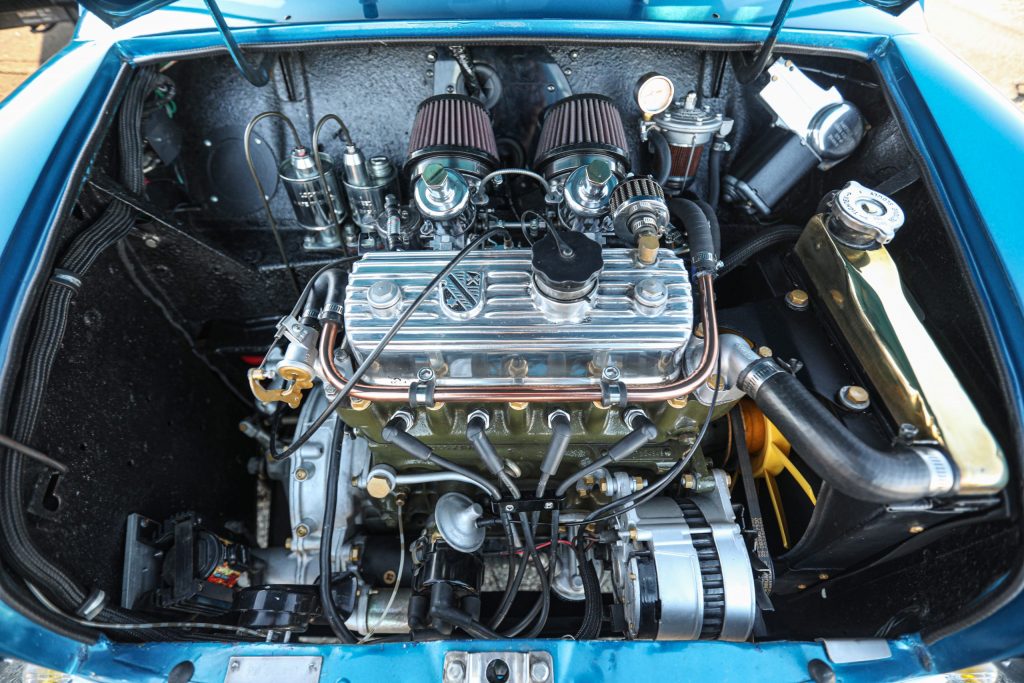 "I kinda like the little rare bits" Ngo explained. He's sought out interesting race-oriented parts like the Nardi wheel, shown above, and also some Marchal products that add a kind of Easter egg effect with their little cat faces. Marchal, the French brand steeped in racing, is now owned by a Japanese company and Japan has embraced the company's rich history.
On a car as simple as a Mini, it's the custom details like this that add personality and flavour. This funky pickup has both in spades, not to mention an owner with the passion to enjoy it.
Via Hagerty US
Read more
Review: The David Brown Mini Remastered Oselli Edition is a miniature marvel
Small is beautiful: 9 small cars that gave us luxury in miniature
Freeze Frame: Lulu, Longbridge, and the last Mini