Recession and tax have always blighted our lives, but occasionally those two dark clouds are lined with silver. Such was the case 100 years ago when one of the greatest cars of our times was unveiled to the British public: the Austin Seven.
'Mobility provider' is a cringeworthy descriptor peddled by today's car makers, but none of them can hold a candle to the Seven's mobilisation of our nation in the 1920s and '30s. It truly democratised car ownership, and changed our view of the car from luxury goods, to tool of necessity.
How much is your car to insure? Find out in four easy steps.
Get a quote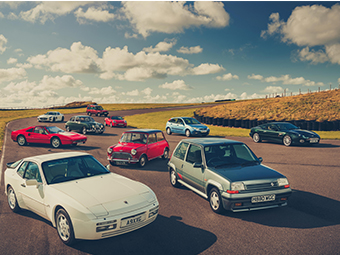 So why was this diminutive car created in the first place? After a short post-WW1 boom, the UK was plunged into deep recession. Car production plummeted by 50 per cent, and to make matters worse, the RAC increased vehicle excise duty to £1 for every (RAC-rated) horsepower that a new car produced. Austin was saddled with its sole 20hp model that by then only served to line the exchequer's pockets. The outlook was bleak for Austin, and by 1921 it was in receivership.
How Herbert Austin saved his car company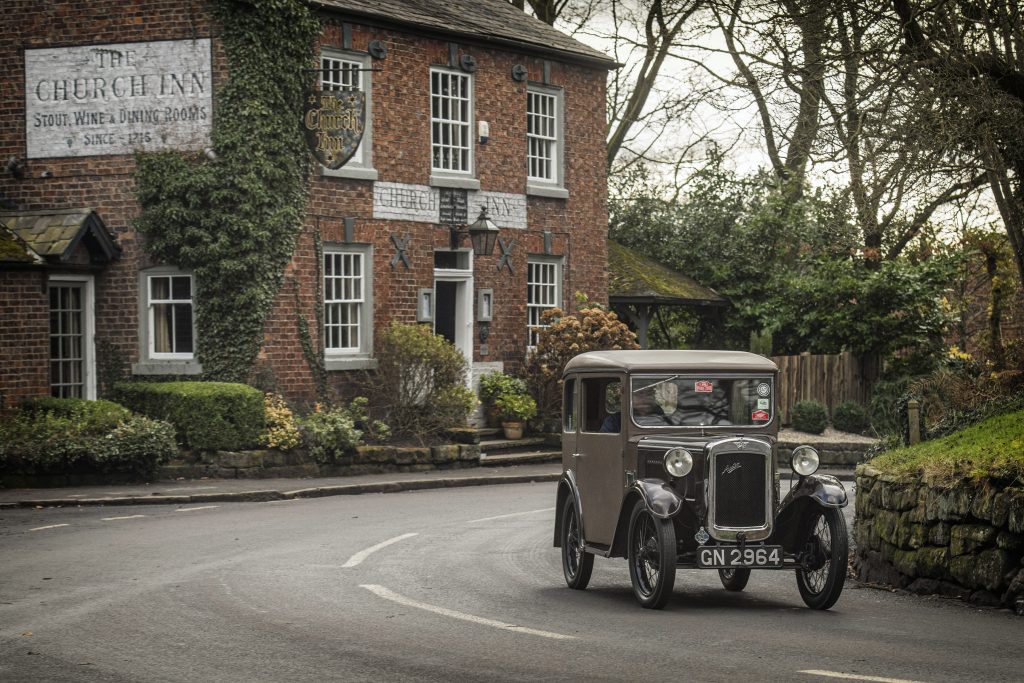 But necessity is the mother of invention, and company chief Sir Herbert Austin realised that a radical reinvention of his company and its products was needed. And that meant not just downsizing, but double-downsizing. Alas, Austin's board did not share his vision, which left Sir Herbert with no alternative but to poach one of his own staff from the Longbridge factory and set about designing a car that he believed would save the company.
Stanley Edge was the chosen one, but at just 18 years old, he'd never designed a car, much less one that had the potential to save a company. For eight months, Edge based himself at Sir Herbert's home and designed and engineered the car from the ground up, with Austin the man providing guidance, while funding the entire project himself.
What emerged from Edge's drawing board was destined for a level of popularity not seen since Ford started building its now aged Model T in Manchester. Named the 'Seven' because of its 696cc launch engine's initial 7hp RAC rating (capacity was raised to 747cc when the car reached production), Austin revealed the new model in July 1922. It cost a mere £165.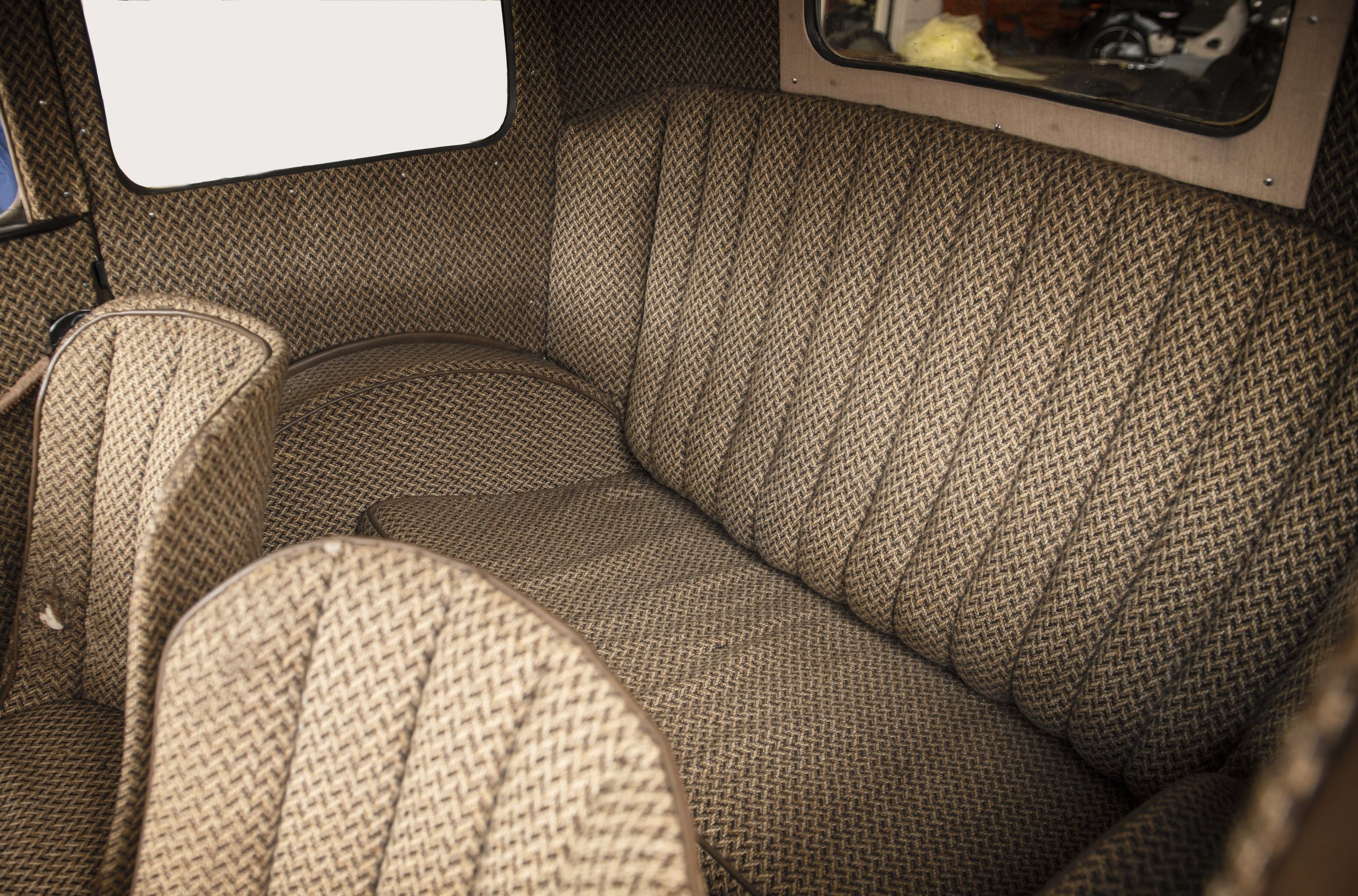 Cleverly designed to accommodate four adults within its miniscule 9'2" by 3'10" dimensions, the Seven had a specification that was basic, but also included features that aped those of more expensive cars. Its four-cylinder, side-valve engine powered it to a thrilling 51mph, and a non-synchromesh three-speed 'box transmitted drive through the rear wheels. Cable-activated drums operated on all wheels (when rear brakes only were the norm), and thanks to its basic A-frame chassis and aluminium Tourer body, the Seven weighed in at a mere 381kg (840lbs). It even featured a conventional pedal layout that finally put paid to the confounded centre-throttle arrangement, which was said to be influenced by the Cadillac Type 53 of 1916. In short, it was a tough (at least, mechanically) and simple package that offered all the essentials for family motoring at a cost which was within reach of the average British worker, who was earning just £5 a week.
All of a sudden, Britons of modest means could set their sights beyond the village or town in which they lived. And it didn't just satisfy a recreational wanderlust, either. Tradespeople could ply their wares further afield, levelling an economic gulf between the haves and the have-nots which a lack of affordable cars had previously exacerbated. The Seven was family transport, too, so for the first time both parents and children could broaden their horizons, exploring Britain's highways and byways. What Austin the man had facilitated was automotive escapism, and it was available to almost everyone.
The Austin Seven was a sales sensation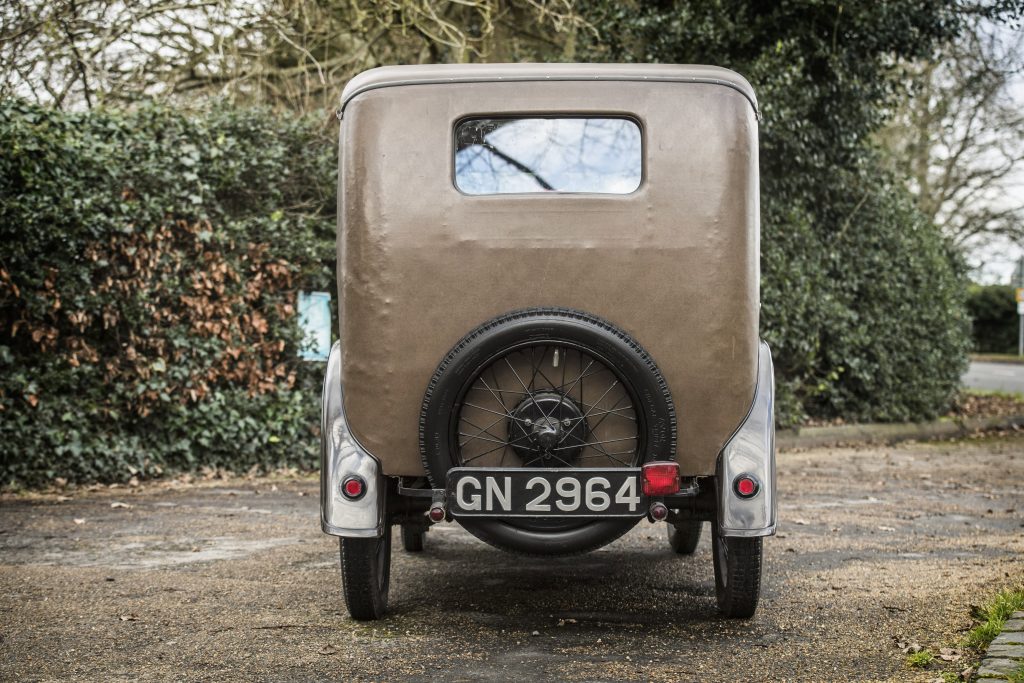 Seven production started in 1923, and it was an immediate hit, with 100,000 cars being sold by the end of the decade. But that only tells part of the story. The little Austin was also a catalyst for change in the industry, which saw other so-called mainstream manufacturers, like Vauxhall and Sunbeam, start to downsize, winning sales from buyers with smaller budgets. And it was a successful formula: when the first Seven rolled off the line at Longbridge, there were 383,000 cars on UK roads. By 1930, there were one million.
The Seven was also a tuner's dream. While its basic design remained unchanged, body variations were legion (Jaguar founder William Lyons' Swallow body, an early example), as were improvements to its powertrain, which by the late '30s meant a four-speed, part synchromesh 'box and a dizzying 17bhp from its engine. In fact, the motor was so tuneable, that Austin sanctioned the build of a series of single-seater, supercharged racing cars.
No surprise, then, that some legendary drivers and engineers were cutting their teeth on the Seven, even after it finished production. Colin Chapman's first Lotus – the 'Mk1' – was a modified Seven, with boxed-in chassis rails and cigar-shaped body, which he campaigned successfully in 750 Motor Club events. Bruce McLaren, GP racer and founder of McLaren Automotive, entered his first competition in a Seven Ulster restored by his father in 1952. 'Jem' Marsh, founder of Marcos, grew his original Speedex business around manufacturing and selling tuning parts for Sevens. And Arthur Mallock, father of the eponymous Mallock U2 racers, which still dominate club events today, developed all the chassis systems he was renowned for around his 'Bombsk' special, based on a short-chassis Austin Seven.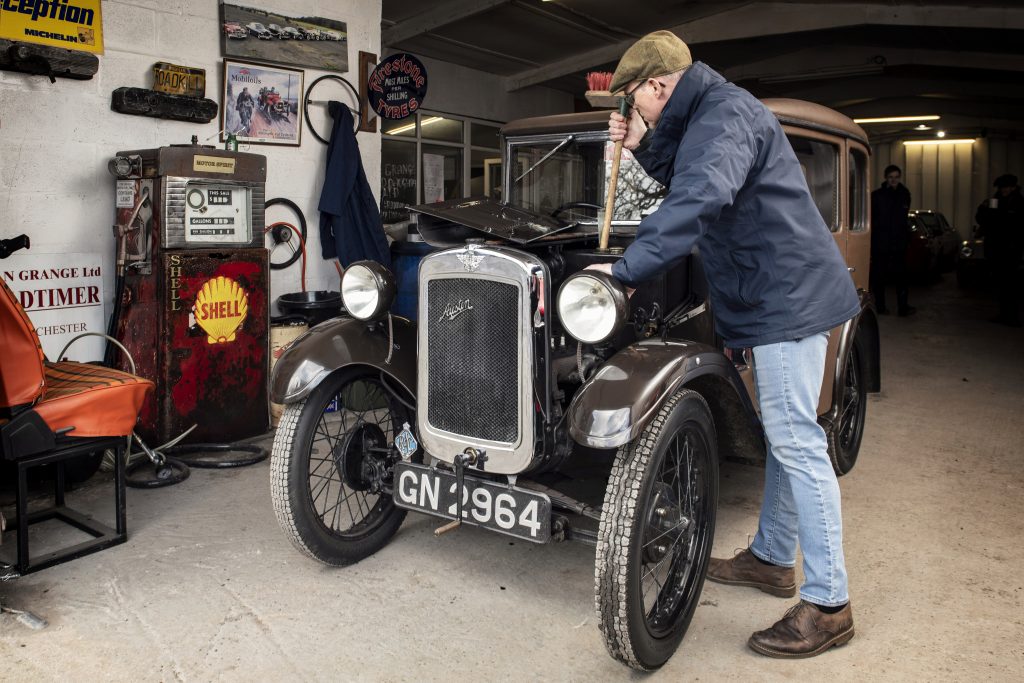 But the car I'm driving today has no supercharger, or Mallock-derived suspension system. It's as pure a Seven experience as you can get, being a standard fabric-bodied Box Saloon built in 1929. Southern Classics' Sam Grange-Bailey owns the car and delights in taking friends to the pub for Sunday lunch in it these days. Though when she tells me that this tiny marvel has done the LeJog (Lands End to John O'Groats) run three times, I'm left slightly agog.
We check the fuel level (broom handle in the bulkhead-mounted tank, obviously) and after a crash course in crash 'box technique, I'm ready for the off. While I've driven plenty of veteran and vintage cars over many thousands of miles, this is my first time in a Seven, and it's the sheer simplicity of the thing that strikes you. A clock, speedo, ammeter and oil pressure gauge face you from the crackle-black surface of the dash, with a floor-mounted starter button sited right behind the actual starter-motor. There's little else to distract you, though.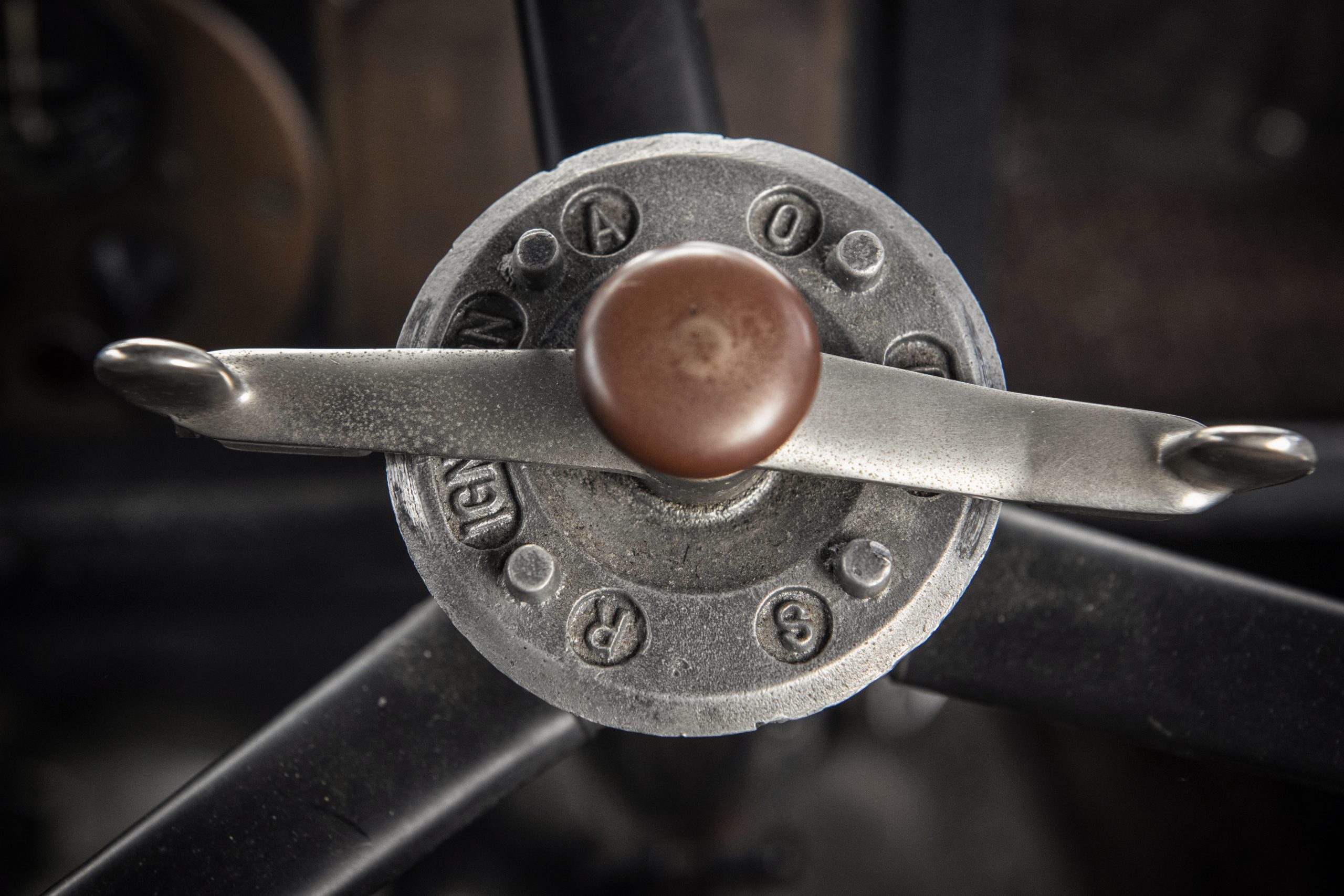 With ignition retarded and magneto switched on, the Seven's tiny 747cc 'four' churns into life. Find first gear (across to you, and back, as in a reverse, dog-leg H-pattern) with a lever that has at least a foot's lateral movement, pop the short-travel clutch and we're away, marvelling at how light and spritely this 93 year-old feels.
You quickly realise that maintaining momentum is vital, even if it means skipping the occasional double-declutch in favour of crunching through to a lower gear. But 'tanking' along at 30 seems to suit the Seven's natural gait, its leaf-sprung suspension bobbing (and occasionally crashing) over rural Cheshire roads. The worm-and-sector steering is light and quick to respond, and you soon get used to the car's tendency to wander from side to side as it reads the surface's cambers. But it's a little gem of a time-machine, which takes you back to a time of uncluttered roads, when everyone wore hats and said 'what ho!', and SUVs and Covid didn't exist. That it sparked a revolution in our car-buying habits that endures today, makes this one very special little car.
Fast facts: Austin Seven
Years built: 1923-1939 (unveiled in 1922)
Number built: 290,000
Price when new: £167 (1923)
Engine capacity : 747cc
Engine power: 10.5bhp
Top speed: 47mph
Weight: 360kgs
Length: 3023mm
Read more
Automotive Heroes: The Austin Seven
Start them old: Learning to drive in classic cars
Why America is falling in love with the Austin-Healey Frogeye Sprite – again