This story was first published on our sister site in the US, Hagerty Insider, which takes a fresh perspective on the enthusiast car market.
At a time when the American classic car market is undergoing great change, with new buying and selling platforms generating a buzz, younger enthusiasts entering the market and modern-classics growing in demand and value – the most recent example being a BMW M5 (E39) selling for $200,000 – something altogether unexpected is happening. An old and slow British sports car is taking America if not by storm then at least by surprise.
"2020 was the best year in our history," says David Silberkleit, aka the Bugeyeguy. Silberkleit specialises in the Austin-Healey Sprite, a car that is so out of scale with the rest of the land of plenty that it could probably fit in a super-size takeaway soda cup.
How much is your car to insure? Find out in four easy steps.
Get a quote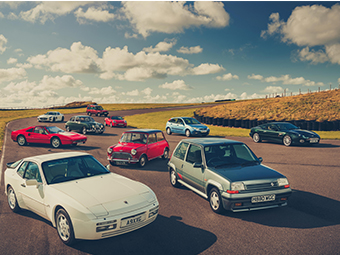 Silberkleit's main workshop is a neatly restored 1950s Quonset prefabricated military hut in Branford, less than a two hour drive north east from New York. He's fluent in MG and Mini, but most of the cars coming in and out of the Quonset hut are Mk I Austin-Healey Sprites, commonly called 'Bugeyes' in the States, 'Frogeye' in its home nation. He currently has 15 Sprites in the queue for restoration work and is booked out for three months on other jobs. The parts side of the business has grown dramatically over the past year, and earlier in 2021 Silberkleit sold his 300th Bugeye. "We hardly had time to celebrate! We sold the 301st a few days later," he says. At the time of writing, 307 have been sold.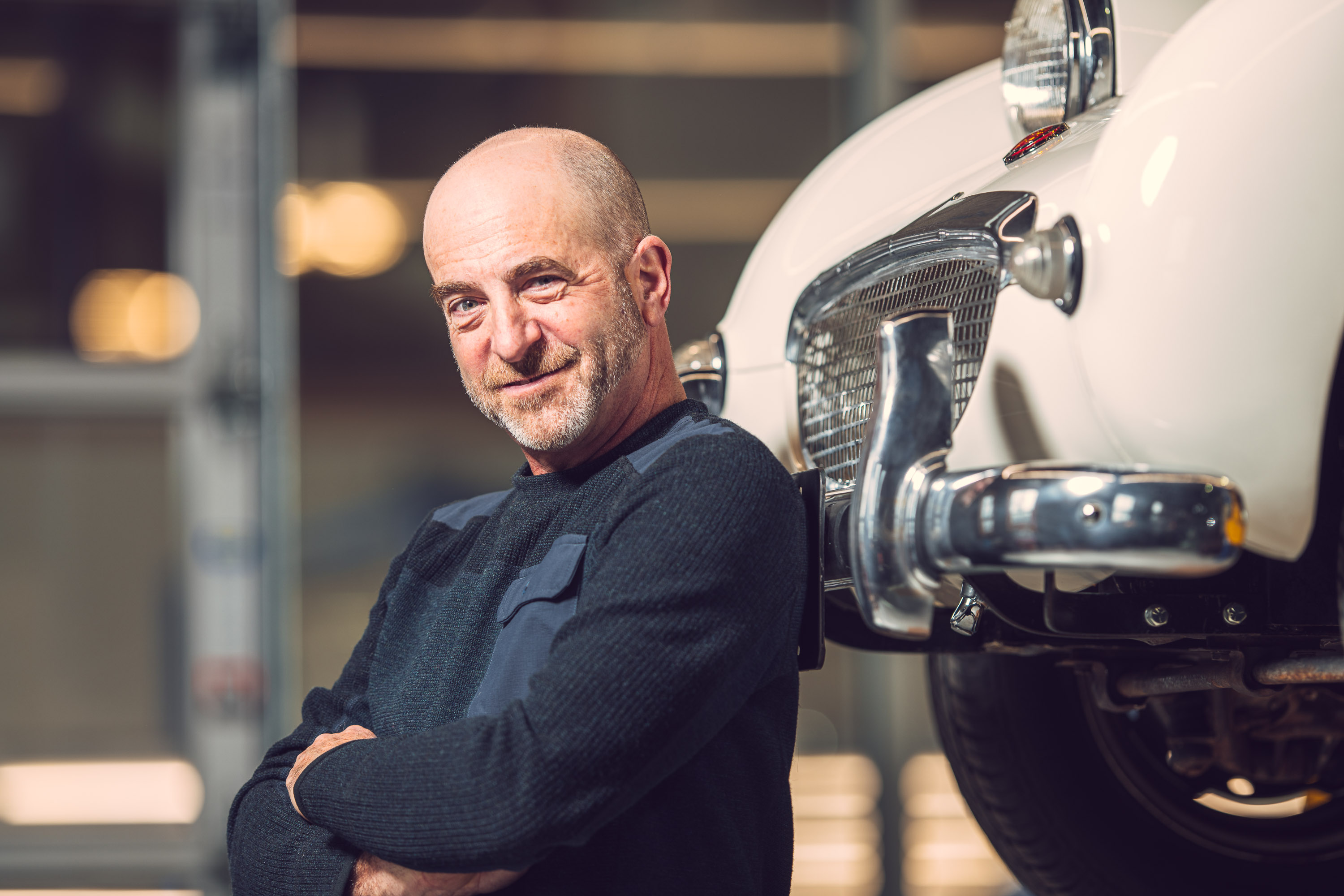 Impressive stuff for a business whose focus is so narrow, at least at first glance. So what is it about the British export that is, for a second time, capturing the hearts of car enthusiasts on his stretch of the US coastline and beyond? The Frogeye only lasted from 1958–61 and, more often than not, was driven hard and put away wet. The short version of the Sprite story starts in the late 1950s, when Britain's car makers were already selling as many two-seaters to sports car-hungry Americans as they could screw together. But Donald Healey, the driving force behind the car maker, saw another opening in the market. There were plenty of young enthusiasts itching for a nimble roadster who didn't quite have the cash for something like a Porsche or, for that matter, an Austin-Healey 100. Enter the Sprite, which for less than £700 bought you no windows, no outside door handles, no boot lid, and modest performance, but a ton of driving fun. Its headlights, originally intended to be retractable, were left fixed in the up position rather awkwardly (but adorably) on top of the bonnet to save costs, earning it the Frogeye nickname.
The Sprite was a hit, filling countless grids at amateur sports car races and allowing racers and young gearheads to cut their teeth fixing a car on a budget. Nearly 49,000 were sold. After 1961 the Sprite got a more conventional shape and bigger, more powerful engines until being discontinued after 1969. It also spawned an MG version called the Midget (all Sprites/Midgets were built at the MG factory in Abingdon) that lasted until 1979. None of them, though, captured the spirit of the original. In America, used Bugeyes became entry-level cars for subsequent generations of sports car fans, who could often pick one up for a few hundred bucks. Today Bugeyes are worth thousands more than their "square body" descendants, not to mention bigger, more powerful MGBs. They've also held their value even as some older classics fade, a fact reflected in the values you can browse in the Hagerty Price Guide.
David Silberkleit, the Bugeyeguy, remains infatuated with the humble roadster. "It is probably the greatest cult car with the greatest personality and the biggest smile. It's a car with absolutely no pretensions, so it's the opposite of something like a 911, and it has so much character. It elicits all kinds of responses from all kinds of people, from small kids to old racers. You just don't get that with most cars."
Silberkleit bought his first Bugeye for $1100 in 1978, when he was in high school. Despite life's curveballs and other cars coming and going, he never got rid of it. "There were other phases in my life where I've had to pare down, ramp up, have a house, sell the house, but my Bugeye survived it all." He didn't truly become the Bugeyeguy, however, until 2007. In the mid-2000s he was running an executive coaching practice, advising people to follow their passions in their entrepreneurial work. In part to provide an example for his clients and in part to indulge in his love for the smiley-faced two-seater, he published a webpage dedicated to the car and updated it regularly with articles, pictures, and other content he had amassed over the years as an enthusiast.
Then the messages started coming in, not from budding entrepreneurs but from other Bugeye fans. "Because I had all this content, and especially back then when the internet was in its earlier days, I had this number one rating on Google. And then people just started contacting me about Bugeyes." Silberkleit decided to follow his own advice, and pursue a passion-based career. "I was willing to take a flyer and see if we could make a business dedicated to just this one little car."
One little car that appeals to many different buyers. "They can wear many different kinds of hats," said Silberkleit. While the average buyer is a man in his late 60s who wants a sorted Bugeye that's as headache-free as possible – "There's no such thing as the perfect car. They do break" – Silberkleit also regularly sells cars to women and to younger car enthusiasts on a budget. Data from Hagerty's US insurance quotes shows similar diversity: Although Baby Boomers are the most common buyers, nearly a third of the people calling about Bugeyes are Gen-Xers, 10 per cent are millennials, and 3 per cent are from Gen Z. There are a higher number of quotes overall for Sprites, meaning that although Bugeyeguy's business is exceptional, it's not an aberration.
Silberkleit sells driver-quality cars, concours-quality show cars, costly custom builds with superchargers and upgraded interiors, and cars with lengthened chassis for older clients to make getting in and out easier. There have also been two electric conversions and the company working on a third with Tesla power.
Adapting the business has been important to the health of his business. He credits much of his spike in last year to a successful internet presence. In addition to the main website and usual social media channels, he has been posting YouTube videos for years that highlight cars for sale or the standard of restoration work. There are currently over 800 such videos on Bugeyeguy's channel. And because of the website's high search ranking after so many years of posting content, "if someone is Googling and looking to find out more about Bugeyes, they will almost always come across us."
Despite custom builds that can run up to $60,000, which is nearly twice the current condition #1, or "concours" value in the Hagerty Price Guide, he maintains his perspective on the Sprite's humble origins. "You wouldn't cut up a 246 Dino like this because it's too precious and the value of a car like that is in its accuracy. But a Bugeye is just a Bugeye. You don't have to take it so seriously. A lot of these restomod-type cars and re-imaginings like Singer Porsches are becoming really popular these days, and the Bugeye is very viable for that because it was never so literal." Silberkleit also gives the Sprite's chassis, which was relatively advanced for the late 1950s, plenty of credit. "More than so many of these old body-on-frame British cars, the unibody structure of a Bugeye is an exceptional asset since they're so tight and nimble. Even a rusty one can drive really well if you work out the kinks."
Over nearly a decade and a half the Bugeyeguy shop has grown to seven employees, including two 25-year-old graduates of McPherson College, the Kansas-based college that offers courses in automotive restoration, and the business is growing even more to meet pandemic-induced demand. "There were people who had a Bugeye on the bucket list saying 'You know what, I'm done waiting. I'm not going to be around forever.' I've had a lot of those types of phone calls."
Bugeyeguy's biggest challenges these days are in finding quality parts and high-quality help. The custom builds are becoming more and more popular, and although he sees a bright future in the electric conversions, he's been too busy with the standard cars to develop them as much as he would like. That said, his next Bugeye EV is going to a client who already has two other Bugeyes – one completely factory-correct car and another supercharged hot-rodded Bugeye. "Does this guy really need three?" asks Silberkleit. "Well, if you think about it, they're three different cars for three different occasions. And I think he's a great summary of how versatile these cars are."
Versatile, charming, fun, personality: these are all ingredients of cars that stay at the top of enthusiasts' wish lists decades after they go out of production. It's why a smart business like Bugeyeguy can thrive even as tastes change and the market shifts. People will be driving Bugeyes for years to come, and they (both car and driver) will have a big grin on their face the whole time. "A lot of people have had a second childhood from these cars," Silberkleit says. Who wouldn't enjoy a second childhood?
Read more
It's alive! Austin-Healey Sprite project car
All sewn up: A lesson in perfection with O'Rourke coachtrimmers
Like grandfather, like father, like son: the third-generation exhaust fabricator saving Britain's classic motorcycles