Contrary to popular opinion, the Grand Tour is not only an entertainment programme made available on a subscription service so that more people buy more stuff they never knew they needed. From the mid 1600s through to the 1800s and the rise of the railway, the gentry and Oxbridge set saw a tour of Europe as a rite of passage.
Matching luggage sets packed, porters and chaperones on hand, off they'd set, taking in the cultural delights of France, Switzerland and Italy before deciding there were only so many galleries, soirees, balls, and lessons in fencing or mastering a thoroughbred that they could take before having to hot foot it back to Britain – presumably several stone heavier and feeling the effects of gout, after liberal wining and dining – passing through Germany and Holland enroute to a sailing ship destined for the White Cliffs of Dover.
It's tempting to imagine that it's an activity confined to the history books, only it isn't. To this day, some (fool) hardy souls indulge in a Grand Tour, risking the wrath of average speed cameras, Gendarmes with intimate knowledge of the local cashpoints and Swiss police who will quite literally escort you to their station, procure your passport and driving licence and demand a deposit of €2000, have you complete a means-testing document and send you on your way with an airy promise that the courts will be in touch once they have decided how much, if any, of your deposit will be returned. (Regrettably, I speak from a position of authority on this matter.)
How much is your car to insure? Find out in four easy steps.
Get a quote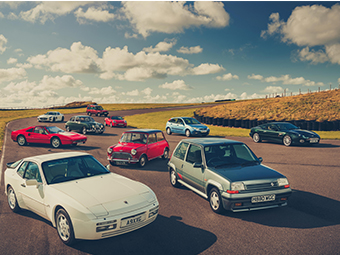 Today's Grand Tour is largely fuelled by driving enthusiasts. And most of them will agree that the ideal car for such a journey is something that is both fast yet comfortable, stable and sporty, open to the elements but snug and secure at the action of a micropressor. A car, then, like the new Lexus LC500 Convertible.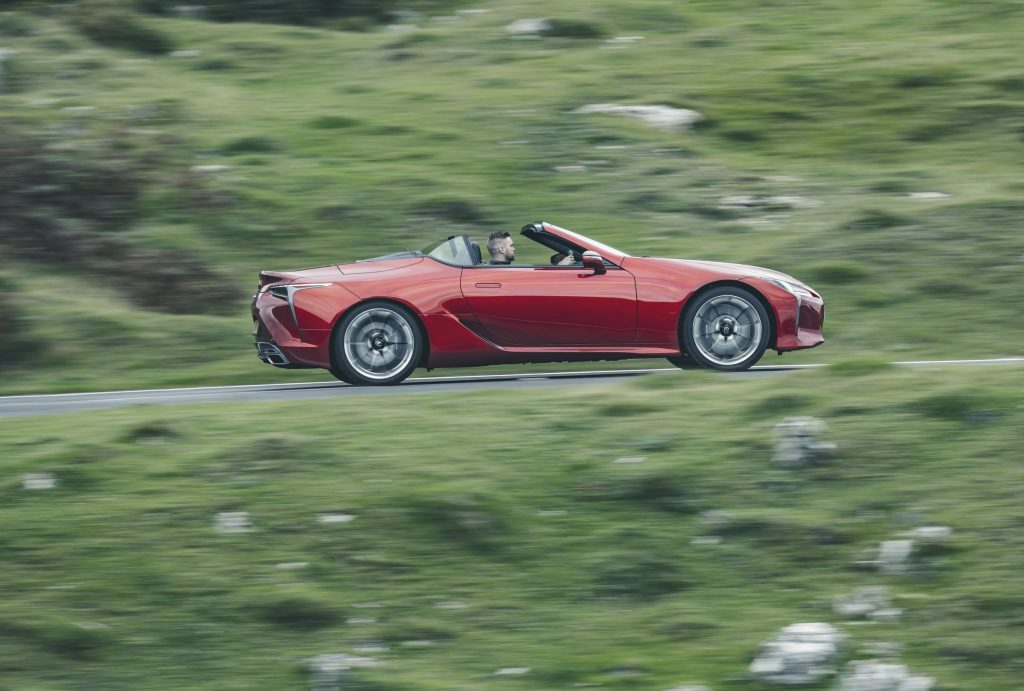 The first Lexus with a fabric roof, it is born out of Akio Toyoda's personal desire to change the world's perception of the brand, and is at once both beautiful to behold and stirring to drive, not something drivers are familiar with as far as Lexus is concerned – unless you count the rare LFA supercar.
It is built in the same factory that produced all 500 LFAs – Motomachi on the outskirts of Nagoya – and pleasingly the LC500 Convertible displays all the usual Lexus traits. Shutlines for the dazzling bodywork are faultless, there isn't so much as a squeak or rattle from the cabin as you rumble over Britain's crumbling roads and the optional Mark Levinson audio system delivers a performance worthy of the Royal Opera House.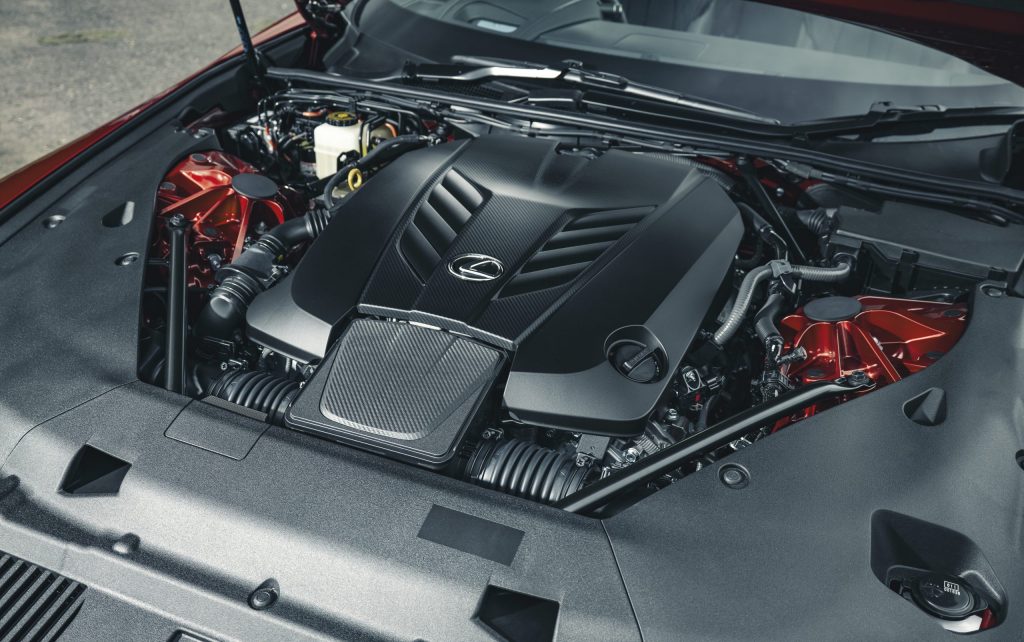 Turn that off, though. Because there's another sound that will stir your soul in a way few cars from the Far East ever manage; it's the sound of a naturally aspirated V8 engine soaring toward its rev limit.
Truly, the Lexus LC500 Convertible refreshes parts the British, German and even Italian GTs can't reach. Why? Because they're all turbocharged, and rely on childish exhaust tuning to make themselves heard, whereas the 5-litre Lexus V8 is willing to trade some torque and oomph in return for pure, unfiltered, spine-tingling sound. Shared with the IS-F and GS-F, it has been refined to be more overtly audible, using tubing going straight from the air intake box, through a sound generator and then into the cabin. In this instance, however, the 'sound generator' is literally the tubing, its job to deliver the best vibrations from engine induction into the cockpit. Given how little of the performance potential of wild Aston, RS, M and AMG turbocharged motors drivers are able exploit on a public road, the approach taken by Lexus is at once both refreshing and rewarding.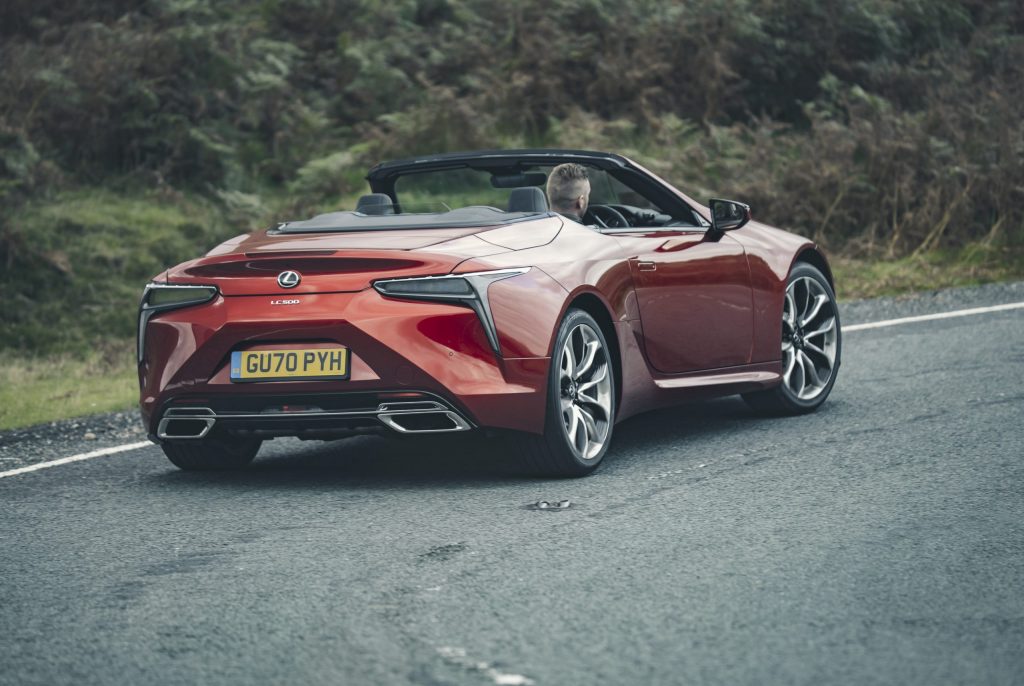 Not that the LC500 Convertible is a slouch. With 457bhp at 7100rpm, and 391Ib ft at 4800rpm, it's a little peaky but that creates an experience. You have to work for your rewards, and happily the 10-speed automatic gearbox never seems to put a foot wrong. (Lexus says the V6 hybrid version wouldn't have delivered the experience it wanted from the Convertible.)
At this point you may be expecting to hear about a trade off. Maybe it handles like a horse and cart? Or the body flexes like a flimsy tea spoon in a tub of ice cream? Well, sorry to disappoint you – especially you engineers working for the competition – but the LC500 Convertible treads a perfect line between tourer and sports car. Its rear-wheel drive platform is responsive but never tiring, can be placed precisely but isn't here to test your reflexes and see what you're made of. It is, somehow, soothing.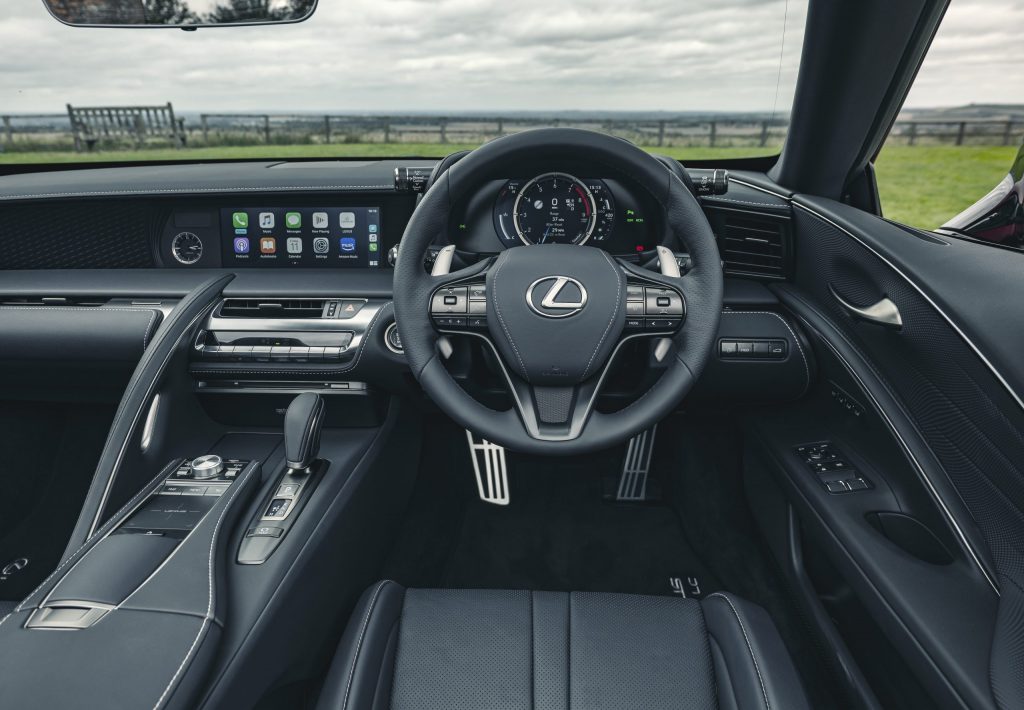 The well-insulated soft-top roof folds away as quickly as you can sing the chorus to Mr Blue Sky, but the heater feels as though it struggles to keep the cabin sufficiently warm on an autumnal day. Lexus has included heated seats, a warmed wheel and even vents behind your neck, but not enough warm air makes it to your face or body. It's a small, albeit surprising potential irritation from a car that otherwise refuses to put a foot wrong.
Actually, there is one other irritation – and it's not the tiny rear seats, which are no different to those found in anything other than the more accommodating Bentley Continental GT Convertible. It's the dreaded trackpad device that Lexus uses for its cars' infotainment systems. Standing at the gates to hell would be preferable to having to spend any prolonged period of time operating the trackpad, no matter what anyone from Lexus may say about how 'You get used to it'.
The Mercedes SL was once the undisputed king of the grand tour, its mix of restrained style, effortless performance and count-on-me dependability earning it no shortage of fans. But recent generations of the SL have lost their way, a feeling made all the more apparent by the arrival of this Lexus.
Call me old-fashioned, but some things just never go out of fashion. A V8 convertible, a road map of Europe and a pair of AO Original Pilot sunglasses still cut it in an age or turbochargers and electrification. The LC500 Convertible is crying out to be piloted on a Grand Tour.
Lexus LC500 Convertible specifications
Verdict The grandest of grand tourers
Price from £90,775
Engine 5-litre V8
Power 457bhp @ 7100rpm
Torque 391Ib ft @ 4800rpm
Weight 2035kg
Power to weight 224bhp per tonne
Transmission 10-speed automatic, rear-wheel drive
0-60mph 5.0sec
Top speed 168mph
Economy 24.1mpg
Emissions CO2 275g/km
Read more
Future Classic: Lexus GS F
The only surviving Allard Lexus LS400 is for sale