Sitting in the pit lane at Silverstone, I am flabbergasted. I'm laughing but also shaking my Stilo-encased head in disbelief. Next to me is Jörg Bergmeister, professional racing driver turned Porsche ambassador, who has won all the significant sports car races you could think of at the wheel of a 911, and he has just demonstrated what the new 911 GT3 RS can do on a set of (heavily worn) Michelin Pilot Sport Cup 2 R tyres. I've known Bergmeister for several years and sat next to him in various Porsche road cars, but this was different. In all the other cars I could see and understand the delta between his laps and mine. Sure he was always pushing harder and was demonstrating more skill, but I could comprehend where he was better, I could entertain getting close(ish). This time I feel dumbfounded.
And I wasn't alone. I watched and chatted to others as they stepped from the same passenger seat, all shaking their heads and laughing. Most of us were lost for words. Not ideal in this profession. In the right hands this new RS is capable of operating at a level most of us would struggle to reach.
How much is your car to insure? Find out in four easy steps.
Get a quote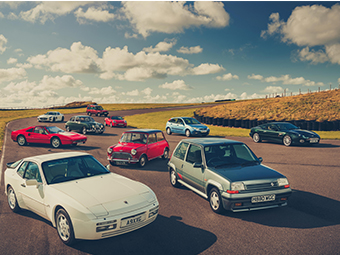 To recap, the latest RS version of the GT3 is the fourth of the dynasty (although there have been numerous iterations) and of the lot, this one appears to have taken the greatest leap from one generation to the next. It introduces a level of aerodynamic performance that would make a professional racing driver like Bergmeister feel at home through, well, Le Mans' Porsche Curves. Only a limited number will be sold in the UK (Porsche doesn't have a specific allocation for the UK, but tells Hagerty it's likely to be similar to the 991-era GT3 RS, of which more than 500 were sold here across the two iterations) at a cost of £178,500, and if you get to the end of this review and find yourself dialling your nearest Porsche dealer, put down that phone. They were accounted for long ago.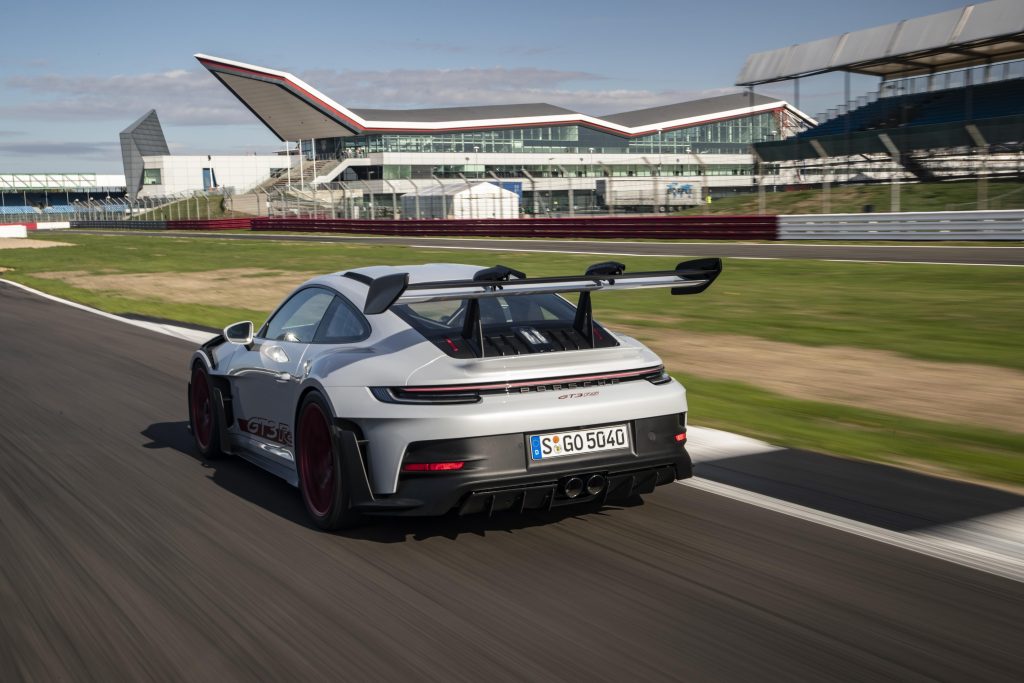 I've thought about those passenger laps a lot in days since. I've even tried to comfort myself that the GT3 RS I drove had Cup 2 rubber rather than the stickier R compound fitted to the car Bergmeister was behind the wheel of, and we had only been given a scant 10 laps to acclimatise. But nonetheless, the contrast was stark.
A lot of it comes down to Bergmeister's familiarity with and confidence in the car's aero. A graph that Porsche shared, showed the road-going GT3 RS can generate as much downforce as a GTE race car in the high-speed corners and, as we piled around Silverstone, through the famous Maggotts and Becketts complex there was a very real-world demonstration of that graph. I simply couldn't believe the grip that driver and car were finding. What's more, Bergmeister was driving and abusing the GT3 RS like a race car and it was responding. And he was doing this all afternoon. Inspection of the car's g-meter (not something I often look at) revealed we were pulling a lateral 2G at points during the lap. In a road car with Apple CarPlay and a reversing camera.
Now, this could all potentially make the new GT3 RS feel like an irrelevance. Racing cars are impressive when driven as intended, but can often feel horrible at significantly lower levels of commitment. Yet I still thoroughly enjoyed my time in the driver's seat of the RS. As mentioned, we weren't given a great number of laps and I had to concentrate on filming as well as what the car was doing, so acclimatisation had to be quick and there needed to be some forgiveness in the car as well as pure performance.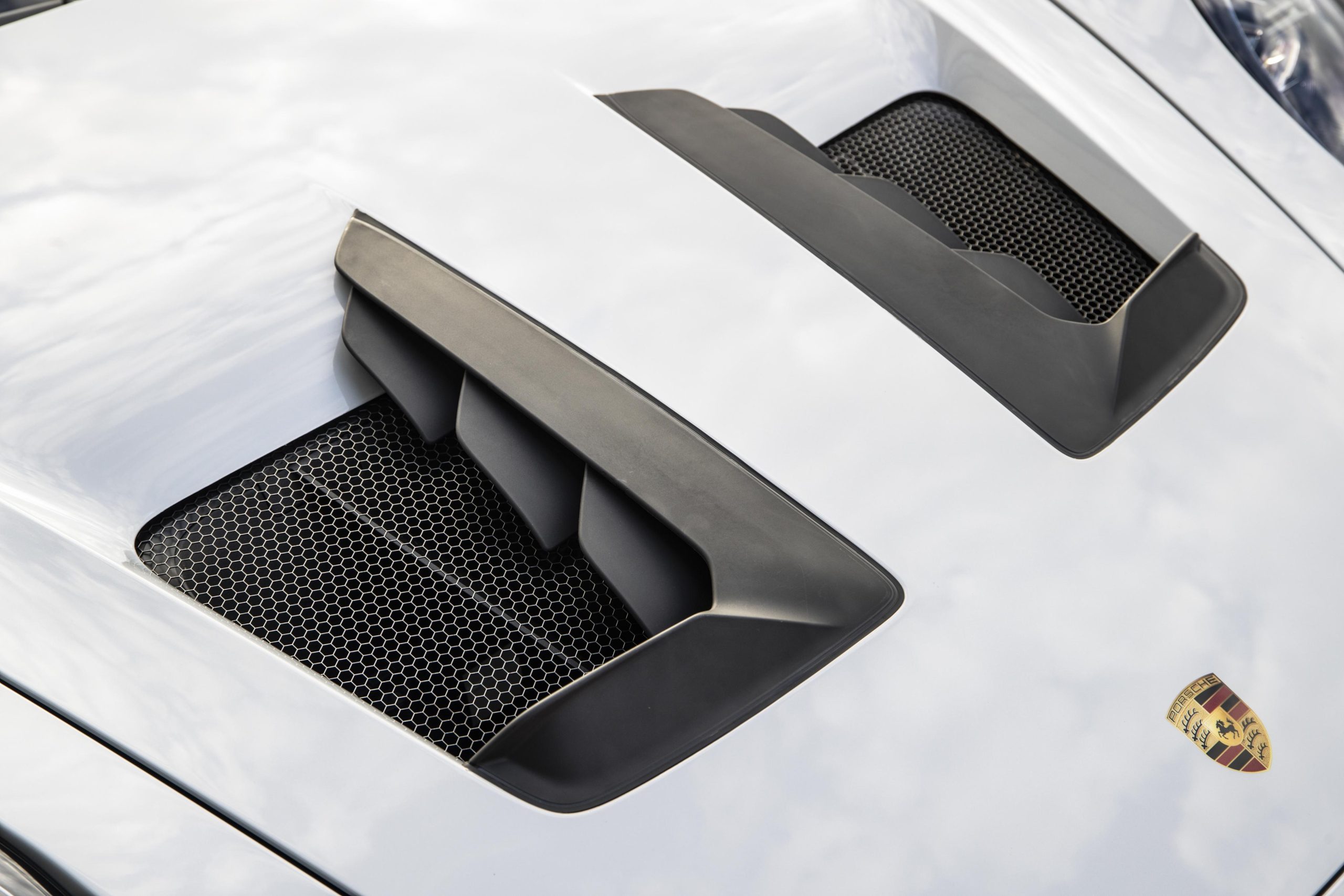 The 4-litre flat-six engine is now so familiar that it's almost easy to take it for granted. And with just 5bhp more than the previous RS and 4lb ft less, it might be easy to overlook it all together. That is until you accelerate out of a pit lane for the first time and hear the concerto of combustion that it produces. Even muffled through a helmet it is still spine-tingling. And in a world of mostly turbocharged performance engines, it can actually take a while to pluck up the courage to extend it all the way to its heady 9000rpm red line with the lights on the dash flashing blue to tell you to change up. For all that its 518bhp and 343lb ft lacks the giddy punch of the forced-induction cars in its class, it is still mighty impressive and the engine's response combined with the car's stunning traction means that it leaps out of corners with almost shocking eagerness.
Like the engine, the PDK gearshift is everything we've come to expect from recent generations. Smooth, swift and reassuring. However, I think the magnesium paddles with their more 'clicky' and positive magnetic action are as good a reason as any to pay for the Weissach Pack, simply because they add a touch more theatre to proceedings. The standard paddles can feel a bit ordinary and undramatic given the wonderfully charismatic engine that they allow you to play tunes with.
For me, the relatively wide expanse of Stowe corner at the end of the Hangar straight was the easiest to commit to and appreciate the aero at work. There is an almost spooky high-speed stability that requires a mental readjustment for those of us not used to it. Suddenly the hard-working GT3 (with Manthey upgrades) that was acting as a lead car seemed unusually easy to follow.
If anything, the braking was even more of an eye-opener. I was seriously impressed with the stability and outright performance of the standard GT3 under braking when I first tried it, but the RS is even more extraordinary, particularly in the big stopping areas where the aero again plays a part. Mashing the left pedal and feeling the car reach the point of the ABS triggering but nonetheless remaining supremely controllable and reassuring was phenomenal.
And for all its monstrous Michelins – 275s at the front and 335s at the rear – the RS remains a car that feels surprisingly progressive and drivable when the rubber starts to slide across the asphalt. It's playful in the slower stuff and there is feedback and balance and encouragement from both the chassis and the controls. I knew there was even more performance to be extracted in lots of areas from greater commitment (albeit I didn't realise quite how much more), but it was fun and driveable.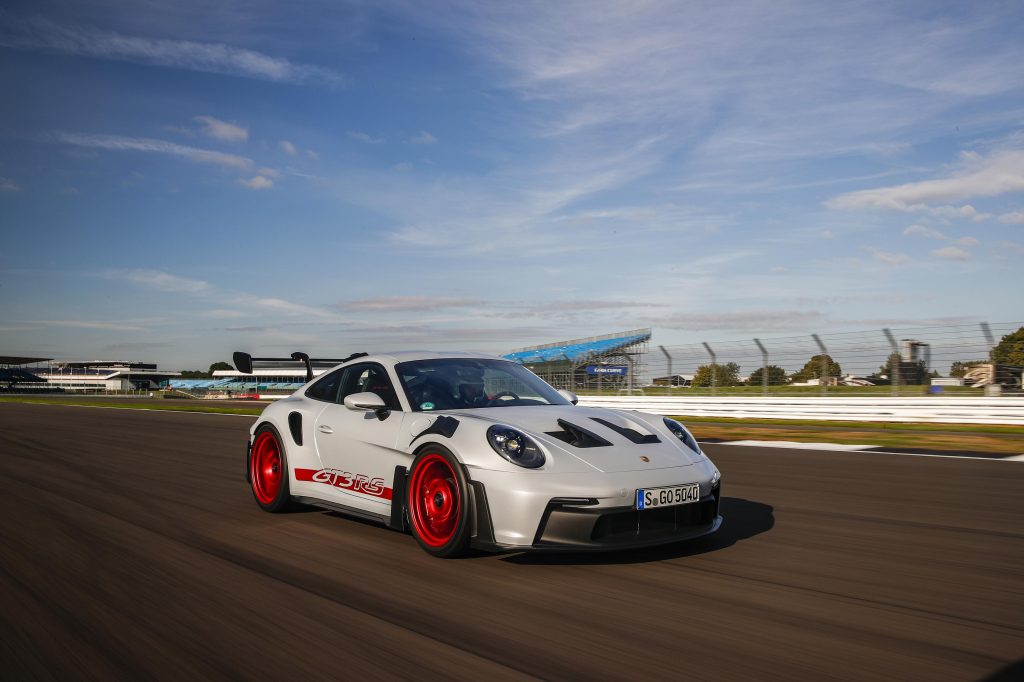 However, I think a lot of the fun for an owner will come not just through the outright speed of the car but through the ability to play with and explore the setup. Because what also sets this new RS apart from other cars of its ilk is the ability to quickly and easily adjust several aspects of the suspension and drivetrain.
Usually you might have a choice of suspension settings that are dealt with in relatively broad sweeps, perhaps ranging between Normal or Comfort and Track. In this RS you have the ability to adjust the front and rear dampers independently of one another and for both compression and rebound. Obviously there are plenty of cars on which you can do this, but you generally need to stop and roll up your sleeves for a few minutes if you want to change anything. With the RS it's a simple twist of a rotary switch or two on the steering wheel while you're going along and you can vary the dampers by about 20 per cent.
We've seen adjustable traction control plenty of times before, but if you press the PTV+ button (bottom left, blue circle) then you can also set up the locking characteristics of the differential. You can set it both for coast (when you're off-throttle, not just by the sea) and also under power, adding stability or looseness as desired. I think this is all fascinating. If you are someone that likes to go into detail, likes to understand the minutiae of things, if you weigh out your coffee in the morning (guilty), then this provides an easy gateway into the fascinating and sometimes baffling world of car set up.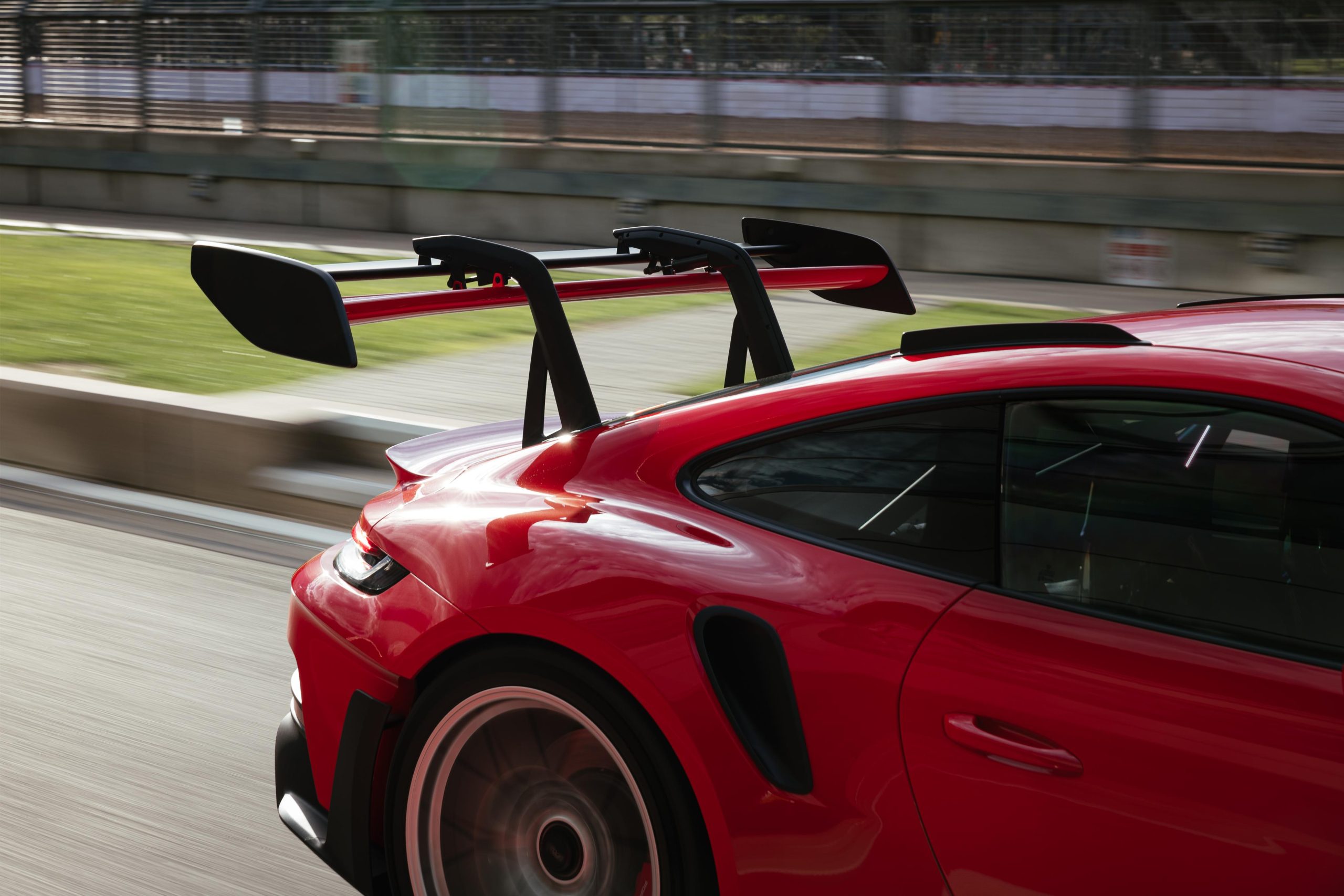 Of course the chances to use 860kg of downforce (60kg more than a McLaren Senna) on the road are very limited. And until we get to drive it on the public road there remains the question of just how punishing the ride might be down a B-road or through a town given the 50 per cent firmer springs compared to a standard GT3. But, considering the incredible performance this car gives access to on a track, I think the people this is intended for (which, granted, might not be everyone that actually buys one) will put up with a lot of compromise in road manners.
I also don't think it is a coincidence that Porsche launched the GT4 RS earlier this year, providing a more road-biased RS option for those that prefer a more mixed diet of Sunday morning blasts along back roads as well as a smattering of track days. It feels like the GT4 RS has allowed Andreas Preuninger (the man who leads Porsche's GT car development) and his team to unleash the GT3 RS, to go all-in and produce something for the hardcore track day junkie.
This, as Bergmeister demonstrated so vividly, is a road car that genuinely feels like it has the capability of a racing car. Whether you have the ability to access all that capability is another thing entirely, but I think it would be fun trying.
2023 Porsche 911 GT3 RS specifications
Price: £178,500
Engine: 3996cc six-cylinder boxer
Power: 518bhp @ 8500rpm
Torque: 343Ib ft @ 6300rpm
Gearbox: 7-speed dual-clutch, RWD
Kerbweight: 1450kg
Fuel economy: 22.2mpg (combined)
CO2: 289g/km
0-60mph: 3.0 seconds
Top speed: 184mph
Read more
Gold standard: As the Porsche 911 2.7 RS Sport and Touring turn 50, we drive them
Porsche Cayman GTS review: who needs a GT4 when you can have this?
Henry Catchpole: Why I'm under the spell of the Ford Escort