Screeeeeech.
For days I'd been waiting for something like this. I'd been starting to worry, in fact, that the sight of dilapidated French tin, parked by the side of the road, was just something that existed only in memories.
How much is your car to insure? Find out in four easy steps.
Get a quote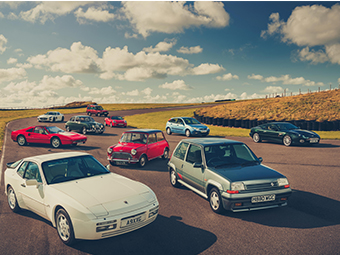 But near Mallemoisson, just off the Route Napoléon in southern France, finally something (other than the scenery) caught my eye. Parked by the side of the road, a Citroën Dyane not unlike the one I'd driven a few days earlier, alongside a charmingly rough-looking Lada Niva, and behind them a chain-link fence failing to conceal a great deal more. I wasn't going to miss this one.
My French is basic but good enough to ask for permission to have a snoop around, and the man standing in a weather-beaten caravan at the entrance was only too happy to oblige.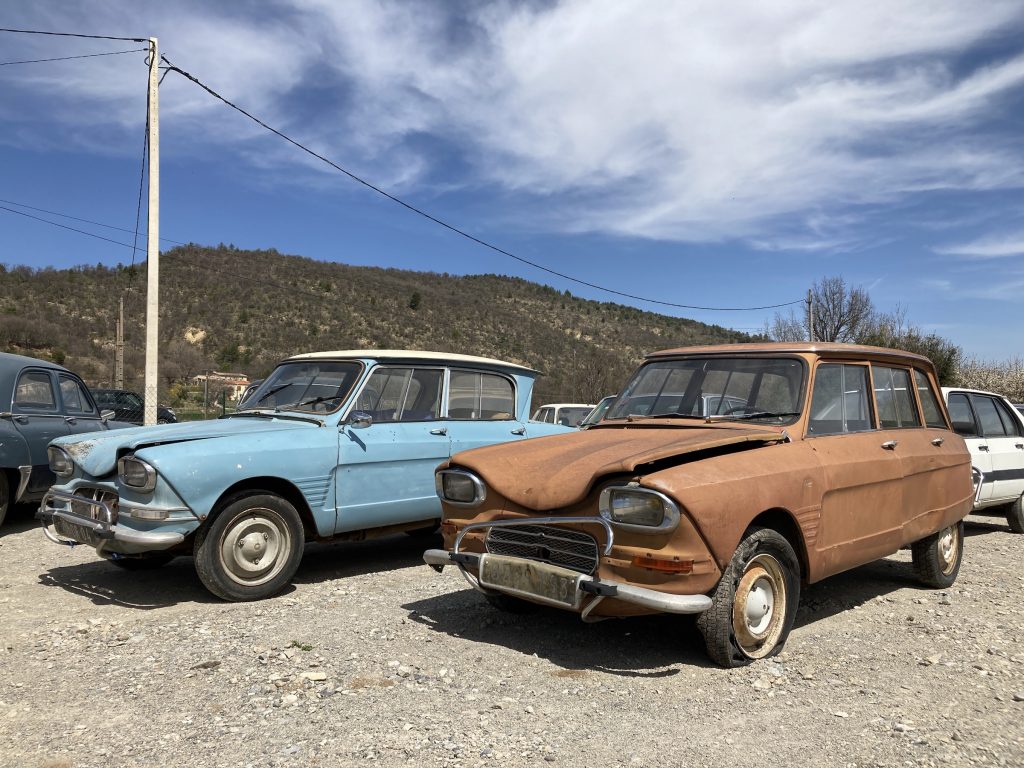 The Ami 6 Break stands out first, for all the wrong (or maybe right?) reasons. This one's definitely suffered more than the usual inner-city parking roughhousing in its half-century or so; its paintwork has faded to a mottled, rusty brown and its front end indicates prior contact with something firmer than the bumper of a knackered Clio. Perhaps it occurred in Paris; the '93' on the numberplate equates to Seine-Saint-Denis, to the northeast of the French capital.
Alongside, the non-estate Ami 6 looks a little healthier. Oddly, it too has the corner of its bonnet peeled upwards (do they warp, or is this a theft technique of the French underworld?), but sits more proudly on its four inflated tyres, and a coat of light blue paintwork lets you know where the colour stops and the rust begins. Not beyond saving, that's for sure.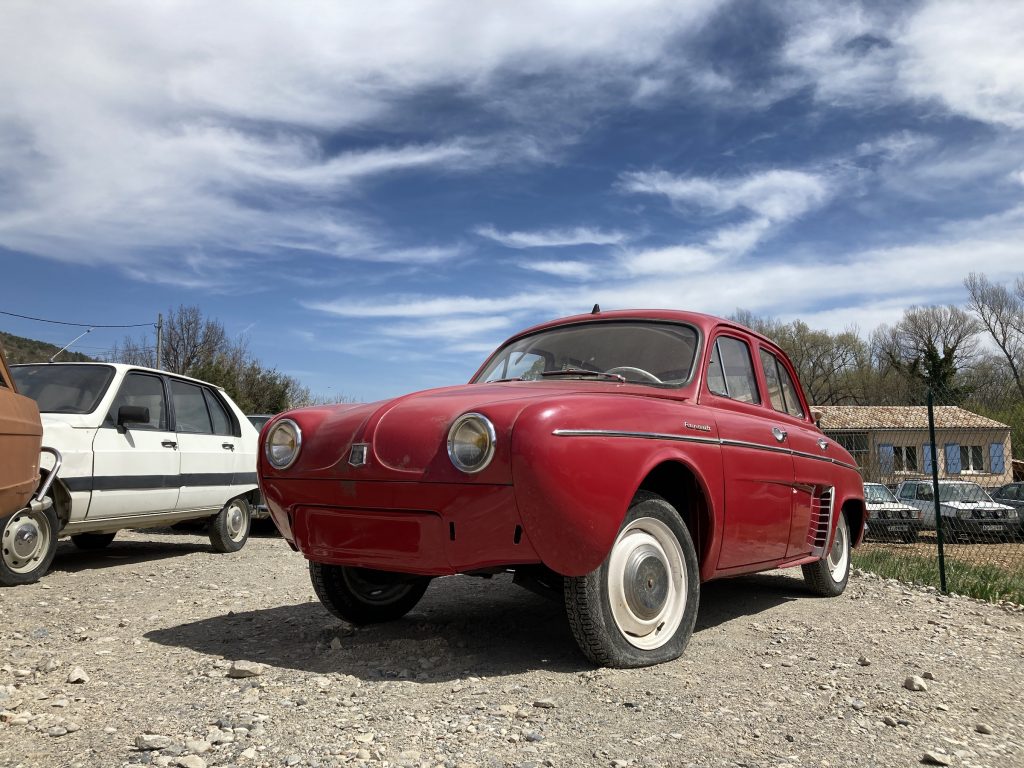 On the other side a Renault Dauphine looks even better for its age. This was Renault's family model of the 1950s, above the 4CV and below the Colorale and Frégate. It looks a little bare without its front brightwork – being rear-engined, there's no front grille, so the poor thing looks a little surprised. The southern weather has been kind though, so like the blue Ami, you'd be treating mechanicals rather than tinworm.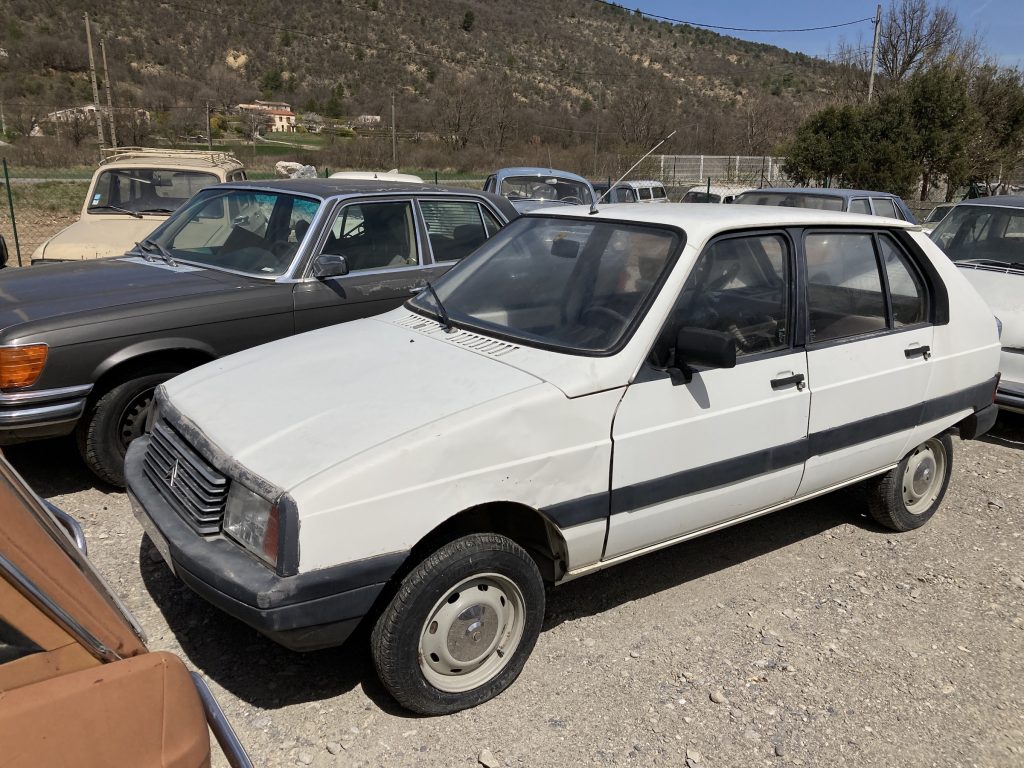 The Visa, above, is newer than most in the yard, but probably represents how most have ended up – if there are more left than Amis or Dauphines I'd be surprised. This one's a mid-life model (between 1981 and 1984), using the later, less piggy front end, but keeping the amusing 'satellite' controls for the lights and wipers.
With plastic side trim this one's probably a Club – slightly less austere than the entry-level Spécial, but retaining its 652cc, aircooled flat twin. With a useful 35bhp, many such motors were harvested to put a bit more pep in the step of under-nourished 2CVs.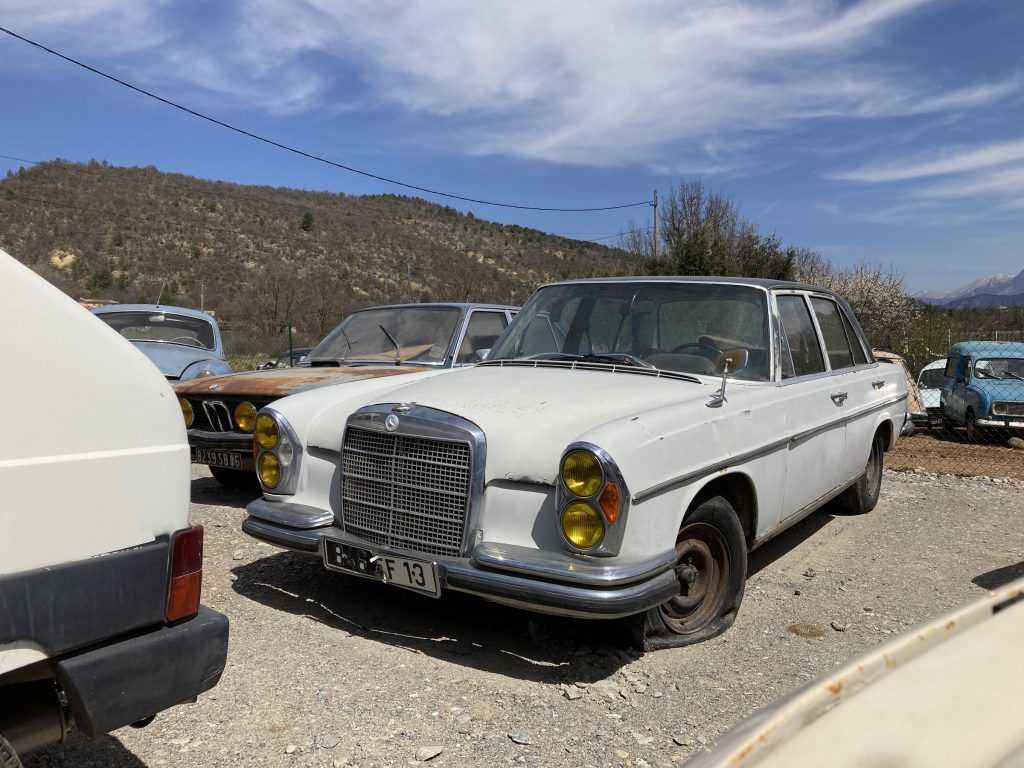 Sadly I neglected to take a snap of a worn but complete Renault 4L "Fourgonette" – the van variant – behind the Dauphine, but behind the Visa sits one of a few Mercedes-Benz S-classes in the yard. Specifically an imperious stacked-headlight W108, which ran from 1965 to 1972.
Those headlights are yellow in the best French tradition, which set against the dulled white paintwork gives it a distinctive look. With no surprise whatsoever the three-pointed star has long since disappeared from atop the grille, but the wing-mounted mirror is an interesting touch – perhaps giving it some use as a parking aid.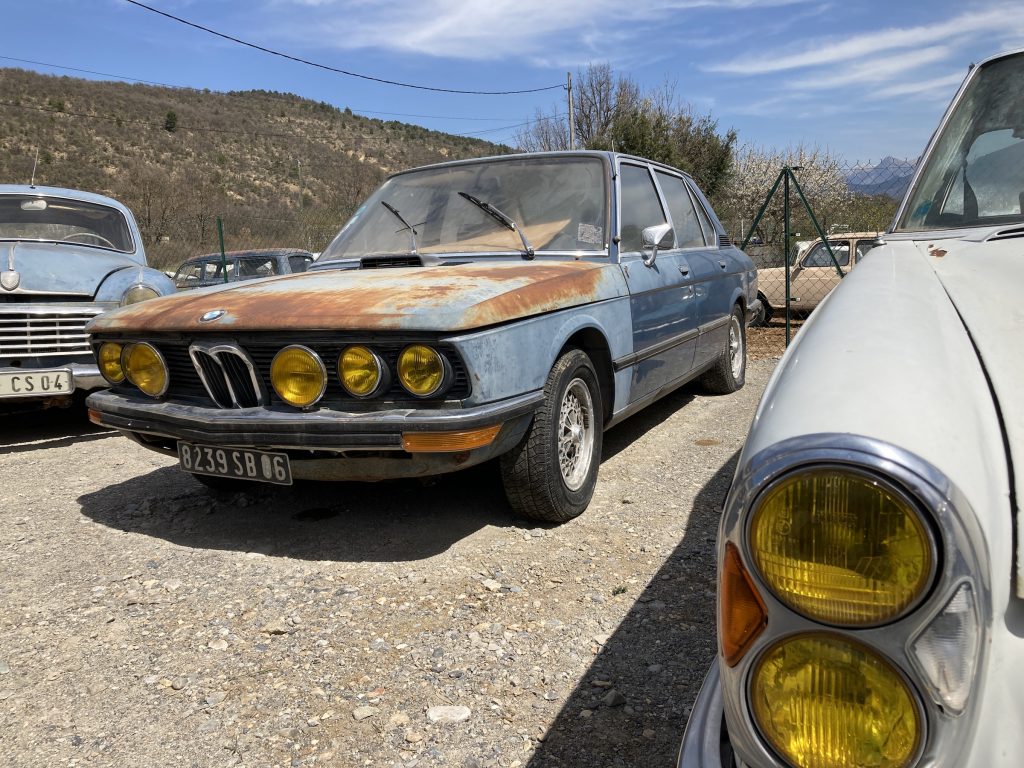 Alongside is another autobahn stormer, from rival BMW: an E12 5-series. Its quad headlights – yellow, of course – clearly weren't enough for a previous owner, who has added another pair of spots, though one assumes this happened after whatever clouted the (appropriately small, take note modern BMW designers) kidney grille.
Like that internet sketch of a horse that starts beautifully detailed and ends up as a kid's line drawing, the paintwork is at its best at the back and steadily gets worse as you move further forwards. Can't fault those Paul Bracq lines, though.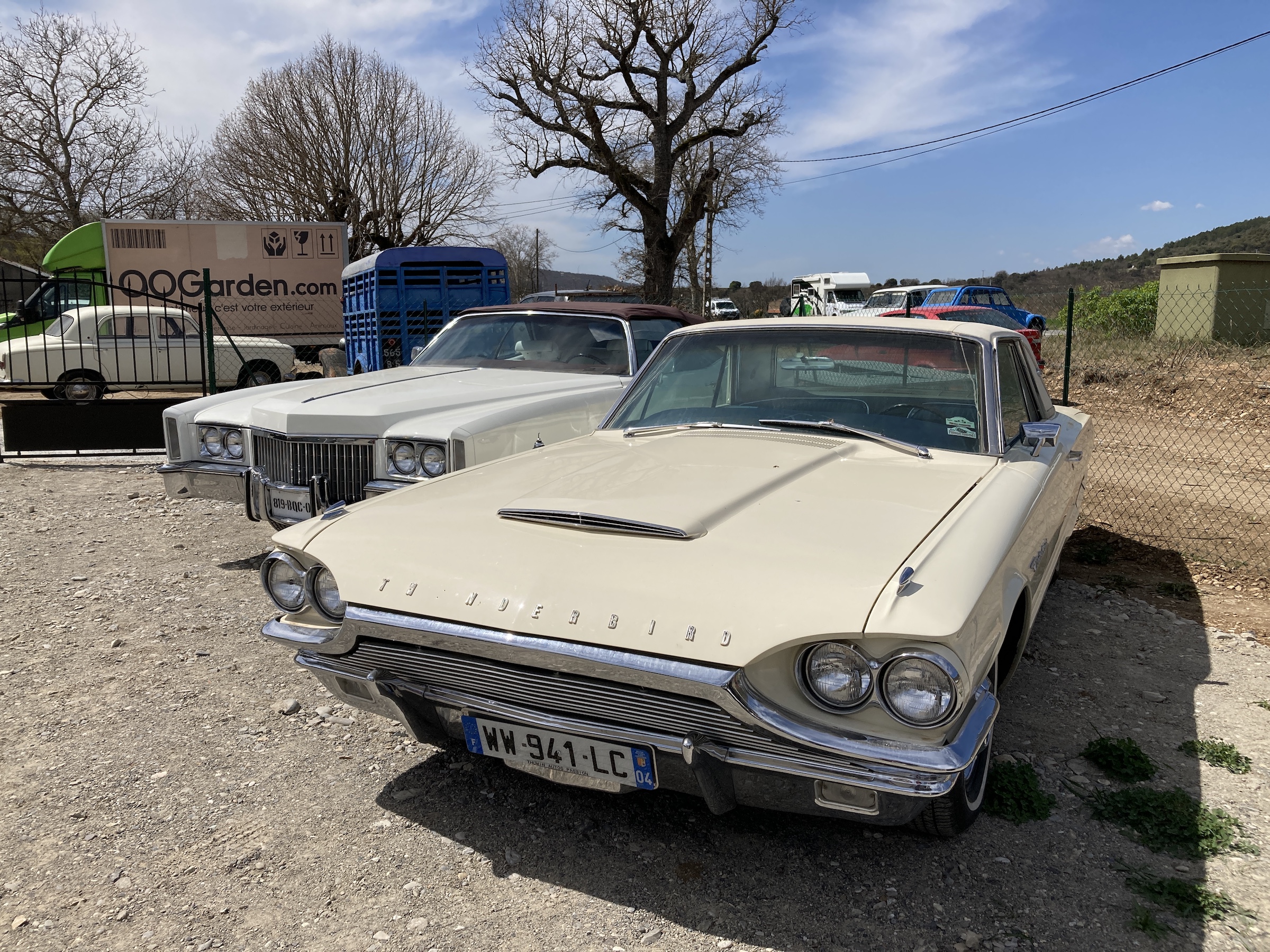 I'd have snapped a few more old Peugeots and a tidy Renault 6 too, but instead a couple of old tanks draw me in: a mighty fourth-generation Ford "Th_nderbird" (check that badge), and the glaring face of (correct me if I'm wrong, US car enthusiasts) an early-'70s Cadillac Eldorado convertible.
The former wears modern-era numberplates and its jet-age styling is unsullied by neglect, so it's clearly a more recent acquisition. Not a natural for the Route Napoléon perhaps, but with plenty of France covered by open plains, and more than a few glamorous seaside locations to cruise into, it's not too surprising to find such cars among the homegrown heroes.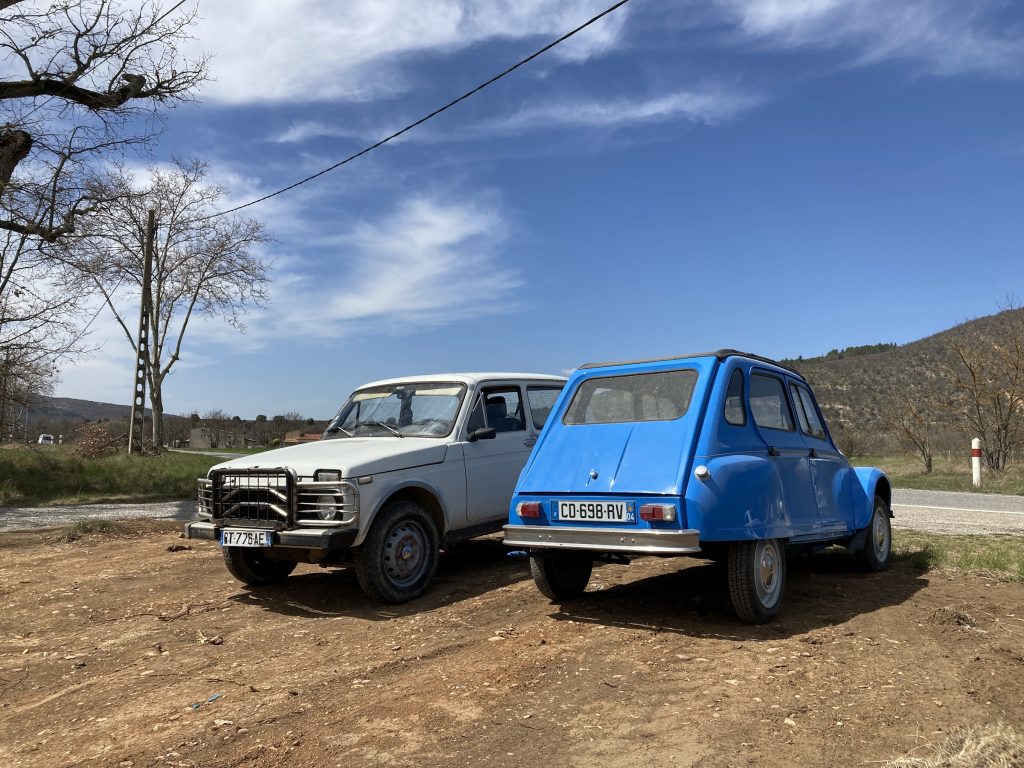 As I'm heading back out, I take a quick moment to clock the cars that drew me in in the first place. Lada Nivas are a popular choice in the more mountainous regions of France; you'll often find them rubbing doors with Panda 4x4s. Strange that France itself has rarely offered an all-paw alternative, given the clear demand in the hilly bits. And if those bull bars on the front aren't for errant wildlife, they'll no doubt still be useful for a bit of touch-parking.
And then, of course, there's the Dyane. Not fast, nor glamorous, but as you'll have read recently, still a hoot – and of everything in the yard, probably the one that will take you the furthest in its current condition.
Read more
Five reasons to avoid the autoroute on your next French road trip
Dawn Patrol: Braco, Comrie Moor and Crieff, Perthshire
No more photos at Reims-Gueux as authorities ban visitors