Editor's note: Welcome to Icon vs Underdog – a series where we look at whether you can find the thrills of an iconic but expensive classic hero in a more attainable package. If you have suggestions for comparisons, add them to the Comments and we'll get to work. James Mills
Here's a pairing you might not have expected. While our previous Icon vs Underdog features have looked at two cars considered contemporary rivals or two models from the same lineage separated largely by price, this time we have two quite different vehicles, built across a similar period but serving different market segments – and built by the same manufacturer.
How much is your car to insure? Find out in four easy steps.
Get a quote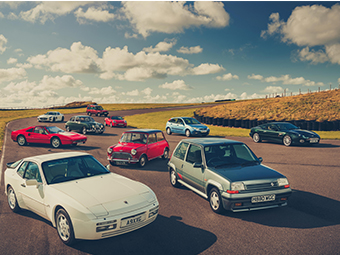 So why are we pitching the Austin and Morris Mini and the Morris Minor head to head? Because they are two of Britain's most iconic family cars from a time when Britain boasted a thriving car industry, both conceived by the same genius designer, but today occupy very different price points.
And if you've missed the boat on your perfect Mini thanks to ever increasing values, perhaps you're turning your attention to other cars in the BMC empire. We could have selected the more similarly-sized Austin A30, A35 or A40, or the later ADO16, but the Minor remains one of Britain's favourite classics and there's always plenty of choice on the market, so with the help of Hagerty's valuations experts, it's too intriguing a comparison to resist.
Potted history: Austin Mini and Morris Minor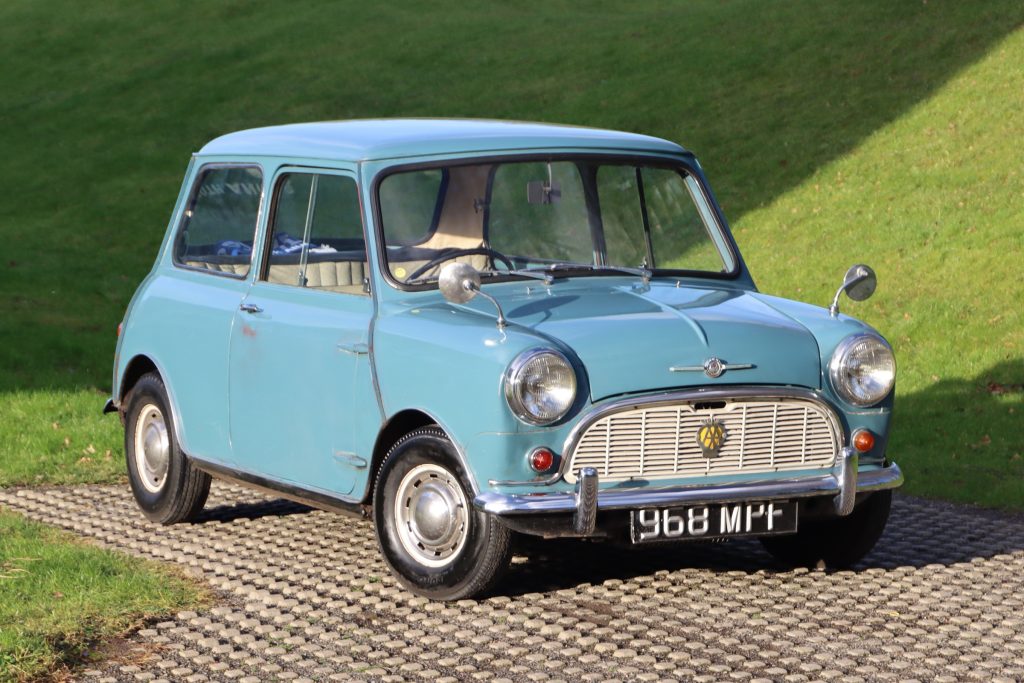 There's one name you need to be aware of here: Alec Issigonis. The Greek-born engineer wasn't just the man behind the Mini but several of Britain's most significant cars, including the hugely popular ADO16 range (Austin 1300s and the like), the "Landcrab", and the Austin Maxi – and, of course, the Minor.
It was the Minor that came first, designed to replace the pre-war Morris Eight. The designer originally intended the car to use a water-cooled flat-four engine, but this was swapped on the drawing board for a more conventional sidevalve engine.
The Minor debuted at the British motor show in 1948, and soldiered on with its sidevalve until the Series II arrived in 1952, bringing with it the now familiar A-series inline four that had debuted in the Austin A30 a year earlier. Minors would continue with variants of this engine until production ceased in 1971.
That engine sat lengthways under the bonnet and drove the rear wheels through a leaf-suspended solid axle, while the front used independent torsion bars. Rack and pinion steering gave the Minor its famously direct turn-in, while Minors used all-round drum brakes throughout production.
Morris offered several body styles, including two- and four-door saloons, a convertible, the wooden-framed traveller and both a van and a pickup, while the A-series grew from the original 803cc unit to 948 and 1098ccs with the Minor 1000.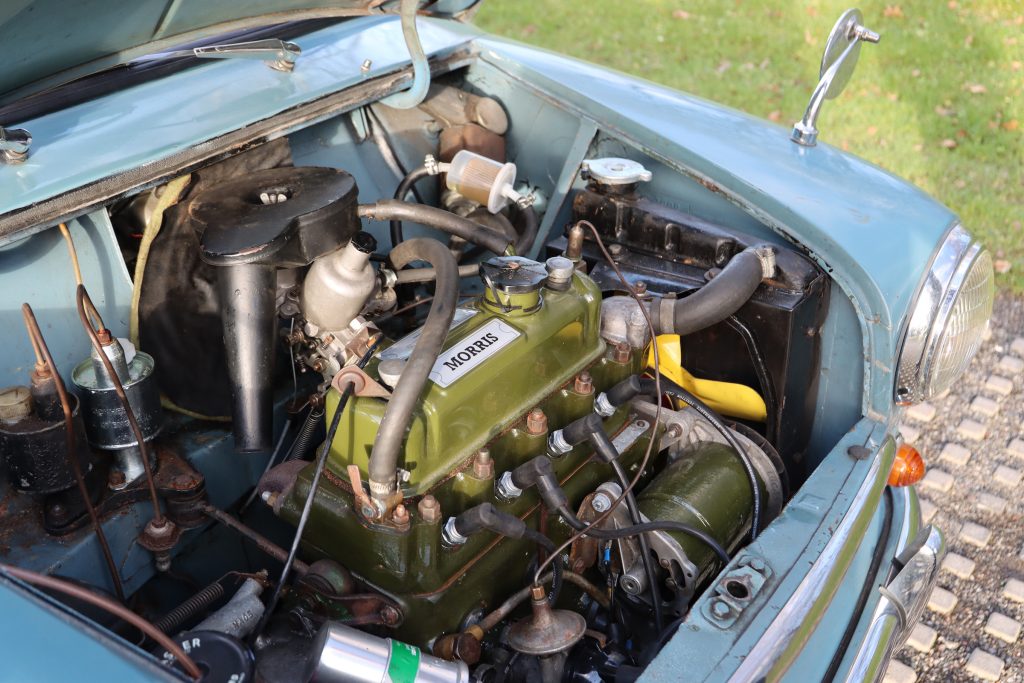 The Mini arrived eleven years after the Minor, in 1959, and attempting to explain its full history here would be both futile, given its enormous impact on motoring, and redundant, since few cars' histories have been more widely covered.
To tick off the basics though, the car was a response to the fuel shortages caused by the Suez Crisis, and the proliferation of bubble cars that exploded as a result. By the standards of most automotive projects the Mini came together quickly, in effectively just three years, a time span that's completely out of proportion with its significance as the first mass-produced transverse front-engined car.
Like the Minor it used the by-then well-proven A-series, the gearbox below it sharing its sump, and the compact body measured under ten feet long, the majority of which was set aside for passengers rather than mechanicals.
Issigonis had not necessarily intended the car to be fun (though its hyperactive character might have been a result of the designer's belief a car should be uncomfortable to keep the driver alert…), but fun it certainly was, and both press and public loved it.
Some contemporary road tests actually considered it a bit of an ugly little thing, but most found it rather cute, while tuners and racers quickly latched on to the car's potential as a performance machine – most notably John Cooper, who tweaked the engine and fitted front brake discs, and turned the car into a motorsport icon of both road and track.
Why you'll want one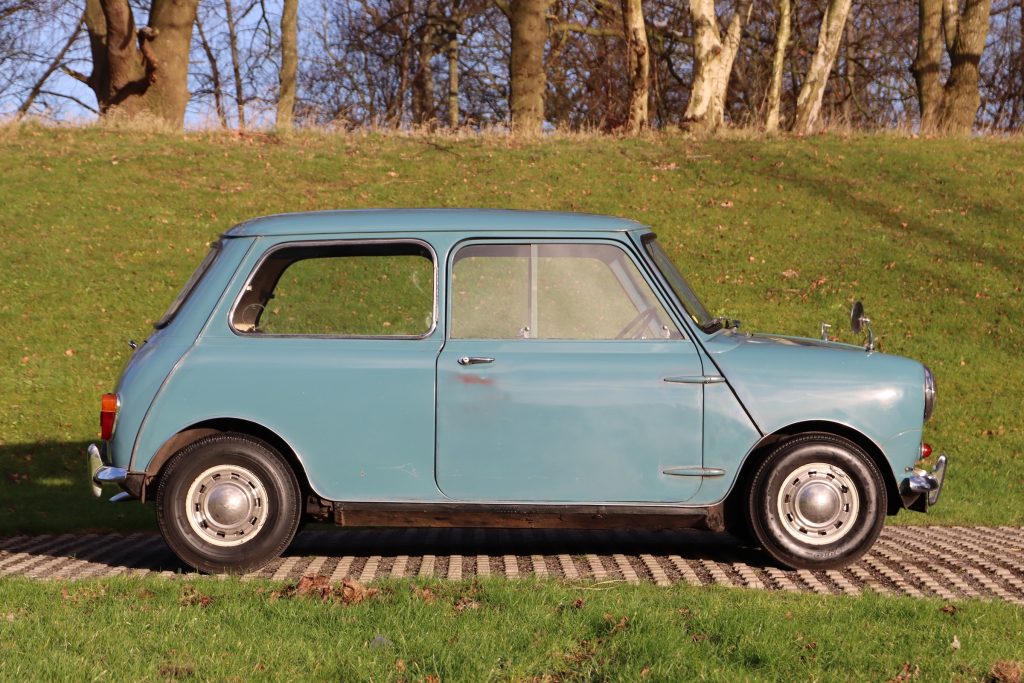 You'd need to be either unaware cars existed or particularly grumpy to not understand the appeal of the Mini.
Let's start from the top: it's an absolute hoot to drive. Issigonis might have designed it to be frugal to build and run, and spacious for its size, but its small frame, wheel at each corner, direct steering, excellent throttle response and firm ride mean it can scoot around corners with the very best of them.
Naturally those in the world of motorsport quickly realised and exercised its potential, so the Mini also has pedigree on its side. And a long list of famous owners, so you'll also be in good company.
More subjectively, they look great too, whether dolled up in full works rally spec, resto-modded, or even wearing the shabby chic of an '80s Mini City 1000 with its black plastic grille and cracked wheel trims. That's not to mention the numerous body styles, from the cute mk1s to pickups, Travellers, convertibles, bluff-fronted Clubmans, and the bulldog looks of late Sportspack Coopers.
And if all that isn't enough, while the price of buying a Mini is getting higher (and restoration is never cheap), these are still very accessible cars to run, with plentiful spare parts supply, several catalogues' worth of tuning parts, and a miserly appetite for things like fuel, tyres, or brakes. It's still an economy car at heart.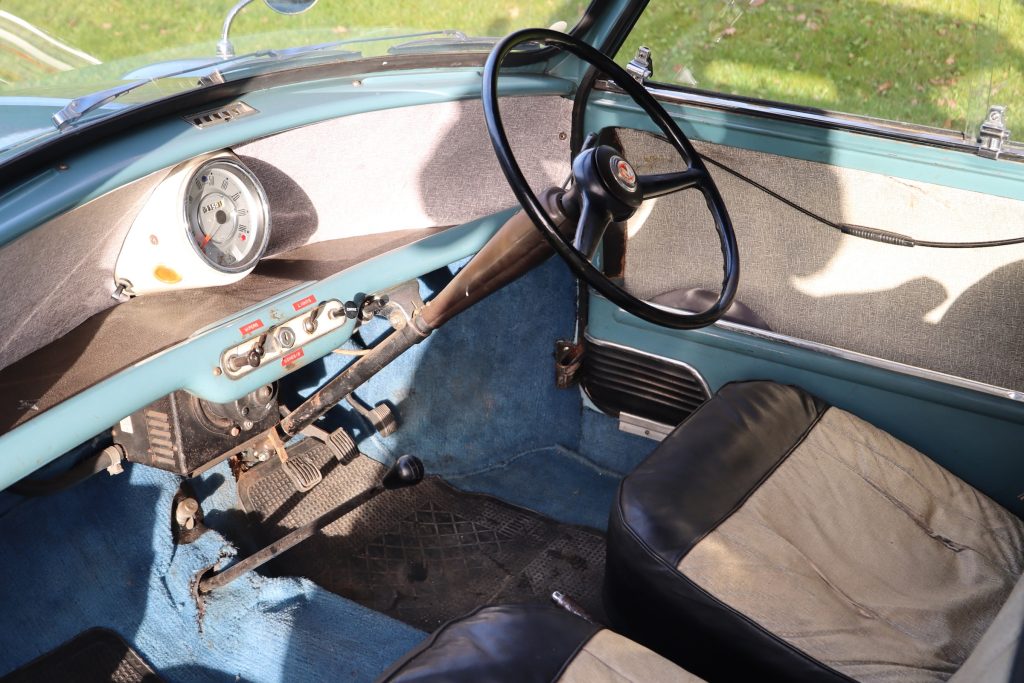 The Minor might take a little more explaining unless you've already been seduced by its charms, as so many drivers have over the years.
For a start, compared specifically to the Mini, the Minor is a larger, much more spacious, less frenetic, better-riding, and more practical car, yet its simple mechanicals, still-modest dimensions, and good (if not Mini-level) spares backup means that by the standards of the vast majority of classics, a Minor is a doddle to run, store, and work on, and easy to live with.
And while it's not quite the giant-killing motorsport machine or backroad hooligan that a Mini is, Minors are still fun to drive. And not just in that "all classics are fun" way, but with positive steering, good balance and narrow tyres, a skilled driver can really hustle a Minor. This, after all, was the car that the tyre-smoking Tiff Needell learned his early lessons of car control in, drifting his Minor around local roundabouts.
Decades of knowledge means that any problem you might have with a Minor has probably been solved by somebody, and any improvement you wish to make, from durability and reliability tweaks to performance tuning, will have been done before. Like the Mini, there's also a wide range of body styles to choose from.
Its affordability can't be overlooked either. If your aim is to have a bit of classic fun on a modest budget – and make passers-by smile, as Minors undoubtedly do – then the car's popularity is no surprise at all.
Values: Mini and Minor
Back in 2012, when we first tracked these cars, the difference in value was just a few hundred pounds, writes John Mayhead, Editor of the UK Hagerty Price Guide. An 'excellent' condition Minor 1000 saloon was worth around £6350 and a Mk 1 850 Mini (Seven) in the same condition worth £6850.
Since then though, Mini values have increased much more rapidly, with the same car now worth an average of £16,400 compared with the Minor which is worth £9,280. The reason why is really interesting. The Mini has always had that element of cool, prompted by the early adoption of the car by various celebrities in the 1960s, movies such as The Italian Job and the exceptional reputation that the car's sporting brother, the Cooper, achieved on track and during rallies.
The Minor, with its bulbous nose and none of the glamour, has always struggled to stay in the same league and relies on what Hagerty calls the Unexceptional effect: owners having fond memories of the car when it was new.
The ages of owners shows how this perception of the cars really differs. Our data shows that 78 per cent of Minor 1000 owners were born before 1965, with only 22 per cent since then. The Mini split of pre-'65 owners to younger is much closer to being equal: 55 per cent vs 45 per cent, and it has increased from roughly 2/1 in the last five years.
At auction though, the Minor strangely sells better. All early Minis Hagerty tracked at UK auction sold at exactly the UK average for all cars: 77 per cent. But the Minor achieved a whopping 84 per cent sale rate. This could be because there were more offered: the Mk I Mini is quite a rare beast, especially in good, original condition.
Icon or underdog?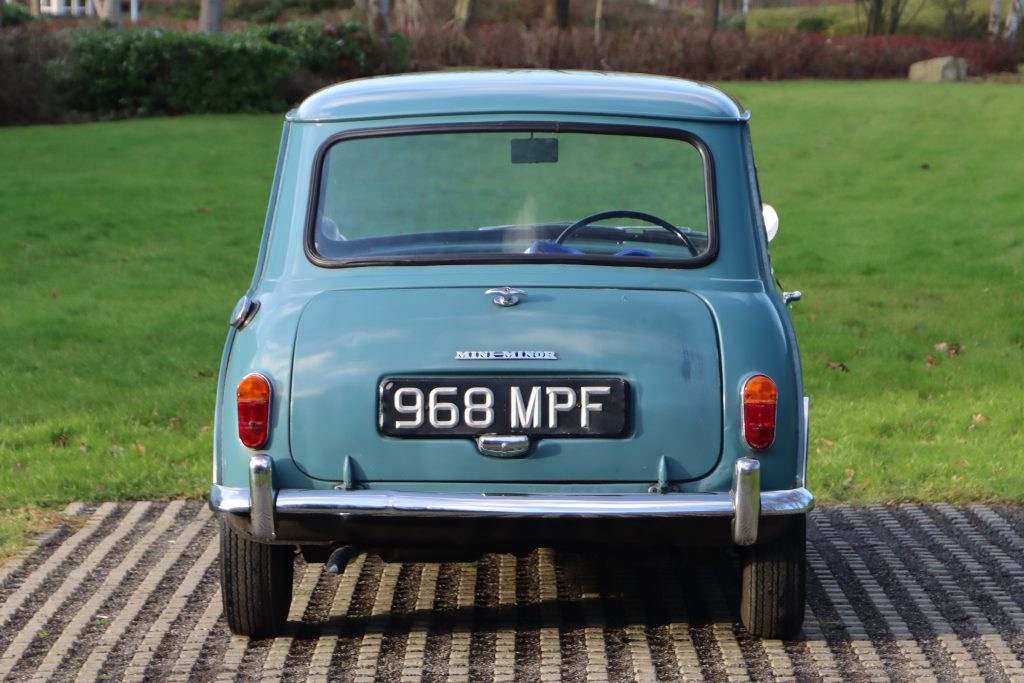 Assuming you can afford either car, it's difficult not to give the Mini the nod here. Few cars of any sort are more entertaining to drive, or as instantly recognisable by people all around the world, and from the very first 850s to the very last Coopers at the turn of the millennium, any Mini is a covetable object in the 2020s. As values have so far demonstrated, that seems likely to continue in future.
Setting aside the simple fact that it is so much more affordable to buy, the Minor gets a lot closer to the Mini than you'd think though. As a family classic it's so much more practical, even before you consider its affordability. That it's also fun to drive – and for those hooked on the handling characteristics of a rear-wheel drive car, at incredibly accessible speeds, even the Mini's handling can't offer that – is a real feather in its cap, and values are creeping up enough to offset running costs to a small degree. Surprisingly, it also looks easier to sell – perhaps because the values are more tempting for more people.
We'd be lying if we said we wouldn't prefer a nice Mk I Mini (or a Clubman, or even a later Rover Mini) in our garage, but that doesn't mean the Minor is second best. It's cleverly designed, a doddle to run and entertaining to pedal fast or slow. It's a legend in its own right, and isn't just a Mini alternative – we reckon it's appealing enough to tempt a few people out of their Beetles and 2CVs, too.
Read more
Icon vs Underdog: Escort RS2000 vs Dolomite Sprint
The complete guide to £10,000 starter classics
The Full English: Morris Minor