The story of the Reliant Scimitar GTE could pass for a Netflix movie pitch. Something radical was needed in short order and it was conceived by a small team of boffins before going on to change the automotive landscape. Oh, and there were a fair few celebrity owners, too, for good measure.
The reality was Ray Wiggin, managing director of Reliant, realised in 1967 that this small British car company needed something to help it stand out in the market and survive financially. Inspired by the looks of the Lamborghini Espada, Wiggin tasked Tom Karen of Ogle Design with styling a new four-seat GT car. Within weeks, Ogle came back with a proposal and by early 1968 they had built a prototype to assess.
How much is your car to insure? Find out in four easy steps.
Get a quote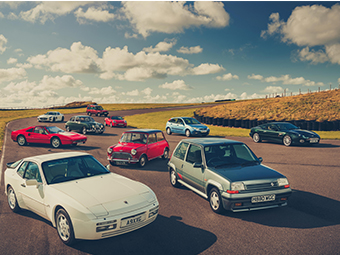 With the clock ticking, Reliant's Chief Engineer John Crosthwaite was then asked to design a suitable chassis. Rather than just adapt the existing Scimitar SE4 coupé's frame, Crosthwaite came up with a design that allowed for plenty of rear legroom and placed the back seat passengers low enough to give decent headroom. Suspension was conventional for low volume sports cars by using twin wishbones up front and a Ford live rear axle with coilover springs and dampers. Power came from Ford's reliable, torquey 3.0-litre V6 motor attached to either a four-speed manual or three-speed automatic gearbox.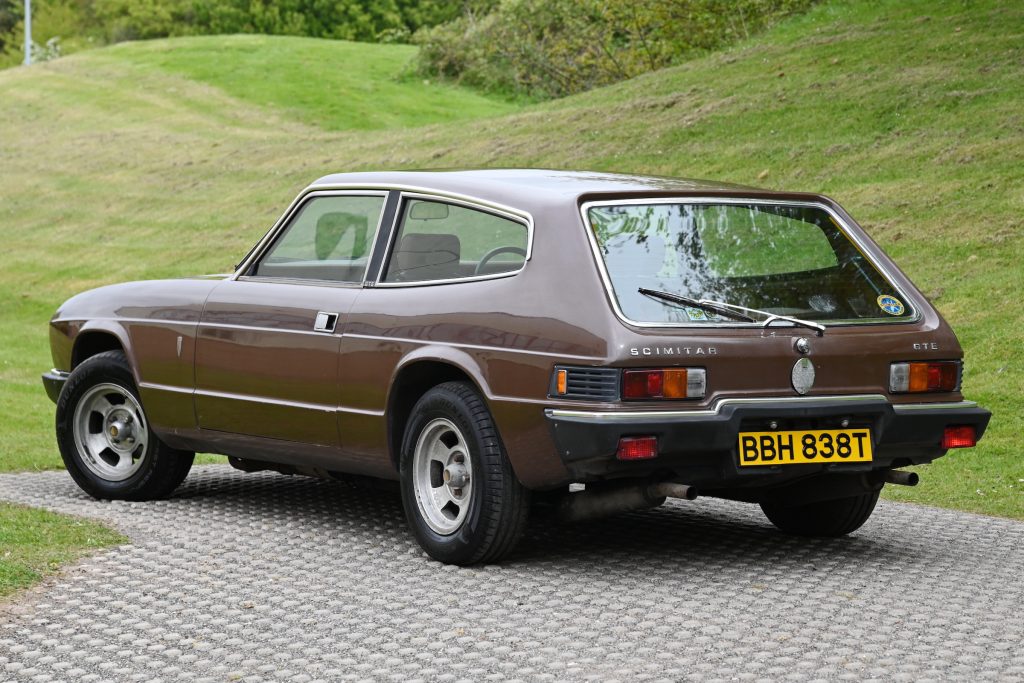 Over this was placed Karen's largely unchanged body design that pioneered the two-door sporting estate four years before Volvo. It was made from fibreglass, which was still a relatively new-fangled material in 1968, but that was far from the most unusual aspect of this body. What really caught the eye was the estate shape, which gave the Scimitar its GTE name, standing for Grand Touring Estate. At the rear was a single-piece glass hatch, while the upswept window line was fresh for the time. Inside, the GTE was no less avant-garde thanks to its twin rear seats that folded flat individually to leave a long load bed. Even the centre arm rest in the rear was crafty in the way if also tipped down so as not to interrupt load space.
There was a slightly reserved reception for the Scimitar SE5 when it went on sale in October 1968, but as soon as the press got hold of it, opinions improved. Road tests found the Scimitar was very good to drive, comfortable, quick, refined, and practical. Reliant's radical approach in creating the Grand Touring Estate had paid off.
However, not resting on its laurels, Reliant introduced the improved SE5a model in 1971 with some mild restyling inside and out, electric windows, air vents in the footwells, and the option of Dunlop alloy wheels. There was an upgrade of engine from the original 138bhp 3.0 V6 to a 145bhp unit in line with Ford's own updates for this motor. It meant improved performance for the Scimitar, which now covered 0-60mph in 8.5 seconds and reached a top speed of 121mph while also giving better fuel economy over the earlier version.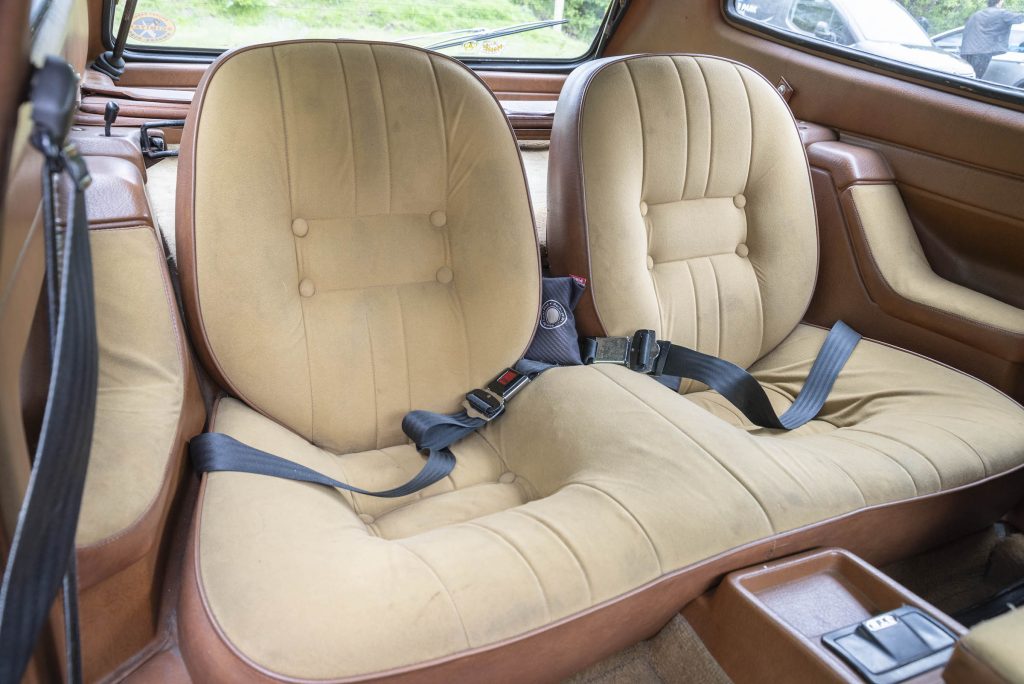 In 1976, the SE6 model of Scimitar GTE replaced the SE5a and came with more squared-off styling that was three inches wider and four inches longer to give much-needed interior space. Shortly after, the SE6a replaced this car in late 1976 and brought improved Lockheed brakes in place of the earlier Girling items. There were also improvements to the suspension for a better ride and handling balance.
For 1980, Scimitar upgraded again to offer the SE6b that used a 2.8-litre V6 as Ford had ceased making the 3.0-litre motor, followed by a 2.9-litre with fuel injection. Later SE6b models also had the luxury of a galvanised chassis, which was shared with the GTC open-top model also launched in 1980. It also offered four seats with a roll hoop in a similar style to the by then defunct Triumph Stag.
Reliant ended Scimitar production in 1986, but the car carried on in a low-key fashion under the ownership of Middlebridge. From '87 to 1990, only 78 GTEs were built before the firm went bust due to debts incurred during a court case concerning a Bentley race car. See, we told you this was the stuff of movie scripts…
What's a Scimitar like to drive?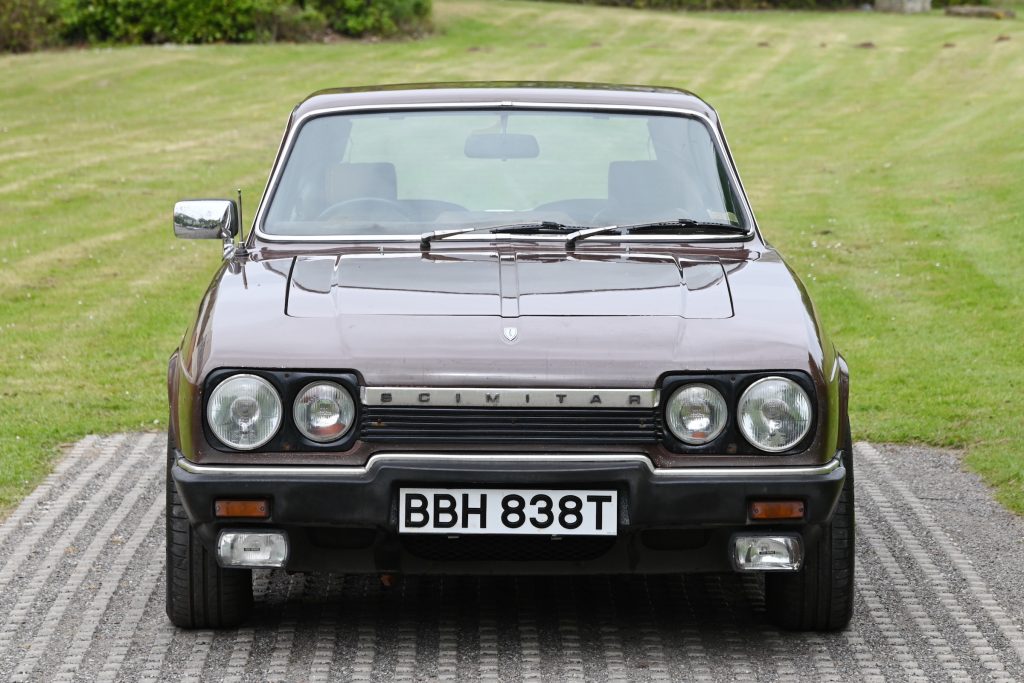 There are few cars from the same period that you could daily drive as easily as the Reliant Scimitar GTE, and not just because its fibreglass body won't rust at the first sight of rain or salt on the roads. The Ford V6 engines and their associated transmissions are tough, durable and endow the GTE with more than enough performance to keep pace with modern traffic.
Acceleration varies from 0-60mph in 8.5 seconds for the SE5a manual to a more leisurely 12 seconds or so with the auto 'box. Either way, in-gear oomph is ideal for overtaking and making the Scimitar feel as sporty as a GT car ever needs to. The V6 also sounds good when revved a bit harder, while it's also more than happy to cruise on the motorway all day long. Only fuel economy of around 20mpg will curtail this, though the GTE had a 78-litre fuel tank so stops are reasonably spaced out, with a touring range of about 340 miles.
At higher speeds, the GTE is easily as refined as a Ford Capri with the same V6 engine. Some wind noise is heard from around the windows and windscreen, though renewing the window and door seals will help with this. Road noise is not a problem and the V6 engine offers a pleasing hum or growl depending on how much you lean on the throttle pedal.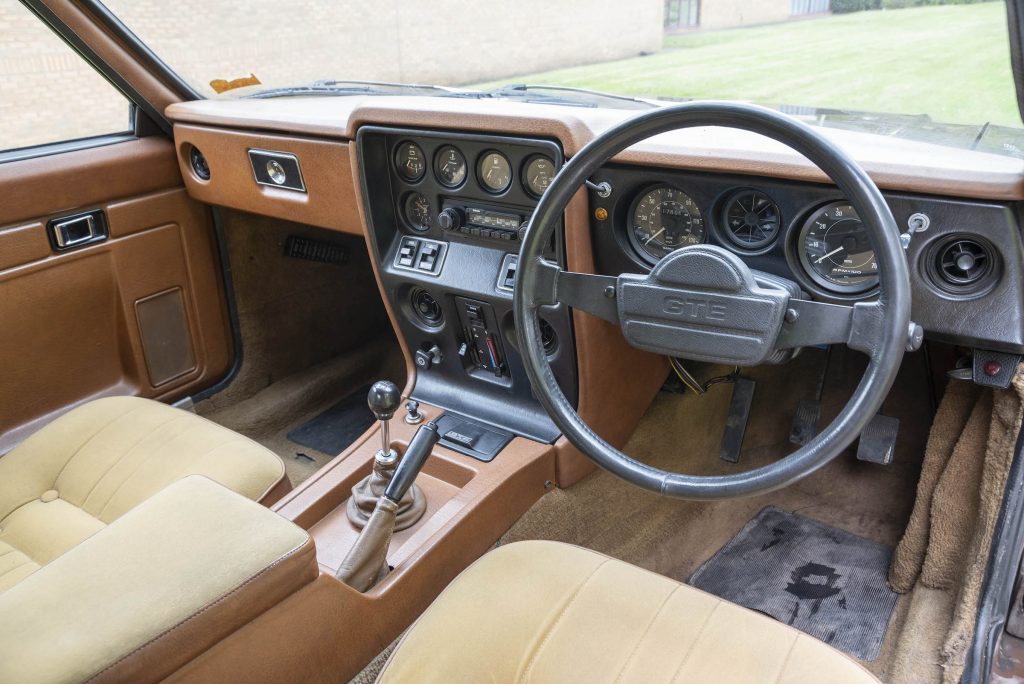 There's also ample space for the driver and front passengers, while those in the back have more room than you'll find in almost any other similarly-sized coupé or GT car of the period. It's certainly more accommodating than a Volvo P1800ES or Lancia Beta HPE. There's also generous load space accessed through the glass rear hatch.
Head on to more topsy-turvy roads and the GTE is in its element. The suspension feels sure-footed and stable, though not as nimble as a Lotus Elite or Eclat. In slower corners, the weight of the iron Ford V6 and having the spare wheel tucked above the radiator means the Scimitar will understeer. At a faster pace, the live rear axle can be prompted into oversteer, but the GTE is a benign handling car. However, if you spend a fair bit of time in town, look for one with the optional power steering fitted or consider a modern electric assist upgrade as turning the wheel gives your arms a good going over at parking speeds.
What the Scimitar GTE does really well is balance all of its attributes. There's good grip, fine handling, strong brakes, and plenty of poke from the engine. It also comes with decent ventilation and refinement, while also being very enjoyable to drive. All of this makes a solid case for using a Reliant Scimitar GTE as often as possible.
How much does a Scimitar cost?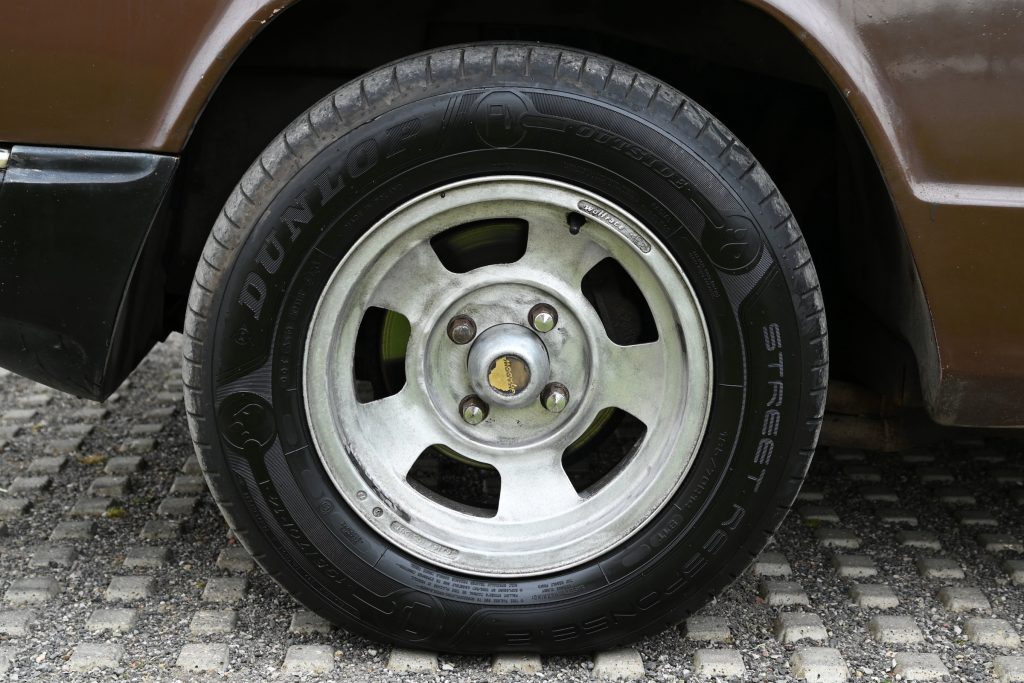 Prices for the Reliant Scimitar GTE have been firming up recently. It is still possible to find cars for £3500 in running order and with an MoT to their name, but they will need plenty of work to bring them up to a good standard and may well be hiding rot in the chassis. A much better starting point for a GTE is around the £7000 mark, which gives you a choice between the earlier SE5 shape and later, squarer SE6. There's not great divide in values between manual or automatic gearbox versions as both have their fans.
The later Middlebridge-built cars are much thinner on the ground as so few were built in comparison to the Reliant-made models. Middlebridge also kitted their cars out to a much higher level than Reliant, making them prized cars that command up to £25,000 for the very best. Even a good car needing some cosmetic jobs will cost around £14,000.
Another option is the convertible GTC, which comes with the later 2.8-litre V6 engine and a galvanised chassis as standard. Reckon on spending from around £8000 for a car in a usable state, while a GTC that's spick and span is likely to fetch £13,000.
What goes wrong and what should you look for?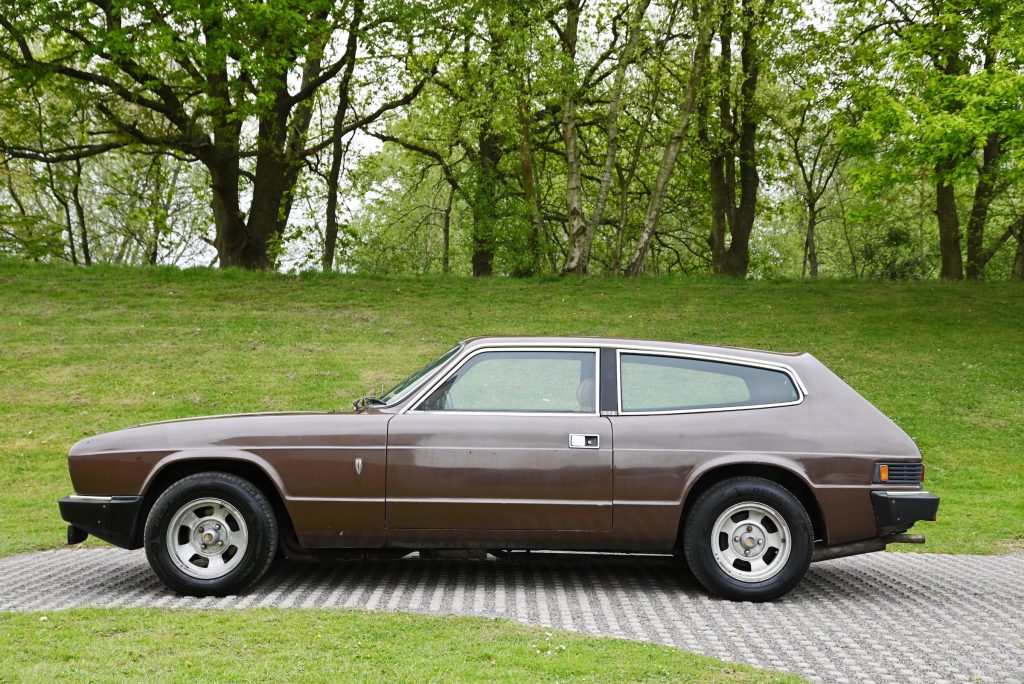 The Scimitar GTE's body may be made from fibreglass and be immune to rust, but it still warrants close attention before buying. Putting right damaged fibreglass can quickly become more expensive that sorting rotted steel, and you also need to be alert for crash damage and poor previous repairs.
The first giveaway is likely to be paint with blisters or bubbles from a poorly applied respray, while 'star' cracks in the gelcoat, particularly at stressed areas around hinges, is a sign of trouble lurking beneath. Also make sure the car has all of its exterior chrome trim as it's hard to find replacements now, and check the alloy wheels – if fitted – are in good nick as they can corrode and weaken.
If the top side looks good, it's time to get underneath the Scimitar. Its chassis is not complicated to restore, but removing the body takes time if the job is to be done properly. Rust is likely to be most obvious in the chassis outriggers, beneath the radiator, and around the front and rear suspension mounts. Don't just accept the condition of the underside of the chassis – reach up and along the upper face as this is where water sits and the metal festers unseen.
From 1980, GTEs and GTCs had a galvanised chassis, but this is not guarantee of it being rot-free now. Many will have had their chassis restored or replaced, so check the work has been carried out properly. If that all checks out, last place to look for rot is the door hinges, which can rust and split the surrounding glass fibre body.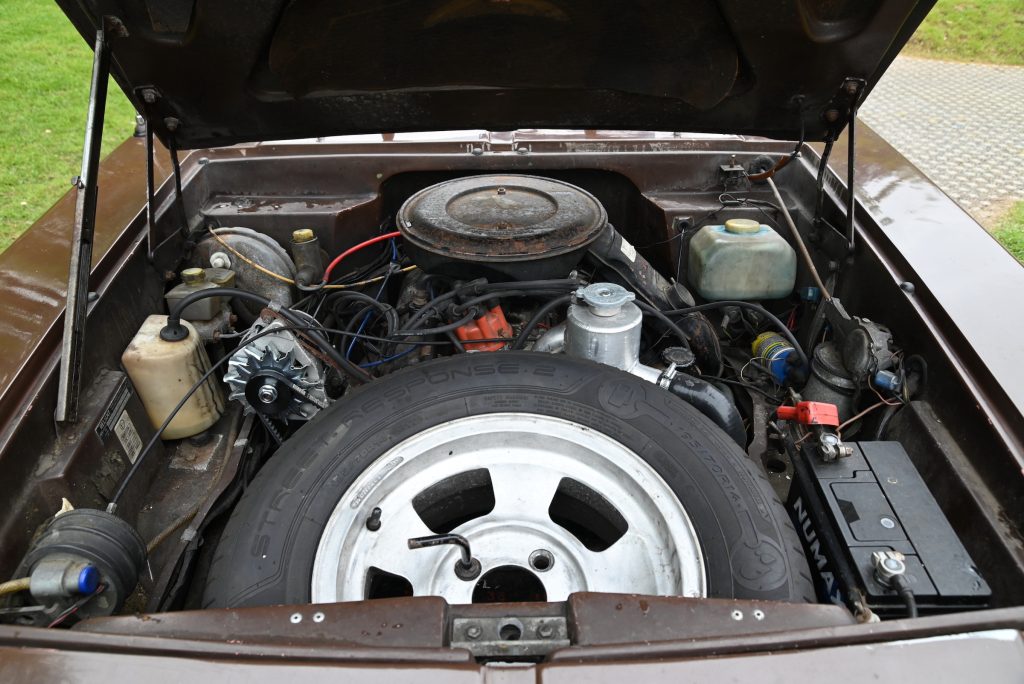 The suspension, brakes, and axle are a mix of Triumph TR6 and Ford parts, so are easy to service and sort. It's the same story with the V6 engines and gearboxes, which were all standard Blue Oval fare. With the earlier 3.0 V6, the most likely issues will be overheating, usually sorted with a coolant flush and new radiator. Also look for worn cam timing gear and the oil pump drive shaft deteriorating. The later 2.8- and 2.9-litre V6 engines are very reliable, though the 2.9 can be prone to overheating. With all GTEs, look out for engines with supposed performance upgrades and ask to see evidence of any work.
A whining rear axle is common on the GTE and nothing be alarmed about unless it's particularly loud and insistent. The four-speed manual gearbox is largely trouble-free, while the Borg Warner or Ford C3 automatic transmissions are also unlikely to give any cause for alarm. Routine transmission fluid changes, along with changing the rear axle oil, should keep the Scimitar rolling along happily.
Inside a GTE, the plastic dash and panels of SE5 models can crack with age, but replacements can be found made from fibreglass. Fabric upholstery can be tricky to match and replace, but leather interiors should be straightforward to restore. Have a good look at the dash instruments and be sure they all work. Anything not responding as it should is probably due to a poor electrical earth, which is a common fault on many fibreglass-bodied cars. If a lot of the electrics aren't playing ball, a new wiring loom is a wise investment and not hard to fit as a DIY job.
Which is the right Scimitar for you?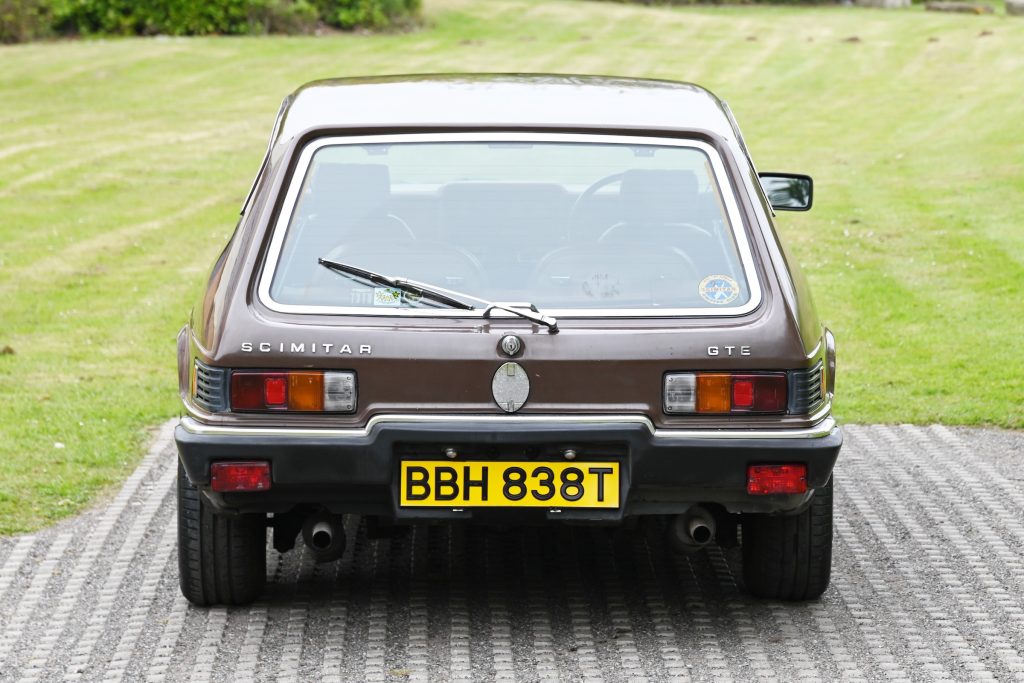 There are three distinct phases in the life of the Reliant Scimitar GTE, plus the GTC convertible as a standalone choice. Some will only be interested in the purer look of the SE5 models, which all come with a 3.0-litre V6 engine. The SE6 cars from 1975 are longer and wider, offering noticeably more cabin space, so they are a better bet for those who want to carry passengers in the rear seats. Then there are the Middlebridge-built cars that are rare but opulently finished to a very high standard.
Don't discount the open-top GTC in your deliberations when choosing a Scimitar as they are good to drive and one of the few affordable four-seat convertibles you can find. However, finding one in the first place might be tricky, as only 443 were made.
The other big decision is whether you want a manual or automatic gearbox in your Scimitar GTE. The manual is undoubtedly the more sporting option, and a car with overdrive fitted offers a mix of good cruising and back-road driving enjoyment, so this would be our choice. Go for a manual gearbox in a GTE and you have a handsome classic that can be practical one minute and sporting the next.
Read more
In praise of a great British underdog – the Reliant Robin
7 lesser-spotted British classics you can buy for under £10k
10 British sports cars you probably forgot existed