Chelsea was once a 'normal' spot. Even in the 1970s, you could find local ironmongers and tobacconists, and the place to do your weekly shop was a run-of-the-mill Safeways slap-bang in the middle of the Kings Road. The spoilt brats swaggering their way along the pavements were English in those days, not Russian.
And if you needed to get yourself a little runabout for those weekdays spent in town then there was an old-fashioned car dealer just a few brisk steps away from Sloane Square, down Pavilion Road. Mind you, Walter Scott – Scotts of Sloane Square – sold only quality gear, Volkswagens and Audis, so if it was to be a shiny new Polo rather than a dusty secondhand Escort picked up across the river in Battersea, then mummy and daddy would have to be implored for help.
Scotts, however, started to see a new influx of well-informed chaps sidling into their mews showroom late in '77. These smart young fellows – and it was mostly fellows – had often been leafing through car magazines in dentists' waiting rooms, and were now intrigued by this hot little number called the Golf GTi. Could I try one, they kept asking. There was a problem, though. While news was afoot that the souped-up Golf was everything a latterday Mini Cooper S could be, and quite a lot more besides, you simply couldn't buy one in the UK.
How much is your car to insure? Find out in four easy steps.
Get a quote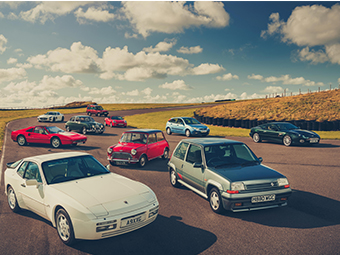 The Golf, you probably don't need reminding, is one of the great cars of the 1970s, the complete antithesis to the air-cooled, rear-engined Beetle but, with its front-wheel drive, water-cooled front engine and brilliantly simple, square-cut Giugiaro lines, just as much the right product for its times. As with the Beetle, reliable family transport was VW's goal.
The GTi version, however, had been created on the quiet by Volkswagen engineers determined to prove their managers wrong and that that there was indeed merit in the idea they first mooted in 1973. Wielding their spanners in their own time in the evenings and at weekends, they had installed the Audi 80 GT's 1588cc engine complete with Bosch K-Jetronic fuel injection to give 110bhp, together with new inlet and exhaust manifolds and larger diameter valves. Front disc brakes, wide alloy wheels, stiffer anti-roll bars and a chunky three-spoke steering wheel completed the package.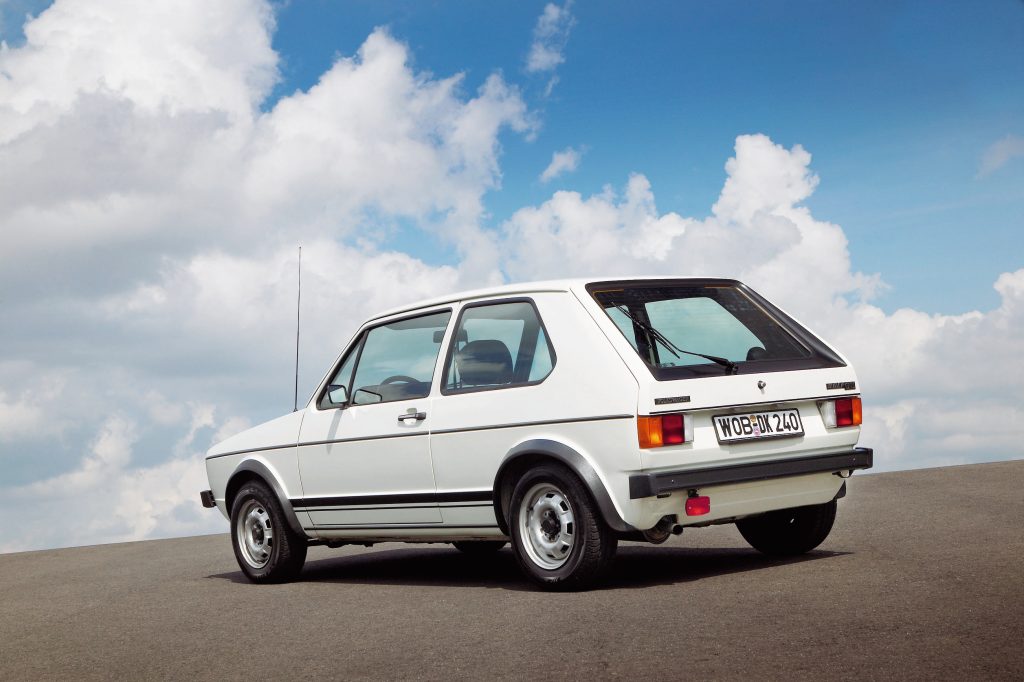 In the end, and as the lads at Wolfsburg had done all the development work for free, VW hesitantly sanctioned a limited edition run of 5000 cars in 1975. But once word got out that this taut, tight, tingling little car was even more exhilarating than an Alfasud Ti, it joined the VW catalogue full-time.
The company could not build enough.
There was even a dash of rare German humour to the golfball-shaped gearknob, and while the car didn't actualy need wheelarch extensions to be street-legal, they were fitted anyway… to protect the bright red or green paintwork from the stones that flew every time the owner couldn't resist flooring the throttle again.
In many ways it still remained quite discreet. For instance, there was no tail spoiler because the aerodynamics were already excellent, and only a very modest front airdam was needed to help the tyres grip the road.
Back in the Scotts showroom, the salesmen – usually sailing pleasantly through their days as they took orders for the odd Scirocco or retriever-friendly Passat Variant – were on the backfoot. Coutts chequebooks would have been brandished but they were forced to adopt the official line that mysterious "technical reasons" meant there could be no right-hand drive cars to squeal around the cobbled backstreets off Kensington High Street.
The well-heeled clamour for the feisty, 108mph three-door hatchback that could hit 60 in 9.6sec proved not to be resisted. Pleas from Scotts and other dealers to head office meant that, in 1978, Volkswagen took the highly unusual move of launching the GTi here, to special order only, in left-hand drive form. And the cost was £5010, a full five hundred smackers more than an MGB and the same price as the perennially desirable BMW 316.
How many of the 22 LHD cars available in 1978 were channeled through Scotts has not been recorded for motoring history, but the company must have sold a good number of the estimated 500 to 700 examples delivered to the UK in early '79. The distinctive Scotts rear window stickers and tax-disc holders no doubt ran out constantly.
In any other part of this country, a left-hooker, no matter now sought-after, would have been shunned. But this was no normal part of the country. This was SW1, London's hotbed for posh types, and there were plenty of young bucks who'd driven left-hand drive minibuses around the treacherous ledges of Val d'Isere in the ski season, and who wouldn't have been fazed in the slightest.
Word soon spread among the young and politely thrusting Sloanes that there was an exciting new car that, just like them, knew how to party without forgetting your Ps and Qs. It would look just as at home on mummy and daddy's driveway as it would parked outside the London estate agency where they'd taken their first job and were earning good commission through selling property to half their family and friends.
The crisp style and urban thrills of the GTi rapidly became local legion, whereas other cars officially offered in the UK with the steering wheel on the wrong side – namely the Matra-Simca Bagheera and Lada Niva – remained pretty much unicorns.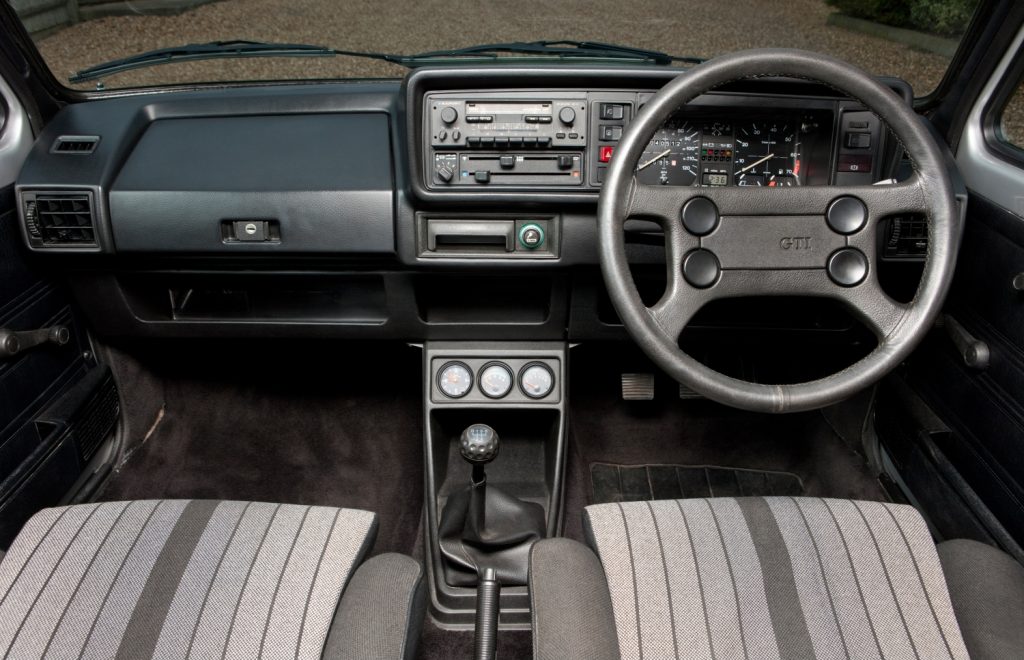 In July 1979 Volkswagen was suddenly and miraculously able to overcome those stubborn engineering impossibilities and the first right-hand drive GTis arrived. Not only that but three months later the car's only drawback was smoothed away when the four-speed gearbox was upgraded with fifth, and BBS alloy wheels usurped the plain early ones. So, on top of all its other merits, the car could now cruise very comfortably off down the M4 for a weekend in the West Country.
The Scotts team now took any number of orders – although the waiting list was a source of smug satisfaction – and Golf GTis proliferated around south-west London, soon as common as nannies congregating to gossip outside private day nurseries. But those early, left-drive days of the urban Golf club will always be something a bit special.
Read more

The Mk3 Volkswagen Golf GTI is not as bad as we're told
Buying guide: Peugeot 205 GTI (1984 – 1994)
The Birth of a Legend: The Volkswagen Golf GTI