Welcome to Freeze Frame, our look back at moments from this week in automotive history.
23 February 1958 – Fangio kidnapped by Castro rebels, missing the 1958 Cuban Grand Prix
That you don't often hear about the security around Formula One events is a sign of how successfully it is policed. Rare exceptions, such as several Mercedes-AMG team members being robbed at gunpoint in Brazil, in 2017, or a man running onto the track at Silverstone, in 2003, stand out because such incidents are just so rare.
How much is your car to insure? Find out in four easy steps.
Get a quote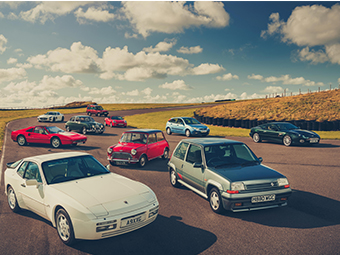 Yet on February 23, 1958, the front pages of newspapers around the world led with the kidnapping of five-times world champion Juan Manuel Fangio, who had been held in Cuba, the day before the Grand Prix.
Those responsible were rebels working on behalf of Fidel Castro, the revolutionary who would become the prime minister of Cuba the next year. For the rebels, it was little more than a publicity stunt, distracting attention away from the high-profile race – which Fangio had won the previous year – and embarrassing the incumbent Batista regime in the process.
Gunmen entered the Hotel Lincoln in Havana and snatched Fangio in the lobby, subsequently moving the champion between three separate safehouses. The race continued without him – tragically, as it would turn out, with the car of Armando Garcia Cifuentes spinning on oil, leaving the track and killing seven people in the crowd – while Fangio was finally released 29 hours later.
In contrast to most depictions of kidnapping in the media, Fangio's experience was, if not pleasant, then no great hardship. He had not been blindfolded, the rebels allowed him to watch the race on television, and Fangio would later remark that he was "treated very well… as though I were a friend of the rebels."
If their aim was to indoctrinate Fangio into their cause, that didn't exactly go to plan either. "They talked a lot about their revolutionary programme," Fangio told the press, "but I told them I was not interested, because I have never been interested in politics. I am a racing driver."
Nevertheless, Fangio sympathised with their actions, later saying "If what the rebels did was in a good cause, then I, as an Argentine, accept it."
Read more
Freeze Frame: Hopkirk, and Mini, become Monte Carlo legends
Maestro's Mercedes: Fangio's 300 SL Roadster comes up for auction
10 times the F1 championship went to the wire