As far as terror scenarios went for Robert De Niro, having a Le Mans driver piloting him at 80mph through a maze of Parisian tunnels at night must have ranked high on his 'never-ask-me-to-do-this-again' list for his agent. Small wonder the actor's next brush with on-screen car activity was no more daunting than a walk-on part in a Kia TV ad.
However, with John Frankenheimer at the helm of the 1998 film Ronin, there was never going to be compromise: "I'm going to do a car chase that's going to make somebody think about whether or not they want to do another one," said the veteran director. And when The New York Times praised the film's action scenes as '…nothing short of sensational,' you could probably say that he succeeded.
How much is your car to insure? Find out in four easy steps.
Get a quote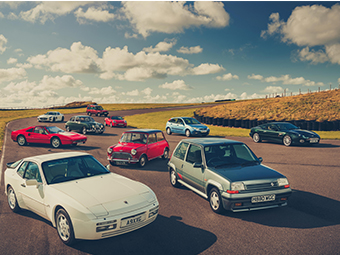 Ronin's plot is merely the aperitif to the two tightly choreographed chases in the film. A group of mercenaries, each with unique skills, is assembled to steal a heavily-guarded briefcase, the contents of which is shrouded in secrecy. There's mistrust among the group from the start, born out when it becomes clear that two rival agendas are at play.
Le Mans driver, Jean-Claude Lagniez's 'Cine-Cascade' stunt team was brought in at the last minute to coordinate car action, after Frankenheimer sacked the first crew during shooting of the film's initial chase in La Turbie, near Nice. Frankenheimer was a stickler for authenticity, and while there's an improbability about how hard the Audi S8 (driven by the actor himself, Skipp Sudduth) has to drive to keep up with the Citroen XM containing the prize, the heightened sense of speed as they careen through the ancient narrow streets of Nice's old city is truly gripping. Frankenheimer's trademark depth-of-field photography adds to the drama, and was achieved by using wide-angled lenses and Super 35 format film, putting the audience right in the centre of the action.
Frankenheimer hated process shots, so all the driving is in real-time and at real speeds. For tracking shots, he employed the same bespoke mounts used for his 1966 epic, Grand Prix, but this time fixed into the front boots of a variety of G-series Porsche 911s to capture the XM and S8's on-limit action up-close from the rear. Sam (De Niro) and Vincent (Jean Reno) in a Merc 450 SEL 6.9 act as back-up to the S8, and its smoking rear tyres and lurid tail slides are a sight to behold for any classic enthusiast.
With the group split into rival factions, and the mystery case still up for grabs, Paris is the stage for Ronin's final nine-minute car-chase extravaganza. "I wasn't prepared for how frightening it would be," said Jonathan Pryce (Seamus). "I told Frankenheimer: 'I've done Shakespeare, I've done Chekhov, and now I've done Fear.' There was no acting on my part, believe me."
You can see why, too. Filmed around Paris's La Défense region and through the Champerret Tunnel, Pryce's character is prised into the back seat of a E34-series BMW 535i, driven by Deirdre (Natascha McElhone), and pursued by Sam and Vincent in a Peugeot 406. The chase has a frightening sense of realism, with a cast of 300 stunt performers filling the city street scenes, attempting to flee from the turmoil created by the two cars. Four 535is and five 406s were used, with one of each cut in half and grafted to the rear of a Mercedes E500 rig-car, while the actors were 'driving'. But for the tunnel scenes, filmed at night, Lagniez and fellow LM pro-driver, Michel Neugarten, drove UK-sourced RHD cars with De Niro and McElhone sitting beside them behind dummy steering wheels, mimicking their every move. De Niro was genuinely terrified – watch his face and posture during the scenes – and Frankenheimer's wife had to go out with Lagniez first to prove to him that it was safe.
Paris's chief of police had told his staff: "Let (the film crew) do what they want," so there are no holds barred. Expertly edited, with drop-ins of manual gears in each car being down-shifted (and handbrake yanked to provoke oversteer, in the case of the front-wheel drive 406) there's a tantalising legitimacy about the unexceptional cars being driven at break-neck speeds through crowded city streets.
The chase intensifies, as the cars, pursued by French police in Citroen ZXs, head the wrong way down Paris's three-lane arterials. The oncoming traffic, driven by 100 crack race-drivers (including former F1 star, Jean-Pierre Jarier), remained in-lane at 35mph, while the BMW and Peugeot weaved furiously around them at more than twice their speed. Frankenheimer's over-the-shoulder shots of Neugarten (complete with long, blonde wig) in the 535i and Lagniez in the 406 show that no room for error was left. That they had but five hours to complete the 'gig' before the roads re-opened leaves you slightly agog at what was achieved.
Ronin's action scenes have been favourably compared with those in Bullitt and The French Connection. In other words, it entered into car-chase royalty.
Read more
The Blues Brothers: How John Landis choreographed chaos and destruction on a blockbuster scale
Leap of faith: The Italian Job was Remy Julienne's stunt spectacular
Frankenheimer's Grand Prix still has you on the edge of your seat after 55 years