With the franchise's seventh entry, Dead Reckoning Part One, the Mission: Impossible series gives us the most unexpected addition to its cast yet: a little yellow Fiat 500, the idiosyncratic star of the centrepiece chase.
2023 is not the first time the yellow Fiat 500 has graced our screens. The tiny car is perhaps best known as the ride of thief Arsène Lupin III, in Hayao Miyazaki's 1979 film The Castle of Cagliostro. But the 500's inclusion in Mission: Impossible – Dead Reckoning Part One is actually not a nod to Lupin's machine: filmmaker Christopher McQuarrie had never seen The Castle of Cagliostro. McQuarrie simply clocked the car parked along the Seine River while he was scouting locations for the Paris chase in Mission: Impossible – Fallout and decided to include the Fiat in the next installment.
How much is your car to insure? Find out in four easy steps.
Get a quote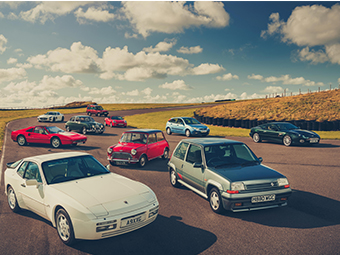 The Mission: Impossible films are real-life impossible missions. The first four films were directed by different filmmakers, but McQuarrie took the reins with the series' fifth installment, Rogue Nation. For McQuarrie, one of Mission: Impossible's seemingly endless challenges is trying to honor this tradition while ensuring that each entry is unique. That meant the chase in Dead Reckoning Part One, set in Rome, had to feel distinct from the elegant, disquieting car-and-motorcycle chase in Fallout.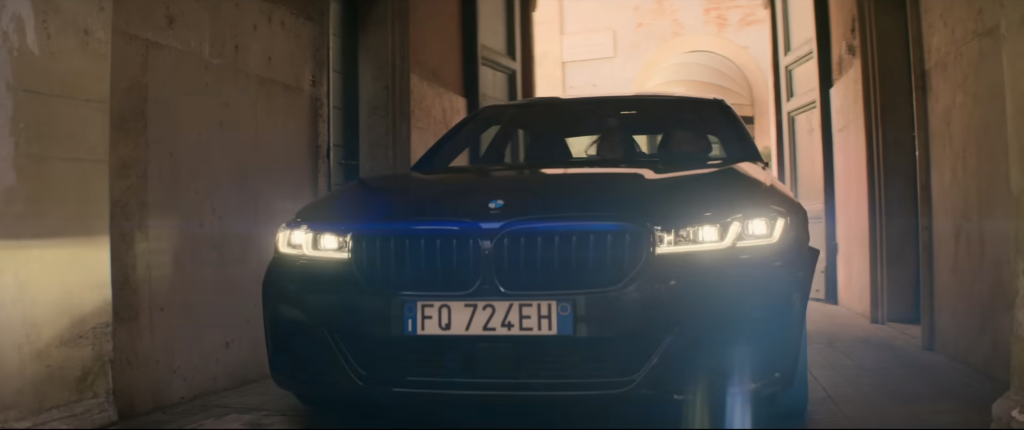 When the chase begins, though, it feels similar to its Fallout predecessor. This franchise loves to showcase a BMW (the automaker has a long-running partnership with Paramount), so to flee both the Italian police and Tom Cruise's Ethan Hunt, Hayley Atwell's Grace hops into a 2020 BMW 330e police car. (Without spoiling too much, let's just say she's stolen something the IMF needs to stop an existential threat to the world as we know it.) In his pursuit of Grace, Ethan "borrows" a 2020 BMW G 310 GS police motorcycle. The pair then wind up handcuffed together in what appears to be a 2021 BMW 540i (though the interior of the car looks like it might actually be a BMW M5).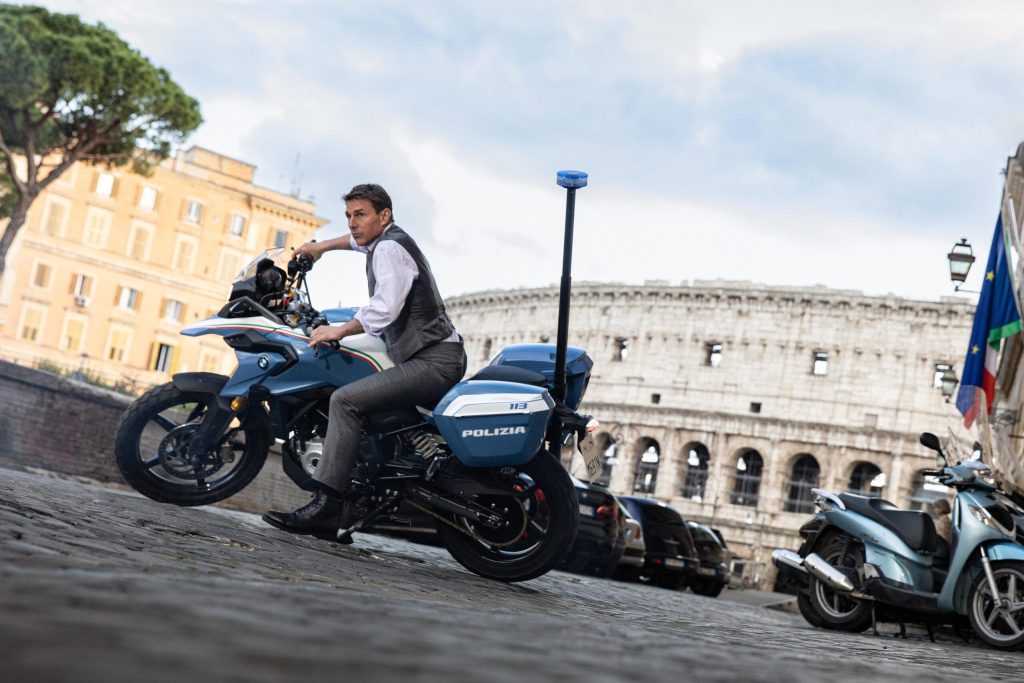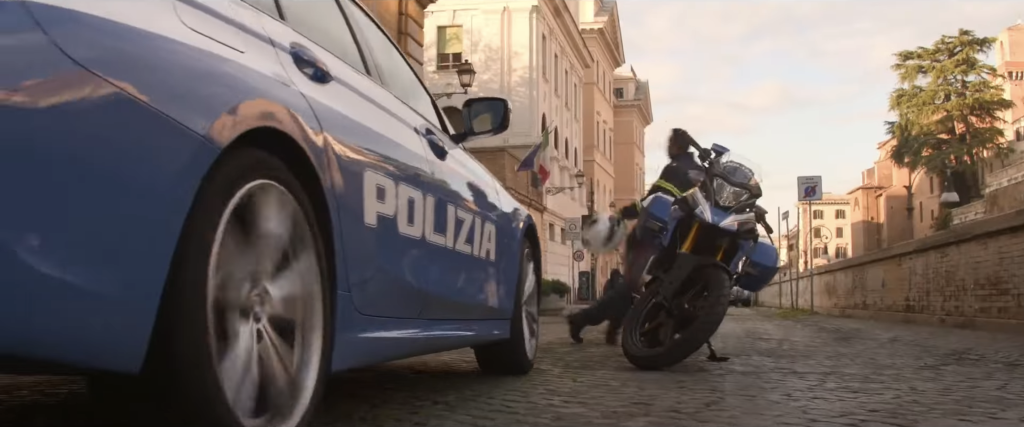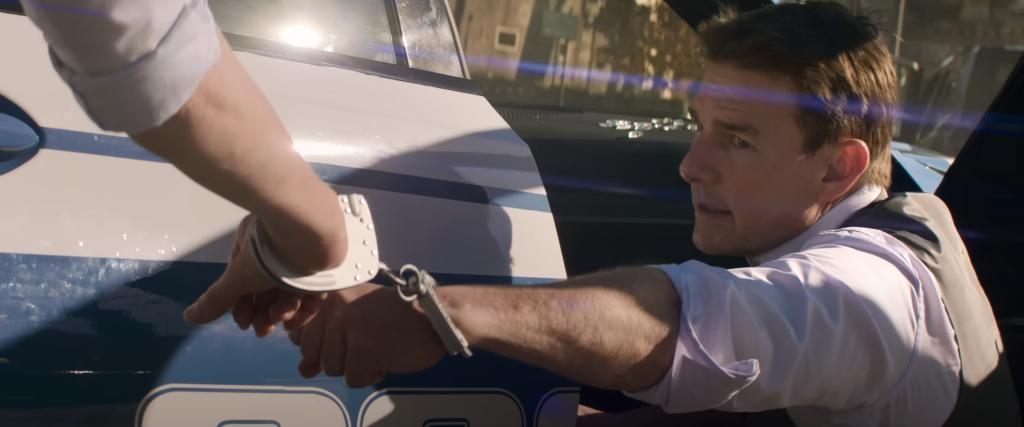 Ethan and Grace are on the run from what feels like a small army, and they gather foes as they go: the Italian police, American agents Briggs (Shea Whigham) and Degas (Greg Tarzan Davis), and Pom Klementieff's mysterious hench-woman Paris. She is perhaps their most formidable adversary; she's commandeered a hulking 2003 Hummer H2 and drives it like a tank – often, as a battering ram. Ethan and Grace soon realise that, if they are to survive this ordeal, they need to ditch the identifiable BMW.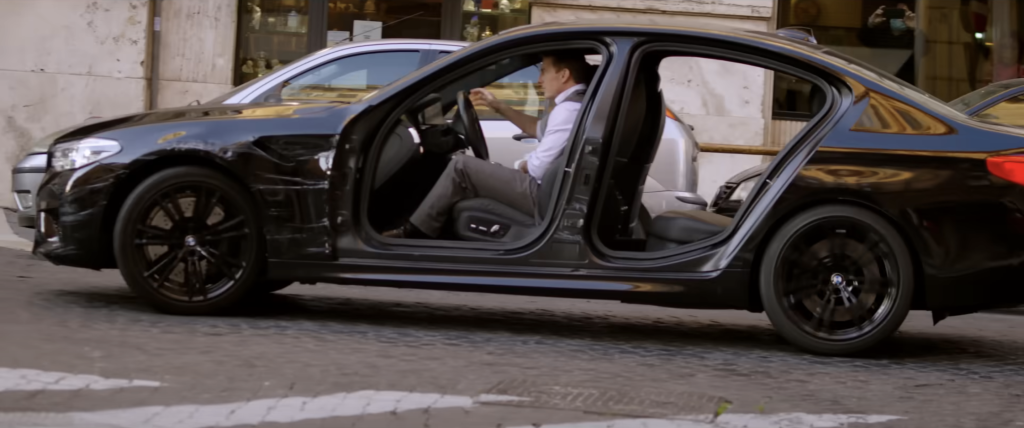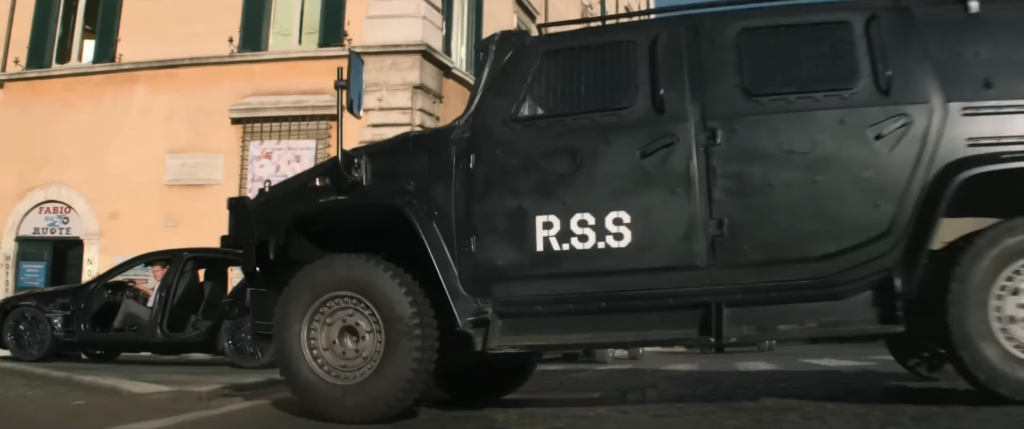 Finally, the Dead Reckoning chase veers into something completely unlike that of Fallout. As we know, the IMF keeps safe houses, safe cars, and safe boats lying around for its team members when they're in a jam. When Grace and Ethan arrive at the location of the nearest safe car, they spy a beautiful 2016 Ferrari F12tdf. They look hopeful – but then Ethan pushes a button and reveals the actual safe car: a cartoonishly small, yellow Fiat.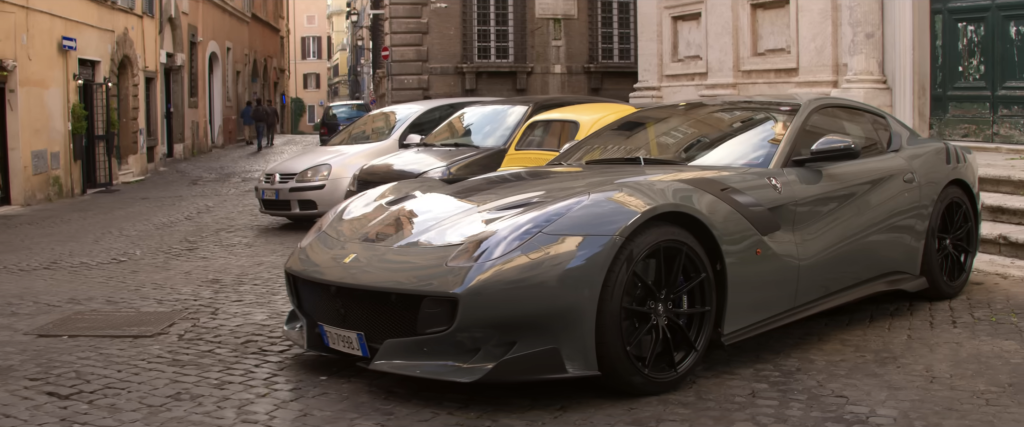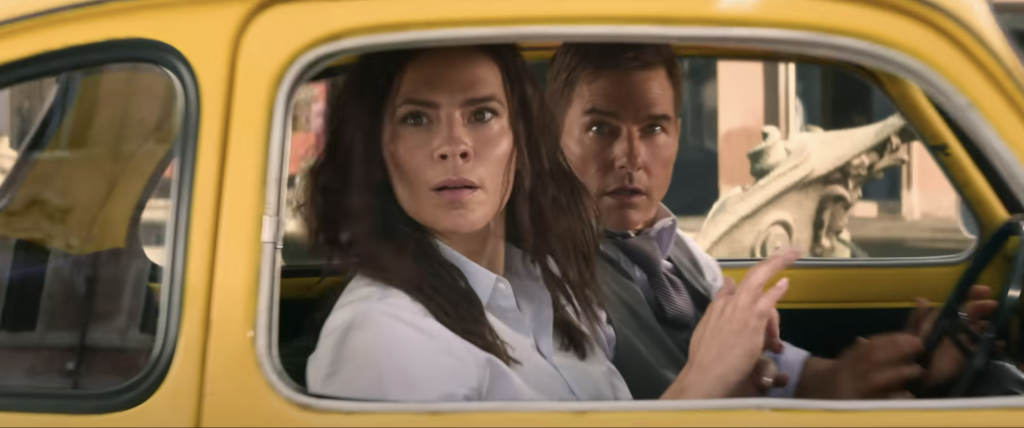 When the pair enter the Fiat, Dead Reckoning Part One goes full screwball comedy, with a touch of rom-com. The car is outfitted, James Bond–style, with all kinds of gadgets. Ethan has no idea how to work any of them. Grace is reassuring, as if his performance issues are more than automotive. It feels like the slapstick chase in What's Up, Doc? with Barbra Streisand's and Ryan O'Neal's characters terrorizing and destroying San Francisco with their hijinks in a blue VW Beetle.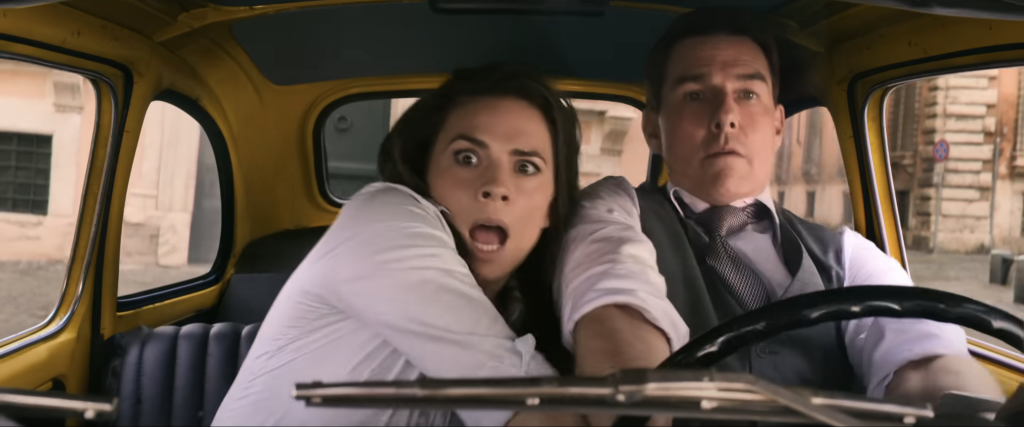 Ethan and Grace do not want to work together, and Grace does everything she can to escape. Through fate and circumstance and handcuffs, the pair is forced into the cramped interior of the Fiat, trying hopelessly to decide who steers and pushes the pedals, who shifts and who brakes. When Ethan asks Grace to turn right, she turns left. No matter how she tries to avoid it, Grace keeps ending up in the driver's seat. It's a trust-building exercise from hell, a crash course in IMF spycraft for Grace, and a nightmare first date, all rolled into one thrilling action sequence.
The Fiat is as uncooperative as Grace, though far older than she. Aside from a few cosmetic tweaks, the car changed very little from 1960 through 1975. Judging by the partial canvas roof and the rear-hinged doors (not the safest, which earned them the nickname "suicide doors"), their 500 is one of the earliest models, either a very late '50s or early '60s car. (By 1965, Fiat had wisely done away with the suicide doors).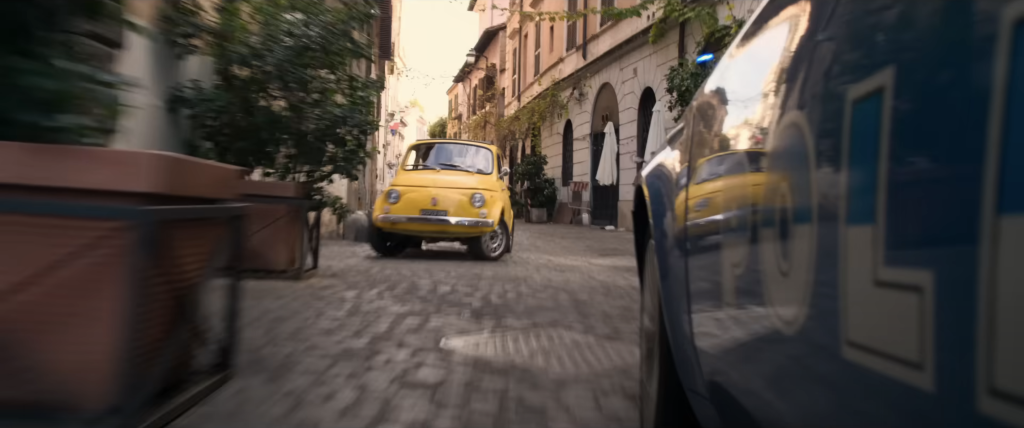 The very first Fiat 500, the Topolino, was actually released in 1936 … thanks to Benito Mussolini. Il Duce had called up the founder of Fiat, senator Giovanni Agnelli, and demanded a car for the masses, one that would cost no more than 5000 lire. Essentially, Mussolini was asking for the Italian equivalent of the Ford Model T. (Interestingly, the T had inspired Hitler to request Germany's own "people's car," the Volkswagen Type 1, better known as the Beetle.)
The Fiat 500 was reinvented by legendary designer and engineer Dante Giacosa and introduced in July 1957 as the Fiat Nuova 500, nicknamed the Cinquecento. It was an even less expensive car than the Topolino. After World War II, Vespas were the transportation of choice, because most Italians couldn't afford a car. With its low price point and fuel efficiency, the Fiat 500 was intended to be an accessible, four-wheeled option. The two-seater was basic and tiny—only about nine feet long, which made it easy to maneuver in cramped urban environments – and outfitted with a 479cc, air-cooled two-cylinder with 13bhp. For those who could afford to step up from a Vespa, it was the perfect postwar option.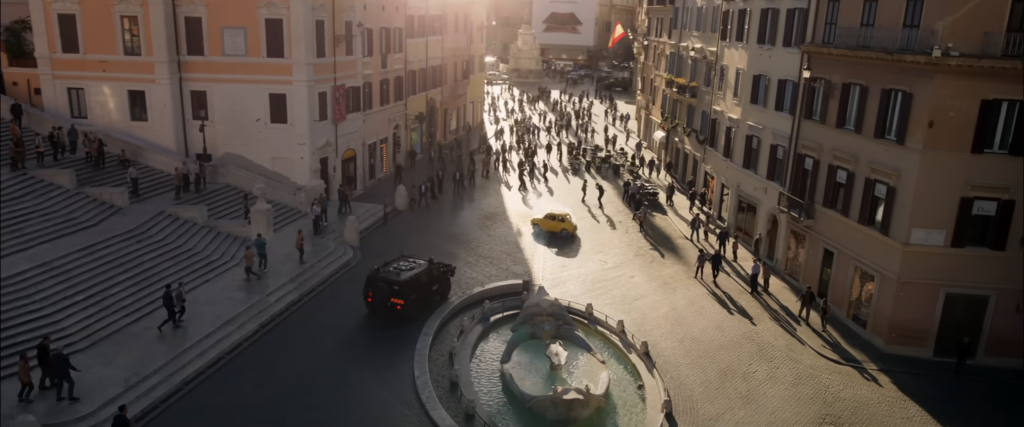 Sales initially stalled, with customers opting for the more popular Fiat 600. Fiat noticed and began to add fun features to the 500: sun visors, a real rear seat that was more than just a bench, front windows you could actually roll down. They slightly increased horsepower and slightly reduced the price. By the time the '60s rolled around, these changes finally made an impact: The itty bitty 500 became a hit, with 3.6 million cars built before production ended in 1975.
Since this old Fiat was known neither for speed nor for power, the car used in Dead Reckoning Part One was heavily modified and fit with an electric engine. "We built this Fiat 500 so that it would be faster – some would even say the car is possessed," McQuarrie says in behind-the-scenes footage. Indeed, the yellow coupe sounds and moves like an angry little hornet or a wind-up toy. The cobblestone streets make it especially difficult to drive; the suspension on this Fiat is not one of its strong points. Second-unit director and stunt coordinator Wade Eastwood said, "You could barely control the car; it was treacherous."
With a Fiat pitted against a Hummer, a fleet of police cars, exasperated American agents, and errant parked scooters, the chase feels like David and Goliath at first. Slowly, however, the narrative evolves into that of Wile E. Coyote and Roadrunner. Despite the odds against the classic yellow Fiat, this tiny icon holds its own.