Who hasn't fallen for the charms of the cartoon-like Fiat 500 when seeing one pass? The impossibly cute car is a product that transcends functionality and utility, one that pulls at your emotions like few other machines can. We suspect nearly every car enthusiast could imagine themselves owning and driving an original 500, should they be able to wave a magic wand and own any selection of cars of their choice.
The Fiat 500 was either very late to the 'people's car' party or snuck in ahead of its arch-rival, the Mini, by two years. Launched in 1957, the 500 Nuova arrived quite some time after the Volkswagen Beetle and Citroën 2CV as Italy was getting back on its industrial feet after the Second World War. While it wasn't Fiat's first all-new model for this age, as it was pipped by the 600 and Multipla, it was a complete break from what had gone before.
How much is your car to insure? Find out in four easy steps.
Get a quote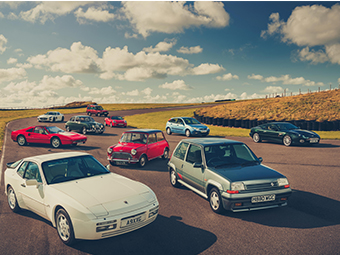 Key to the 500's success and appeal was its simplicity. Dante Giacosa completely reimagined the previous 500's design to come up with a space-efficient, rear-engined layout to maximise cabin packaging in a car that measured a mere 2.97 metres from bumper to bumper. The engine was also deliberately made as compact and simple as possible, so it was a parallel twin, air-cooled motor that would be no more difficult to service for the home mechanic used to a scooter. That wasn't to say the Fiat wasn't clever in its design as the engine was mounted transversely, like the Mini's that was to follow, so it didn't use up any more room than it absolutely needed.
The 500 Nuova also used unibody construction, so it tipped the scales at a meagre 500kg. Just as well when the original 479cc engine could muster only 13bhp, though the later 499cc unit upped that to 21bhp. Last of the line 500s came with the newer 126 model's 594cc engine, which offered less outright power at 18bhp but more mid-rev torque of 27lb ft versus the earlier motor's 22lb ft. Those are not massive numbers, but every bit counts in a car as tiny at the Fiat.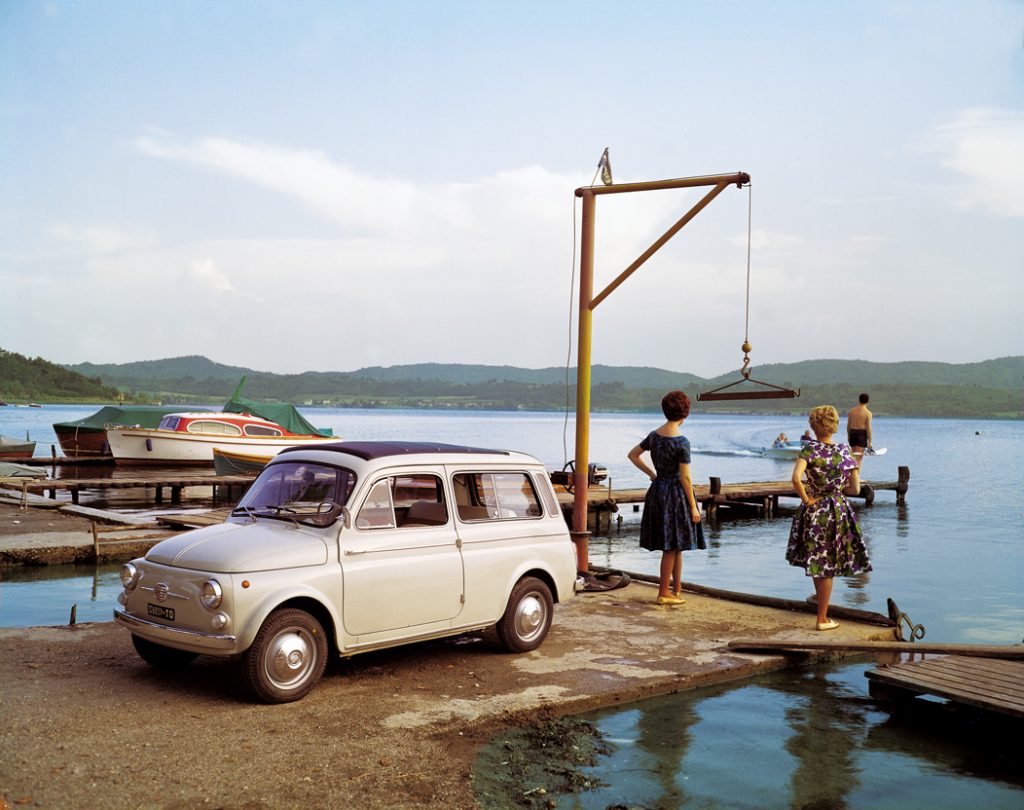 At launch, the 500 came with rear-hinged 'suicide' doors and a fabric half- or full-length sunroof to give an airier feel to the small cabin. A Sport model arrived in 1958 with that more powerful 21bhp 499cc engine, while the base D version gained an 18bhp motor in 1960. That same year, Fiat added the Giardiniera estate model with 100mm longer body and the engine canted over to sit underneath the boot floor to give more luggage space.
Then, in 1965, the 500F model replaced the D and came with front-hinged doors at last. It was also given rectangular rear lights, a round speedo gauge, and only had a half-length sunroof. By now, Fiat was knocking out the 500 as quick as it could build them after an initially slow start to sales in 1957. This is why the 500F is the most common version on sale today, but it wasn't the final model by any means. Fiat added the Lusso with its luxury fittings of chrome overriders on the bumpers, carpet, and unique rectangular speedo.
Last of the lot was the 500R Rinnovata with the 594cc engine and galvanised steel wheel with no hubcaps. There were also various Abarth models from 1963 onwards, which were made in small numbers. General buying rules for the 500 apply to the Abarth cars, but values for these tuned models are considerably higher than those in this guide.
What's a Fiat 500 like to drive?
The Fiat 500 Nuova is a car that bridges the divide between vintage and more modern classics. To get the best from the handling, the 500 has to be set-up by someone who understands these cars to make it an enjoyable experience. With that sorted, the 500 has light unassisted steering, turns on a lira, and delivers more grip than you would imagine possible given its minuscule wheels and tyres. Even today, the Fiat is a brilliant city car for exploiting gaps and the tiniest parking spots, and the all-round drum brakes are perfectly effective so long as they are correctly adjusted.
The downside to the car's small size and wheels is that the suspension is not as absorbent as a Citroën 2CV's long-travel set-up. There's much less lean in the Fiat, but you will feel a lot of the bumps and ridges in the road as you travel along.
On the upside, you won't be going fast enough for any of these interruptions to cause more than a brief bounce as the standard engines, even in the most potent 21bhp form, have their work cut out topping 60mph. A much more realistic aim is to cruise at 50mph in the 500F or around 45mph in the 500D.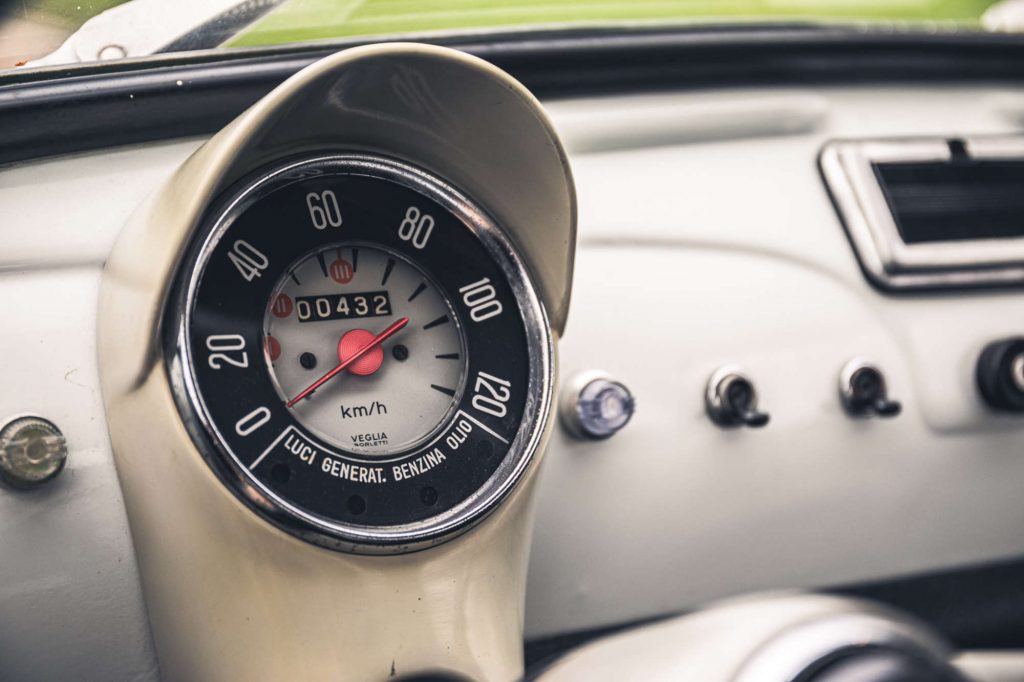 Stick to such a sedate pace and the 500 will bowl along all day without fuss until you need to fill up the small fuel tank that sits under the front bonnet. With 50mpg easily possible, you can cover a decent distance between fills, too.
Now to the engine. Starting the 500's engine is a fun event in itself as you turn the key and then lift the small lever between the front seats. There's a second lever for the choke, but you should only need this on chilly cold starts. Once fired up with its trademark whirr, the twin-cylinder motor has more oomph off the line than its numbers might lead you to believe. This is down to the 500's low weight and a clutch pedal with short travel, so you need to adjust from driving a modern car when stepping into the 500.
With that mindset adopted, the direct controls let you buzz the engine to get the best from it while mastering the non-synchromesh four-speed gearbox. This can take the uninitiated a while to get crunch-free on downshifts, but it's a tough unit that tolerates newbies better than most. There's also the satisfaction of bowling along in the 500 when you make clean shifts every time. Many cars have been converted with later Fiat 126 engines and gearboxes for more power and a synchro gearbox. It's an accepted update, so the value you place in it depends on how committed you are to originality.
Fiat 500 values
As with so many classic cars, the earliest models are the ones most highly prized by collectors and arch-enthusiasts. Look for a 500N in good, serviceable condition and as you can see from researching the Hagerty Price Guide, you reckon on spending £14,000, but you'll have to double that budget to bag an immaculate example. A 500D built between 1960 and 1965 still gets you the 'suicide' door style but is a more affordable option, with excellent examples pitched at £16,900 and concours cars around £22,000. Expect to pay just a touch more for a Giardiniera estate.
The Fiat 500F is the most numerous model on the market and you can find scruffy runners from £6000, but smart ones will set you back £12,000 and the very best another £10,000 on top of that. The L an R are both similarly priced, but if you want the rare and unusual Jolly beach car you are going to have to dig deep to pay more than £50,000 for a good one and double that for the very best. As for Abarth models, they are in a separate league to the mainstream 500s and depend on specification, originality of the tuning parts, and any competition history.
What goes wrong and what should you look for when buying a Fiat 500?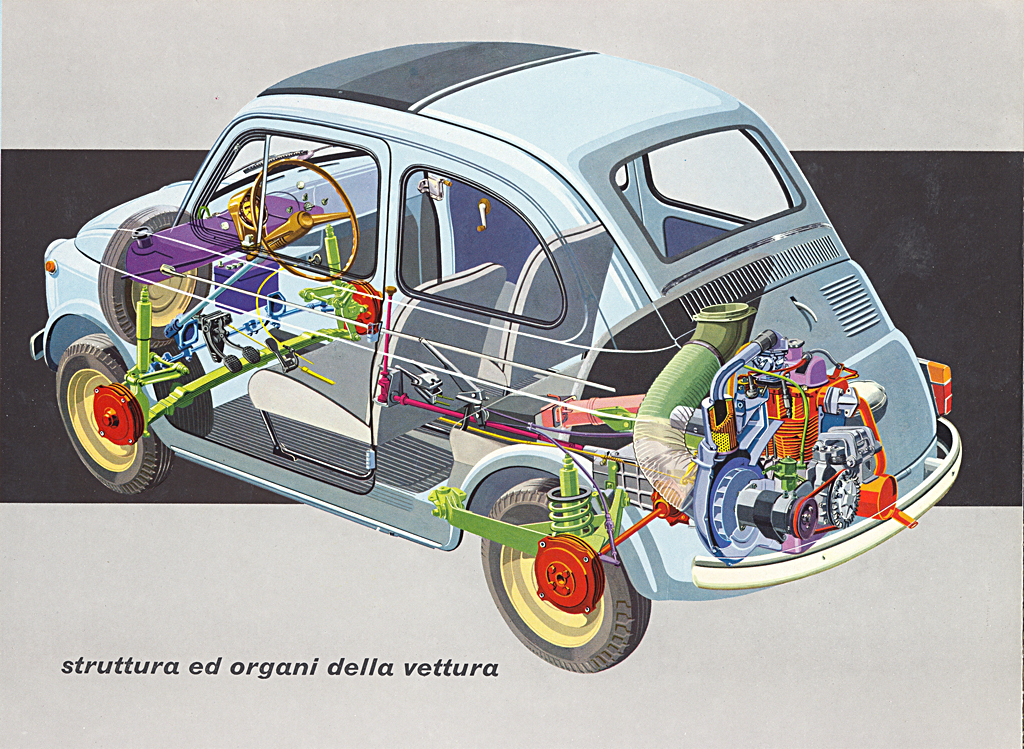 Let's start with the Fiat 500's body as this will be the biggest factor in the price you pay and any restoration costs. Given its built-down-to-a-price nature, many 500s succumbed to rust very quickly in period, especially in damper northern European countries like the UK.
Today, you need to check every inch of the car thoroughly, though one bit of good news is the cars are single-skinned so your wallet is unlikely to be sucker-punched by deeply hidden rot. Inspect everywhere, especially wheelarches, window surrounds, around the sunroof aperture, sills, floorpans, chassis legs, the spare wheel well in the front luggage compartment, around the battery tray, and door bottoms. On top of that lot, look at the fuel tank and underneath it for rust. You also need to be wary of Italian imports that have shiny paint on top but are rotten underneath as decades in a warm climate are no guarantee of the car being corrosion-free.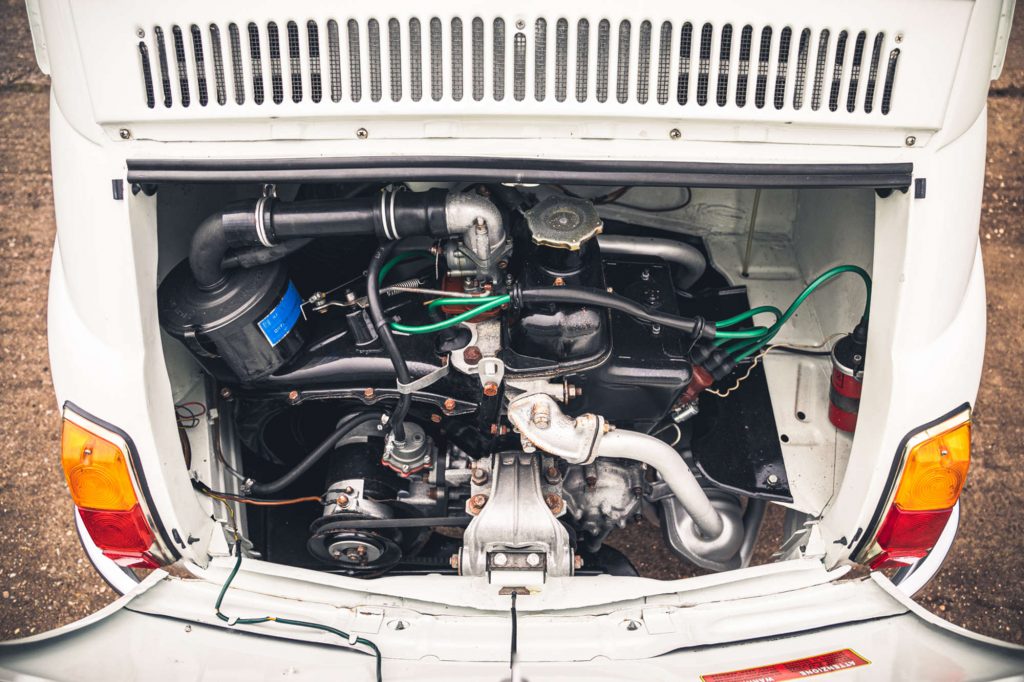 Next up is the interior, which is very simply trimmed. There are kits available to restore the seats and door cards, but make sure the car has all of the correct and original fittings if this is what you're after, as there were many updates and variations throughout the 500's life. This is also the chance to make sure the few electrics in the car work, along with the speedometer and fuel gauges. Open the sunroof to make sure it's in good condition, too.
The 500's engine is a tough little unit, so it should fire up easily. Look for any oil smoke on start-up, which is indicative of a worn engine. Let the motor idle for a good while to see if it overheats as the air-cooled motor's vent flaps can become seized and cause this, leading to warped cylinder heads. Oil leaks are not unusual, but check they are not anything more than a light misting in the engine bay. New gaskets are cheap for the sump and valve cover, so are worth putting on the to-do list.
Listen for rattles from the timing chain as a full engine replacement or rebuild is around £3000. If the engine has been replaced with a newer one from a Fiat 126, make sure it has the 126's synchromesh gearbox and has been properly installed. If you want the car to be as-new, also ask if it comes with the original motor and transmission.
The non-synchro gearbox of the 500 Is not difficult to master with a bit of double-declutching on downshifts. Make sure first and reverse don't jump out of gear, which is a sure sign of a gearbox that needs a rebuild; if that's the case, budget around £1400. A vague gearshift is more likely to be worn bushes in the linkage and these can be easily replaced for a few pounds.
The main point to check with the suspension is the front kingpins. They need regular greasing every 1000 miles as their design prevents oil from being evenly distributed. Staying at the front, the transverse leaf spring needs routine lubrication to avoid it corroding, and make sure the car sits level to show this spring has not sagged with age.
Similarly, check the rear of the car is level as the rear spring mounts can rust and crumble. Look for rot and cracks in the rear trailing arms, too. If you're happy with this, make sure the steering is light and accurate. Any extra play or heaviness points to a worn steering box. The brakes are simple to service, so just make sure they bring the car to a halt smartly and in a straight line. A disc conversion kit is available for around £400 plus fitting.
Which is the right Fiat 500 for you?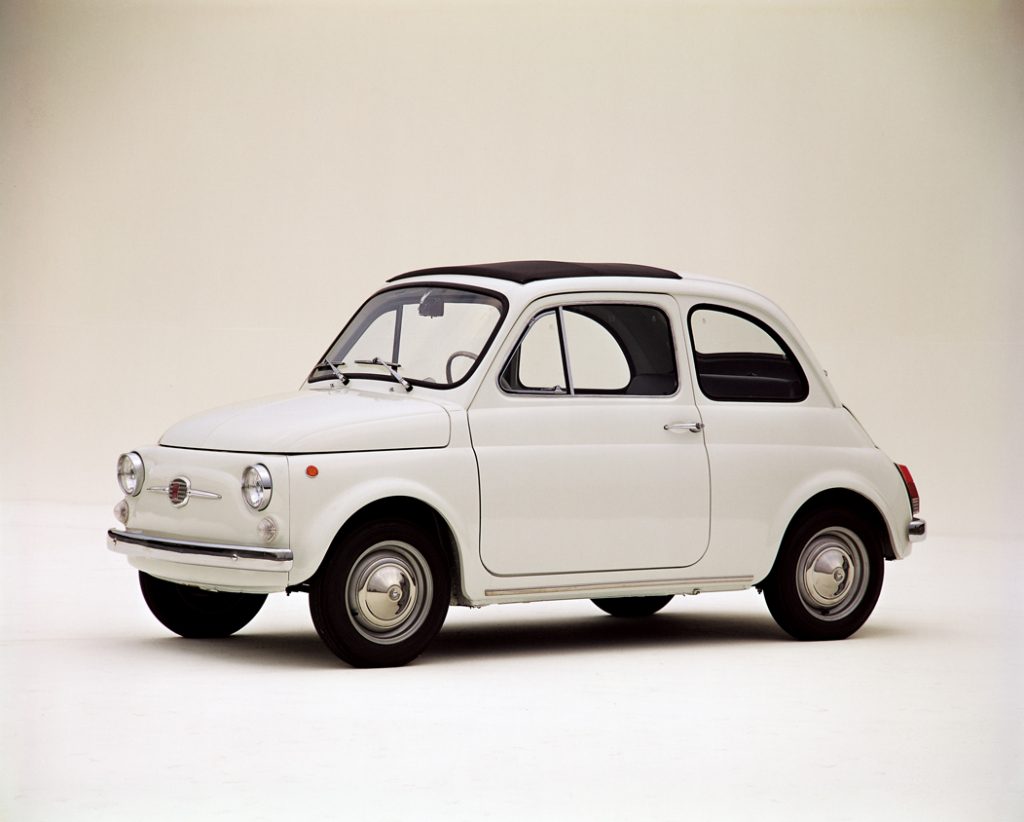 Leaving aside the rare Jolly and Abarth models, finding an early 500N or D is quite tough. You'll have the added quirky charm of suicide doors, but these are the slowest models. The F and L are the most numerous, especially the former, and both offer masses of character and fun at more affordable prices. The end of the line R has more kit and some extra low-down urge, but it's a rare bird.
By far and away the most important factor when looking for a Fiat 500 is to buy on condition. An honest, sound car will be far cheaper to own and run than one that needs work. It may be a small car, but restoration costs can add up quickly with the 500.
Our choice would be a 500F or L in good overall condition you can use without worrying about parking it in the street while you grab an espresso. The F has the round speedo that appeals more to purists, while the L is fractionally better equipped, though there is a huge aftermarket catering to anyone wanting to upgrade a 500. That includes Abarth, which still sells hop-up kits for the 500 just as it did in the 1960s.
Any 500 Nuova will be a joy to use in town and still be capable of puttering between towns, if not on the motorway. There is also a large club and specialist support network to keep 500s ticking along. It's not just an iconic classic, but a genuine pleasure to own and drive, too.
Read more
Buying Guide: Volkswagen Beetle (1938-2003)
This Fiat 126 beach car could make you much more Jolly
Tiny Happy People: Driving a titchy classic kei car is big fun