25,000. That was the number of extra Trans Am sales Pontiac gained in 1978. And it was all down to the model's starring role in that oh-so-70s classic, Smokey and the Bandit. "Sales just soared after the film's release," said the film's director, Hal Needham, when I interviewed him some years ago.
Opening in 1977 and starring Burt Reynolds in the title role, it's easy to dismiss this slice of car-chase quiche as being too lightweight for serious consideration, but setting aside the very real and tightly choreographed driving action, the story almost has a whiff of believability.
How much is your car to insure? Find out in four easy steps.
Get a quote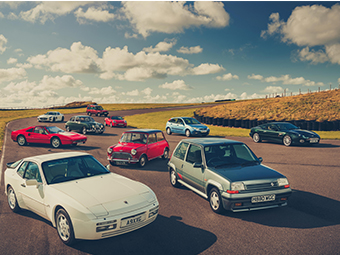 Big and Little Enos Burdette, Stetson-wearing Southern caricatures, are sponsoring a racer in Atlanta's Southern Classic and, convinced that he'll win, want to celebrate in style. They meet with Reynolds' Bo 'Bandit' Darville ("Oh, I love your suits. It must be a b**ch getting a 68-Extra-Fat – and a 12-Dwarf…") and challenge him to collect 400 cases of Coors beer from Texarkana, Texas and deliver them back to their Atlanta party in 28 hours for an $80,000 prize. Georgia being a dry state and Coors' ingredients being fragile if not fresh, it's just doable. An advance from the Burdettes buys Bandit the aforementioned Trans Am to block for trucker pal, Cledus 'Snowman' Snow (Jerry Reed) in his '74 Kenworth W900 rig. And by driving through the night, they make their collection in good time and are soon 'East Bound and Down' (the title of the film's theme song, co-written and sung by Reed himself)).
"I needed a 'down the road' car for Bandit and the Trans Am fitted the bill," Needham told me. GM supplied him with five of the muscle cars, but since filming started in August 1976, just before the '77 model-year upgrades, the cars had to be hastily revised by the crew. Round headlights were swapped for square units and bonnet graphics changed to show '6.6-LITRES' instead of the previous cubic-inch capacities, which at 455, were in reality closer to 7.5 litres.
Heading back to Atlanta, Bandit picks up fleeing bride, Carrie (Sally Field) from the roadside, and is then pursued by her would-be groom (Mike Henry) and father-in-law Sheriff Buford T. Justice, played by an hilariously pompous Jackie Gleason, who, according to Reynolds, "…never said a word in the script." Their Pontiac Le Mans (of which three were again supplied by GM) is steadily 'lightened' through the film, and at one point its roof is shorn completely under a concrete stanchion.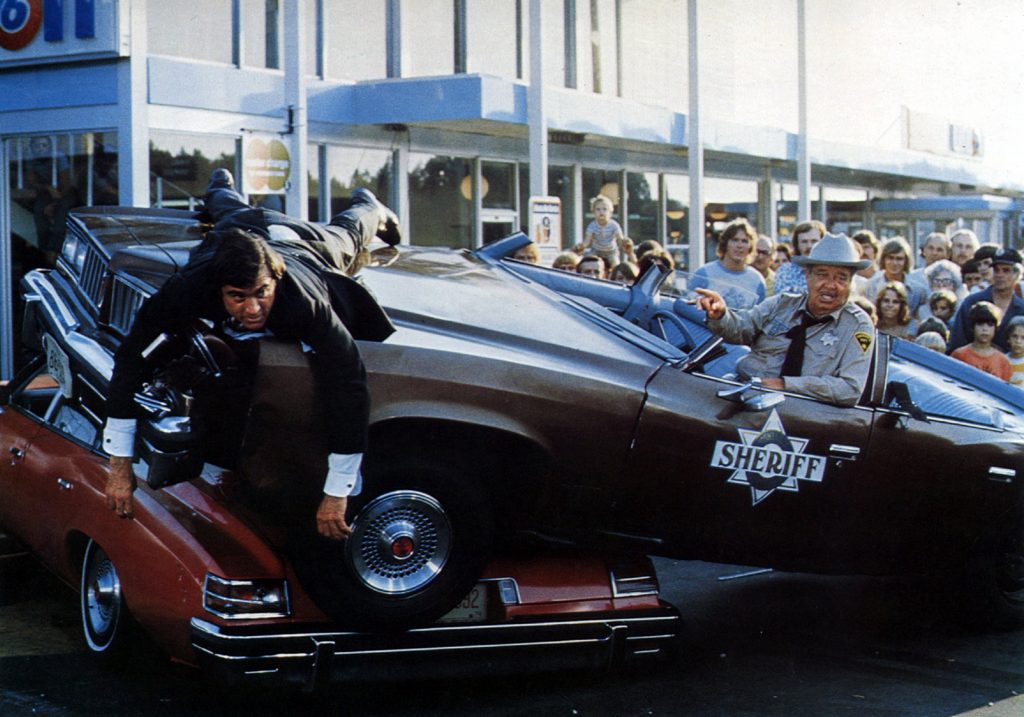 Faced with substantial budget cuts from Universal Studios, the production crew meted out stunt-abuse to the Trans Ams sparingly, but one 'gag' finished a car off completely. Blocking for the beer-packed rig, Bandit leads a trio of Smokies down a forest track, but the broken Mulberry Bridge is his only route across a wide river. With nowhere to turn, he guns the car and makes the leap. According to various sources, the car received a booster rocket to clear the gap, but Needham, who drove the car himself, makes no mention of this. "We only had a quarter mile to get up to speed," he told me. "So the car was given a 700bhp motor and a manual 'box fitted by a NASCAR garage. It destroyed it – the body looked like a camel's!"
But while life and limb were preserved on that stunt, they very nearly weren't on another. Having found herself behind the wheel of the Trans Am while being chased the Justices, Carrie misses a turn, and hurtles towards a dead-end. With no hope of stopping, she breaches a wall and is jettisoned into a children's baseball game. While the stunt was carefully staged, the kids were real and no one took into account how high and far the car would leap. Reynolds was interviewed years later and explained: "We go over the wall and we land in a little league baseball game. I saw kids in front of the car disappear – we (jumped) right over them."
Snowman, meanwhile, continues unimpeded by the law. In reality, the in-cab scenes of Reed 'driving' had his rig lashed to a flatbed trailer hauled by another truck, giving an authentic look while he's at the wheel. And, of course, it helped him concentrate on all the CB banter, which started a trend in the US and UK, 'Breaker, breaker' and '10-4, big buddy' becoming part of the late-70s vernacular.
In the end, with cops evaded and beer delivered, Bandit has a grudging respect for Buford: "You must be part coon-dog, 'cause I've been chased by the best of them…and you make 'em look like they're runnin' in slow motion."
Alas, by that time the story line had taken its toll on the film cars, with the last survivor having to be pushed on to set for the final scene. According to Needham, nobody cared: "In the sequel we used ten Trans Ams and 55 Bonnevilles, and (GM) didn't even flinch."
Read more
Something strange? Ghostbusters Ecto-1 values are on the up
Frankenheimer's Grand Prix still has you on the edge of your seat after 55 years
The Blues Brothers: How John Landis choreographed chaos and destruction on a blockbuster scale