During the 1960s, Opel was seen as a rather pedestrian division of General Motors. What it really needed was an image boost, and key to achieving that was a series of daring concept cars which were unveiled throughout the decade, leading up to a swoopy coupé making its debut at the 1969 Frankfurt motor show.
Based on the company's range-topping Diplomat and styled under the leadership of GM's charismatic Chuck Jordan, this jaw-dropping coupé was known simply as the CD (Coupé Diplomat) and it was penned by American designer George Gallion, who also worked on the Manta. He'd been drafted in from Detroit to come up with something sensational to upstage the Mercedes W-111 that was rumoured to be in the making. Sure enough, that car was also revealed at the 1969 Frankfurt motor show, and while it caused a storm, the Opel generated its fair share of column inches too.
How much is your car to insure? Find out in four easy steps.
Get a quote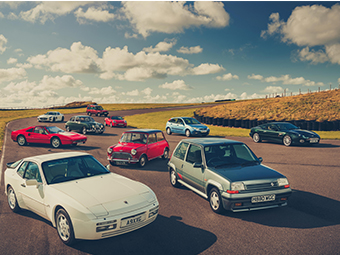 The CD was based on a shortened (by 25cm) Diplomat platform, and although the initial concept wasn't a runner, it could easily have been powered by Opel's GM-sourced 5.4-litre V8 to create a fast and luxurious cruiser. It featured a huge single-piece canopy hinged at the front, which allowed entry and exit, and while this concept was very much designed for the glamour of the show circuit, redesigning the CD as a production car wasn't beyond the realms of possibility.
At the 1970 Frankfurt motor show, Italian styling company Frua revealed a fresh take on the CD theme. Commissioned by Opel, it was more practical and although it retained the fundamental shape and character of Chuck Jordan's design, it was fitted with conventional doors. In 1971, GM supremo Bob Lutz explored the possibility of Frua putting the CD into production, but when it became clear that Frua wouldn't be able to meet Lutz's deadline the project started to unravel.
Things came to a head when it also became apparent that this svelte coupé with its V8 power would provide in-house competition for Chevrolet's Corvette, plus the volumes weren't there for it to be built for a realistic price. While it was clear that Opel wasn't in a position to put the CD into production, there was an appetite within the company for the project not to disappear altogether. The solution lay in supporting an independent company to come up with a road-ready CD, and it was Erich Bitter, a German pro cyclist turned racing driver turned car importer and tuner, who would pick up the baton.
Bitter had signed up as the German importer for Intermeccanica (you can read about that company's rare Italia and Indra models), but he wasn't impressed by the build quality. Bitter was convinced that he could do much better, and Opel's enthusiasm to help him to develop the CD concept into a production car presented him with the perfect opportunity.
The problem for Bitter was that he had no experience of building cars and no facilities to do so, which is why he drafted in Baur to make the road-ready CD for him. With its Maserati Ghibli-esque design and excellent build quality, the CD was received incredibly enthusiastically when it was unveiled at the 1973 Frankfurt motor show. Bitter took 176 orders at the event – but the euphoria didn't last long. Most of those orders were cancelled soon after because of the looming Oil Crisis.
The 130mph CD was powered along by a 230bhp, 5354cc front-mounted V8, and priced at DM 58,000, or just over £10,000, at the start of 1975. Bitter had hoped to run CD production at 200 cars per year, but with such a huge asking price it wasn't until the start of 1975 that the 100th example was built. With relatively few cars made there was no real development of the CD; aside from minor tweaks to the wheels, badges, rear lights and the interior trim, all CDs were the same.
By the end of 1976 Baur had built 254 CDs for Bitter, but from here on production slowed, and by the time the last example was made in 1979, the tally ran to just 395. All were made with left-hand drive and an automatic transmission, but the CD's successor, the SC, would be offered with both right-hand drive and a manual transmission. Next week we'll tell you all about the Bitter SC, in its various forms.
Read more
Cars That Time Forgot: Innocenti Mini
Cars That Time Forgot: Sunbeam Alpine by Harrington
Cars That Time Forgot: ASA 1000 GT, the 'baby Ferrari'