Ford has revived its mad every-Transit-for-a-task based Supervan series for the fourth time – nearly ten years after its predecessor last graced the Hill at Goodwood.
Dispensing with the highly strung combustion engines of its forebears, Supervan 4, revealed today during the Goodwood Festival of Speed, is an EV, based around the E-Transit Custom introduced last month.
How much is your car to insure? Find out in four easy steps.
Get a quote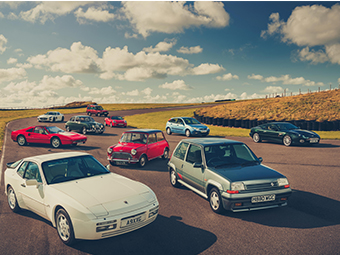 The flagship for Ford's newly formed commercial division, Ford Pro, the Supervan 4 inherits quite a legacy – one that began more than five decades ago when Ford of Britain Truck Sales wanted to shout about the Transit's virtues in the loudest way possible.
The Transit's story began in 1965, when its wider track and easy-to-drive nature earned it the title of 'The backbone of Britain,' transporting goods and tradesman to wherever they were needed. That effectively hasn't changed – so it's appropriate the tradition for making wildly fast versions hasn't either.
1971 Supervan: Where's the engine?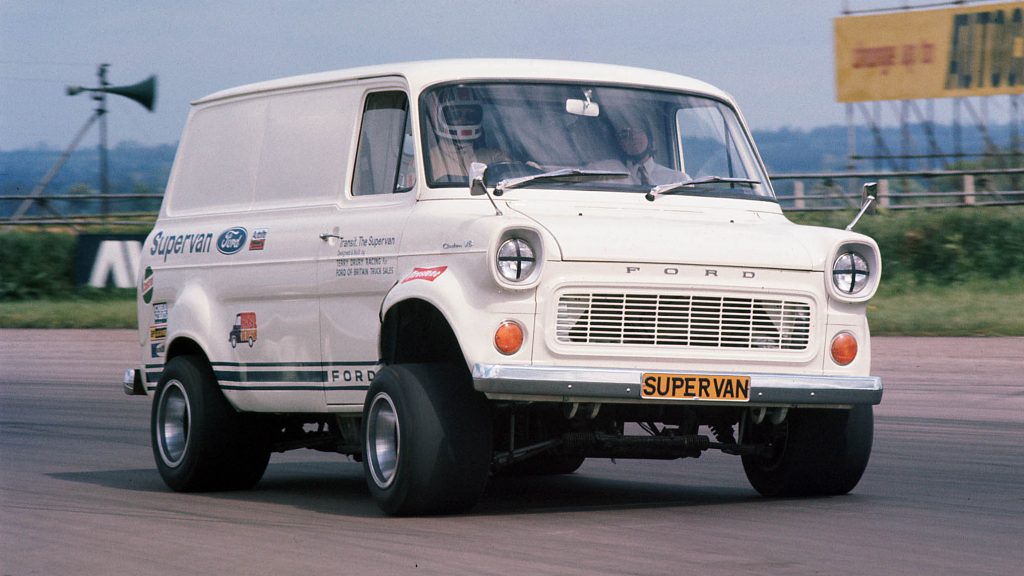 Promotional tools got no better than the 150mph Supervan, built to give the Transit's profile a boost. Henry's marketing material was keen to point out how similarly the Transit, with its massive list of configurable options, drove like a car – early versions were depicted toe-to-toe with racers on rallycross circuits.
Supervan took this notion to its fullest conclusion. Ford of Britain Truck Sales enlisted the help of Terry Drury Racing in Essex to fit a mid-engined spaceframe Cooper Monaco chassis to a Transit body. Pallets, tools and work detritus were excised in favour of a 435hp, 5.0-litre Gurney-Weslake V8, breathing through four Weber 48IDA carburettors and dumping through a pair of four-inch diameter megaphone exhausts – similar to the unit that powered the GT40 of Lucien Bianchi and Pedro Rodriguez to overall victory at the 1968 Le Mans 24 Hours.
Slicks jutted from beneath the arches, and body roll was pronounced, its three-wheeled cornering histrionics wowing crowds. Racing driver, Chris Craft, having challenged Supervan's builder, Terry Drury, to a handicap race around Brands Hatch, lost to the chasing Escort BDA on the final lap. Still, Supervan had done its job – witnessed by the column inches generated whenever it appeared at an event.
Having disappeared off the radar for decades, Supervan underwent restoration in 2021, still owned by the man who bought if from Terry Drury in 1973 – enthusiast Andy Browne.
1984 Supervan 2: The fastest delivery van on earth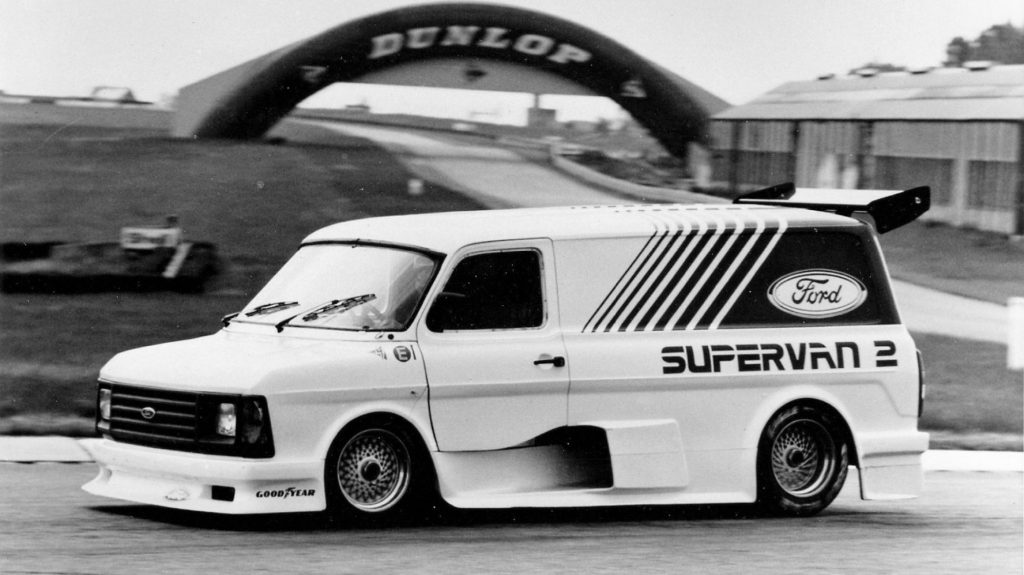 After a whirlwind tour of motorsport events, Supervan was showing its age. Sold into private hands two years after its duties had ended, the Transit Mark 2, released in 1978, made it irrelevant.
There was nothing to do but up the ante, and as sales passed the 2 million mark in 1984, Auto Racing Technology of Northamptonshire and Ford Design rose to the challenge. The former had recently built six pre-production prototypes of the RS200 Group B rally car, but turning a van into a racing car was still no mean feat.
Where Supervan used a GT40 engine, Supervan 2 employed a Group C unit, a 3.9-litre endurance derivative of the Cosworth DFV, known as the DFL, in a relatively relaxed 590bhp tune.
A fibreglass replica of a Transit Mark 2 body went over a modified, mid-engined Ford C100 racing car chassis; tested in period by Sir Jackie Stewart, performance was dramatic. 0-60 times went down further than that of Supervan, from seven seconds to less than three. Top speed was in the region of 180mph, and licenced Matchbox toys of Supervan 2 went even faster – into skirting boards across the country.
1989 TWR XJ220 development mule: It may look bog standard…it's far from it
Tom Walkinshaw Racing turned to a Transit Mark 3 (built between Supervan 2 and its Supervan 3 upgrade) when it needed a test bed for Jaguar's XJ220, during its metamorphosis from the all-wheel-drive, 6.0-litre V12 Earls Court Motor show car of 1988 to the two-wheel-drive 3.5-litre V6-engined production XJ220 of 1992.
While not sanctioned by Ford, TWR's mule, which survives today in the hands of XJ220 specialists, Don Law Racing, maintained Supervan's spirit into the Nineties and beyond. Unlike Supervans 1–3, it's also road legal, and has been demonstrated at the 2010 Goodwood Festival of Speed.
1994 Supervan 3: Harder, better, faster, stronger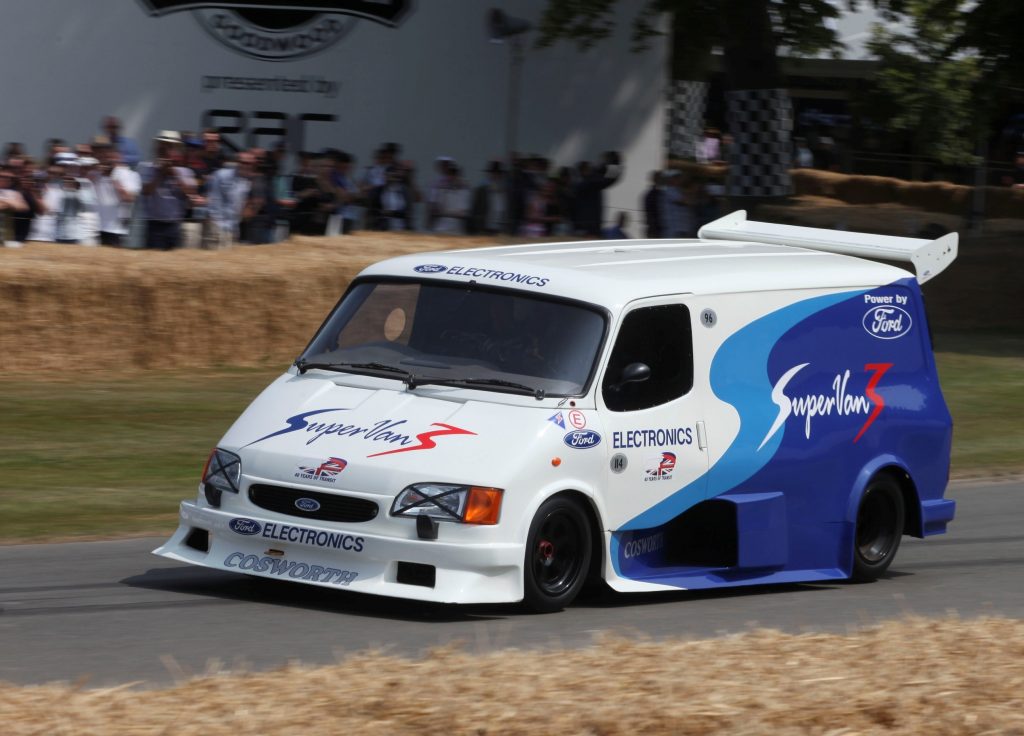 Supervan 2's tour of events was brief – shorter even than that of Supervan – but as a spectacle, Ford knew there was still life in the old box. For the first time, it had competition of sorts: Renault was about to employ Williams to build the wild V10-engined Espace F1, to celebrate a decade of La Regie's people carrier.
Meanwhile, back in the UK, Supervan 2 retained its C100 chassis, and the surviving car was reworked by DRL Motorsports of Suffolk into Supervan 3. It now carried a fibreglass replica body of the new Transit Mark 3 facelift, launched the same year – more than 20 years after Supervan, Ford still appreciated the significance of motorsport when it came to shift metal.
Out went the mid-mounted Cosworth DFL, and in its place went an ex-Formula 1 engine – a 650bhp Cosworth HB V8, used in period by Benetton, McLaren, Footwork and Simtek in period.
A long promotion tour marked out Supervan 3's tenure – it appeared publically until 2001 and commemorated the successful conclusion of a contract to supply Royal Mail with Transits, sprayed in the carrier's famous red and gold colour scheme.
Not that Supervan 3 rested for long: three years later, Sporting and Historic Car Engineers of Warwickshire refurbished it, bringing back its period livery and swapping the peaky Cosworth HB V8 for a 2.9-litre Cosworth Pro Sports V6. Power dropped to 295bhp, but it made Supervan 3 more accessible for a broader range of drivers to demonstrate.
2005 saw it back on the road to celebrate 40 years of the Transit, and in 2013, it took on Goodwood's famous Hillclimb at that year's Festival of Speed, driven by former Ford touring car racer, Anthony Reid.
2001 World Rally Transit: McRae & Partners Removals Co.
Like the XJ220 mule, the World Rally Transit of 2001 wasn't strictly a SuperVan, but we'd be remiss not to mention it here. Dolled up in the same colours as the Ford Focus WRC being run by Colin McRae in the World Rally Championship, it showed there was more to fast Transits than purely racetrack performance; they could do a bit of rough-road-running too.
Based on a long wheelbase, high roof Transit, the 'WRT' cut a strange figure, and with a 2.4-litre four-cylinder turbodiesel up front – albeit one tuned to produce 165bhp, from the 75bhp a builder might expect at the time – its engine note was, in the words of Inside Lane, "like Darth Vader having a panic attack". A stripped-out cockpit and Martini livery completed the rally-car-but-larger vibes.
2022 Electric SuperVan: High speed science experiment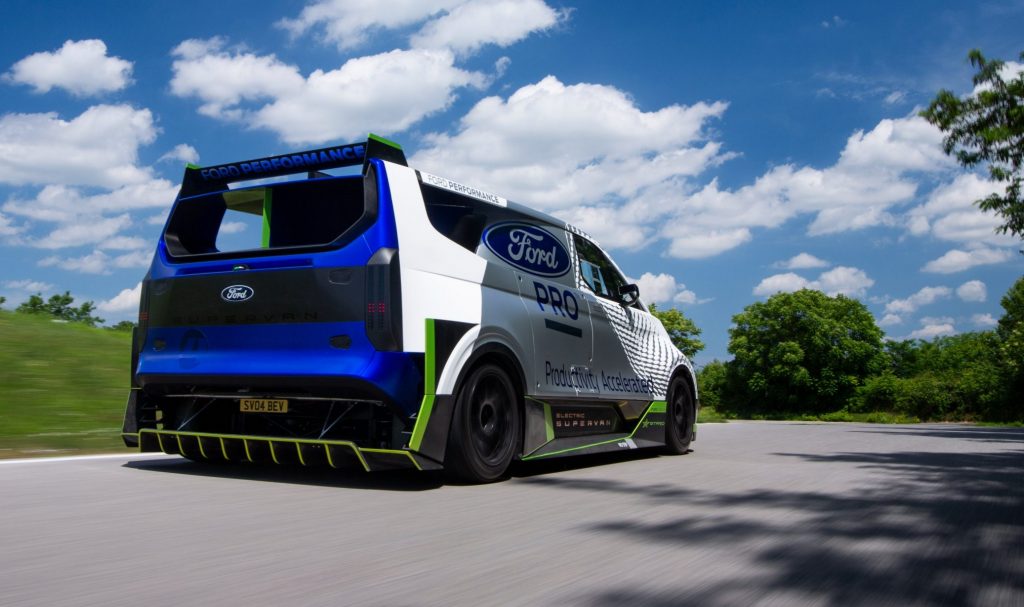 And so we come to the latest in the SuperVan lineage. And yes, it's electric, and that means not just being the ideal marketing tool at a time when all manufacturers are drifting towards an electric future, but also that it's the most potent SuperVan yet.
No room for DFVs, Jag V6s or diesels here; Electric SuperVan makes around 2000PS or around 1973bhp (if they'd been clever, they'd have pegged it at 1971bhp as a nod to the year of the original SuperVan…) from a quartet of electric motors. The upshot is a 0-60mph dash of "under two seconds", and presumably one hell of a hole punched through the air.
The car is technically based on the platform of Ford's latest E-Transit Custom, but like the other SuperVans, that's effectively where the similarities end. Composite panels hang over a steel spaceframe, and while the van does have proper cargo space (not always the case when an engine filled the back of previous jobs), race-style telemetry collection is a little more sophisticated than the average tradesperson's daily wheels.
Oh, and it does look a touch different too. While it'll never be as evocative for those of a certain age as a DFV-powered panel van three-wheeling its way around a circuit, the latest SuperVan is sure to cause a stir on its Goodwood Festival of Speed debut.
Read more
50 years later, Ford's Transit Supervan is still outrageous
Calling all coffee vendors: A rare Honda TN360 is for sale
Italian coachbuilder expands its range of retro Citroën Type H vans